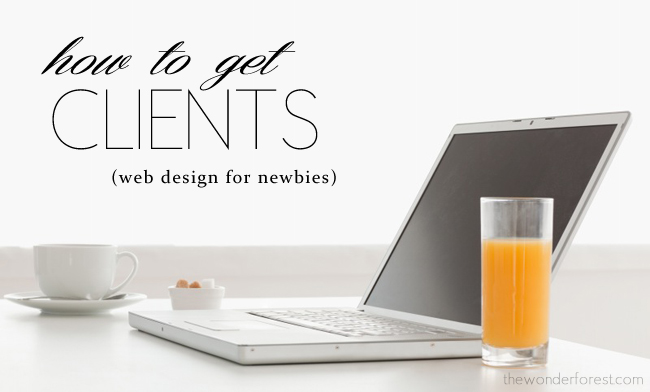 I get so many emails from young designers wanting to get started in web design and wondering how you go about getting yourself some clients. I put together this post to give you a little insight into my own experiences and advice for newbies. This stuff could also work for other types of businesses (photographers, other service providers), so I hope some of you find this information valuable!
Building your portfolio
Before you jump into obtaining actual clients, you need to have somewhat of a portfolio built up. Hopefully by now you have practiced your skills a ton…. if you haven't you might want to reconsider diving into web design as a business for a while. Creating websites for family members or friends for free is a good way to build up your portfolio. It might not seem like a lot of fun doing work for free, but you kind of need to in order to get your client list built up a little bit. Everybody needs to start somewhere! I created dozens of freebie websites when I was just starting out. Not only does it help build your portfolio, but also helps you build your skills. You can also trade services with somebody else if you would rather get something out of your hard work. Check out these few tips I posted previously about getting started in graphic design for additional inspiration.
Building your own website
After your portfolio has some substance, it's time to build your own website. This is probably the most important web design you will do, because it needs to portray your skills to potential customers. make sure your website includes all of the information you think a client would need to know and show a good selection of design examples from the various freebie jobs or trades you did previously.
Getting your first client
So you know you want to be a web designer, but you don't know how to start attracting clients. How do you find clients who might want to work with you? How can you effectively promote yourself as a web designer? These things might sound like difficult tasks, but they are no more difficult than promoting a product. When I was finally ready to put myself out there and advertise myself as an official web designer, I first had some promotional and marketing materials made. It's important that you go into this step prepared and professional. Take the time to fine tune your own branding so that you can really show potential clients what you are all about. Because after all, your own design work for your own business should be a representation of what you can do for them. Don't rush into finding clients without fully preparing yourself.
Once I had my own branding set (logo, website, overall 'theme' of my materials, etc.) I created some double sided postcards advertising my services. They were well designed and catchy basically just asking the question "do you need a website?". I decided that I wanted to start gaining clients locally and thought a great way might be to have my postcards distributed with the local paper. After a couple of calls around my town, I found out that the post office was the place that dealt with this type of thing. I went down there and they gave me the rates and the distribution areas. I paid the fees and gave them my postcards. Within a week or so, my postcards found themselves in all of the local newspapers and I got an email from my first client. She was a local who had seen my postcard and needed a website. Just that simple promotional step I took paid off in the end.
Think about ways that you can advertise in your area
Make sure your branding is complete
Make sure you have an active portfolio website listed on the advertising
Be prepared to answer any questions from clients professionally
Tell people what you do! Let everyone know that you design websites. Word of mouth is a great way to make new clients
Visit local businesses, introduce yourself, and drop off a brochure/postcard
Land a reputable client. Offer to do free design work for companies or individuals who you believe would be great promotional tools for you
Always include your link at the bottom of websites you create
That first phone call
I'm not going to lie, the first phone call I ever took from a client was super scary! I kept hoping I wouldn't mess up and lose their interest and was afraid that I might not know answers to their questions. I was, after all, new on the scene and had zero experience with answering questions and pitching myself. The most important thing to remember is to stay professional. I used to try to make my voice sound more mature because I was so young at this time and wanted to be taken seriously! In the beginning I used to have a list of questions written down that I would ask a client to get the conversation going and sound like I knew what I was talking about:
Do you currently have a website set up? (sometimes they are looking for a redesign.. get the URL if they do)
Have you thought about the content and how many pages you might need? (get them to list the pages)
Will you need to update the website regularly? (Will they need a content management system?)
Will you need any special features or functions? (photo gallery, special scripts, etc.)
Do you have a budget in mind? (this helps determine what you can do for them within their budget)
These questions are still some of the questions I ask to this very day, only now I am not a nervous wreck asking them!
Making proposals
A website proposal is a document that you can send potential clients as a way to "pitch" your services and tell them what you can offer them, individually. Each proposal you create should be specifically tailored for that particular business… so I wouldn't recommend simply sending a copied and pasted document to a potential client. I make them in Word and then convert the document to a PDF. When you speak with a client about a potential job, tell them that you will send over a proposal explaining, in detail, everything you spoke about.
A proposal should include a basic introduction about your business and why you are different than others. Explain to them the importance of having a website. List your skills and tell the company what you can do for them. It should also include a breakdown of things you would complete for their website, based on what you spoke about previously. This is basically a summary of information so the client can better understand exactly what you are going to do. Include a quote for the job at the end of the proposal, as well as any terms and conditions you might want to throw in there.
Deciding your terms and conditions
Terms and conditions might not seem all that exciting, but trust me when I say that they are super important. You might not think you need them, but please believe me when I say they will come in handy when you least expect it.
You need to outline what your services will and will not cover. Will you provide only a limited number of design revisions, for example? Will the payment be due in full up front, or a percentage up front? What happens if a client requests something outside the scope of the original proposal and quote you sent them? What if you do the work and a client wants a refund? I recommend doing a Google search for some sample terms and conditions for design and modifying them to suit your own taste.
Determining what to charge
The worst way to start off in the design business is to undervalue yourself and charge pennies for your hard work. By doing that, you're not only undervaluing your talent and advertising yourself as a cheap (i.e. crappy) designer, you are undermining designers everywhere who DO value their work and DO charge what they are worth. When people see web designers charging so little for their work, they have a hard time understanding why there are designers who charge more.
You need to take your time and your talent into consideration. When you're just starting out, you might not charge the same amount as somebody who is more seasoned in web design, but you should still make sure you are paying yourself a living wage and a wage that covers your overhead costs. Selling a custom website for $50-$60, that took you maybe 10+ hours to complete means you are charging $5 (or less) per hour. That is even below minimum wage! I recommend a brand new designer at LEAST value themselves in the standard $20/hour range. As you grow and become more skilled at what you do, you can raise this amount. Don't forget to take the scope of the project into consideration as well. If you're quoting a job that requires additional time and skill, raise that price. If clients can see that you're worth it, they will pay the price for a top quality product.
Don't be shy about your pricing. Remember that it is your job and other people will understand that as well. They wouldn't expect anybody to work for $5 an hour, so why should you?
Erin has a fantastic post about this that I recommend you read. I wanted to hug her for posting it.
Stuff to help you out
MOO Business Cards – 50 unique, customized Business Cards, each one with a different design.

$2.95/month web hosting – Start your website with Bluehost for just $3.49/month and get a free domain name.
If you have any questions just let me know in the comments!
Please note that this post includes some affiliate links in order to offer you premium pricing.
Last Updated on