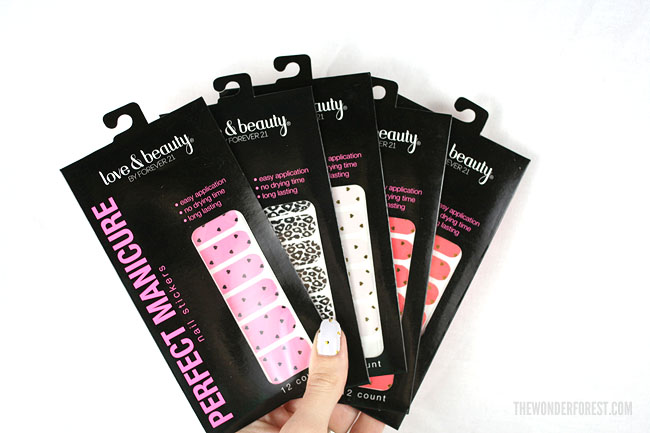 If you haven't heard of nail stickers, or "nail wraps" yet, it's time to come out from under that rock! They are thin sticky-backed super easy manicures, and especially helpful for those who aren't the greatest at nail art, or those who simply don't have the time to spice up their fingertips.
I've been experimenting with different brands and wanted to share the Love & Beauty branded ones from Forever 21.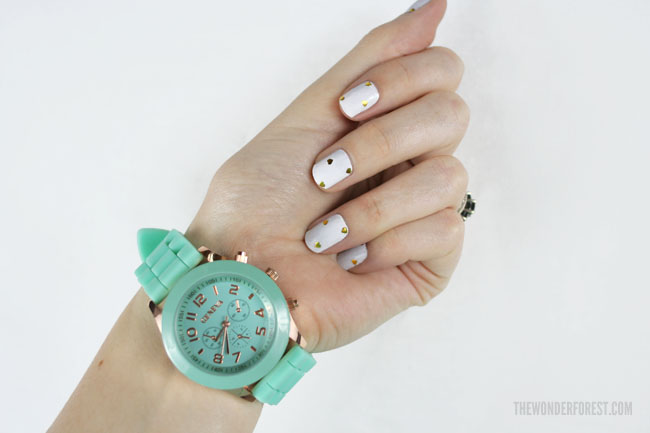 To apply these, basically all you do is remove the thin sticker from the sheet and carefully apply it to the corresponding nail… flattening it as you go so there are no wrinkles. When you get to the tip of your nail, just take a nail file and lightly file the remaining sticker off. That's it! A quick and easy manicure that lasts and has no drying time!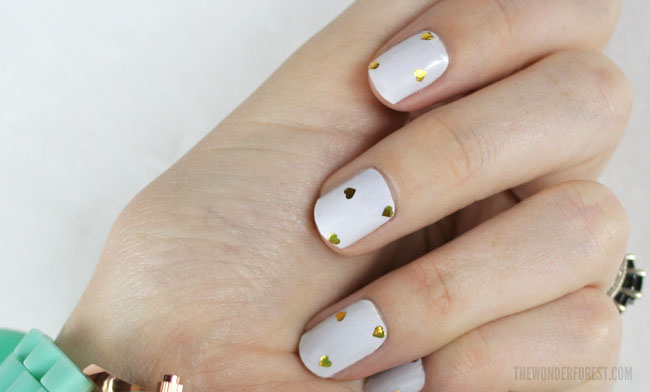 Compared to other, more expensive nail stickers, these ones aren't the highest quality, but for the price (in my opinion) it doesn't even matter. They are less than $2 a pack and come with 12 stickers per set. I've tried the Sally Hansen "Salon Effects" ones as well, which are actually made with real nail polish, and I do think that those are better in terms of ease of application and length of wear, but those also cost about four times more per pack. I'd probably choose those ones over these for a special occasion as these ones do seem to chip quicker. The Sally Hansen ones you can get a good 10 days out of, and I find they hold up very well. With these, you can expect some chipping after 3-4 days, but that ultimately depends on how you care for your hands (and whether or not you're constantly using them for work and things like I am!).
The US Forever 21 website has more options than the Canadian one because they tend to sell out quickly, but if you keep your eyes open you can usually grab some really pretty ones. How can you beat $2 a pack!? Whenever they have a free shipping promo I stock up!
Have you tried nail stickers? What brands should I try next?
(google reader is going away. follow me on bloglovin' to stay updated!)
Last Updated on