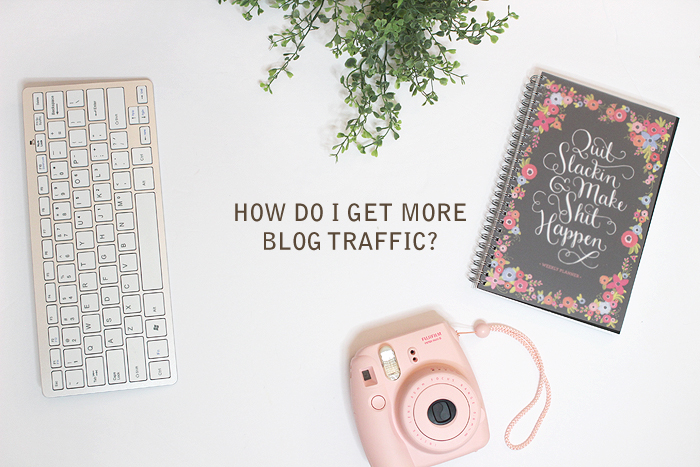 Getting more traffic to a blog is something all blog owners want. In this new Q&A session on the Blog Beautician channel, I answer a question that is similar to one that I get often:
"I just found your site after discovering that my two blogs are getting no traffic at all…" writes Toni. "I might have inadvertently changed something, or perhaps Google just ignores me for some other reason!"

The thing is, getting blog traffic doesn't come easily. It takes a lot of work, great posts, and patience. If you follow some of these tips and stick with them, I am sure that you'll be confident in seeing your blog grow organically.
Create content that people can share
One of the best ways to drive traffic to your blog is to actually create content that makes people want to share it. Sharing a solution to a problem, a great story, or a strong opinion are ideas that come to mind. Use your expertise or experience in certain areas to add value to what you write. Research other topics in your niche that have gained a lot of traction/pins/shares and use that as a starting point.
Share your own posts on social media
You can't always rely on other people to share your content for you, so you've got to get out there and share, share, share! Use the social networks that best suit your blog's target audience and connect with others.
Join communities dedicated to your topic or groups for bloggers
Facebook and Google+ have great group features that allow you to connect with other like-minded individuals. Use this to your advantage and network with other people who share the same interests as you.
Visit other blogs and interact with them
Finding new blogs in the comment section of other blogs is a great way to network and grow your blogroll. As an active commenter, you will also earn the attention of (not only) the blog owner, but other commenters as well. Be sure to leave your URL at the end of your sign-off… but don't be spammy.
Guest post on other blogs
Finding other blogs to guest post on could take some work, but it could be a huge benefit to you. I always recommend trying to build some sort of communication or relationship with the blog owner before asking for guest posting opportunities. You can always try to reach out to similar blogs in your niche and ask if they'd consider you posting, but remember that there has to be somewhat of a benefit for the blog owner as well.
Do some basic SEO
Without getting into this too much (because it's a whole other topic), check out this post I did about SEO basics for bloggers.
Set goals for traffic and use Google Analytics
Setting goals for yourself is a great way to not only track your progress visually, but also helps keep you motivated to continue to get out there and grow! Check out this post about Google Analytics basics for beginners.
Make sure your site is appealing
As I always say, a great design and easily navigational site is a must. Making your online presence one that others will remember is a surefire way to get visitors to come back.
I hope you enjoyed this video and topic, and if you have any questions for the next Q&A session, feel free to leave them below or in the video comment section!
Set up a WordPress blog in minutes with BlueHost's one click install and get a free domain name + hosting for just $3.49/month right here!
(planner in photo from here)
The hosting link above uses a BlueHost affiliate link in which this
site earns a commission on each sign up, at no cost to you. This ensures
you receive the premium hosting rate we are able to offer.
Last Updated on