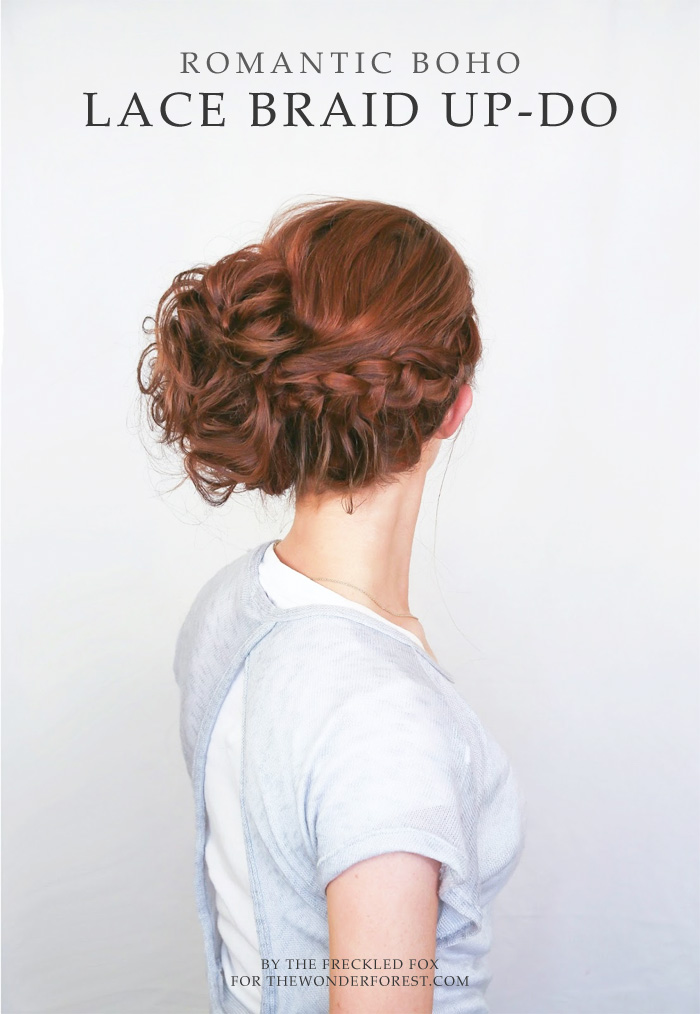 Hey guys! It's Emily again from The Freckled Fox, here to show you guys how to do this beautiful and fun hairstyle that is so versatile it can be worn with faded jeans and a t-shirt or with a cocktail dress for your next night out. Those are the best kind of hairstyles don't you think?! Okay here we go:
Supplies Used:
– hair brush
– 2 hair-ties
– bobby pins
– hairspray

Steps 1-4: Start by combing your hair smooth, and curl the ends in 4 to 6 large sections. (1) Remember to hold the curl in your hand for a few seconds to let it set. Loosen your hair at your scalp a bit and comb your hair into a deep side part. (2) Draw a diagonal line with your fingers from by the back of your side part around the back to the top of your opposite ear. (3) Tie the hair up for later. (4) Separate the top section of hair by your part and begin braiding.

Steps 5-8: (5) You're basically following the rules of french braiding (adding a bit to each section before going over the middle and under the section on the opposite side ), (6) only you're only taking hair from the bottom to add into the section, you're not adding it from the top as well. Once your braid has reached the opposite side of your head, (7) tie it off with a ponytail, and tug on the braid a bit to loosen it up and give it more body. Release the hair you tied up on top of your head, and (8) tie it into a messy bun(the messier the better!) right above where you tied off your braid.
Steps 9-12: (9) grab all the hair into your fist and (10) wrap the hair-tie around the ball to secure it, pinning down the edges with bobby pins for hold. (11) wrap the ponytail around your bun and pin the ends well. (12) Tug your hair out a bit from the bun to again create more fullness and volume, pin down any more fly away's you don't want too crazy, and spray for hold.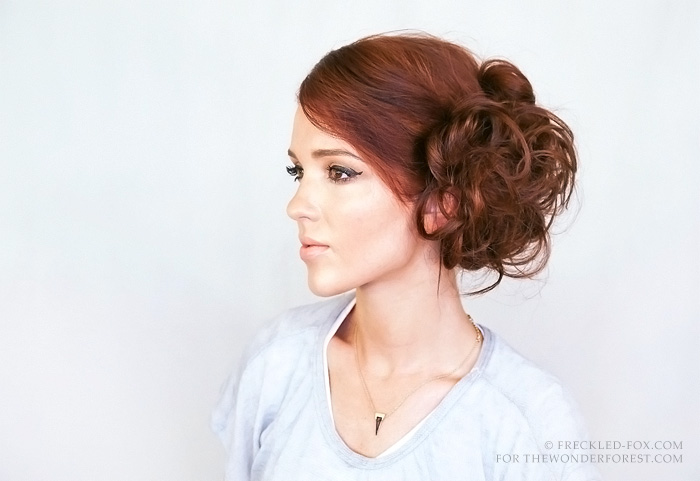 And that's it! Every time I wear this style out I always get so many compliments from sweet people, and even because it's deceptively simple it always peaks ladies curiosity on how it's done! I love styles like this that don't take too much effort, but help you feel like you've taken that extra step to dress up a little bit more.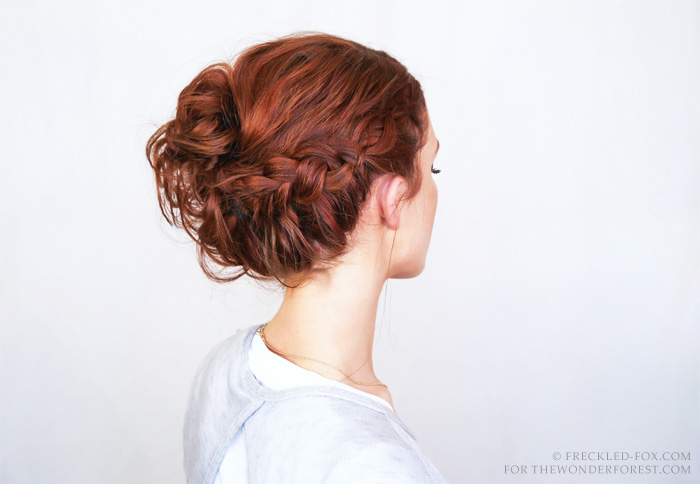 Remember if you're new to braiding, or even braiding on yourself that using a two-way mirror helps a ton in getting the back down, and also that you shouldn't worry if it takes you a couple tries to get it right or if it comes out looking a little textured or unkempt, because that's the awesome part of an easy going style like this! Anyways, thank you for reading, I hope you give this a try, and then come back to let Dana and I know how it turned out!! check out my other tutorials here 🙂

BEAUTY & HAIR CONTRIBUTOR  | posts
Emily is an overachiever through and through who loves spending her time working as a natural light photographer, a fashion and beauty blogger on her site The Freckled Fox, an NPC fitness competitor, a hairstyle enthusiast, and online shopper extraordinaire. Most of all she's a lucky wife and mother to her four kiddos, 4 and under. Addictions include list writing, peanut butter, going barefoot, and posting to her Instagram.
Last Updated on