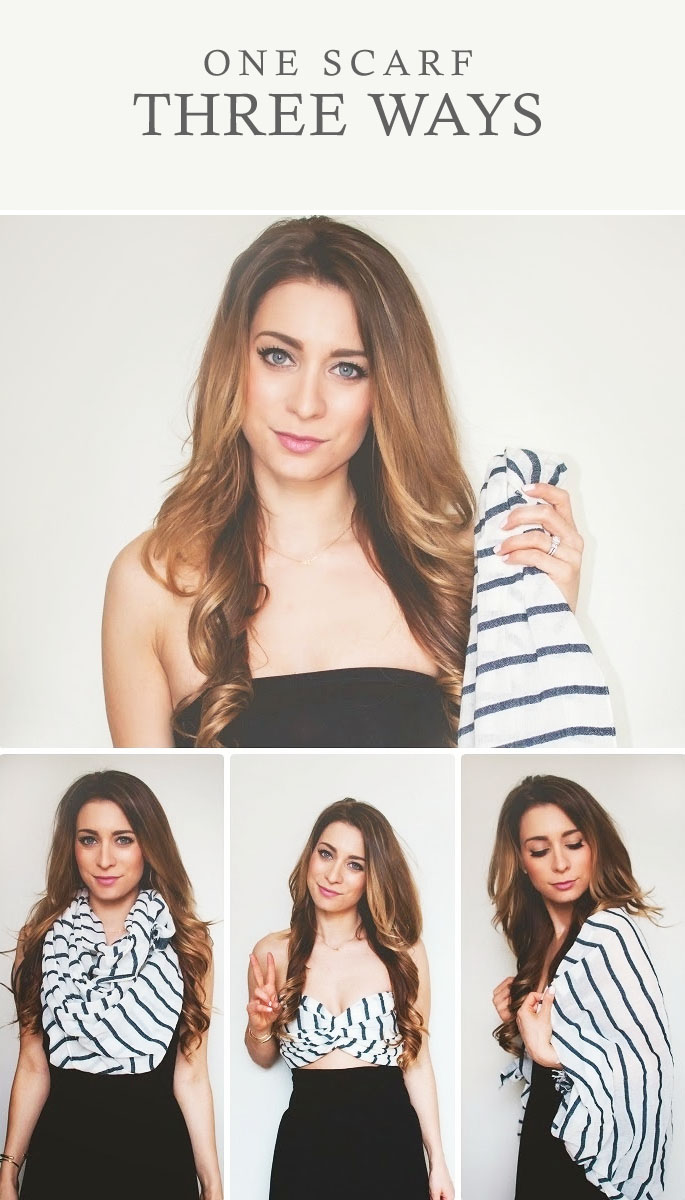 Developing a personal style has become a passion of mine, and I am constantly drawing inspiration from popular culture, the fashion industry and the world around us.  Unfortunately, unlike some of my style icons, I'm working on a real-world budget so developing a re-mixable wardrobe is essential to having fashion variety without breaking the bank.  Re-imagining different ways to use the same article of clothing is a great way to ensure that you're really getting mileage out of each and every item in your closet.  For this post I'll be relying on two of my key clothing pieces, a maxi dress and a linen scarf, to achieve three different looks for the summertime.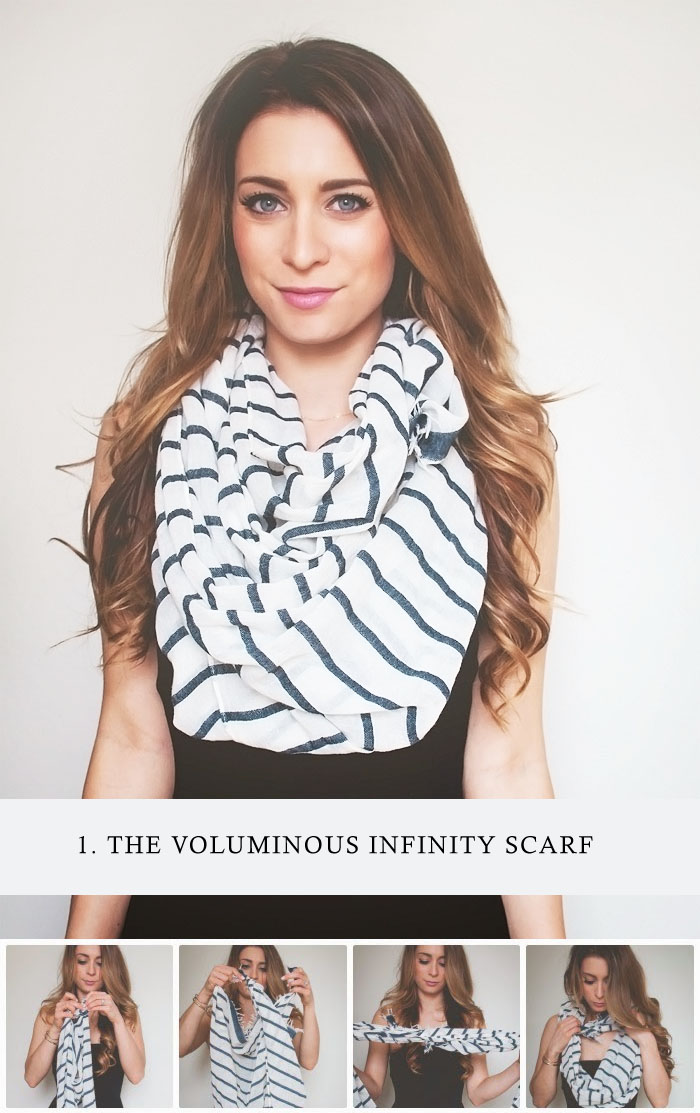 Take one side of your linen scarf, and tie both corners together.  Reach over to the other end of your scarf and bring both ends together – one tied and one loose.  Feed one corner of the loose end through the gap you've made in the tied end, then tie both corners of the loose end together.  You should now have both ends of your scarf tied and joined together, making the entire scarf form a circle.  Place the scarf over your head, making sure the knotted end is at the back of your neck, twist and loop the scarf over your head once more.  Adjust the scarf for volume around your neck, again making sure that you're hiding the knotted end behind your neck. Once you're satisfied with the volume, you now have an easy infinity scarf – perfect for adding a casual element to any outfit.
For the next look, we'll be remixing our scarf to make a cozy cocoon open cardigan – perfect for a chilly summer night.  Start by grabbing one end of your linen scarf and tying both corners together.  You want to gage how much of a gap you leave between the corners by what will snugly and comfortably fit your own wrist.  Reach to the other end of your scarf and do the exact same thing.  Place both of your wrists through the gaps on either end of your scarf and bring up the back up around your shoulders.  **Note – if the tails from your knots are showing around your wrists, be sure to tuck them inwards so they're resting against your arm and hidden away.  Adjust for comfort and enjoy your cocoon open cardigan!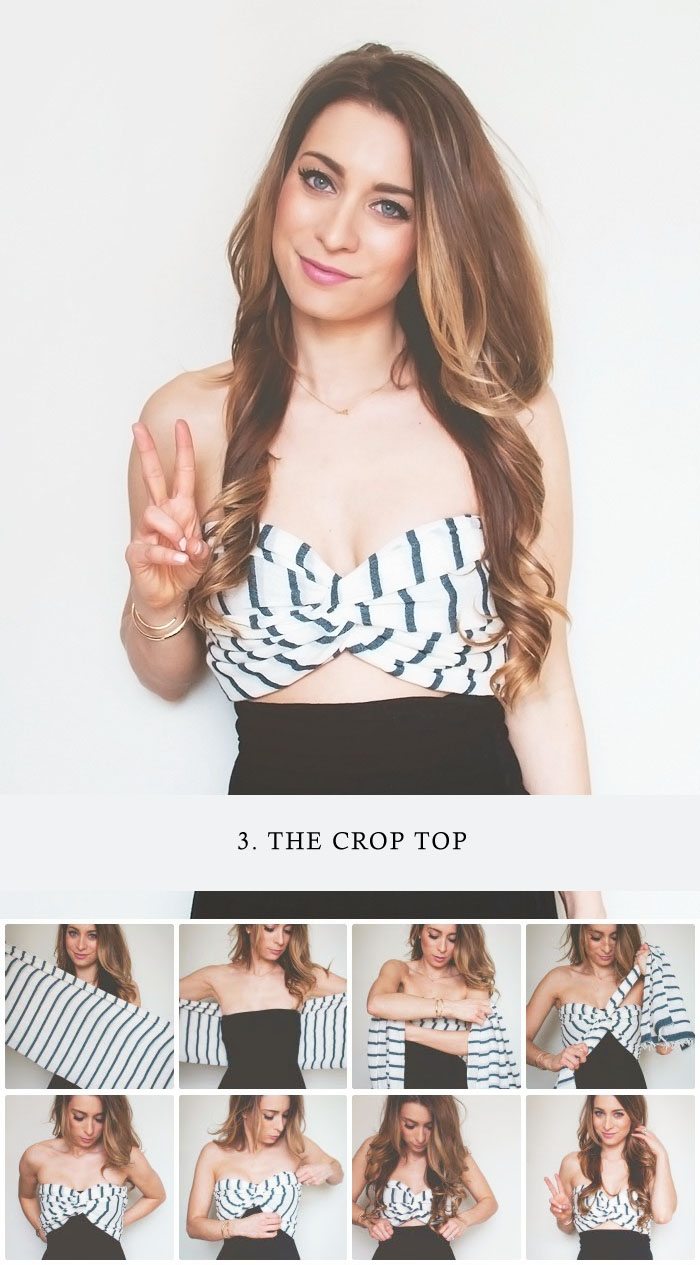 Crop tops have been popping up everywhere, and are a perfect solution to a balmy summer day and especially for those with any outdoor music festivals to attend.
Start with your linen scarf folded in half length wise. Place the scarf flat against your back, with the two corners in either hand, and bring both of your arms to your front.  Trade your scarf corners from one hand to the other, and twist the scarf once clockwise, where it meets between your chest.  Now bring both ends towards your back again, and tie securely into place (we don't want any wardrobe malfunctions!)  Adjust the front part of your top by pulling each side wide so that it covers your entire chest.  When you're comfortable with the results (and decent), lower the top of your maxi dress slightly so that it just touches the bottom of your new crop top.  Your once maxi dress and scarf have now been remixed into a high-waisted maxi skirt and crop top.  Summer, here you come!
Last Updated on