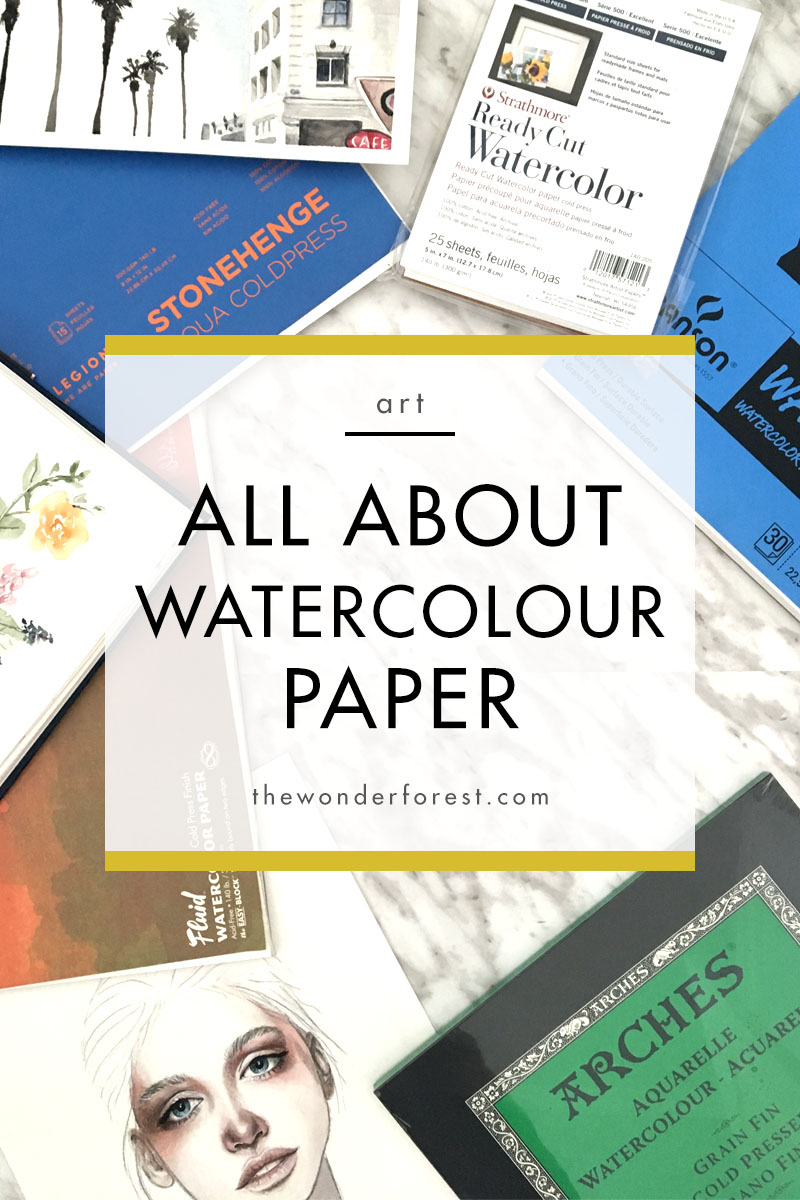 So you want to start watercolour painting, but you don't know where to begin.  There are a few essential tools you'll need that I will be covering in a variety of posts to help you understand the benefits and disadvantages of different supplies.  Today, let's talk about one of the most important pieces of the painting puzzle: PAPER.
The wrong kind of paper can really dictate your whole experience with watercolour painting, especially if you're a beginner. If you are using a low quality paper that isn't meant for water, you're not going to enjoy watercolour painting that much and may start to feel discouraged right from the get-go!

Bending and warping… no thanks!
The reason that paper bends and warps is usually because it is not well suited for wet media or because too much water is being used.  The thickness and type of paper is something that you need to pay attention to when purchasing paper specifically for watercolour.  Standard sketchbook paper or card stock was not produced for the purpose of adding water, thus shouldn't be used for this type of painting.  Instead, whenever you're shopping for paper, try looking for one that specifically says that it is for watercolour or wet media. Take a look at the cover of the paper because there are some numbers you should pay attention to…
190 gsm (90 lb), 300 gsm (140 lb), 356 gsm (260 lb), and 638 gsm (300 lb)
These numbers represent the weight of the paper, which ultimately determines how much water the paper can hold.  The higher the number, the better the quality of paper.  You'll want the thickness to be between 140lb and 300lb for the best results.
To help prevent warping and pooling, it's always a good idea to tape your sheet of paper down to a flat board using painter's tape or washi tape before adding water.  You could also learn how to stretch your paper first, but that is a tutorial for another time ;). 

Low Quality vs. High Quality
High quality paper is more expensive than beginner grade paper, and for good reason.  The weight is usually superb and the fibers of the paper hold up much better, meaning the surface will not break down with extensive water/brush usage.  A top quality paper, like Arches Watercolor Paper will also lend a hand in showcasing the vibrancy of your paints, allow for easy blending, as well as create a lovely texture.
If you're a beginner, you might not want to spend your hard earned money on a professional grade paper, but it might be something that you can work towards using as your skills improve.  Personally, I use a cheaper paper for all of my tutorial paintings and trials and save the expensive stuff for my final pieces.
My favourite cheap paper? This Canson XL Watercolor pad. It's not the most top-of-the-line paper, but it contains a great amount of sheets per pad and is wonderful for learning or experimenting. The cost is amazing and I tend to stock up on these for my practice work. 

Cold Press vs. Hot Press
The main differences between Cold Press paper and Hot Press paper is the texture. Cold press paper has more of that classic watercolour texture, whereas hot press is a smooth, flat finish.  Hot press is great if you're using ink and doing other line work because you don't have to worry about battling the bumps of the paper.  It also doesn't absorb the water as quickly as cold pressed paper so you have more time to go in and move your paint around or lift it up.
Cold press, on the other hand, absorbs the water more quickly and gives you greater control over your paint which makes it perfect for beginners. Plus, you achieve that lovely texture!

Suggested Paper Products for Watercolor Beginners
Now that you know the basics of watercolour paper, I thought I'd share some of my recommendations for various paper products specifically for beginners:
With this information on hand, you can now confidently purchase your paper and get a great start at watercolour painting.  Stay tuned for my follow-up posts which will cover brushes, paint, and more!
If you'd like to learn even more about watercolour, pop on over to my Watercolour Workshop online course and sign up today!
Last Updated on