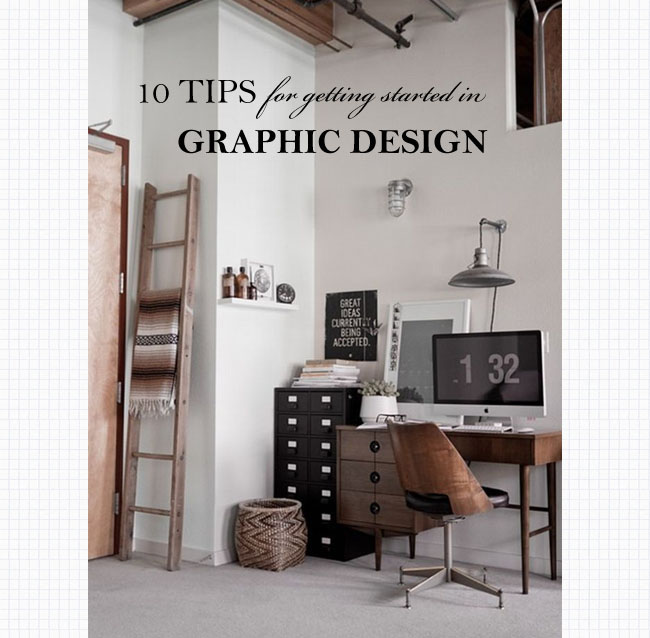 I get a lot of questions in my inbox asking me how to get started in the design biz, so I figured it would be easier to just write a post about it to share my tips. This will cover the basics about what you need and how to jump right in!
1. Be Creative
First of all, if you've decided that this is the path for you, I think the main thing is to have a sense of creativity. An artistic background definitely helps and also means that things will come easier to you. I'm a strong believer that this path is not for everybody. I believe that design is art and that to be successful in this industry, you need to have a sense of artistic know-how. Design is not a career path to choose if you simply want to make money and place yourself into some sort of industry.  Before you can design, you need to understand design. That means everything from colour theories to styles to where you draw your inspiration from. You need to understand what goes together and what doesn't. You also need to love it. Once you've got that covered, here are a few things you'll need:
2. Get With The Program
If you're serious about this design business, you need Photoshop. Not the cheapo versions like Elements, but the real, full featured CS ones. The version you start out with is really up to you. I know some designers always want to stay on top of their game and get the latest versions, but personally I use CS3 for  the majority of my stuff. I've tried every upgraded version and always ended up downgrading back to CS3. I think the whole integrated addition of Adobe Bridge really ruined the whole flow for me. Either way, they all pretty much do the same things. If you really want to go all out, grab a suite version which includes Illustrator among other things.
3. Tablet… Your New Best Friend
This is insanely helpful and I don't know how I did anything before I had a tablet. I have a Wacom Bamboo which is not the most top-of-the-line tablet, but it has treated me well and does what I need it to. Trust me on this… There will be times when you will be designing something and just wish you had a tablet to make things more free-flowing.
4. Mac vs. PC?
Along with these things you should probably invest in a decent computer and a great monitor. There is nothing worse than a super slow system (and believe me, Photoshop can eat up your resources) and a monitor that doesn't display the correct resolution or colours. It's no fun if you see your work on somebody else's screen and it just doesn't look the same as you originally meant for it to look. If Photoshop takes more than 2 minutes to open, that is probably a sign that you need a better computer. Trust me, it will only frustrate you if you don't upgrade. You'll come to a point where you will need to choose either PC or Mac. Mac, for some reason, is more common in the design field (personally I'm not a fan of Macs because they don't satisfy my techy side and I find they lean too much towards being a media computer than a technical working computer). This is totally up to you and what you are most comfortable with using. The type of computer doesn't affect your design work.
If you have a techy friend, get them to build you a computer. Usually barebones PC kits are a fraction of the cost of a manufactured system (and like WAY cheaper than a Mac) and run better without all of that pre-installed crap on them. Dustin and I always build our computers, and it's easier than you may think. Like I said, if you don't know what you're doing ask a techy friend…. a true techy friend would definitely know how to go about this and could also probably give you insight as to what you need (a great processor, space, and graphics card to name a few).
5. Stock Up on Fonts
Once you're ready to begin, it's always good to have a bunch of fonts on hand. Head on over to a site like DaFont and take your pickings! Remember to adhere to the license terms which differ per font. You can also purchase fonts from sites like MyFonts, where designers sell fonts that they've created. I've also got a few hand written ones in my design shop.
6. Learn Your Stuff
I find the best way to learn Photoshop is to just start playing around with it. Create a new document and test out all of the tools. Import a photo and try to add some effects to it. Do a search on YouTube for a tutorial and follow it. Tip: Don't be lazy! It takes time to learn Photoshop and get to the point where you don't have to follow tutorials. Be patient and keep trying. I get a lot of emails asking about certain books to read to learn design and Photoshop, and to be honest I haven't ever read one. I'm a hands on learner and found that by simply playing around with the program and reading online tutorials or watching videos is much easier for me. If you are someone who learns better by book, I will include a few highly rated books at the bottom of this post.
7. Who Do You Want To Be?
You can decide this either before you dive into the design world, or after you've familiarized yourself with the programs and found your style. You will need to decide what type of designer you want to be. Web development, animation, multimedia, print…? What appeals to you the most? Each area will have different skills you'll need to learn.
8.  Get Educated
I'm a little bit on the fence about this one, because I never went to a post-secondary school for anything, so am a firm believer that if you have the drive, the ability to teach yourself, and the skills to back you up, you might not need to get a design or arts degree. However, if aren't too keen on going the DIY route, you might consider taking a course. Unfortunately, some employers are still stuck in the mindset that you need some sort of degree to qualify for an ARTS job despite your experience (some, not all), so if this worries you it is something to look into. Personally I made the decision long ago that I was going to be working for my own business anyway, so this didn't apply.  A few years ago there was a company who wanted to hire me to do all of their design work, and during a telephone interview asked for my education and degrees. After telling them I had none, they gave the job to a fresh-out-of-college guy with a fancy schmancy degree, who hadn't done any work outside of school. I guess my many years of experience, hundreds of clients, successful business, and working knowledge that I used every single day didn't compare to a piece of paper in their eyes ;). Fortunately, that is not the kind of client I would want to work for anyways.
9. Find Your Style And Keep At It
As you learn you will start to develop your own style. This could be what sets you apart from other designers. Keep trying new things and building your skills. A great way to learn how to do certain things is to try to redesign other styles or graphics. Recreating other people's designs in your own way (for educational purposes only) teaches you not only how to do certain things, but to develop your own style while doing it.
10. Build a Portfolio
A great way to build a portfolio is to create graphics for make-believe brands. Come up with a business name and try to design all of the marketing material for it. A portfolio can not only show others what you're abilities are, but it also helps you to constructively criticize your own work and make things better as you progress.
This was a long list, but hopefully of use to some of you. If you have any questions feel free to leave a comment!
Want to work from home? Check out my 7 Tips for Working at Home!
Some books to check out:
Last Updated on