Whether it's your front door, your entry way, living room or dining room – every space in your home can be transformed for fall!
If you're hoping to achieve a cozy and rustic theme for your autumn decor this year, these ideas will help you get the look by following themes that evoke the natural side of the season. Let's get into our list of 20 easy rustic fall decor ideas.
Fall Front Porch Ideas
Invite fall into your home (literally) by dressing up your front porch. It will bring smiles to your neighbours' and visitors' faces alike!
Wild Wreaths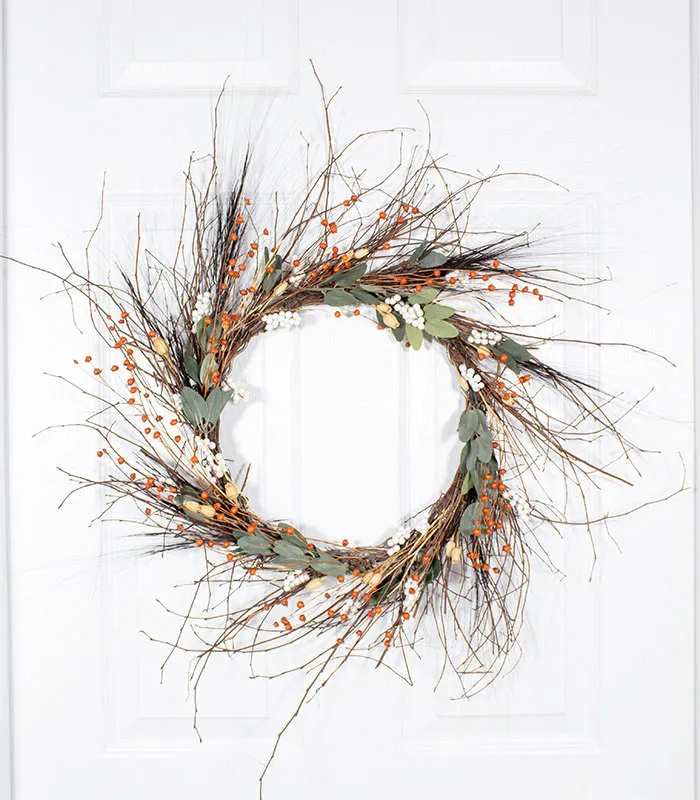 Any great front porch of course includes wreaths! This wild wreath falls into the rustic theme as it uses natural elements to avoid looking too manicured. The DIY is super easy to follow, too!
Corn Stalk Pillars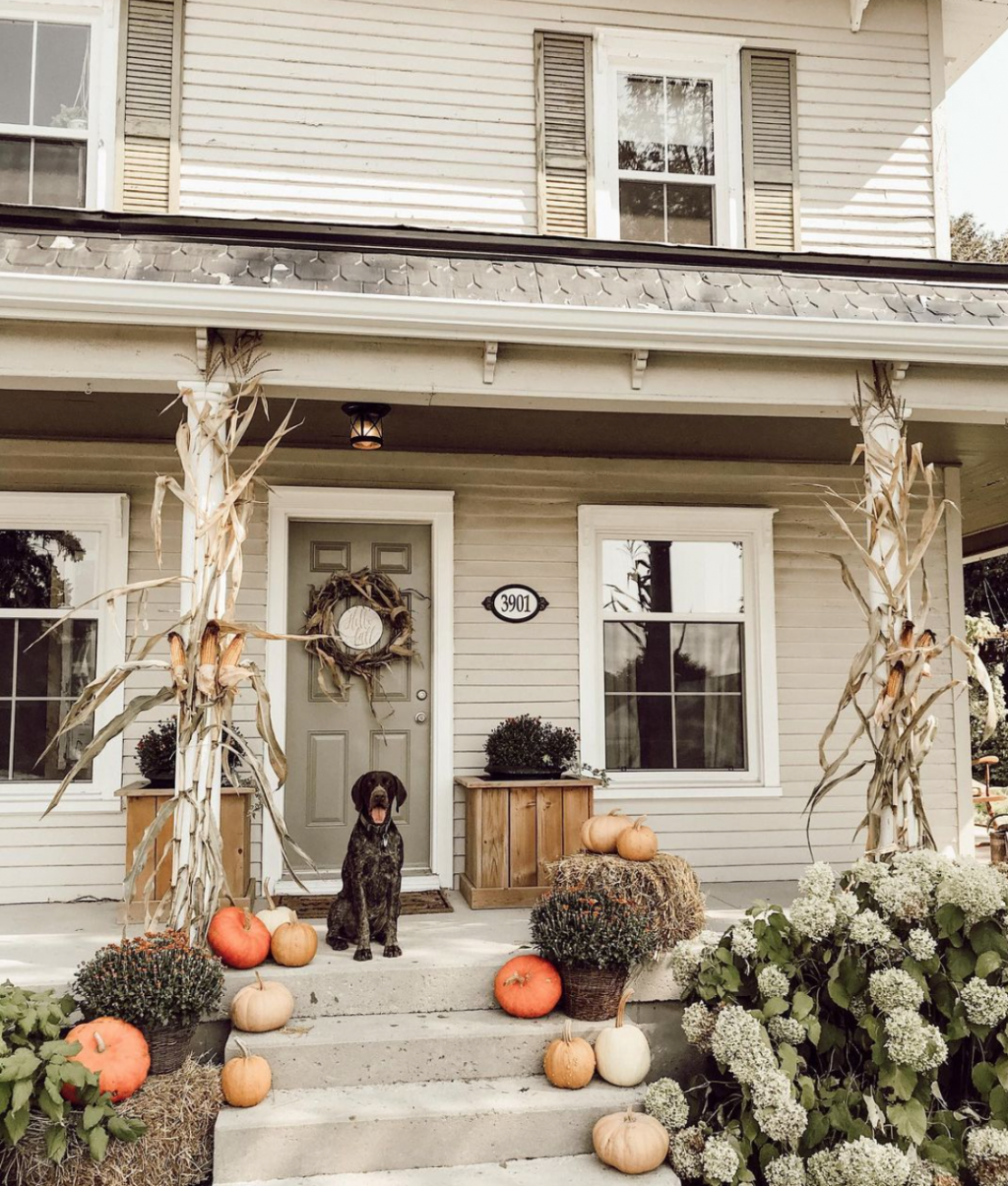 Here's one unique way to transform your front porch: corn stalk pillars! Use real corn to wrap up your porch and celebrate the harvest – it's that easy.
Rustic Porch Seating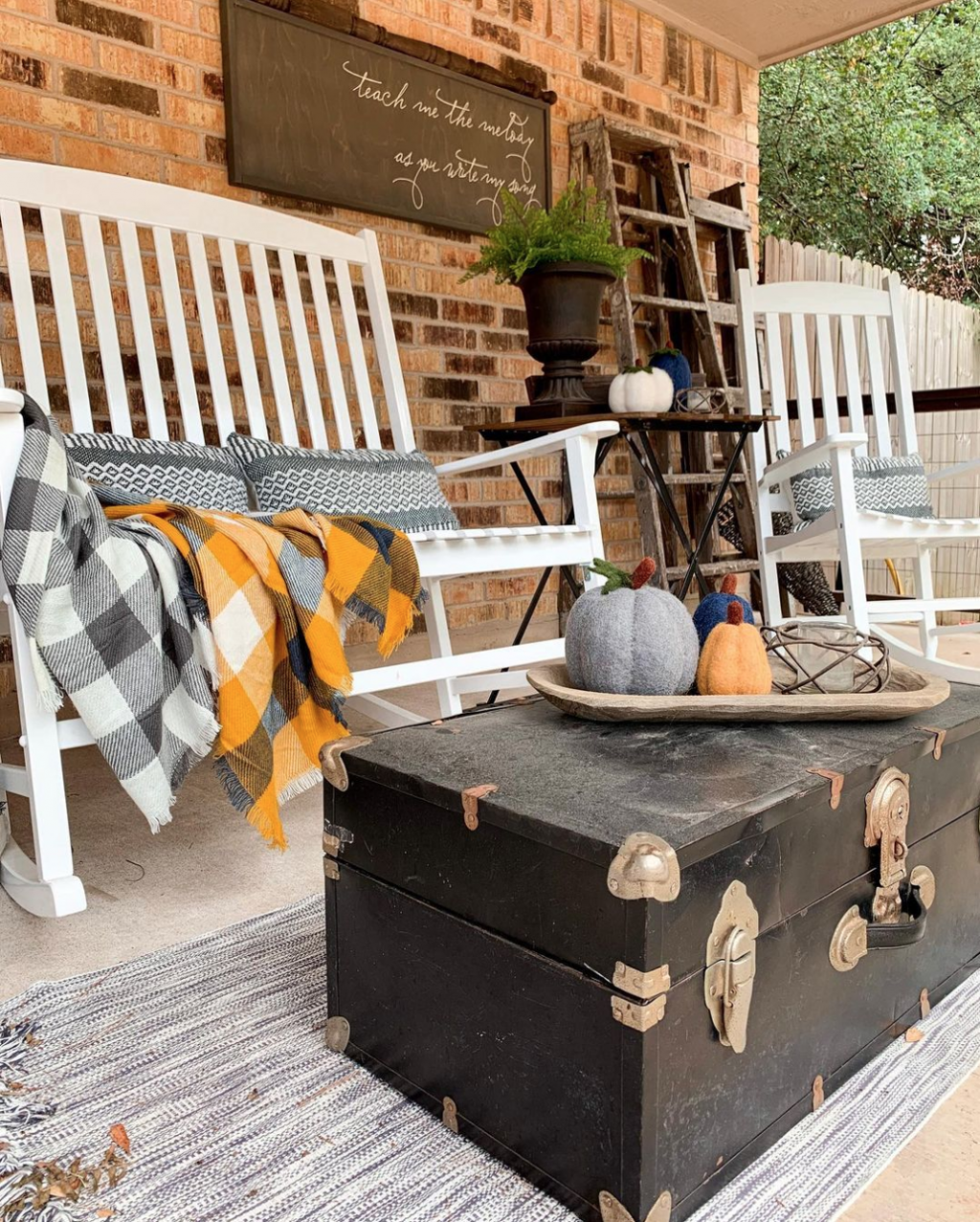 Give your front porch a cozy makeover for fall by adding in a trunk coffee table and pulling out those old rocking chairs. Don't forget to add a plaid blanket or two!
Bin of Pumpkins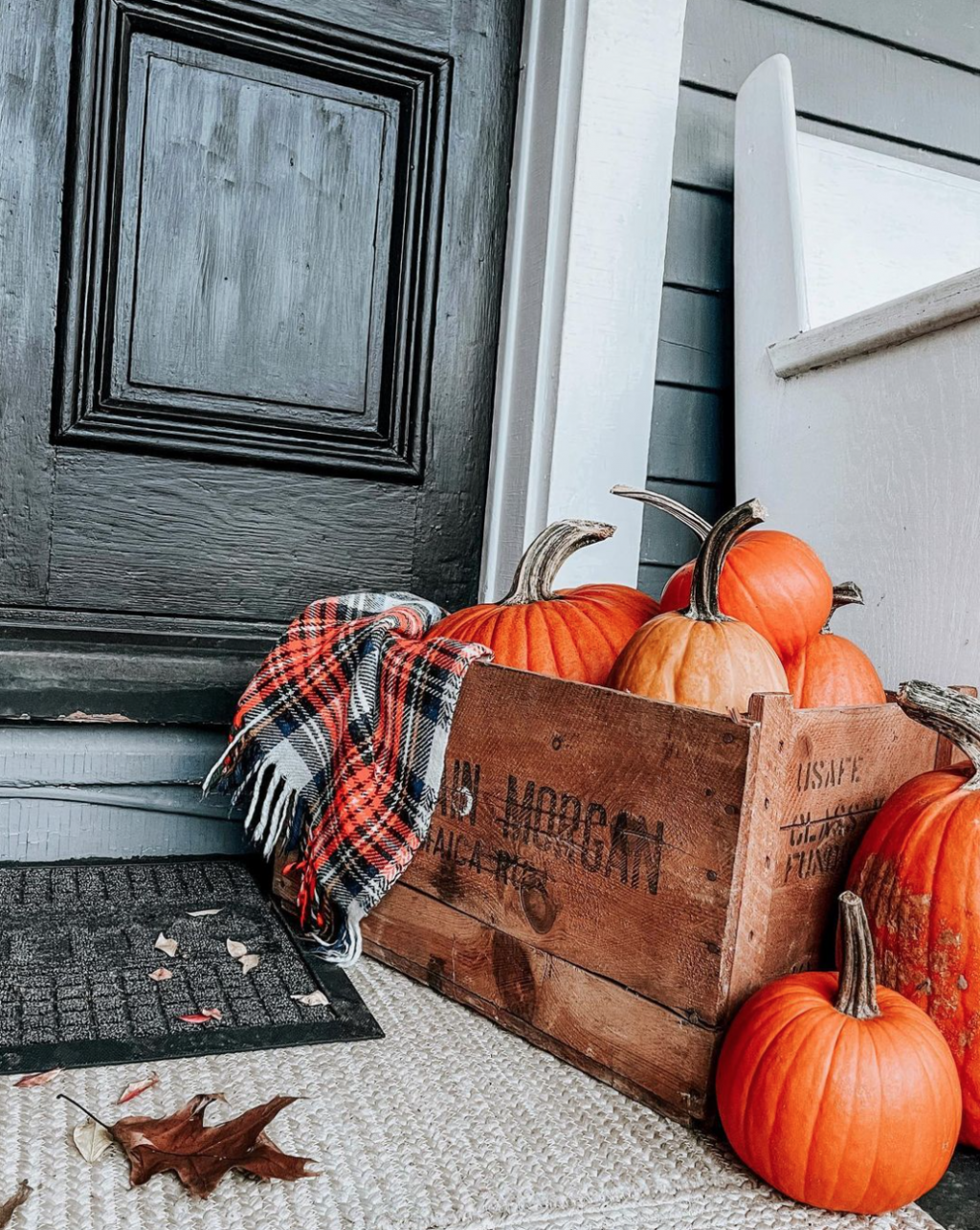 Add another rustic element to your front porch by displaying a vintage-looking bin of pumpkins. All of these pumpkins can of course be carved once Halloween rolls around!
Fall Entryway Decor Ideas
The next space in your home that makes an immediate first impression is the entry-way. No matter what size of entryway or mudroom you're working with, it's easy to make this space feel festive for fall.
Woven Baskets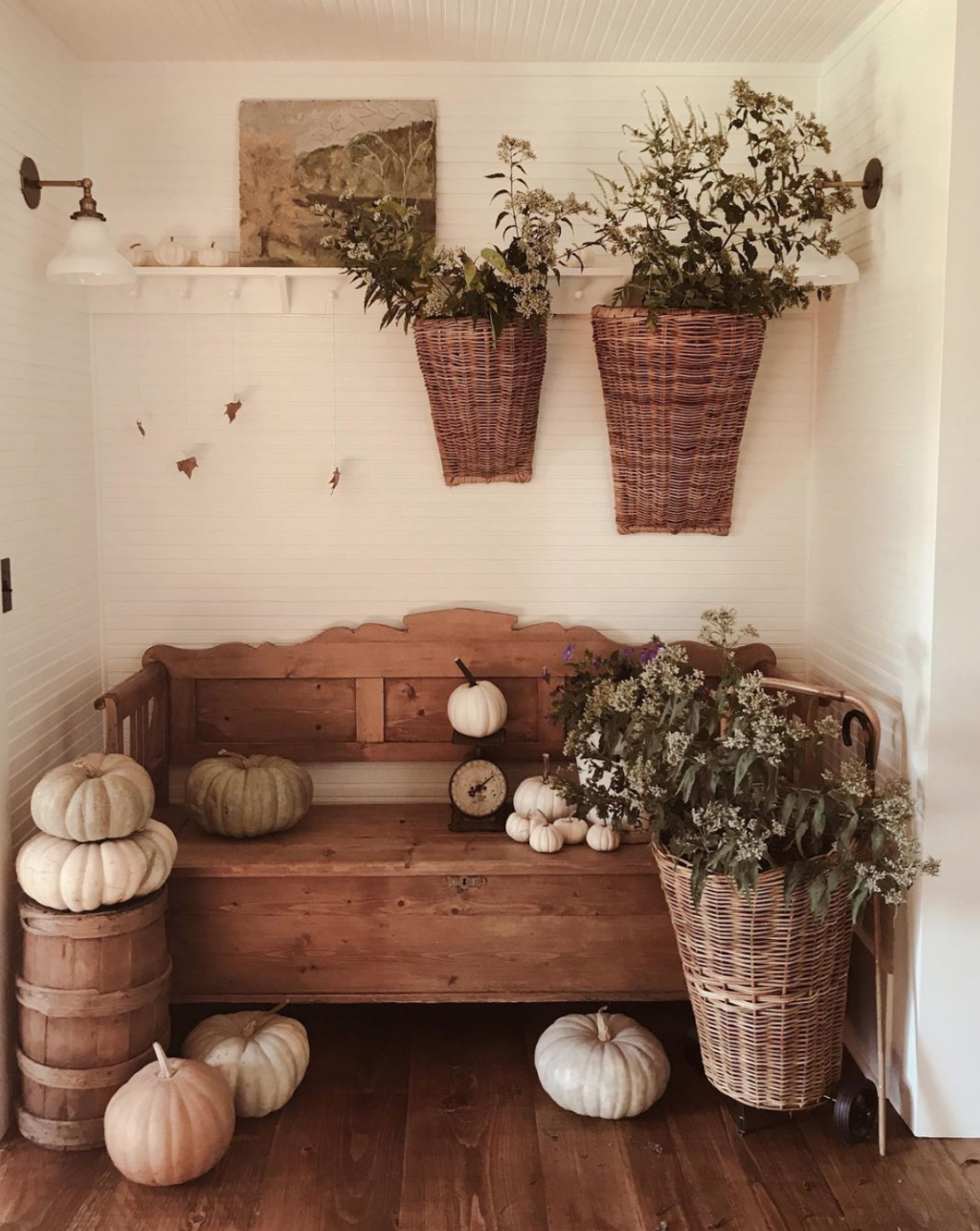 Since rustic fall decor is all about using as many natural elements and fibres as possible; including a few woven baskets is a great way to display end-of-the-season greenery.
Autumn Textiles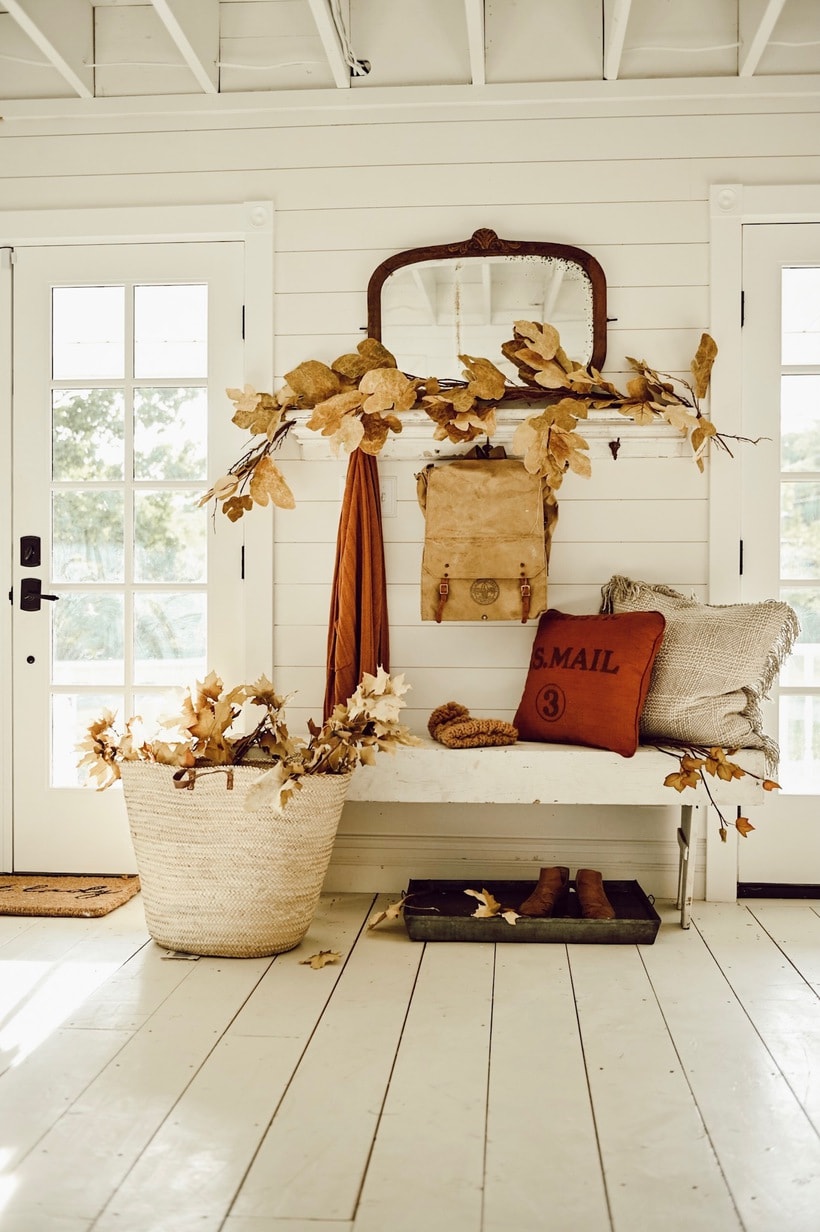 Another way to autumn-ify your front entrance is to display your collection of fall items (which of course you'll be wearing too). This could include boots, scarves, hats and more. If you have a bench with pillows at your front entrance, simply swap out your pillow cases for orange or beige textiles with rustic textures like linen or burlap. We also love the natural garland placed here!
Fall Dining Room Ideas
If you're planning on hosting a fall supper or Thanksgiving, decorating your dining room is a must! Here are just a few easy and rustic ideas that will complement all your comfort dishes and recipes.
Amber Bottle Centrepiece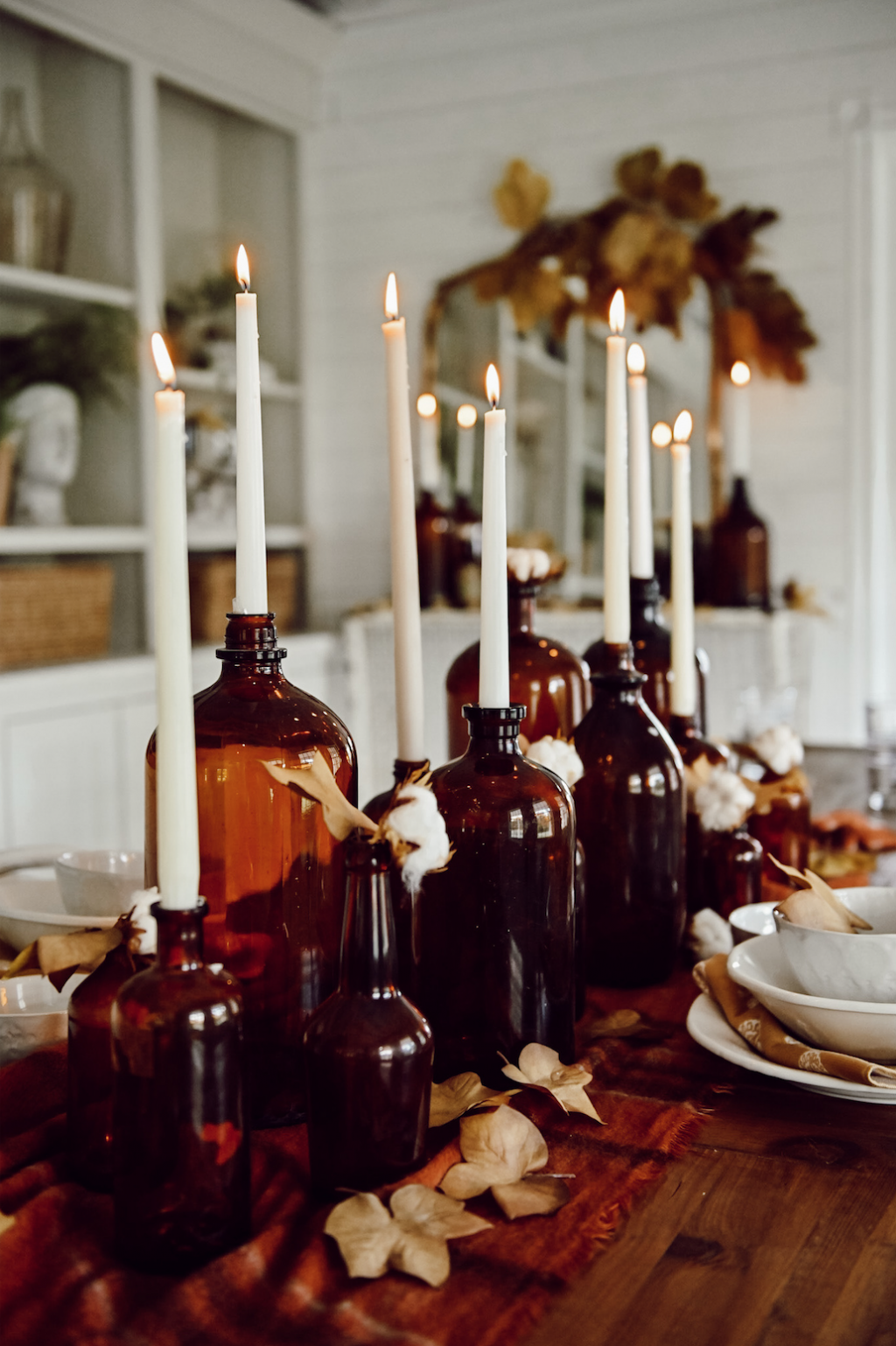 Head to your local thrift or vintage shop to pick up an array of bottles for this amazing and easy centrepiece idea. The fall table features bottles of all sizes – but you might want to stick to traditional fall colours like amber or orange. Then, pick up some candlesticks and voila!
Plaid Placemat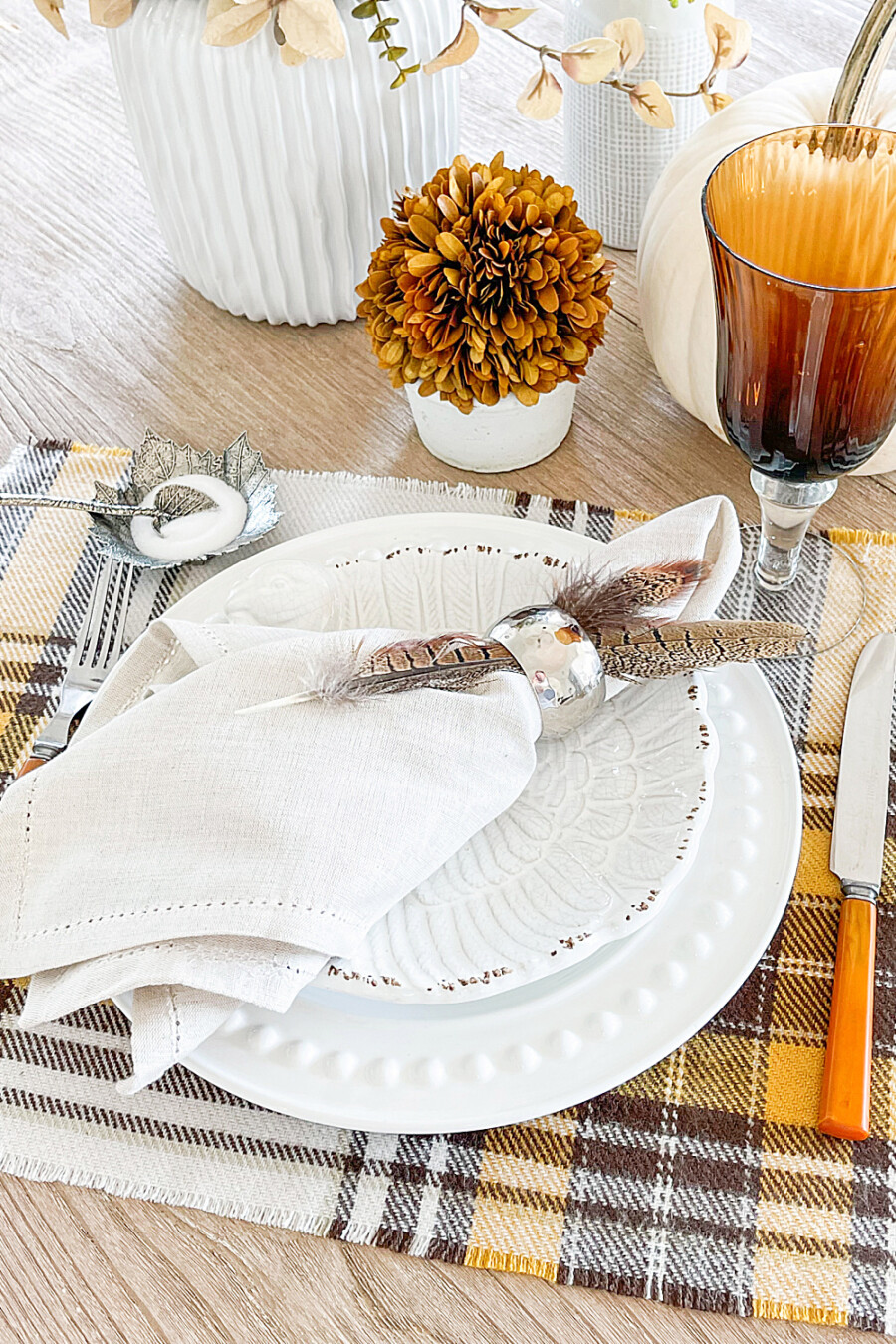 One easy way to dress up your table scape is with seasonal placemats – and in this case – DIY placemats. These simple plaid placemats are made using an old throw blanket.
Yarn Pumpkin Centrepiece
Make a project out of your fall dining room by crafting up some easy yarn pumpkins for your centrepiece. Mix and march colours and types of yarn for that rustic look. Follow a tutorial like this yarn pumpkin DIY while watching your favourite autumn movies.
White Pumpkin Dining Table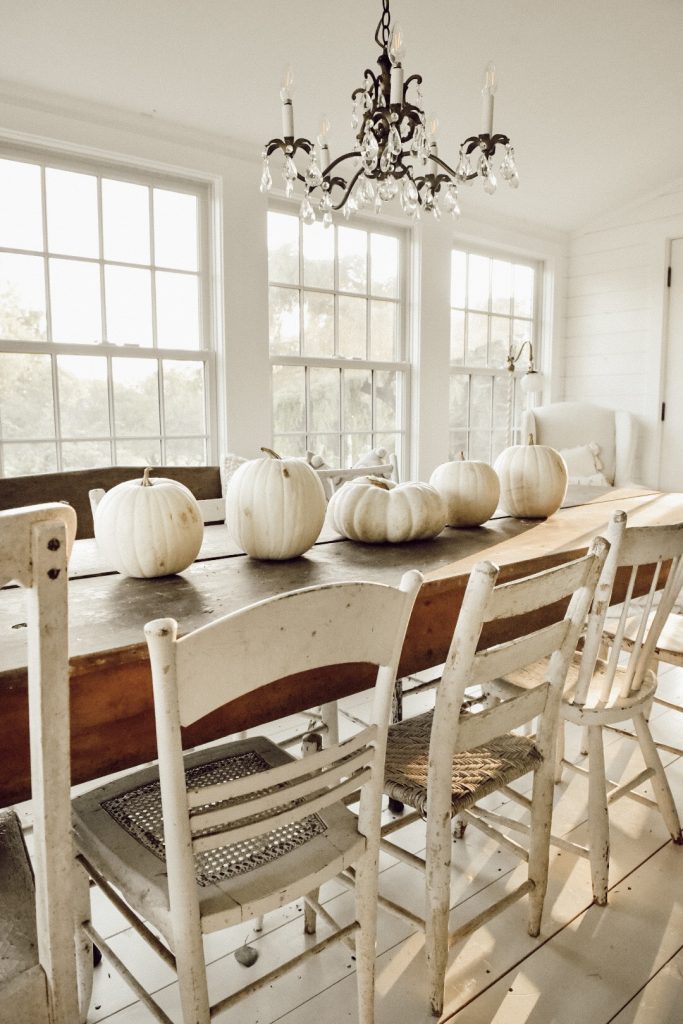 If you're looking for something even easier for your fall dining room – here's the idea for you! Simply head to your local pumpkin patch or grocery store and pick up a variety of pumpkins (be sure to choose different shapes). Then, spray paint them white and place them on your table for a minimalistic and rustic autumn design.
Fall Living Room Decor Ideas
As the cooler weather arrives, it's essential to have a cozy space for fall – and that means making a few special touches to your living room for the season.
Pumpkin Pillows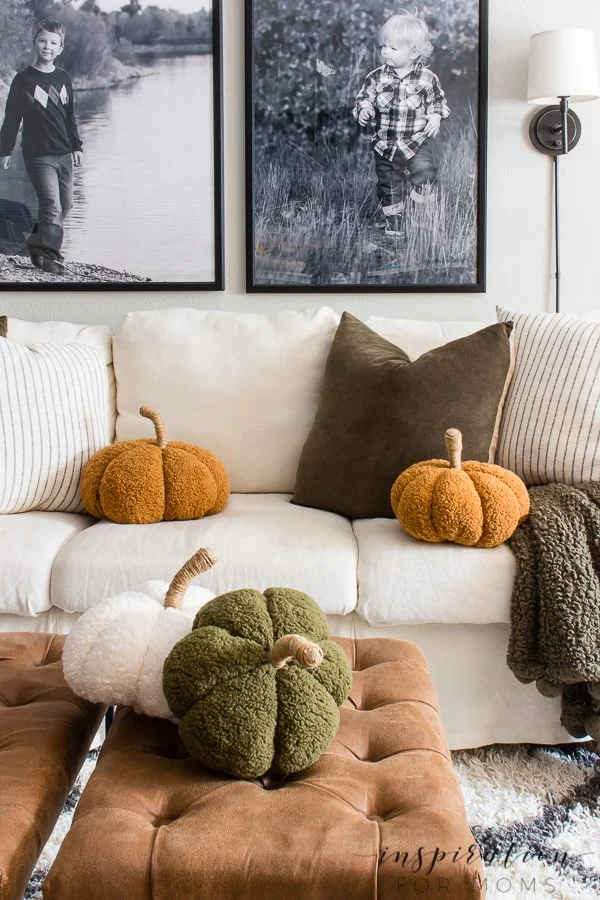 Textiles are a must when it comes to autumn home decor! One easy way to transform your space is to swap out or add chunky throw blankets to your living space; as well as different pillow covers to match the autumn season. This adorable sherpa pumpkin DIY brings your living space to a new level with unique plushes to display on your couches, chairs or even ottoman.
Pumpkin Chalkboard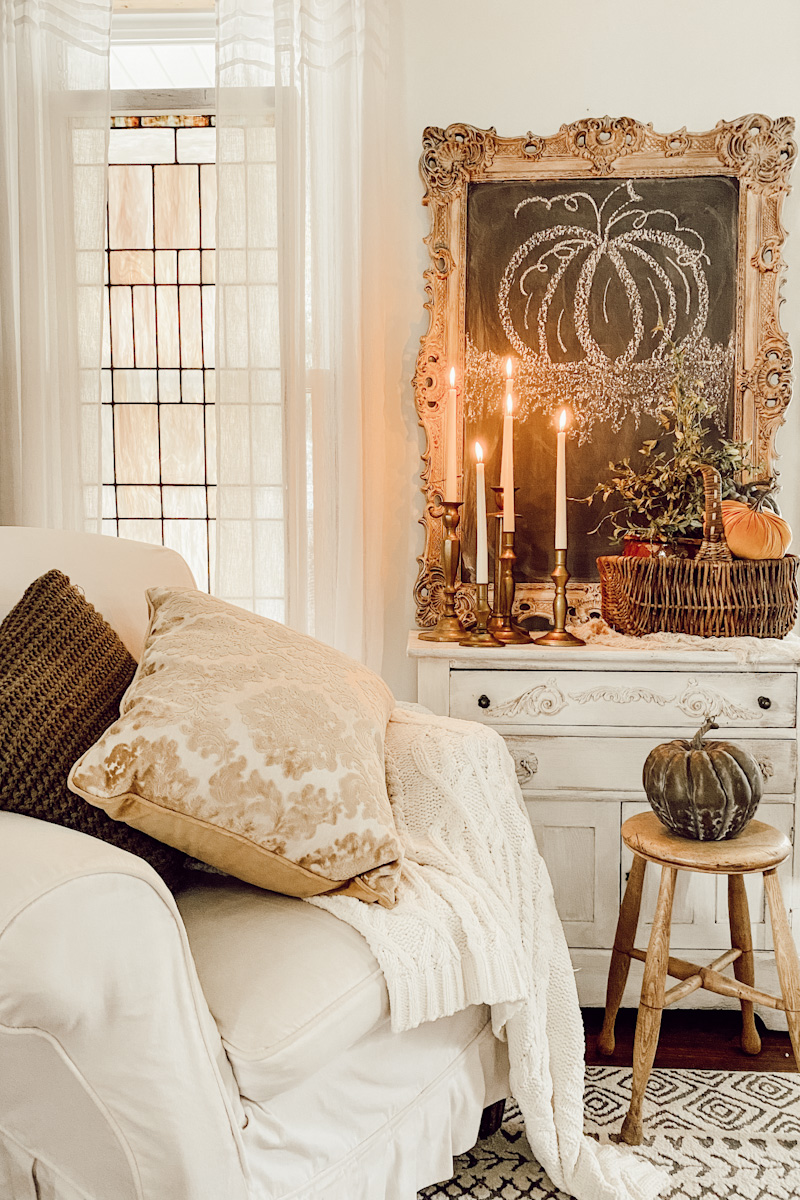 Here's a cute and easy way to decorate your side console table or living room cabinet! This DIY by Deb and Danelle shows you how to create this simple framed chalkboard featuring a pumpkin illustration.
Pumpkin Garland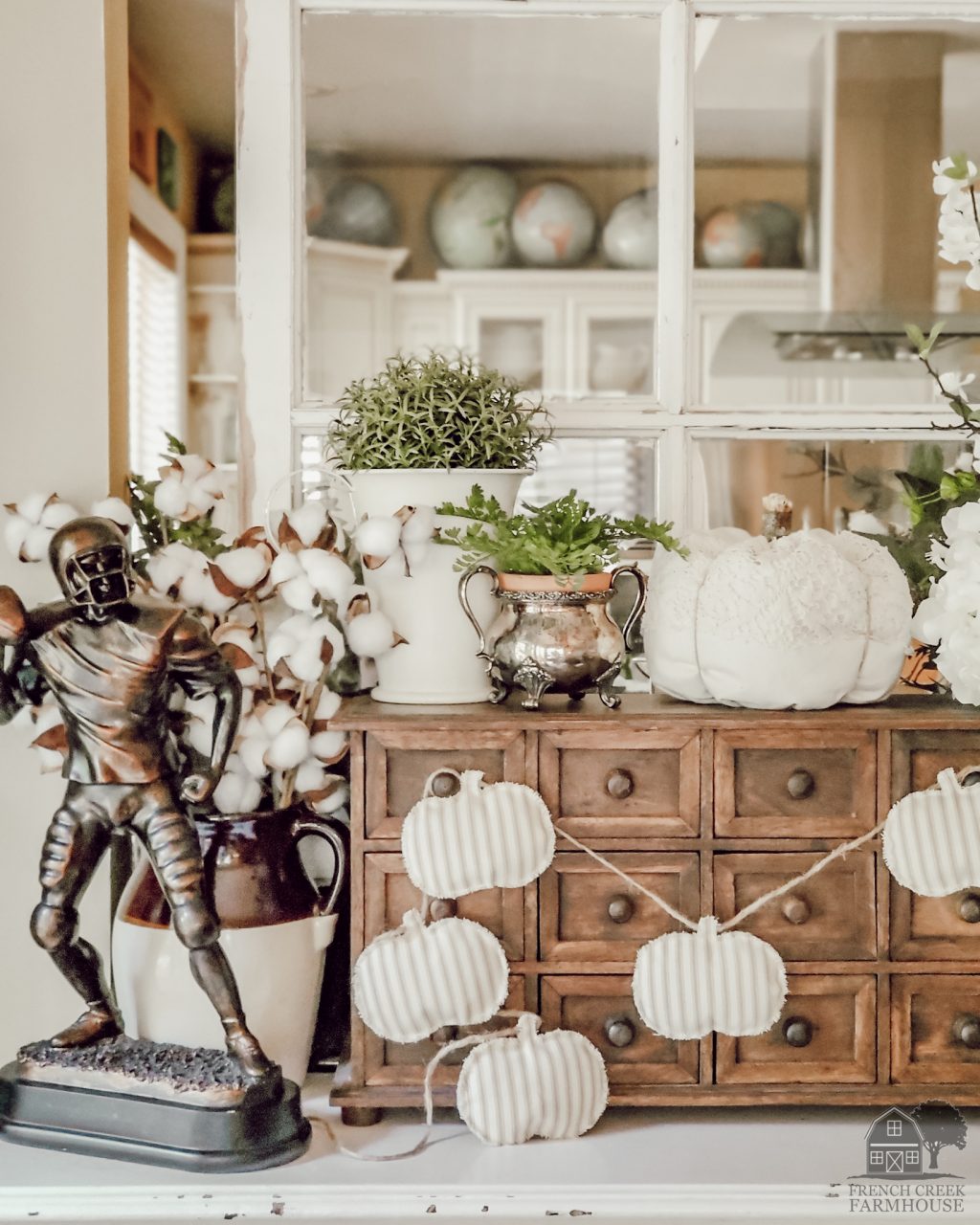 This sweet and simple pumpkin garland DIY is an ideal project to take on if you just want a little something for your living space. Garlands work particularly well to bring in a festive feel when strung across your fireplace mantel.
Fall Hanging Installation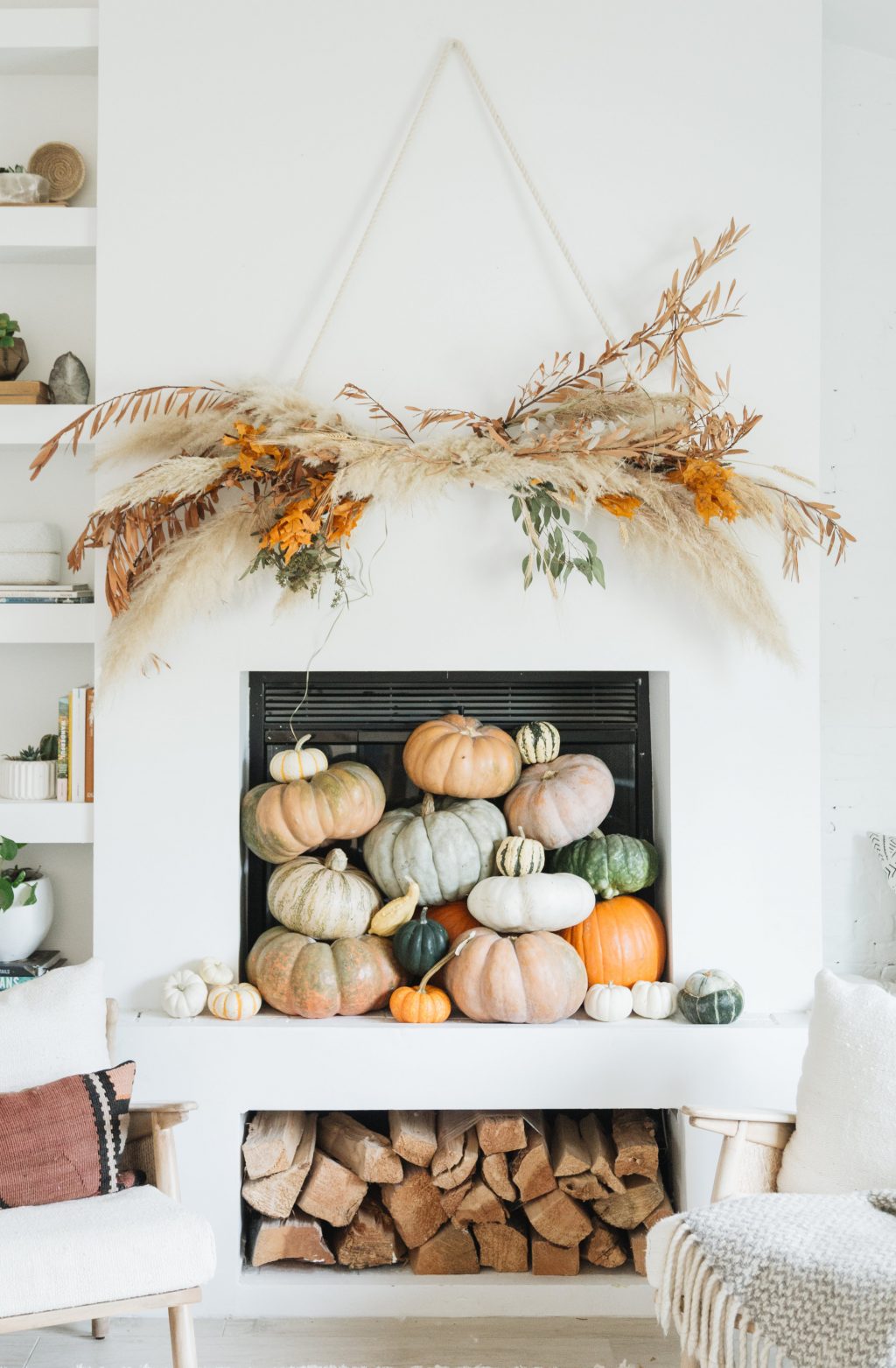 Another option for your fall mantel is to create your own art installation piece! This hanging arrangement uses natural materials for a rustic fall feel.
Vintage Fall Decor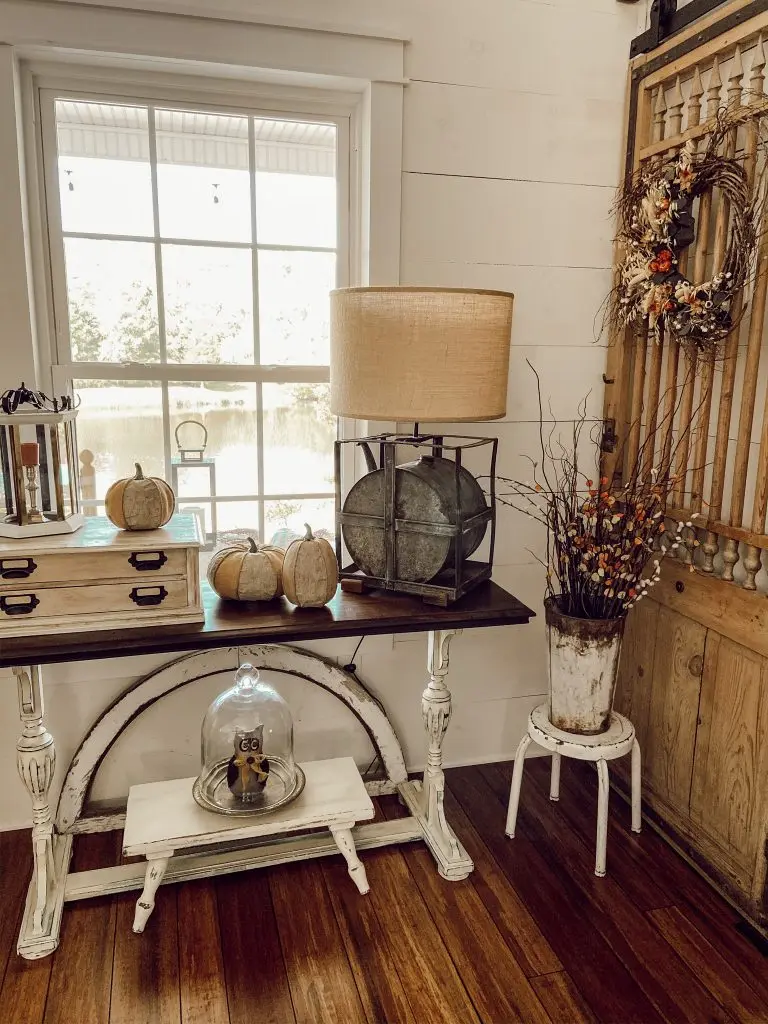 One easy way to evoke the rustic fall feeling in your living space is by incorporating vintage pieces wherever you can. Think rustic stools, pitchers, drawers and even a cloche dome like seen above!
Fall Bedroom Decor Ideas
For the true fall enthusiasts – take your decor to the next level by also adding some autumnal elements to your bedroom!
Simple Side Table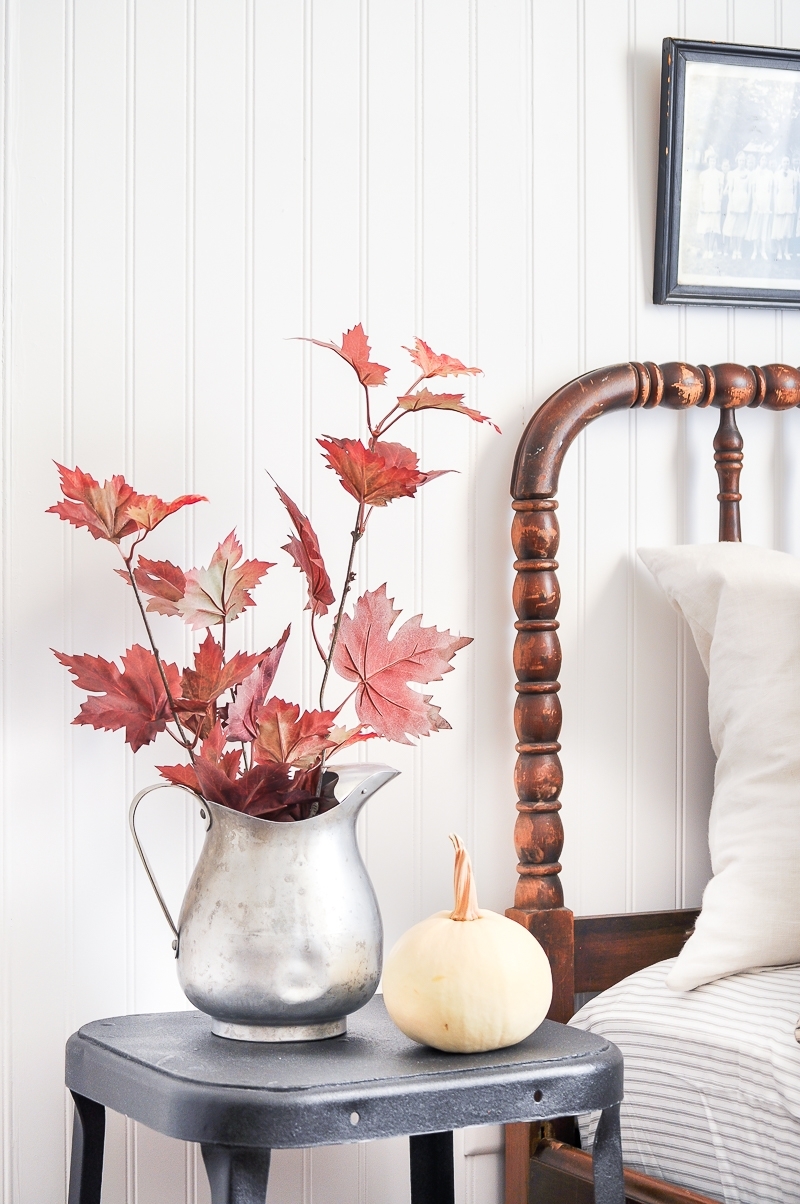 Keep your bedside table simple with this cute fall decor idea. Take an old pitcher (it could be metal like the one above or porcelain) and add some fall foliage. Include a mini pumpkin to complete the look!
Fall Bedroom Bench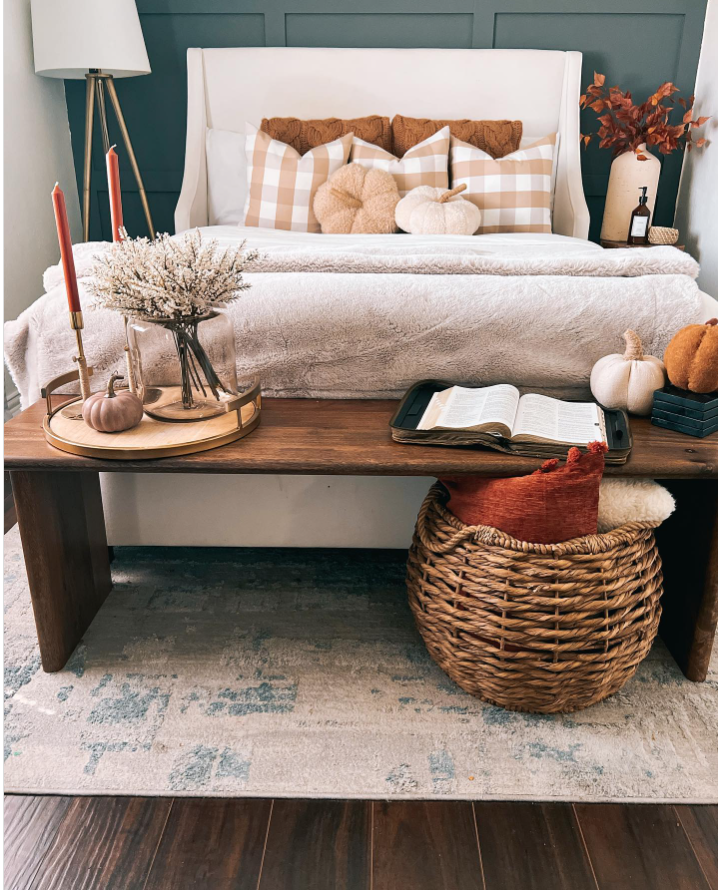 Another area to decorate in your bedroom is the ottoman, trunk or bench at the end of your bed. Tuck a basket with spare (seasonal) linens and create a vignette with your favourite book, pumpkins and candles.
Make Small Adjustments for Fall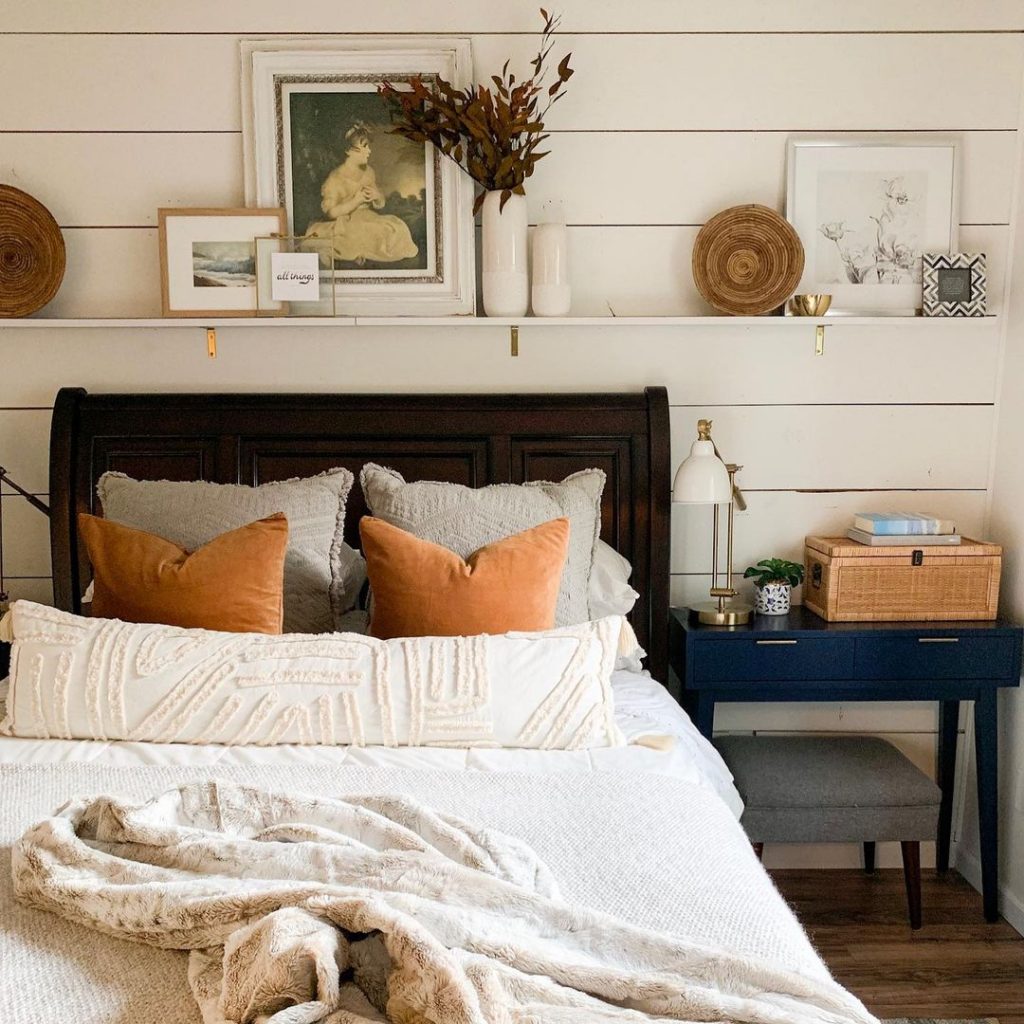 Keep in mind that you don't need to make huge changes to your bedroom to get that fall feel! Simply bring out your cozier textiles and pick up some orange pillow covers for an instant transformation.
Other Fall Decorating Ideas
Don't underestimate how many DIY fall decor items can be created with a little bit of creativity and supplies.
Terracotta Pumpkins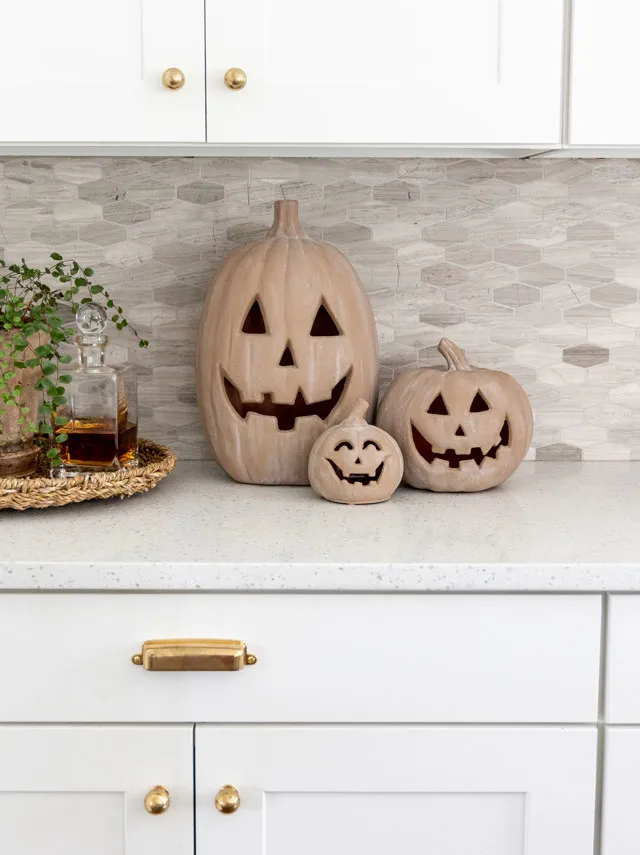 You may have seen the Pottery Barn terracotta pumpkins make their way around home decor blogs – loved for their rustic look that's just perfect for the those who want both fall decor and Halloween decor. This easy DIY shows you how to create an amazing dupe!
Rustic Basket DIY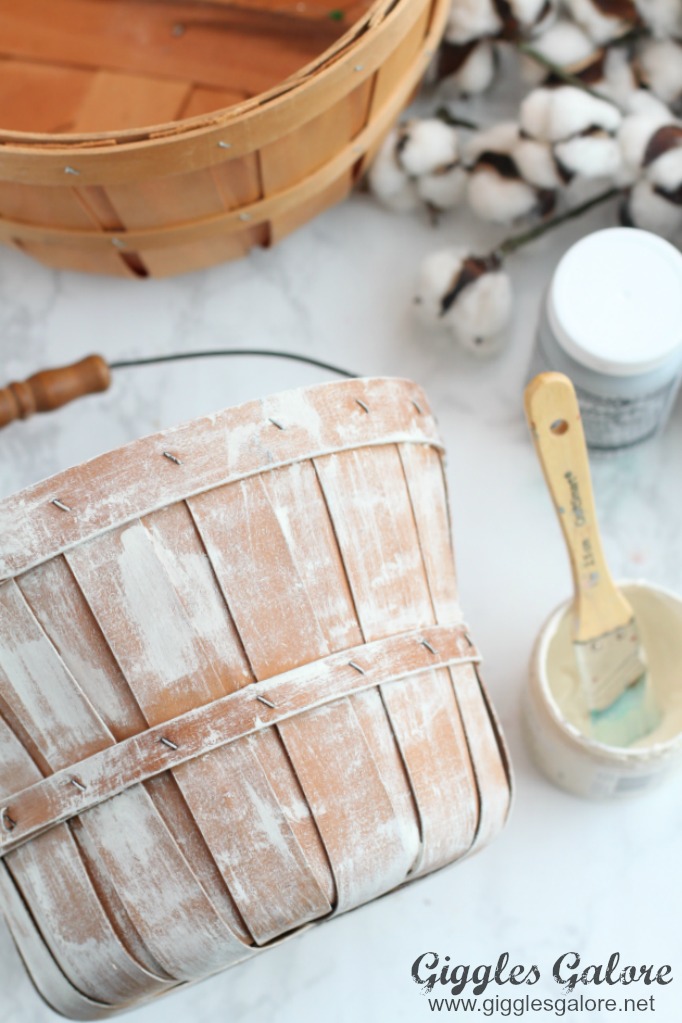 If you have a plethora of items you want to display but no where to put them, baskets are essential! This simple DIY shows you how to create rustic, farmhouse baskets using a brushing technique.
PIN THIS:
Last Updated on