Hey friends, I hope you had a good weekend. I've got another makeup tutorial I wanted to share with you today. This one was inspired by Taylor Swift. In particular, the shoot she did with InStyle UK which had my mouth drop open in awe of the gorgeousness. It's a more natural look… really easy to do and only takes a little bit of eyeshadow since the focus is all in the liner. Here's the look and how it's done:
Step 1: Highlight your brow bone with a light nude colour as shown in the swatch.
Step 2: Fill your entire lid with a darker nude. Mine's more of a salmon tone.
Step 3: Brush a light greyish brown onto your crease on the inner area only. Blend it gently up towards your eyebrow.
Step 4: With a darker brown, apply under your eye, keeping it soft.
Step 5: Grab a brown eyeliner and apply under lower lashline and on your waterline.
Step 6: Line your upper lid with a liquid liner. Taylor usually does a slight wing as shown.
Step 7: Add mascara to your top lashes, and very sparingly on your bottom ones.
Step 8: Apply a highlighter to your cheekbones, nose, and chin.
I also faked some bangs for this look. To do that, all you need to do is grab a section of hair from the top of your head, brush it all forward, then fold it back over your forehead to the proper length and pin like crazy. This works well for photos, but if you are going out in public like this, you might want to tie a cute scarf around your head:
My inspiration for the look:
» Need blog topic ideas? Check out 365 Blog Topic Ideas on Amazon!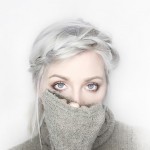 I am an online entrepreneur/artist helping other creatives kick butt in the real world. When I'm not running the Wonder Forest blog ship, you can find me teaching in my Watercolour Workshop, creating artwork for phone cases and home decor, whilst managing the daily tasks of Dana Fox Creative. Visit me at the links below if you wanna be friends and check out my Instagram stories for behind the scenes bits!