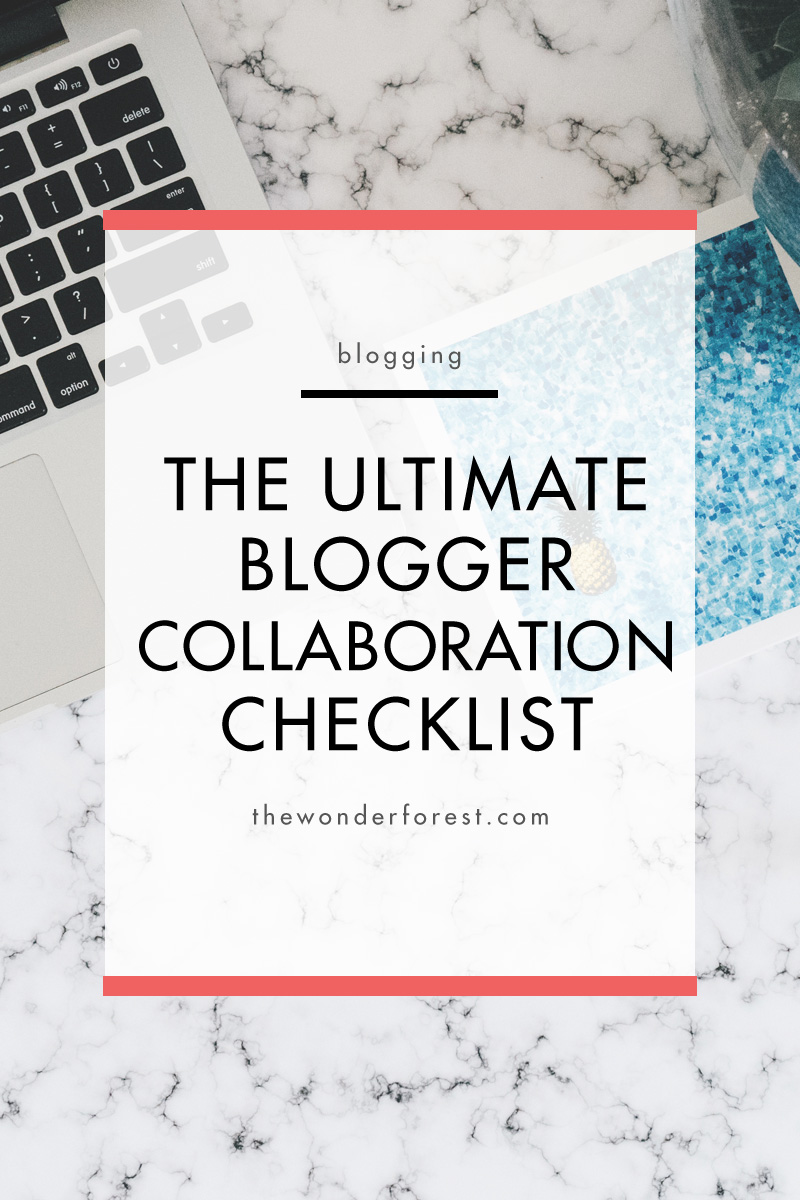 Whether you've been blogging for a month or a year, you should always be prepared for your first (or 100th) brand collaboration, especially if you plan on making blogging your full-time job. Brands don't want to work with just anyone and you shouldn't want to work with just any brand either.
The collaboration has to make sense for everyone involved otherwise it won't be a success. Trust me, I've had my fair share of failed collaborations.  
So before you say yes to everything that comes your way, as tempting as it is, you want to check 3 things: First, the intensity (is it manageable or did you bite off more than you can chew?). Next, your level of happiness (is it fun or does it suck?). And lastly, how you'll be compensated (monetarily, exposure, free gifts?).
Intensity: Is it Manageable?
With any collaboration, you definitely want to be challenged but you most certainly don't want to spread yourself too thin because then you end up being no help to anyone. Am I right or am I right?
You want the collaboration to be something you can do exceptionally well while exploring a different side of yourself. What I mean by this is maybe you agree to shoot your first editorial for a brand or maybe it's your first time writing a cookbook in collaboration with a food company. You always want to be trying new things for the sake of personal growth and to keep your audience interested. And who knows – you may find that they really like editorials so that becomes something you do more often. I always say that the beauty of blogging is that it's all trial and error.
However, I will say you don't want to agree to a collaboration that goes from challenging to overwhelming. You always want to do your best and give your best and sometimes that means saying no to an offer where the guidelines are unreasonable, you don't feel you're prepared, or you simply have too much going on.
Either way, the brand or company should be understanding of this. And even if they're not, who cares? You don't want to work with them anyway!
Happiness: Am I Excited About it?
Every collaboration you consider should light some kind of fire in you. You should be pumped! I mean, it's a really big deal to get to work with the brands you want to work with, doing the things you want to do.
What's the fun in taking on a collaboration that you hate just because it pays the bills or because you have nothing else going on? I'm telling you if you take on those types of collaborations those are the only collaborations you will attract. You can afford to be picky, especially if you're just starting out.
You want to establish a brand aesthetic and when you're contacted by brands that fit that aesthetic with exciting projects, you should feel excited. If you stop getting excited about new projects, you can assume the project is something you shouldn't be doing. You know what they say, "Do what you love and love what you do."
Ultimately our level of happiness is what determines the outcome of the work we put out, and that's huge. So you have to make sure you put yourself and your happiness first before anything else.
Compensation: Will it Benefit Me Financially?
At the end of the day, blogging is a job just like anything else and bloggers have bills and needs and wants just like everyone else. Before accepting any collaboration, you need to look at how you will benefit from this – and if the time and effort you might have to put into it will be worth it.
All bloggers want to get paid for their services but unfortunately, that doesn't always happen. If that's the case you have to decide if the collaboration is worth your time and effort for whatever you do get in return.
For example, let's say one of your favorite brands reaches out to you for an unpaid collaboration. You'd get one free item of your choice and you'd have to post on your Instagram, Snapchat, make a video, write a blog post, and host a giveaway. That's a lot of requirements for one item. Even if you are madly in love with the brand I would reconsider accepting a collaboration like this because it is basically like they are hiring you to do all their marketing for free. Use your best judgment. One item for one Instagram post seems like a fair deal…but that's just me and it would depend on how many followers you have, your engagement and whether or not the item is of high value!
I promise you once you establish your collaboration standards and who you are as a blogger, you'll know in an instant whether or not a collaboration is worth your time. You don't want to water down your brand just because you're getting paid for a collab you're not thrilled about, or you're not getting paid at all to do a lot for a brand you admire. Every collaboration should make you feel like you're moving forward in your blogging career… don't settle! Read that last part a few times over.
xx Britt
Follow Me – Blog Instagram YouTube Snapchat @notanothrblonde
» Need blog topic ideas? Check out 365 Blog Topic Ideas on Amazon!
Brittany is the blonde behind the blog Not Another Blonde. A self-proclaimed blogger for bloggers, she moved to NYC in pursuit of her dreams and is achieving them one day at a time while helping others to do the same. When she's not blogging she's bossing her boyfriend around on Snapchat, consulting brands and bloggers, and contributing to Zanita Studio. No idea is too big and it's never too late to start doing what you love.