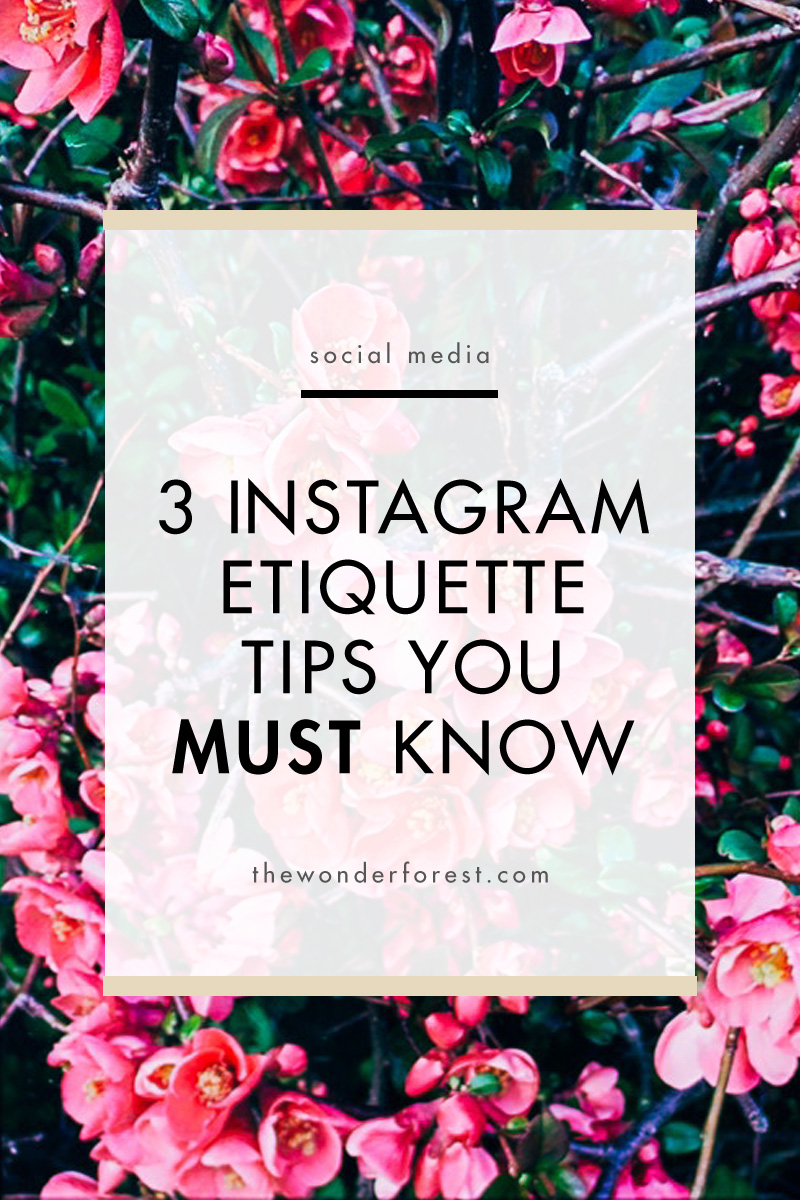 "Every one of us is an artist, and as an artist, you really can stroll into any venue that you want, as long as you take your time to learn the etiquette of that venue." ~Terrence Howard
I confess. I'm obsessed with Instagram. Aren't you? The beautiful vibrant photography from places I'll probably never see. Gorgeous homes of people I'll probably never meet. Not to mention a billion photos of pizza and tacos for days (it's seriously heaven in an app). Best of all, it's a place where you can find a community that will cheer you on! If you are a maker, there's room for you. If you're a blogger, hey girl hey, pull up a seat and sip your hot chai latte while meeting some new friends. Instagram can be such a warm and inviting place when you use it right.
Now I'm not here to bash you or point any fingers. If anything, just think of me as your IG Bestie Coach letting you in on a few etiquette secrets with a little tough love. Okay maybe not secrets but obviously not everyone is following the "rules" so let's dive into the best way to use such a powerful, visual platform like Instagram. We were always taught as children to have good manners. This includes our words and our actions. Here's what I mean.
Give Credit
There are a ton of people who share their original artwork and photography on Instagram. It's probably the #1 free marketing app for small business owners and entrepreneurs. While we might love something so much we want to share it, there is a proper way to do so. Instead of taking a screenshot, cropping, editing and sharing WITHOUT tagging…stop for a moment. Think about how you would feel if it was your work. Wouldn't you want credit? If you go through all the trouble to share someone else's photo, then just take the next step and tag them!
I recommend tagging their profile in the actual photo itself and also in the caption below. Even a simple camera emoji next to the tagged name works. Because when you share something in a post without tagging, people will probably assume it was yours first. So just give credit where it's due. If you're a blogger or maker, it could open doors to future professional relationships or collaborations.
Comment Abuse
I'll admit. This one takes a change of mindset in order to be affective. Proper etiquette offline is key when you're working a room at an event. If you went around to all the booths or tables tossing business cards like confetti and shouting "Check out my page!"…no one will do it. Not one. Except maybe the creepy guy in the back sneaking too many bacon covered shrimp (TBH that might actually be something I'd do).
The point is this: be authentic when commenting on someone else's post! Especially if you admire them. If you met that person in real life, would you be talking about yourself the entire time, shouting in their face? I seriously hope not! It would be so much more real if you complimented the way they wore their hair in the photo, responded to the call to action in the caption (something they're hoping you'd do anyway) or even just saying "I really like how you said that. Thank you for inspiring me. I'll remember that the next time I hustle." Talk normal. Don't shout. Have a genuine heart and keep the spotlight on them. Your time will come. Just not in the comment box begging for attention.   
Just Be Nice
It's too easy to hide behind our little screens and devices thinking that we can be anything, do anything…and say anything. While you definitely can, the real question is should you? Proper Instagram etiquette is just like real life. Be kind or be quiet. Period. It's time to stop using the comment box as your own personal soapbox. No one is forcing you to look at people's posts or photos. Just keep scrolling if you are offended or don't like something. Especially if you are a professional trying to use Instagram to build a brand and convert followers. There really is no need to criticize a mother's public nursing methods, an artist's overuse of pink (which btw, there is no such thing) or a fashion bloggers not-so fashionable brunch outfit. You don't have to like everything but you should be nice to everyone. Your actions and words will reflect on your brand. Not to mention, it's just not your place. Keep things simple and sweet. It'll benefit the entire community.
Etiquette is not only reserved for tea time in the palace or even a first job interview. It's a choice to be respectful, polite and showcase integrity. 
Last Updated on