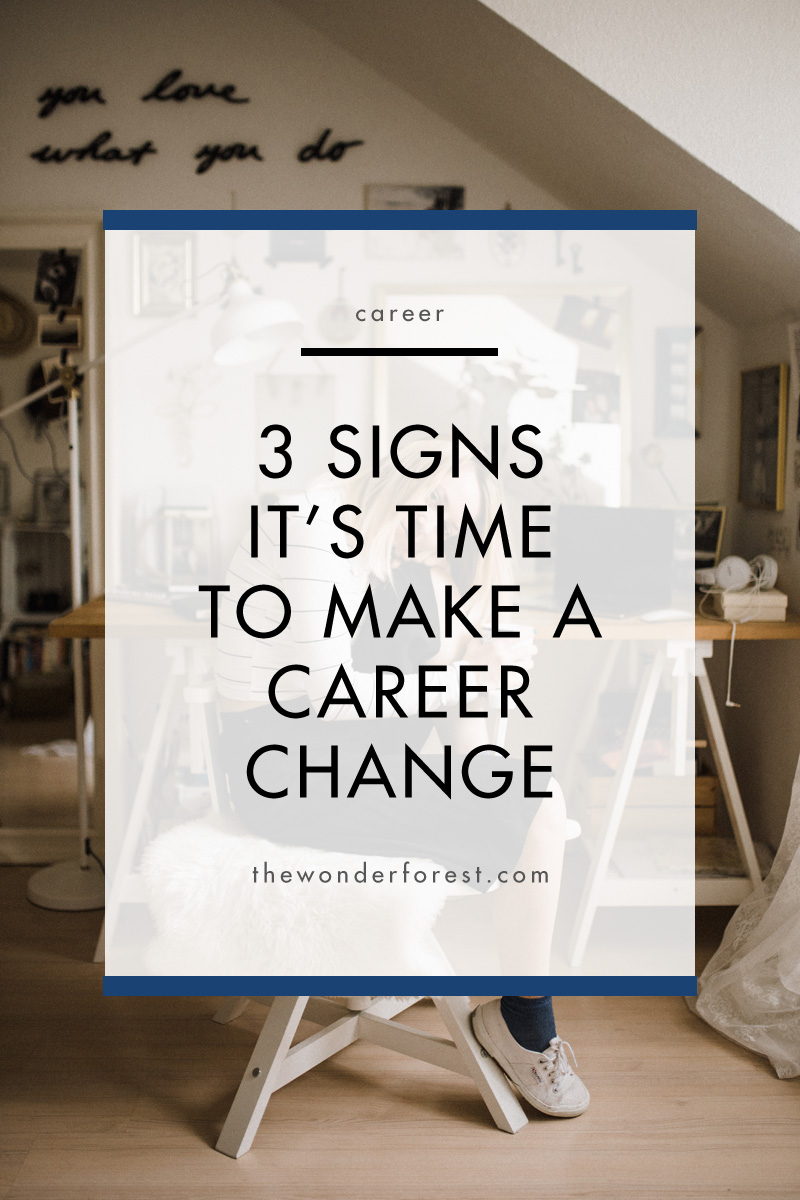 While there are people fortunate enough to find their true passion and lifelong career early on, that's not the case for many of us. If you're anything like me, it takes a couple of years of soul-searching and a few different jobs to figure out what line of work truly makes you happy. After all, it's a lot of pressure to know what you want to do for the rest of your life when you have very little to no work experience. And it's also not uncommon to land what you thought was your dream job, only to find out that it wasn't exactly what you were looking for.
However, deciding it's time for a career change is something easier said than done. Not having a defined career path can be downright terrifying, and it also takes a lot of effort to find a new calling. Trust me, I know from experience. I probably put off leaving my career in nonprofit work for so long because I was too afraid to admit I was feeling lost. However, I couldn't be happier with my choice now that I've been working in marketing for a few years.
So if you've been flirting with the idea of exploring other opportunities, keep on reading to learn what signs to look for to determine if it's time for you to change your career as well as some advice to help you make that transition happen.
Work Leaves You Feeling Emotionally and Physically Drained
Many of us spend the majority of our week at work, and that can easily get exhausting if you're not enjoying what you do. It takes a lot of effort to show up and do your job if it's not something that excites you, and that can lead you to feel bored, depressed and tired.
Although burnout can be why you're feeling this way, that's something you can overcome by getting some rest, making self-care a priority and changing a few things here and there. But if you've already scheduled some downtime and still lack the energy and motivation to power through the week, it's probably a sign that your job is no longer fulfilling. This is the time to start looking for a new calling that inspires you to get up in the morning. 
You Can't Picture Your Next Career Step
When you're enjoying and making strides in your career, it's easy to picture your next career step. You spend time thinking of how the skills you're building now will help you land that next big role when you're ready to take the leap. Better yet, you make a plan for where you want to be five or even ten years from now.
While having a five-year plan is not a requirement, you should at least want to find and explore ways to grow in your career. So if you don't even have a vague idea of what's next, you might want to start looking for opportunities elsewhere.
You've Stopped Learning and Feeling Challenged
All that leads me to my next point: sometimes it's not always about wanting to grow in your career, it's about being able to. It's very possible for you to have reached your peak in your current line of work even if it's one you've enjoyed over the years. Although you should definitely strive to be good at your job, if you're not learning or doing regular problem-solving, it can easily feel routine and boring. If you notice that you're no longer learning and feeling challenged in your career, it doesn't hurt to explore other options before you start feeling bored and miserable.
What to Do if You're Ready to Change Your Career
So, what's next now that you've figured out it's time for a change? To start, you should double check to make sure it's not just your current workplace that's making you unhappy and stunting your career growth. A horrible boss or work environment can easily make you feel like you're not in the right place. In which case, your best bet is to look for a change of scenery.
But if it's not your current work environment that's keeping you down, your next step is to find a career that's right for you. Start by jotting down a list of the types of tasks you enjoy doing, the kind of work environment you're looking for, as well as the salary and lifestyle you aspire to have, and use all that to identify and explore potential careers. Once you've done that, reach out to and schedule time with people working in roles that interest you to learn more about their field of work and whether it's a good fit for you.
Once you've identified your next career, start to prepare for that transition. Make your resume shine by continuing to build key skills you already have and finding ways to develop those you need to become a more competitive candidate. Finally, if possible, make it a goal to network and meet as many people in your new career field as you can, so that you can call on them for advice and even a reference when the right opportunity comes your way.
Last Updated on