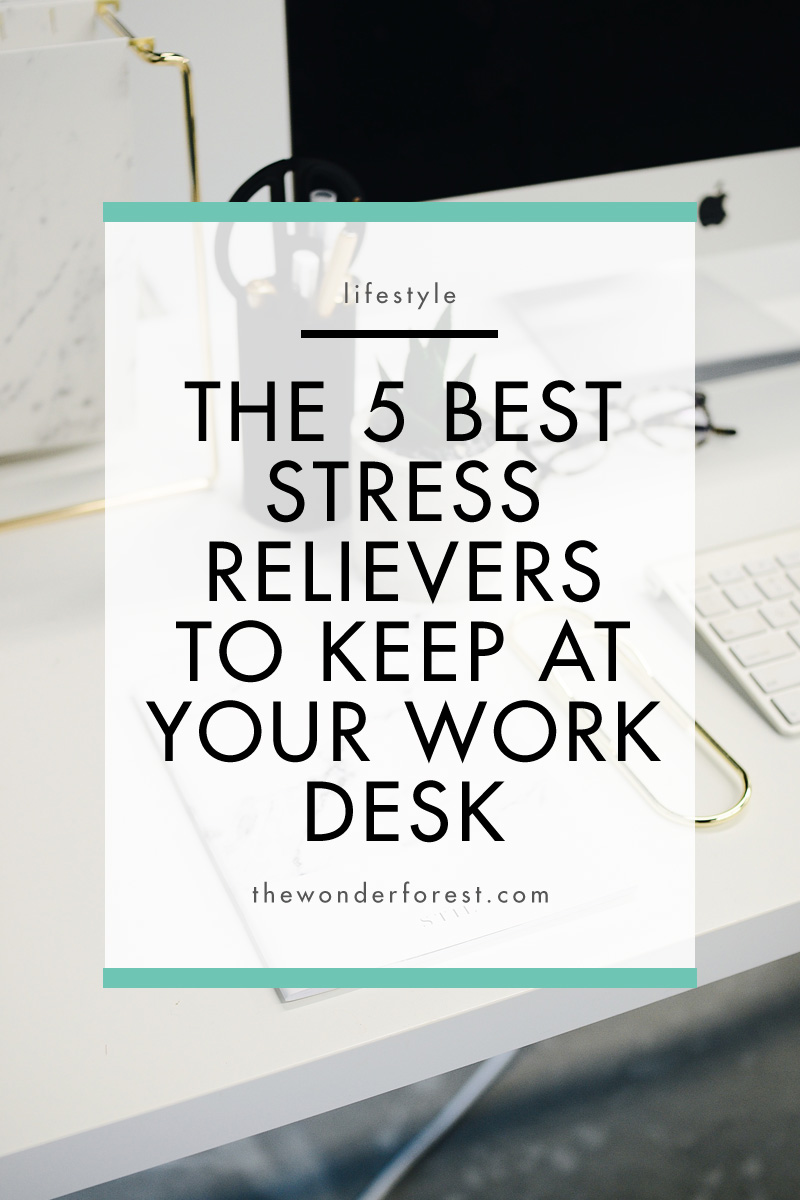 Nothing puts a damper on your workday plans quite like an overwhelming feeling of stress or anxiety. Feeling tense at the office can quickly wear you down at work and the mental and physical effects may even follow you home after you finish your work for the day. That's why it's important to instill a few precautionary measures to keep stress at bay — all from the comforts of your workspace or office desk.
While it's essential to maintain a healthy diet and engage in your daily dose of exercise to keep tensions at a minimum, you may sometimes find yourself needing immediate relief from moments of overwhelming angst. After all, you need to remain productive — a task that begins seemingly impossible when feelings of distress start to impair your concentration and inspiration. 
Whether you're short on time or need a quick pick-me-up to power through your tasks, here's a list of five quick stress relievers you'll want to keep at your work desk to maintain a healthy mindset throughout the day:
Plush Pillows
If you're stuck sitting in your office chair all day, chances are you may begin to suffer from back and neck pain after sitting in the same spot for several hours. You don't have to lay in bed to enjoy the perks of a soft plush pillow, either. If you find that your stress is connected to muscle pains and aches, a pillow may just be the solution you need.
Invest in a memory foam back support to feel the maximum effect. Plus, the extra-cushiony feel of the material embracing your body will make it difficult to feel tense throughout the day, too.
Eyedrops and Glasses
If you find yourself staring at your computer or phone for hours on end, chances are your eyes may begin to feel the strain of the continuous exposure to these screens. A simple dry eye can quickly turn into a headache that amounts to overwhelming feelings of stress and unease.
To combat the effects of dry or tense eyes, keep a bottle of artificial tears or eye drops within arm's reach on your desk to keep your vision clear and spotless throughout the day. Maintaining lubricated eyes and excellent vision is an essential component in fulfilling your daily office tasks, too.
Puzzles and Stimulating Games
When you feel on edge and start to feel the pressure of endless assignments piling up, just take a breather — Rubik's Cube style.
If you find your mind wandering and your sense of clarity begins to degrade, break out of puzzle to put your brain to use in a proactive way. Games such as Sudoku and a Rubik's Cube divert your brain's attention away from stress by offering a challenge your mind can focus on instead. Plus, a quick game or two may just give you the push necessary to power through the rest of your tasks with ease.
Photography
Sometimes, all it takes is a simple picture to provide you with a glimpse of home throughout the day. Nothing puts you in your happy place quite like a picture of your dog or a photo of your family during your last summer vacation.
When you find yourself feeling sidetracked at work or begin to feel a lack of motivation, remember to keep a montage of your favourite photos that remind you why it's important to keep progressing. Plus, a showcase of your happiest moments in life can help ground you and release any previous tension that prevented you from achieving peace.
Essential Oils
When you're stuck at the office or find yourself spending hours on end sitting in the same spot throughout the day, you may begin to feel cramped and stuffed. While your endless pile of assignments may keep you from getting up and enjoying a whiff of fresh air, that doesn't mean you can't enjoy a breath of soothing smells, either.
Invest in some of your favourite aromatic scents and remember to include several aromatherapy essential oils specially crafted for stress relief, too. Certain smells such as lavender and lemon are known for their relaxation-induced effects on those who smell them. Drop your oils in an oil diffuser and you'll find that feelings of calmness and peacefulness will quickly follow.
While stress at the workplace is common, it doesn't have to be an inevitability, too. With a few precautionary measures in mind and several must-have accessories at your desk, you can instil a sense of tranquility and composure in your workspace that always grants you the positive state of mind to power through the day.