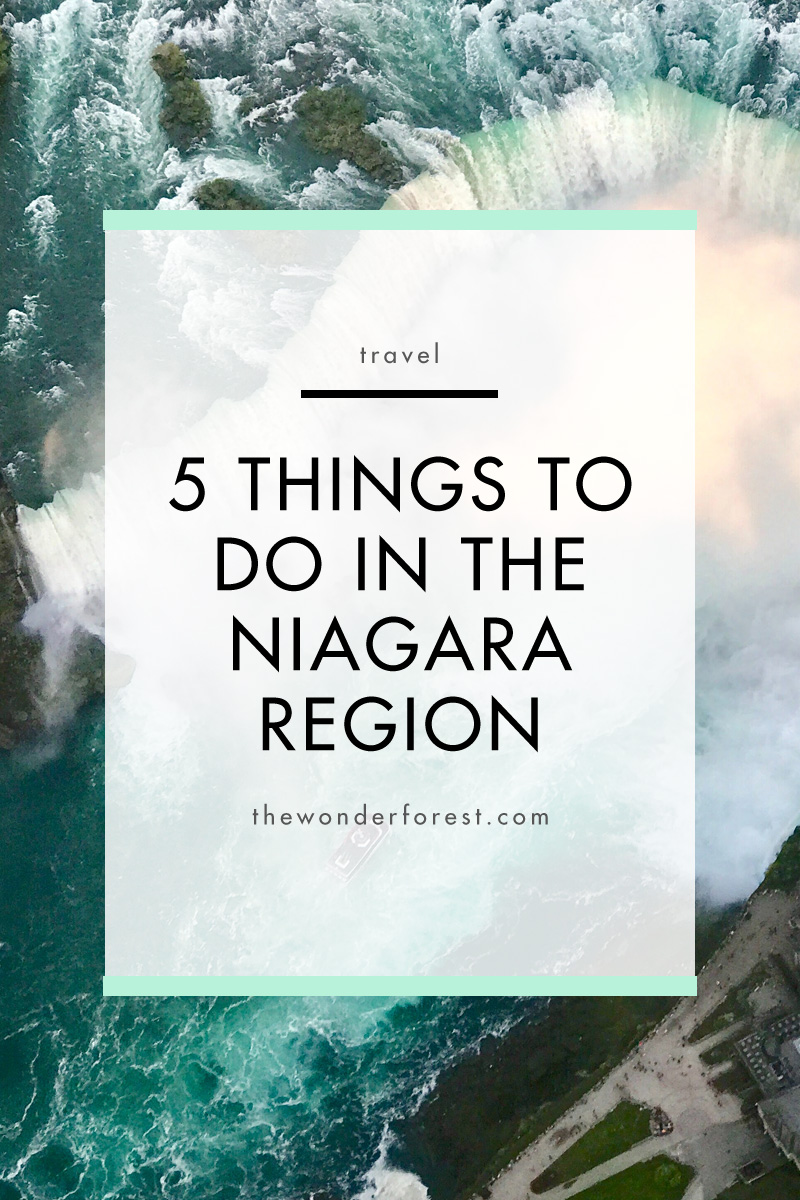 My husband Ryan and I recently celebrated our 4th year wedding anniversary this September and what better way to celebrate than to go on a romantic weekend getaway to the Niagara region? We packed up the car early on a Saturday morning and hit the road. It took us about 2 hours to get there and once we arrived, we realized we were in for one of the hottest weekends of the year with temperatures hitting 40 degrees Celsius! Despite the incredibly humid weather we made the best of our time in the region; here are 5 things we absolutely loved about our stay and would recommend if you are visiting the Niagara Region.
Ride to the Top of Skylon Tower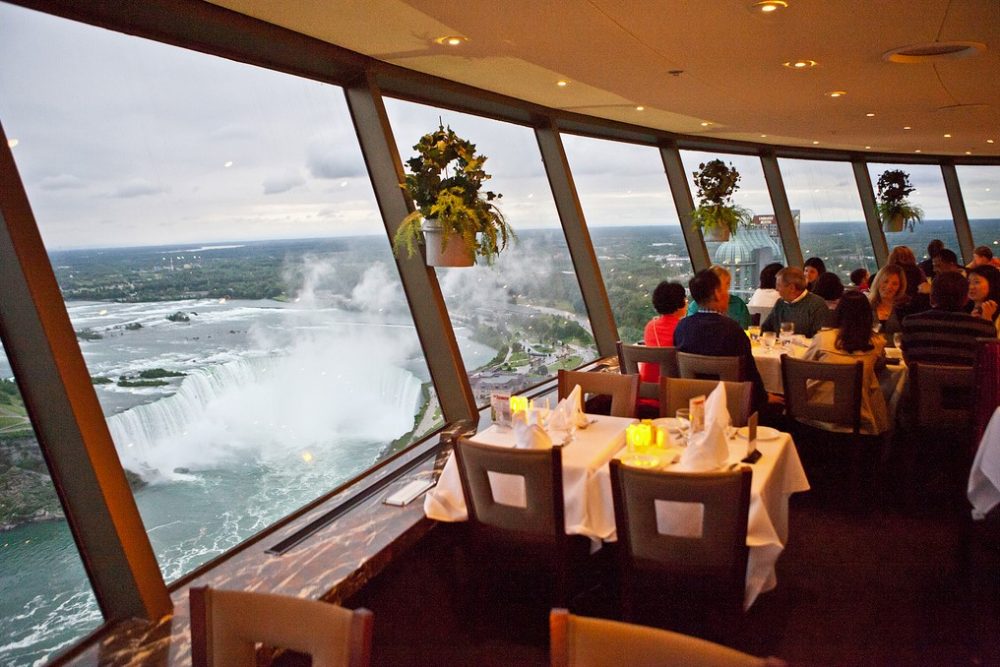 Cost: $200.00 including our meals
My anniversary gift to Ryan this year was a surprise romantic dinner in the Skylon Tower's revolving dining room. I bought a new dress that had white lace on it which resembled my wedding dress and a new dress shirt for Ryan in our wedding color – purple – which really added a special touch to the evening. By going at 7:00 pm, we got an amazing view of the sunset and the falls as we were seated for our meal. Our meal was delicious (Ryan had steak and I had Haddock) but the 360 views from the dining room were even better. We finished our evening off with their famous Crème Brulee dessert and a visit to the viewing deck at the top of the tower which came included in the price of our meal. Once we were on the viewing deck we got some much needed fresh air after a big meal, and we were in for an extra  treat because the Fall's were illuminated! It was the perfect way to end our anniversary evening.
Hike the Niagara Gorge
Cost: Free!
The next day we decided to take the short drive from Niagara Fall's down to the Niagara Gorge Conservation Area and hike some of the trails. The parking at the top of the trail was inexpensive at $2.00 CAD an hour, and they have a welcome center with a free water bottle refill station which came in handy after our long trek. There are several different trails you can take, but if you go to the far right and hike for about an hour you will find yourself right at the edge of the whirlpools which was an amazing sight to see! I would definitely recommend comfortable shoes, sunscreen and a big bottle of water so you can stay hydrated along the way. We absolutely loved spending time outdoors by the waters edge exploring.
Eat at Orzo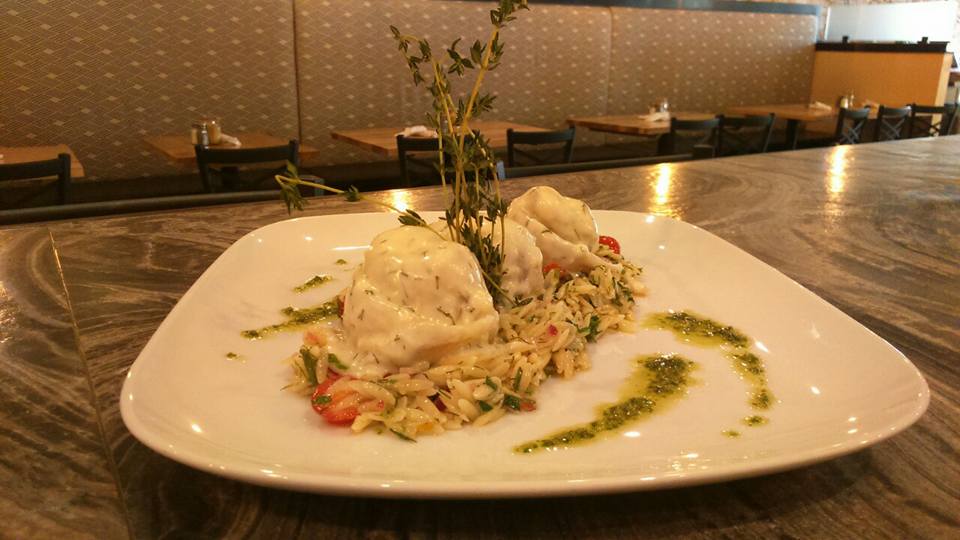 Cost: $36.00
While you're in the Niagara region you can't miss Niagara-On-the-Lake! This quaint little place has so much to offer and has a picturesque high street lined with boutiques and bakeries. After our hike in the Niagara Gorge we had worked up quite the appetite and decided to stop into a place that was buzzing – Orzo. After spending far too long drooling over their menu I settled on fish and chips with tartar sauce and coleslaw, and Ryan had their chicken and mushroom 'orzotto' which was to die for. Orzo had a great laid back atmosphere, and we thoroughly enjoyed eating our lunch out on their patio in the shade while sipping on sangria. 
Visit the Exchange Brewery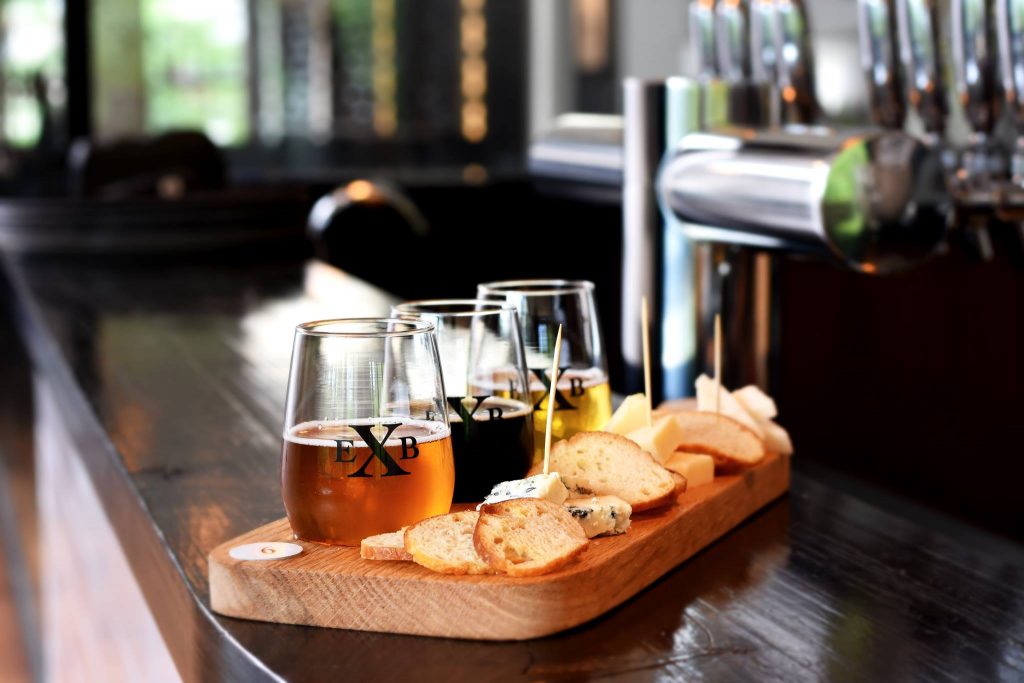 Cost: $48.00
After our meal at Orzo we decided a few more drinks were in order, so we headed over to this hip looking brewery Ryan had spotted from across the street – The Exchange Brewery. As soon as we stepped in the doors we knew we had found a Niagara gem; Merchandise covered one wall, while the other wall housed their bar which was full to the brim with people sipping on their drinks and enjoying roasted peanuts. They even had their brewing equipment on display behind walls of glass which was super neat. We headed upstairs where they had more seating and ordered a small cheese platter and several beer samples including a peppercorn beer, an apricot beer, and a pumpkin ale. I had never realized that beer and cheese tasted so good together! Afterwards Ryan and I took a vote, and both agreed that the pumpkin ale was by far the best one of them all so we bought two bottles to take home with us. 
Check out the History of Medicine Museum
Cost: Free or Donation
With our bellies full, and our spirits high, we thought we would take a little stroll to walk off some of our lunch. We didn't end up getting too far when I realized that next door to the brewery was a History of Medicine Museum. I am a huge lover of history and studied the History of  Medicine when I lived in England so this was an absolute must for me. We stepped inside and immediately felt like we were transported back in time. I was amazed to see an original black and white photograph of the museum when it was still being used as a pharmacy, only to look up and realize that almost nothing had changed – they managed to preserve the pharmacy almost exactly as it was. One of my favorite objects in the museum was the beautifully ornate perfume dispenser that ladies would use for special occasions. The sign on the dispenser read 'A Scent for a Cent'.
The Niagara Region truly is a beautiful and romantic place, and makes for the perfect weekend getaway. Have you ever been to Niagara? What are some of the things you would recommend?
Last Updated on