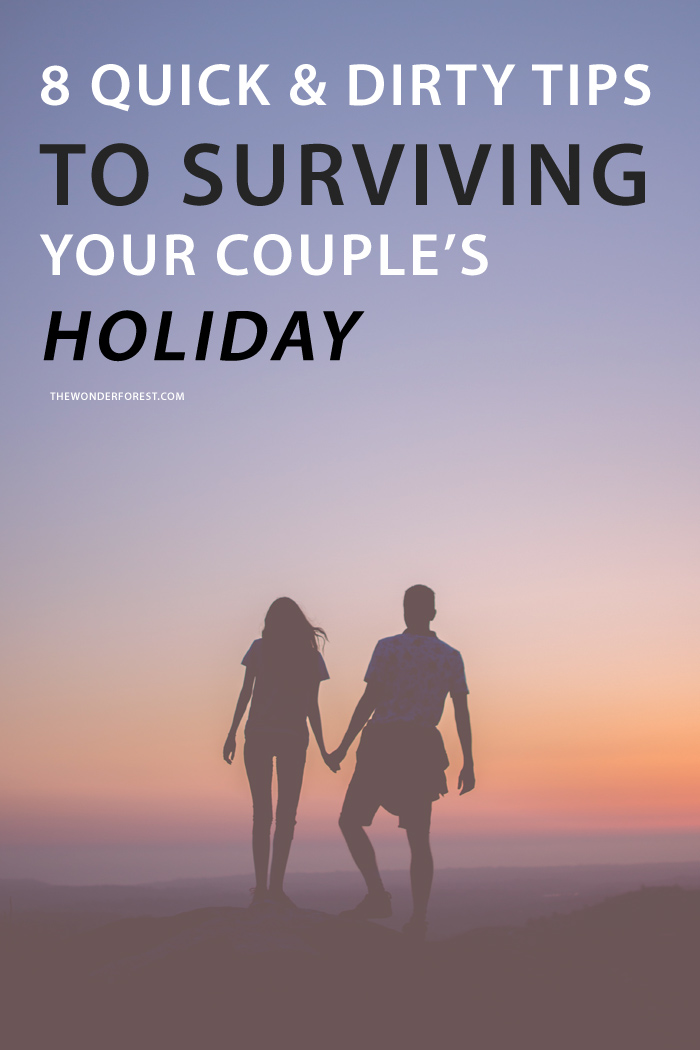 Disclaimer – I love my boyfriend and realize that I am probably the most demanding traveller of all time.
Let's just get right into it. If you've travelled with a SO, you know that you'll continuously find yourself questioning why the hell you're with this person in the first place, especially if jet lagged or hungry
Be on the Same Page About Your Vacation
It is essential that before you book your trip you have a good and honest conversation around what kind of trip this is. Are you backpacking and hoping to meet a bunch of cool indie travellers to party with? Are you going to relax on a resort sitting poolside with a margarita in each hand? Or are you going to explore the town and learn about local culture?
This conversation is absolutely essential to whether or not the two of you are to stay sane on the duration of your holiday.
The amount of times I have wanted to stay in and relax , when my partner wanted to go out for a night on the town, is equivalent to the amount of times I screamed at him for booking two separate twin beds. Make sure that you agree to what the trip will look like, and come up with a compromise.
Book Ahead of Time
Gone are the days of budget backpacking and hostel hunting. When I get off that 8 hour flight, take me to the hotel as soon as possible so that I can brush my teeth and get out of my sweaty bra. When places are booked full, you will want to scratch your partner's eyes out as soon as you are done with the receptionist.
Wear Comfortable Shoes When Exploring
This may seem obvious but in the winter season where heeled boots are "in", you'll be surprised how often the words "babe my feet hurt" can come out of your mouth. Your SO will be even more surprised at how your footwear choice is somehow their fault. Luckily Hong Kong was gracious to me and all the women rocked sneakers with dresses/skirts. Party on top, Business on the bottom.
Have a Loose Itinerary
Yes I know, it's cool and so laissez-faire to be spontaneous about travel. But if you are pressed for time in a city, or know nothing about a place, sometimes just hopping on a train and seeing where it takes you might just not cut it. No one wants the pressure of being asked "what do you wanna do now?" over and over on a trip – especially if their answer is most likely wrong.
Chill and Relax
There's plenty of down time on beach vacations, but even on those bustling city trips it's important to relax and enjoy each other in silence. Take your laptop to a Starbucks and just zone out for a couple of hours, or soak in a movie and see what the experience is like around the globe. Hello Bangkok – you and your 5 Star cinemas, equipped with wine and massage? Love you.
Take Frequent Pictures of the Good Times and the Bad
Nothing is more hilarious then secretly snap chatting a play by play of how your SO booked the wrong flight and you are a day late to the airport.
Don't be Afraid to Spend Some Time Apart
Why not venture off for a solo hike, or book a spa day for yourself? If you are in Asia, a day at the spa can cost you next to nothing and gives you time to not have to entertain anyone or worry about someone else's feelings.
Engage in Some Passion
Whatever that means to you, just do it. Because let's be honest your bedroom is not as sexy as the 19th floor of the Ritz Carlton.
Have fun, see new things, and do cool shit. Remember that your partner signed on for the good, the bad and the downright ugly, sleep deprived, drooling, zombie thing that he's taking off that plane with him.
Last Updated on