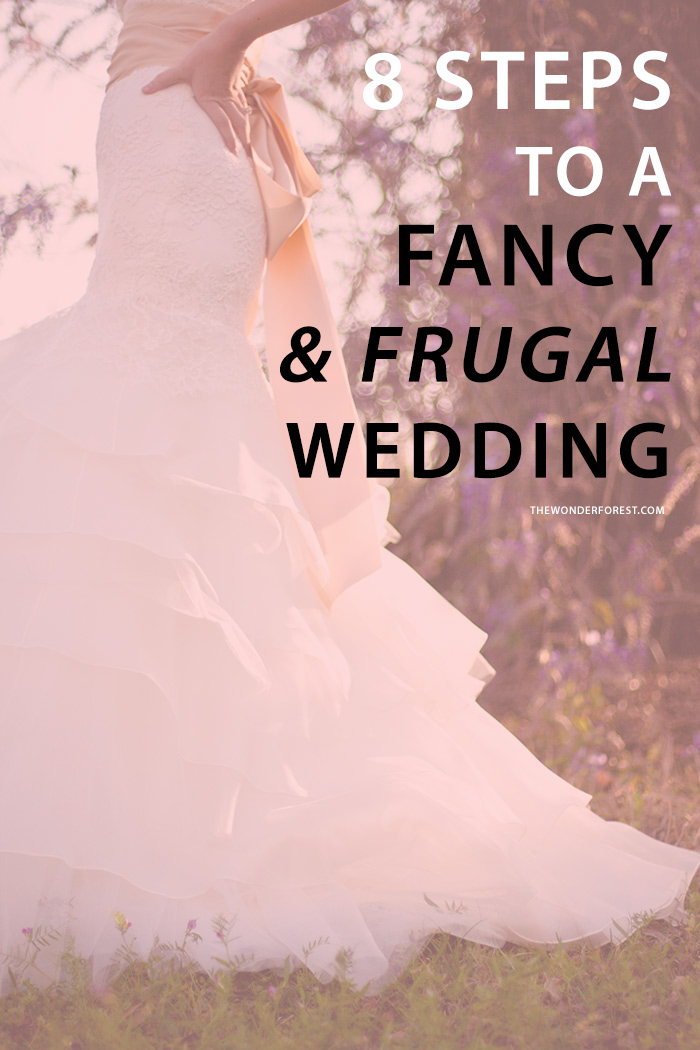 Your wedding day is one of the biggest days of your life and whatever you decide to do for your big day, just remember that it is not worth breaking the bank for. Your wedding day is just one day, but your marriage is for a lifetime, so don't spend your life savings on what is meant to be the beginning of a much longer, much more beautiful adventure. These 8 tips show you that with a little determination and planning, it is possible to have a fancy & frugal celebration that'll leave you with enough money to start your lives together.
LESS GUESTS EQUALS LESS … EVERYTHING
Keep your guest list as small as possible, and try not to go over 50 guests. This can be hard especially if you have large families, but a smaller guest list not only allows for a more intimate setting, but it also means less food, less alcohol, less centrepieces, and less money spent.
LOCATION, LOCATION, LOCATION
Choosing a venue can be a difficult task and it is important that you choose a venue that is the right size for the number of guests that will be attending your wedding; Having fewer people attend your wedding means you can choose a smaller venue which will cost less than a venue meant for larger weddings. It also means you have more venues to choose from: an Estate, your parents backyard, that ritzy restaurant downtown … the possibilities are endless.
BUFFET OR BRUNCH?
A great way to save some money, and to keep things interesting is to have a buffet or brunch style wedding. Buffets allow guests to choose exactly what they would like to eat, how much they would like to eat, and usually offers more options than a plated meal. Any food left over from the buffet can be wrapped up and taken home too – bonus! Alternatively brunch receptions are less expensive than dinner receptions and are a neat way of making your wedding a little more unique! Afternoon tea and crumpets anyone?
YOU CAN HAVE YOUR CAKE AND EAT IT TOO!
If you go with a buffet style dinner for your wedding chances are dessert is included! This is great because it means that you don't have to order a cake to feed all of your guests and instead you can order a mini cake for just you and your spouse. Mini cakes or one tier cakes cost a fraction of the price that a regular or multi-tiered cake costs and still allows you to have a cake cutting ceremony.
SKIP THE FAVORS
Wedding favors, as thoughtful as they can be, can also be a big waste of money. It can be hard to find one favor that all of your guests will like, enjoy, keep or use, so why not skip the favors? Thank you cards with a handwritten and personal note are so much more meaningful, and guests don't have to feel obliged to take a favor they don't really want in the first place. Alternatively if you don't feel comfortable with abandoning the favors altogether you can make a donation on behalf of your guests to a cause of your choice. Even though you will still be spending money, you can rest assured knowing the money hasn't been wasted and went towards something important to the two of you.
GET MARRIED ON A MONDAY
Getting married during the week instead of on a peak day (Friday, Saturday and Sunday) can save you a lot of money on just about everything! Wedding vendors usually don't get much (if any) business during the week, so having a wedding on a Monday is a welcome opportunity for them. In return they will often give you discounts, price cuts, or even throw in a few extra things for free.
DO IT YOURSELF
Wedding vendors cost as much as they do because you're not only paying for the product, but also for their time and expertise. DIY weddings are the new trend, and with the help of sites like Pinterest you'll be making anything and everything from your centrepieces to your veil before you know it! This adds a sentimental and personal touch to your day, and saves you dollars in the long run.
VINTAGE IS THE NEW BLACK
Buying a pre-loved or vintage dress, and jewellery is one of the biggest ways to save on your big day. It allows you to pick one of a kind unique pieces you just wouldn't find in the bridal stores, and at a much lower cost. You want to feel beautiful on your wedding day, not broke, and what's more romantic than some vintage lace with rhinestone jewellery?
Last Updated on