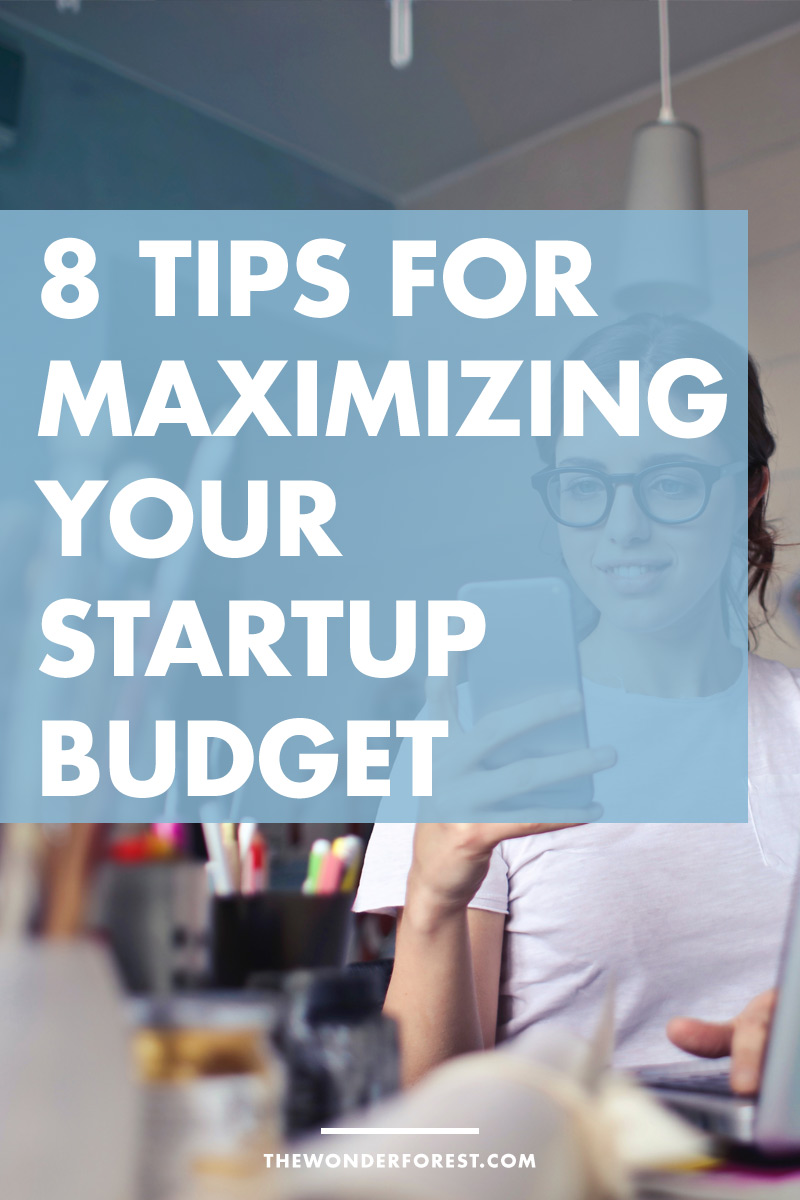 As a start-up or "young" business, one of the biggest struggles is making the most out of a small budget: for marketing, for managing your business, for growing and scaling. A very large majority of start-up businesses fail within the first couple of years and one of the reasons for that is quite simply, a mismanagement of funds and budget.
In this blog post, I'm going to share 8 tips to help you maximize your start-up businesses' budget:
Tips to help you save money managing and running your business

And DIY marketing tips to help you maximize your marketing budget 
Tip #1: Work From Home
Home-based businesses are rapidly growing in popularity because for many start-ups, working in an office is simply not a necessity any longer.
With the Internet, the plethora of communication tools we have available, online file storage and our powerful computers and smartphones, almost anyone can start and run a business from their own home.
Before investing in office space, look at your own current living arrangement first to see whether you can realistically work from home: a room to work from and some storage space for your products (if needed – or you can always rent some storage space for much less than office rent). You also need to consider whether you need to collaborate closely with employees or outsourcers or if you can collaborate from a distance.
If there's ever a situation when you absolutely so need an office, google shared office spaces (or to-rent for short periods of time) in your city or region – there's a big market for this in many major cities around the world.
Tip #2: Hire the Right People
Apart from getting office space, another huge investment for a start-up business is hiring full time staff.
There are several things you can do to help with this:
Carefully evaluate whether you actually need full-time employees and how many you really need

Minimize the number of full-time employees and instead

outsource as many tasks

as possible, such as admin tasks that can take up a lot of your time

Don't be afraid to hire people who are straight out of college/university; these are qualified people who you can train but who don't have the experience yet to warrant higher salaries. 
Tip #3: Don't Buy New, Buy Used
If you need to get any office equipment or any other equipment to help run your business, you should consider whether it's worth investing in new or used products. In most cases, it really isn't – this type of equipment can be extremely expensive when bought new and you can often find as-good-as-new equipment that you can either buy or even just rent for as long as you need it.
Tip #4: Get VoIP phone systems
Another way to save money running your business is getting a VoIP phone system rather than a regular phone system. VoIP works completely online and that means:
You can make calls from anywhere in the world to anywhere in the world and pay the same

The upfront costs are much less for installing the system than a regular phone system

Since it's all online, you can get a bunch of other free features that would cost you extra with a regular phone system (such as call forwarding, voicemail services and so on)
You can use GetVoIP to compare different VoIP services and choose your ideal solution.
Tip #5: Leverage Automation
Time is money too – especially as an entrepreneur and business owner – so making the most of your time will make a big difference to your finances.
Not to mention, your business as a whole should ideally run as smoothly as possible; and that essentially means cutting down on time-consuming tasks and making sure everyone on your team (including the owner/CEO) is as productive as possible.
Luckily, there are a lot of easy, quick and inexpensive ways to automate your business tasks; for example:
Use tools like

IFTTT

and

Zapier

to connect your apps and tools and automatically perform tasks – look up all the apps and tools you use (from Gmail and Slack to Gravity Forms and Acuity Scheduling, and pretty much any online tool you can think of) to see what kinds of automation you can set up for yourself and your employees:
Appointment scheduling and booking: use tools that allow people to automatically book and schedule appointments with you or your business (for example,

Acuity Scheduling

) – the calendar will show your availability clearly so that people can only book at the times you can definitely attend. This way, you're eliminating much back-and-forth over when to meet or speak

Email marketing: pretty much any email marketing tool now has some automation features – explore your tool to see what you can automate. For example, automate lead scoring, create triggered email campaigns (once a user takes a specific action, then they will automatically gen an email to help convert them) and marketing automation campaigns

Accounting, billing and invoicing: it can be expensive to get an accountant on retainer from the start, so one way to handle this is to get a small business accounting software; use it to automate billing and invoicing, to help calculate your taxes and generally, help you manage your finances in a quick and easy manner
Tip #6: Leverage Internet Marketing Software
It can be difficult and very time-consuming to manage digital marketing campaigns by yourself – unless you have a good tool to help.
For pretty much any digital marketing problem, there are plenty of solutions that can help you save time and boost your results; for example:
If you're using

social media for your business

, then use management tools like

Agorapulse

; you'll be able to save time by managing all accounts from one place (across different social networks), scheduling your updates and managing your mentions from one place, plus you get a lot of extra features to help you grow your accounts, like social media monitoring and analytics

Content creation tools

to help you create content, such as

Canva

for creating visual content for your blog, social media, etc.

Business dashboards for tracking all of your business, from inventory and total sales made to website traffic and social media engagement

Email marketing tools for sending emails to your list and creating marketing automation campaigns
Tip #7: Build Your Own Website And Landing Pages
Building websites and landing pages isn't as difficult as it used to be. With services like WordPress and Wix, creating a website is easiest than ever so if you don't want to pay someone to build your website, you can always try first on your own.
That said, if the results aren't great or you're spending too long on it, it might be worth looking at an expert designer – after all, you need a great website to get people to take action.
As for landing pages, there are numerous easy-to-use landing page builders that are very easy to use, even for beginners – leverage them instead of having to pay someone every time you need a new landing page.
Tip #8: Focus on Evergreen Content And Repurpose More Content
Content marketing is one of the best marketing strategies for businesses across all kinds of industries. Great content helps you get discovered, it helps improve your search engine optimization, it keeps visitors on your website for longer and gives them a reason to come back – and perhaps most importantly, it helps you generate more leads for your business.
However, creating quality content on a regular basis – and being consistent both in terms of quality and of frequency – is a time consuming and sometimes difficult task. 
To help with this, focus more of your attention on creating evergreen content: (preferably) long-form content that will remain relevant over long periods of time. Not only is it better for SEO, but it also tends to provide more value to audiences. Plus, the fact that it's relevant for a long time means that you can keep drawing results and promoting it over months and even years.
Another tactic that can help a lot is repurposing your content; meaning, re-using old pieces of content and presenting them in a new way.
For example:
Turn long-form evergreen content into a series of shorter pieces of content

Use imagery and quotes from your content to help create social media updates

Update old content with new information and re-publish and promote it

Try to incorporate the content you've created into content for different channels (for social media, your blog/website, a presentation, an email marketing campaign, etc.)

Turn your most popular content into different formats – for example, infographics, presentations – and publish them on the same or different channels
Running a small business or start-up isn't easy – and a big part of that is quite simply, a lack of sufficient funds. But, being creative and practical at the same time, there are numerous ways to cut down on your spending in ways that will not hurt your business; quite the contrary, in fact.
What are some of your top tips for saving money while running a business?
Last Updated on