Macrame is a method of knotting cord to create amazingly beautiful pieces for your home, including wall hangings, macrame plant hangers, and accessories.
The popularity of DIY macrame hasn't declined much at all in the past few years, which makes it such a great hobby to take up!
I've scoured the web for some super easy beginner-friendly macrame projects that you can try right now… regardless of your skill level!
Any of these projects would make for some great gift ideas too! Let's dive in…
Round Fringe Coasters
These DIY macrame coasters are the perfect little project to practice making macrame circles.
Since they are small, they don't require a ton of supplies and can be whipped up in no time.
This tutorial shares how to make your own coasters in video form, so you can follow along instantly.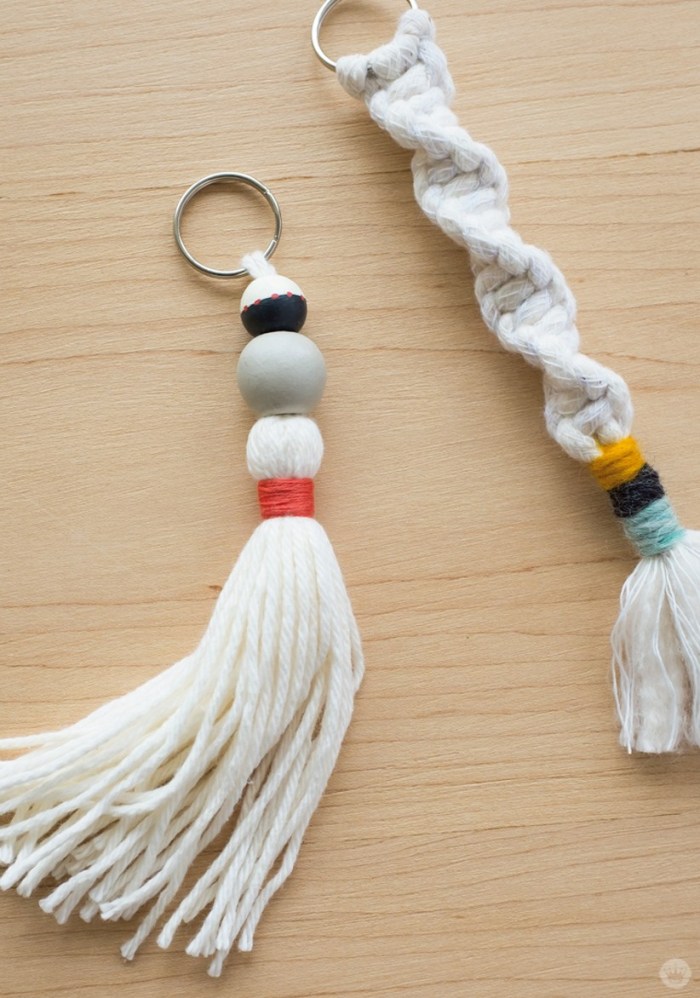 Colourful Macrame Keychains
These easy macrame key chains are totally beginner friendly and make excellent little gifts!
You can spruce them up with colourful beads and embroidery floss for a custom and unique look. The Think Make Share blog will show you a variety of ways to make these.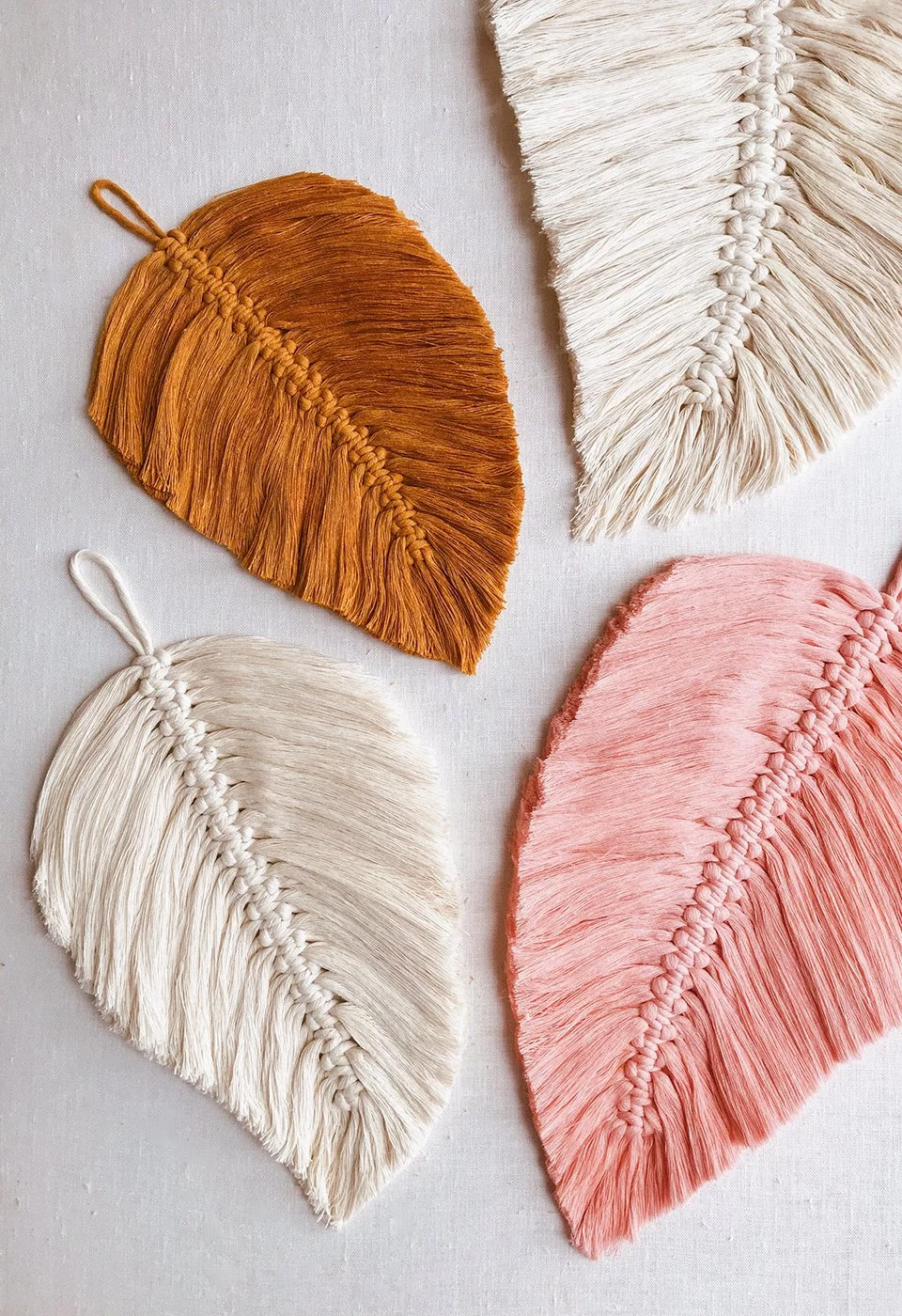 Macrame Feathers
If you've been looking for the perfect alternative to a standard wall hanging, DIY macrame feathers might be right up your alley!
These feathers are simple to create with just a few knots and scissors to shape. The Honestly WTF blog will show you how to easily get these ready for your wall.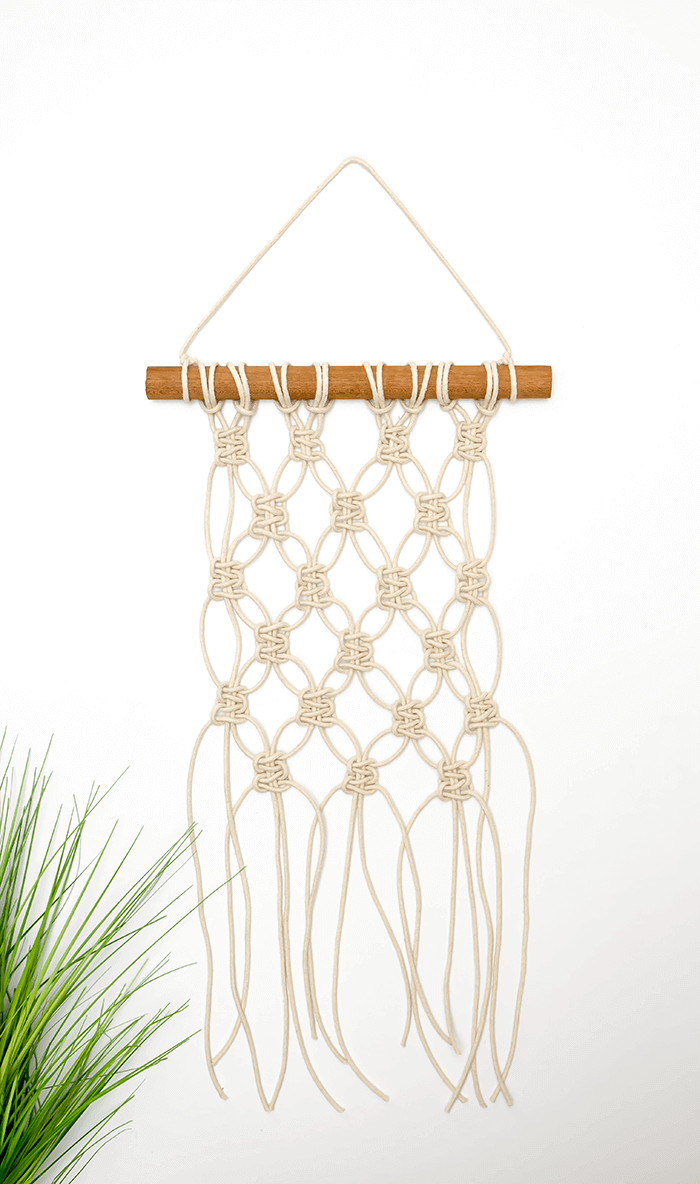 Easy DIY Macrame Wall Hanging
If you're new to macrame, creating a wall hanging can seem like a big task.
Fortunately, this blog post over at A Pretty Fix will show you how to create this mini macrame wall hanging… which is absolutely beginner friendly!
You'll only use one knot and can adapt this to whatever size you want.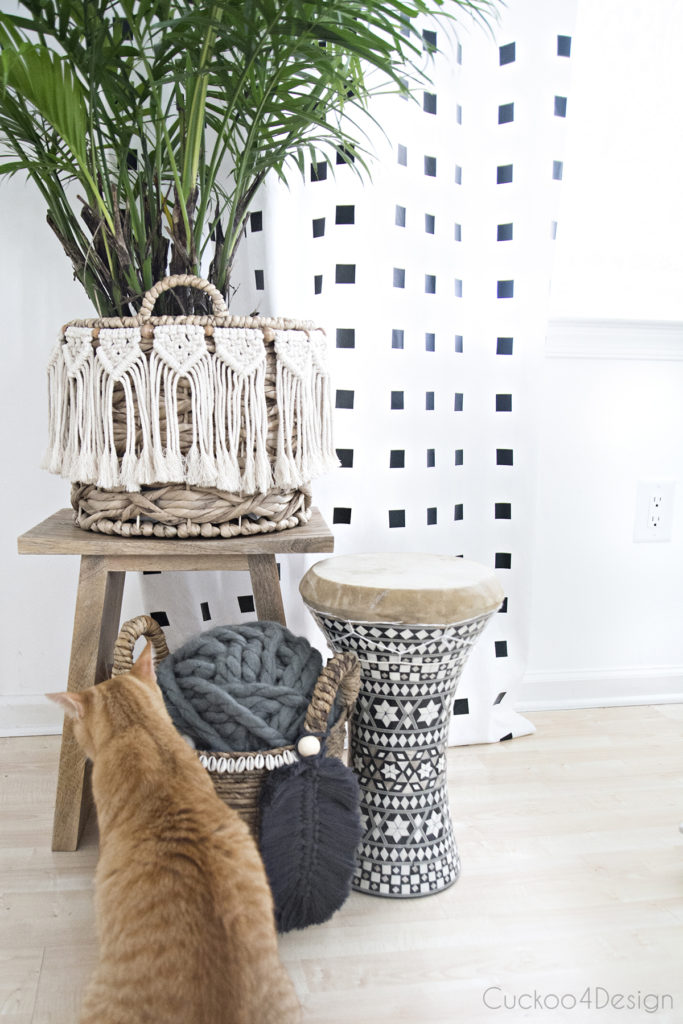 DIY Macrame and Bead Garland
A simple macrame garland can be used in so many different places. Like around your potters, on your fireplace mantle, or simply to fill an empty space on a wall.
This tutorial over at Cuckoo 4 Design will show you how to make this easy garland using some cord and wooden beads.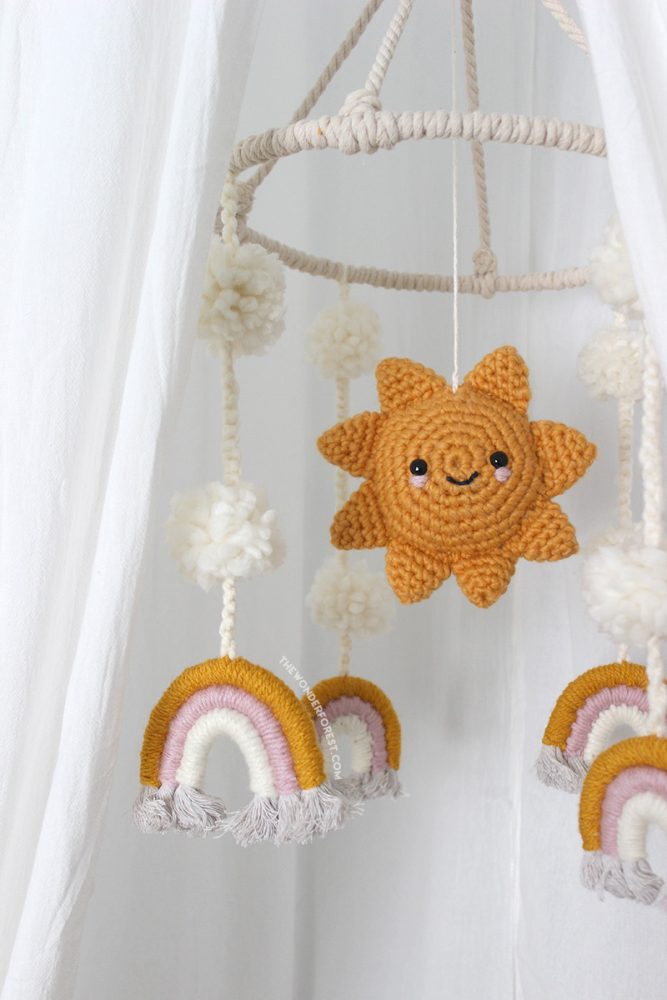 How to make a Macrame Rope Rainbow
Our own macrame tutorial will show you how to create these super fun woven rope rainbows as used in this adorable rainbow mobile.
All you need are a few key supplies and the process is super simple!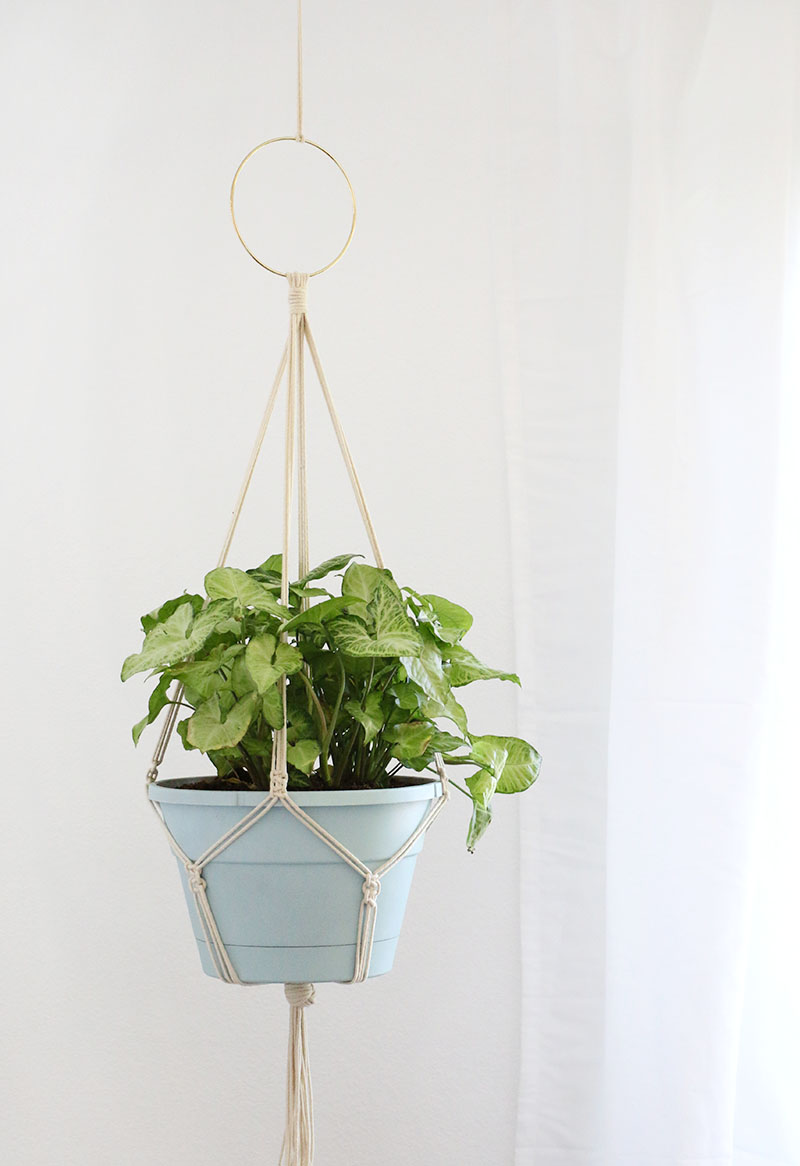 Simple Macrame Plant Hanger
Love plants?! A step by step tutorial for the simplest macrame plant hanger can be found over on the Persia Lou blog.
This is such a great way to display your plants and get them up and off the floor. It also costs a fraction of what those store bought versions can!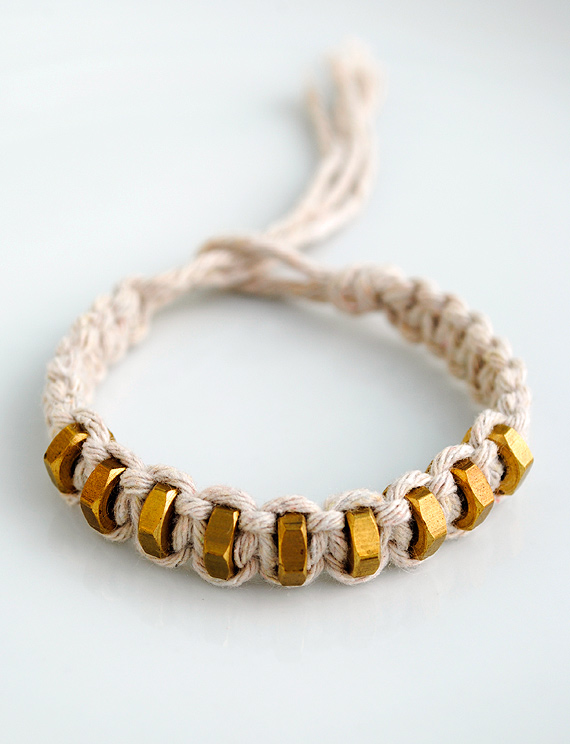 Hex Nut and Macrame Bracelet
If you remember making friendship bracelets as a kid, you've already mastered some macrame!
This bracelet combines traditional knotting techniques with some gold hex nuts to create a pretty accessory. The Mini Eco blog will show you how it's done.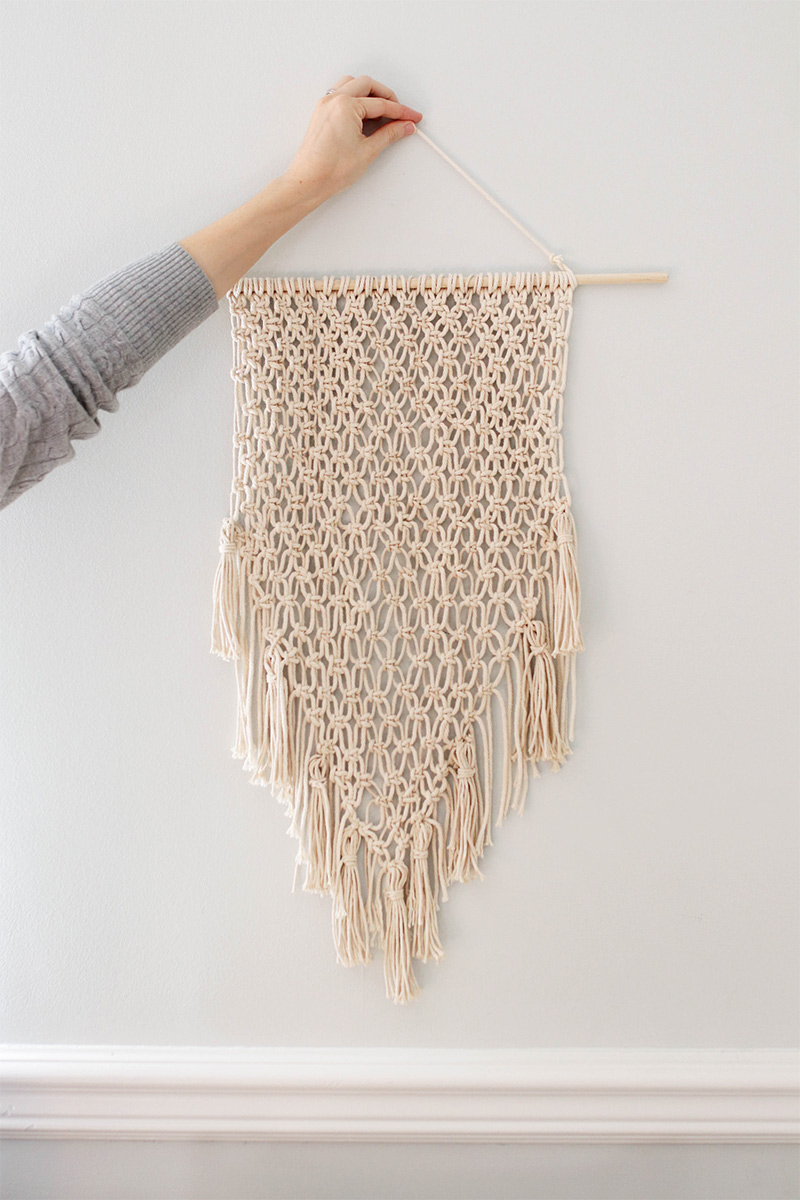 Beginner Friendly Macrame Wall Hanging
This wall hanging looks great but is also easy to do!  Once you've got the basic knot down, completing this is a breeze.
You can also add tassels to the bottom as shown here. This tutorial and step by step instructions is available over at the Hello Nest blog.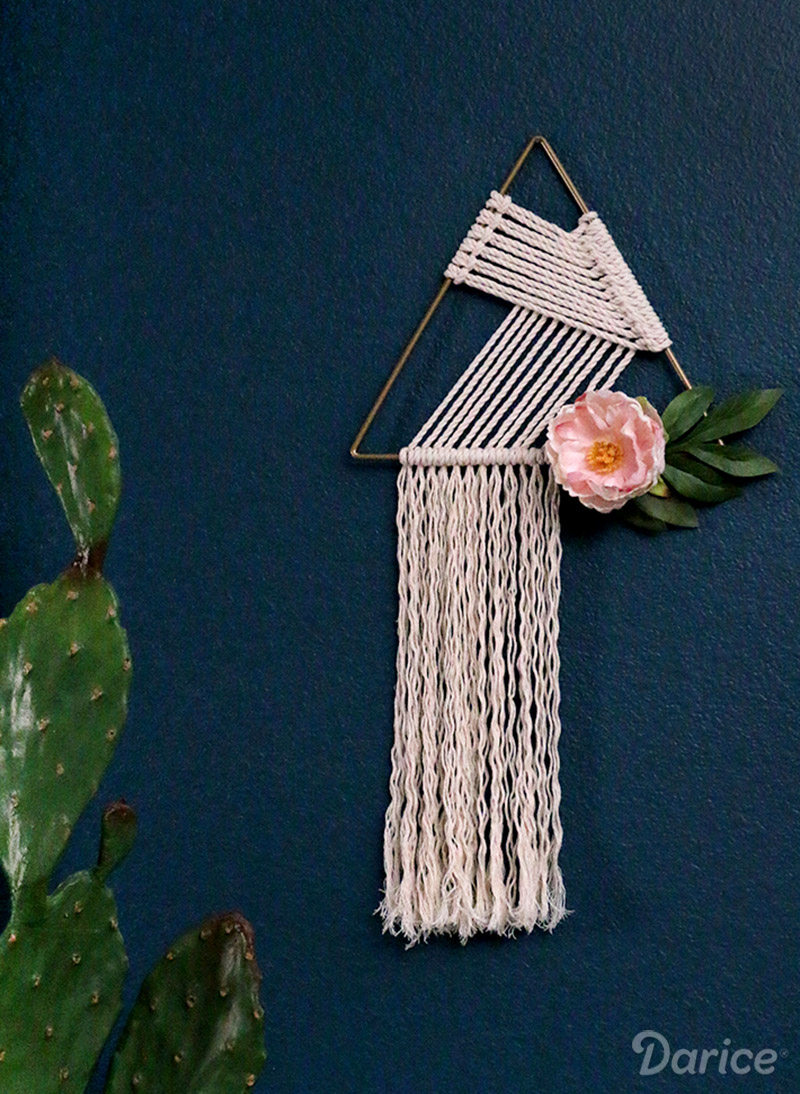 Modern Triangle Wall Hanging
For an unconventional look with sleek lines, try this triangle macrame wall hanging!
The modern design looks great in any space and the tutorial can be found over on the Darice blog.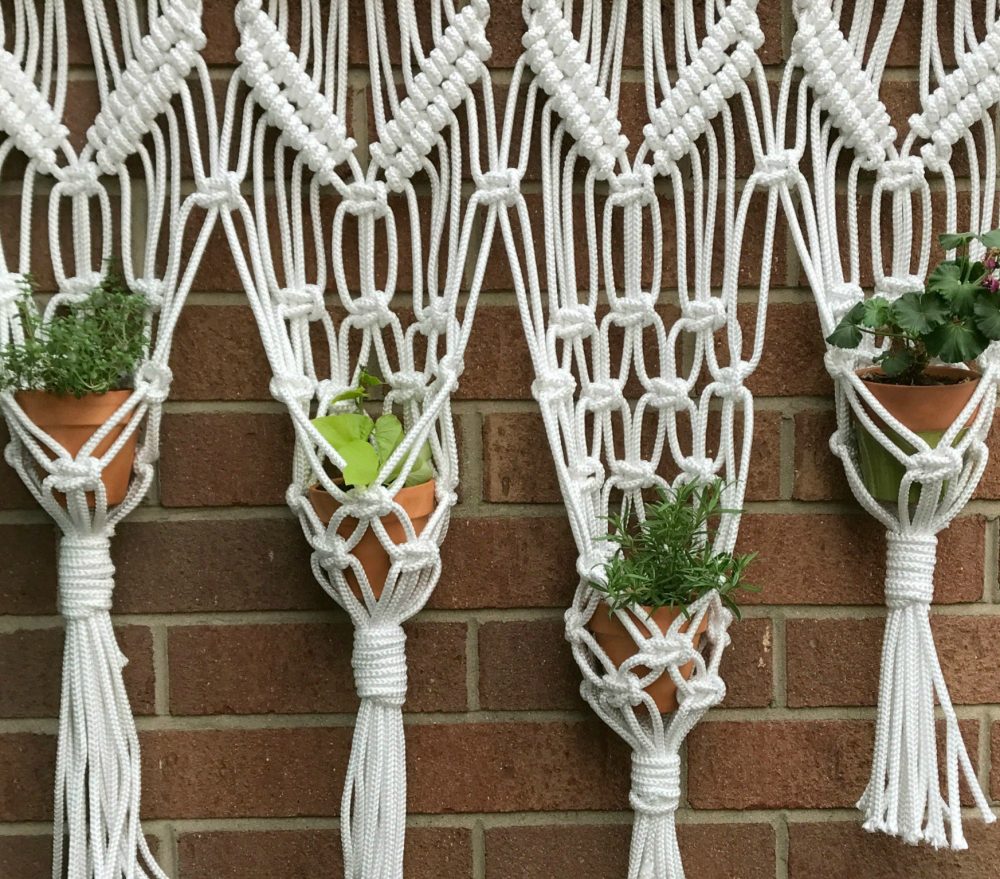 Hanging Macrame Herb Garden
Why not make your own little herb garden using these mini macrame plant hangers?
This idea is super cute and adds interest to the spices and herbs you have growing in your garden. Check out the full tutorial over on My French Twist.
Now that you have a collection of fun projects to try, which one will you attempt first!?
You might also like:
DIY Gift Projects To Try This Fall
10 Free Super Cozy Crochet Patterns
Last Updated on