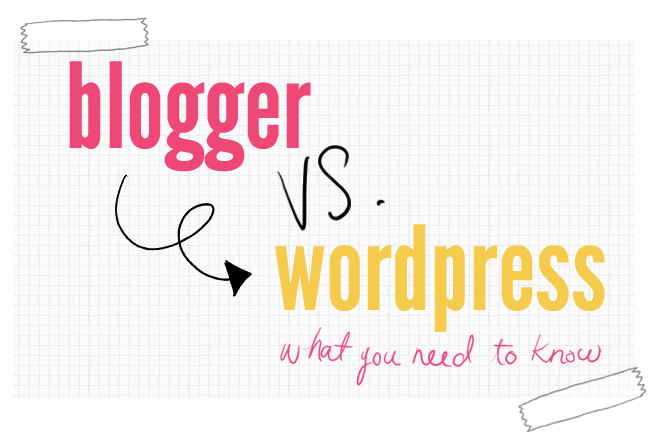 BlogTrends on Twitter recently asked: "Blogger is free; Is being self-hosted on WordPress really worth the financial investment?"
I've been wanting to write a post about Blogger vs. WordPress for quite some time so this seemed like the perfect opportunity.
To answer the question, it really depends. First of all, I work with both Blogger and WordPress. This blog is hosted on Blogger, and I also do websites for businesses using WordPress often. I've had my own self-hosted WordPress sites in the past so I'm not completely against one or the other. The thing is, however, there seems to be this idea that if you want to be taken seriously, you need a WordPress blog. This simply is not true, and I'll tell you why sometimes WordPress isn't a good idea for some.
Please note that in this post I am particularly talking about the self-hosted version of WordPress, not the "yourname.wordpress.com" shared hosting version, as that doesn't even compare to either and offers only a fraction of the abilities.
Let's get right to it. Blogger offers a free service that is easy to customize. All of your content is stored on the Google servers, so you don't have to worry about hosting fees, or even bandwidth. There is a limited number of widgets you can add to your sidebar, however I don't find that many more are usually needed anyways. You can control the layout and design through Blogger's simple editors and see your changes in real-time through the Template Editor. The post editor also offers all of the basic functions you need to compose nice posts, as well as an HTML area for more advanced users. Photos are uploaded through Google Picasa, which again is stored on your own Google account and not on your own servers. You can easily backup your blog and content through the Settings screen.
WordPress is a more complex platform. Before you install it, you will need to search for a web host that offers the space, uptime, and bandwidth that your site needs… hopefully at a reasonable monthly cost. If you're not familiar with web hosting, it's pretty common that you could be overpaying for services that you don't need, and on the flipside you could also not be paying for enough. Websites with a lot of traffic consume a greater amount of bandwidth. Bandwidth can be thought of pretty much the same way as your monthly cellular data plan. Only instead of YOU using the bandwidth  whenever you load something up, your visitors are the ones using it. So you can imagine some bloggers' surprise if their web host suspends their site for going over the bandwidth allowance. A lot of hosts now offer unlimited bandwidth, but you do still have to follow their rules in regards to having your site on their servers.
Once you have a web host and plan picked out, you'll need to install WordPress on your server. Some hosts offer a "one-click" method to do this, while other times you'll have to manually create databases and upload everything yourself.  After you have configured your site, you'll be greeted with a standard, basic WordPress template. Unfortunately, here is where it could get complicated if you don't know what you're doing. You'll generally need to hire somebody to create a great template for you if you're not savvy with coding/scripting languages. And it can get a little pricey (trust me, I do this!). That is because templates on WordPress are actually hand-coded and created from scratch and contain a number of files and images which are all stored on your server. Have I lost you yet?
Moving onto creating posts in WordPress. If you have mastered creating posts, kudos to you! From a beginner's perspective, this could take a little time and you could find yourself getting a little frustrated with formatting woes and HTML additions. Luckily, there are thousands of WordPress plugins that you can add to your blog, some of which include editor add-ons to save you the hassle of wonky posting. Speaking of plugins, like I said, there are thousands. This is one upside to WordPress that trumps Blogger. You can pretty much find anything from e-commerce plugins to galleries. The most important thing to figure out when deciding on which platform to use (in my opinion) is figuring out what you want your blog to do and if you will actually be needing any special addons.
Now let's talk about SEO. Since Blogger is a Google product, they pretty much already have Search Engine Optimization covered. You simply click a few settings in your dashboard and Google will start crawling your site. You can always get a little more advanced and tweak your HTML a bit for optimal results if you know what you are doing. (click here to read my post about SEO Basics for Bloggers!)
WordPress on the other hand, since it's self-hosted, needs to be "prepped" for search engines, and you might want to search for a couple SEO pack plugins to help you out.
Without making this post pages long, I'll just say that WordPress can be a great platform if utilized properly and by somebody who has the knowledge to use it. It can take a little getting used to, but is generally easy once you get the hang of everything. I personally don't recommend it for somebody who is just jumping into blogging without any real idea about any of these things I've mentioned. It does take a lot more time to customize and tweak, and if you don't have any experience in this department and want your blog to look good, you might consider hiring an outside source. Another thing to mention (and I don't want to scare you, but it's important I think because I've had it happen to a good majority of my WordPress clients) is that you are susceptible to hackers. Unfortunately since WordPress is so commonly used and self-hosted, it's not always as secure. There are bots that sniff out WordPress sites and attempt to crack your passwords. Certain third party plugins you add could be less secure and open up the backdoor of your site, so to speak, allowing access to change your site's internal html/php files. It's quite a pain in the ass to fix, so you really do have to upkeep your site… Install the latest security patches and versions each time they come out, and make sure your passwords and everything are secure. Also do regular backups.
Blogger is my top choice for blogging because of its ease and customizing abilities. It really isn't any less feature packed than an out of the box WordPress site at all, and I think that is where some people get lost. You can completely overhaul the look of it, and style it to suit your own brand. It's generally also cheaper to hire somebody to customize it for you. Since it is also connected with the Google network, you get additional features like Friend Connect and easy commenting abilities. You can also set up your own custom domain easily. You don't really have to worry about the security issues like you do with WordPress, because Google has that down pretty well. You DO however have to abide by Blogger's terms of service and if they find your blog too spammy, might delete you. I backup my blog every week or so through Blogger (Settings > Other > Export Blog) just in case something ever happens that is out of my control. It is worth mentioning that this could also happen on any platform though… Self hosted or not as you are still using a third party server.
In short, go with Blogger if you're looking for a free, easy, customizable, no-fuss solution. Go with WordPress if you have the experience to do so and are looking for more features and want the control over your hosted files. If you start with Blogger, you can always easily move over to WordPress in the future if you choose. Ultimately the decision is yours, but take the time to research both so you know what they have to offer!
p.s. You can get the hand drawn photo overlays used in the top graphic now in my design shop!
Last Updated on