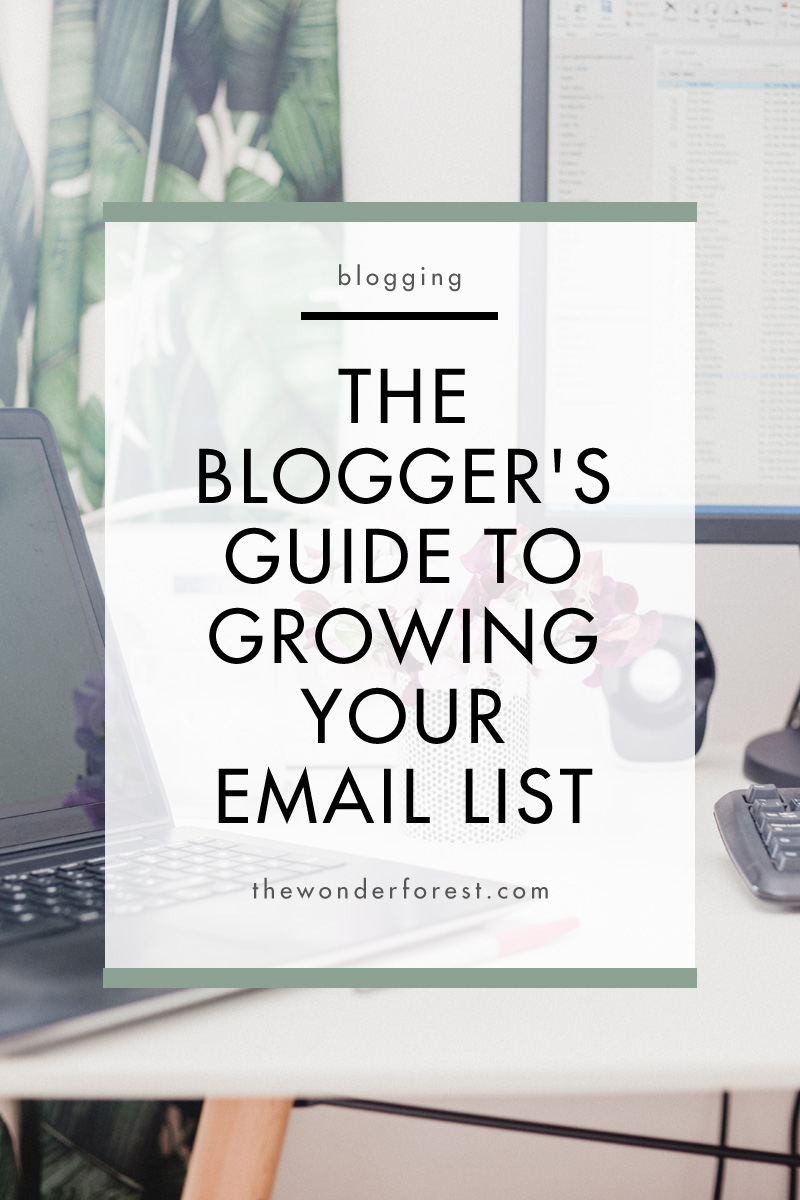 If you have been blogging for any amount of time, you might have heard that you should have an email list. If you still haven't created an email list for your blog, there are a couple reasons why you really should:
Your email list will always be there. You don't own Instagram, Facebook, etc. and your audience on those platforms could be taken away at any time. Already, algorithm changes on most social media platforms have made it more difficult to reach your followers. But even if your favorite social media platform shut down tomorrow, you can get in touch with your blog's readers via email no matter what happens.

Your email subscribers are your blog's most loyal fans. They care enough about what you have to say to stick around in their inbox. They are the people most likely to buy whatever you're selling (let's say you launch an ebook or want to promote a really cool affiliate product) and that is crucial if you want to monetize your blog!
While having an email list for your blog is awesome, for a lot of bloggers, growing their email list can be a challenge.
People are reluctant to give away their email address, and having a simple box on your blog that says "Subscribe Here" probably isn't going to cut it.
So how can you grow your email list?
Create an opt-in freebie
The number one way to quickly grow your email list is by creating an opt-in freebie. An opt-in freebie is some small gift you give to subscribers as an incentive to sign up for your email list. Common opt-in freebies include:
Short ebook

Cheatsheet

Printables

Checklist

Worksheet

Short email course

Video training
Your opt-in freebie should be something relevant to your blog's audience that provides an immediate solution to a problem or challenge your audience faces.
For example:
If you are a travel blogger, your opt-in freebie could be a short ebook about saving money for travel

If you have a blog about personal finance, your opt-in freebie could be a printable budget tracker

If you have a blog for your photography business, your opt-in freebie could be a few free stock photos
People are more likely to share their email address with you if you sweeten the deal by offering them something useful in return.
Promote your opt-in freebie on social media
Create a pretty landing page for your opt-in freebie and share the link on social media. Some of the best places to promote your opt-in freebie are:
On your Facebook page

In relevant Facebook groups you are a member of

On Instagram (use the link in your bio!)

On Twitter

On Pinterest
Pinterest is one of the best social media platforms to drive consistent growth to your email list because the lifespan of a Pin is much longer than that of a Tweet, Facebook post, etc. Posts on Pinterest are constantly getting re-pinned or found via the search bar. (Pinterest is essentially a visual search engine!)
Create multiple Pinterest graphics promoting your opt-in freebie using a graphic design program like Canva or Photoshop. Then pin them to your own Pinterest boards as well as relevant group boards. Make sure to write keyword-rich descriptions for your Pins using keywords relevant to your niche so that people can find your opt-in freebie from the search bar!
Social media can be a powerful tool for promoting your opt-in freebie and growing your subscribers—just remember to promote often and consistently!
Have multiple places to opt-in
People might not sign up for your email list if they don't even notice it on your website! It's important to have multiple places for potential subscribers to opt-in so it doesn't slip right by them.
Some places to include an opt-in form are:
Above the fold (at the very top of your website, AKA the place people see before they have to scroll)

In your sidebar

In your footer

At the end of relevant blog posts

In a pop-up box
Having multiple places to opt in on every page of your website will help grow your list by giving it more exposure to your visitors.