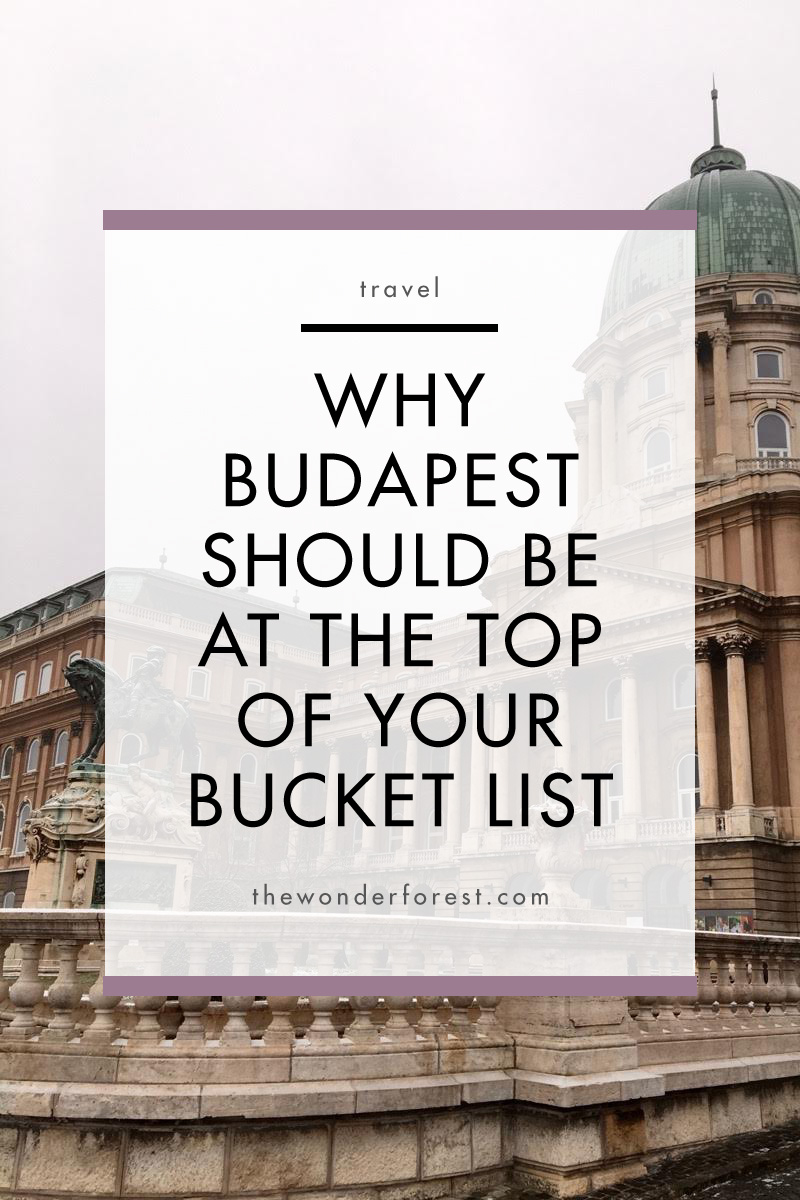 This holiday season was one that is simply unforgettable. Instead of flying from Florence to JFK like many of my study-abroad comrades, I found myself on a jet from Pisa to Budapest with two friends. About two months ago, we talked about where we wanted to celebrate Christmas; and for the first time in our lives, it wouldn't be at home in the States. After doing some brief research, we booked three nights in Hungary's bustling capital at a cheap Air BnB right in the city centre. It didn't take long for me to fall in love with this historic city; I cannot wait to return to this 'hidden treasure chest'. Here is why Budapest should be on the top of your bucket list this year. 
Food and Drink
Devouring goulash, sausages, roasted potatoes and onions is how to eat heartily while traveling. Hungarian cuisine is the ultimate definition of comfort food. You can't go wrong with any of the choices at the hundreds of restaurants in the city. Don't miss out on a Hungarian beer or glass of Tokaji (Hungarian sweet sine).
Castle Hill
We weren't the only ones exploring Castle Hill on an early Sunday morning. Here you have an impeccable view of Buda and Pest (yes, they were separate cities that combined in 1873) as well as access to Buda Castle and Fisherman's Bastion. These historic landmarks cannot be missed, and their architecture is to be fully admired. Hop on the funicular and enjoy the ride up the hill (without recording it for your Snap story).
The Chain Bridge
Walking on the Chain Bridge is a great, free thing to do when you just want to do something low key. Soak in a perfect view of Buda Castle and the Parliament Building as you stroll across the Danube River. I recommend checking this out around sunset!
The Parliament Building
The Parliament Building is a truly magnificent building to walk around. At night, it's lit up and absolutely beautiful to look at from Fisherman's Bastion, giving off a golden glow. You do not fully grasp how large this building is until you're right up next to it!
The Opera
The Gothic style of the Opera building is simply beautiful. Hop on the Metro or walk to enter this grand building. There are shows year round. Just make sure you reserve tickets in advance! Don't forget to enjoy a classic bowl of goulash with battered dumplings at the Opera Café after the show.
The Thermal Baths
Budapest is known for their thermal baths spread throughout the city. We soaked in the Széchenyi baths for hours, and it was once in a lifetime experience that balanced out our trip with some much needed relaxation. Many other people enjoyed a nice soak in the medicinal waters with us.
The Prices
Everything is fairly cheap and affordable in Budapest! You can get a full meal and drink for less than ten euros, a coffee for two euros, and a single ride on the hipster metro is about one euro. Most places take credit and debit cards, but exchanging dollars or euros into HUFs is a smart idea.
Public Transportation
Public transportation in convenient and easy to use in Budapest. The metro, trams, and buses run frequently and are very reliable. We used all three many times to get around the city.
Budapest has recently become a popular city to visit in Europe, and I now know why. Don't miss out on this Hungarian gem!
Last Updated on