Everyone always talks about the splurges and high end brands that they adore and trust.  But few remember to mention those drugstore products that will forever remain in their vanity- the products that you can grab while shopping for your dinner and the ones you would never be caught without. Here are 5 drugstore beauty products that you'll love forever!
CeraVe Makeup Remover Wipes
I'm a firm believer in the fact that makeup remover wipes shouldn't be the only thing that cleanses your skin after a long day.  But I'm also someone who loves to get home and take off their makeup quickly and efficiently. I've hopped around from brand to brand, but always wound up back to Cera Ve's ultra hydrating and effective makeup remover wipes for removing even my most stubborn of mascara.
Revlon Ultra Suede Lipstick
Truthfully I'm a bit of a lipstick snob and I get quite annoyed anytime I have to reapply.  That being said, Revlon's ultra smooth lipstick is one I'm happy to always reach for.  It's soft, smooth formulation and even wear feels like it's much higher end than a simple drugstore lippy. The Supermodel mauve color is my current go-to, as it looks perfect no matter what season we are in and gives me a beautiful "no color, color."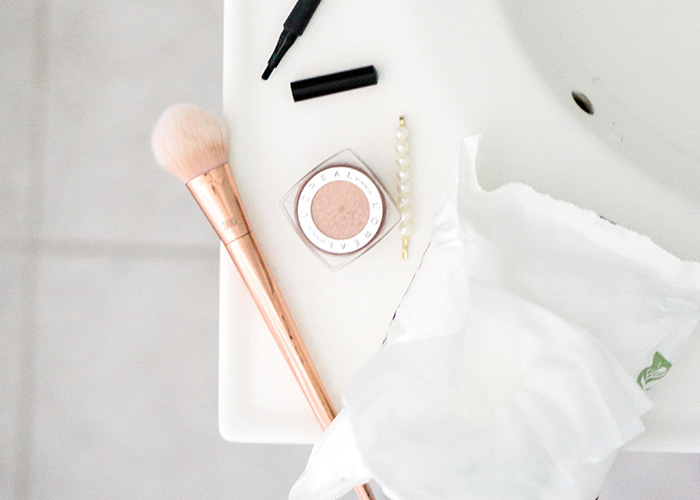 L'Oreal Infallible Eyeshadow in Amber Rush
This has become quite regular on my blog, and for good reason!  This beautiful golden eye shadow often makes people mistake my makeup efforts as more than just swiping on a simple shadow.  The eyeshadow applies extremely silky with just my finger, making it the ultimate maximum effect for minimum effort product.
Real Techniques Rose Gold Brush
These super soft bristles are a bit dreamy for a simple drugstore buy.  It's true that the rose gold color is what sold me at first, but over time the way the brush helps accentuate my cheekbones and it's quality bristles have won me over, confirming that it wasn't just a 'pretty' buy.
Max Factor Eye Liner
Funny story, I was actually approached by this brand for some free samples, passed, and ended up becoming a committed fan after hearing just how good their eyeliner was.  The Max Factor eyeliner is a liquid liner complete with an unique shaped paddle tip to help create either a bold or thin line with a simple turn of your wrist.  The unique brush also gives me the ultimate cat eye in a few seconds.  It may not last as long as some higher end brands (I would top it's durability out at 8 hours), but it's ease of use and price point always has me coming back to it.
Not every product needs to have an expensive price tag nor a flashy container (though it always seems to help that it's fun to look at) to be a staple.  Sometimes there is beauty packed in a budget!