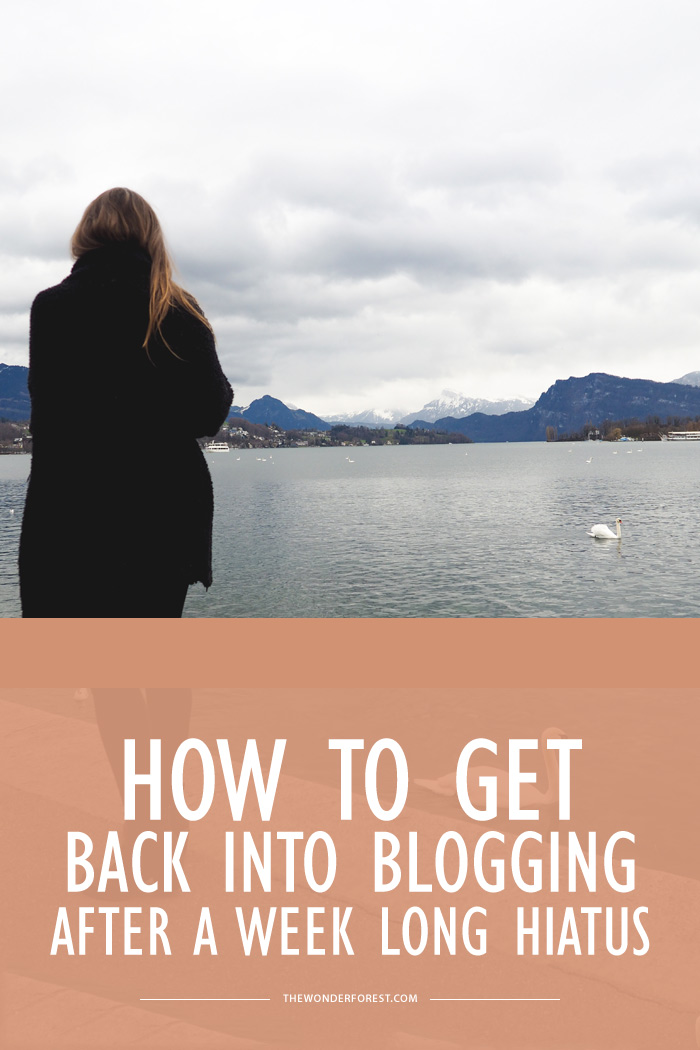 I recently went through a "no blogging phase" due to moving to a new apartment, where the internet just wouldn't work for what seemed like weeks. Trying to get back into blogging after that hiatus was frustrating. I went from writing everyday in a loving fury to staring at my computer screen blankly waiting for the words to come. Thankfully my blogging mojo is back and I couldn't be happier! Here are some ways that helped me to get back into blogging after a week long hiatus.
Dive Right In
"Failing to plan is planning to fail." – Benjamin Franklin. While this quote may be true I always find after a week long hiatus I write about 10 different blog tittles (that seems to get the ball rolling for me) before I can find a topic I am actually motivated to write about. Once you have a few things in mind to write about, the writing process becomes much easier, rather than waiting for inspiration to hit. Sometimes you just need to write a bunch of gibberish to see what your subconscious is really thinking about! 
Take Notes
I am always taking notes. My favourite place to take notes in is of course my notes on my iPhone! It's convenient and I am able to sync my iPhone and my laptop together with iCloud so if I find a topic while I'm away, I can just sign in at home and voila: my topic is ready to go! This is awesome because you don't have to constantly be retyping what you wrote while you were away from your laptop. 
Read For Inspiration
While sitting and watching TV is tempting, don't get pulled into the TV trap when you are trying to get back into blogging. Instead of watching TV head to the book store and find some new inspiration from books and magazines. Or as I like to do when I can't get to the book store, read blogs to find inspiration. While you don't want to copy anyone's work, their words and photos might inspire you! Go to
Bloglovin'
and head to the explore tab and search a category you are interested in. This is a great way to discover new blogs and to find new inspiration. Another great hub for inspiration is Pinterest! 
Be Productive In The Mornings
I don't know about you, but I am pretty useless in the evenings when it comes to writing. I write as soon as I wake up in the mornings (with a cup of coffee) and I find I am much more creative and inspired! I think it's because we think less critically in the mornings so it's easier for the words to come. After a long day, we are often second guessing ourselves. Wake up a few hours earlier if you are working alongside a full-time job to try out this technique! It's worth it.
(See also: 8 Daily Habits to Boost Your Success)
Work In Bulk
They say the secret to a flowing blog is the work smarter – not harder. And how right they are! If you're feeling inspired then write away as much as you can. There's nothing worse than trying to write when you aren't feeling that passionate about anything in particular that day. You can then schedule and organize your posts for "off days" and still be ahead of the game. 
Embrace A Change Of Scenery
If you are still struggling with getting back into blogging, try finding a change of scenery. It might be your favourite cafe that sells those cute macaroons with your favourite latte or is might be somewhere new like a
city or wilderness destination
. Even going for a twenty minute walk outside is sure to get your creative juices flowing – so pop out of your pi's and head somewhere new! 
Last Updated on