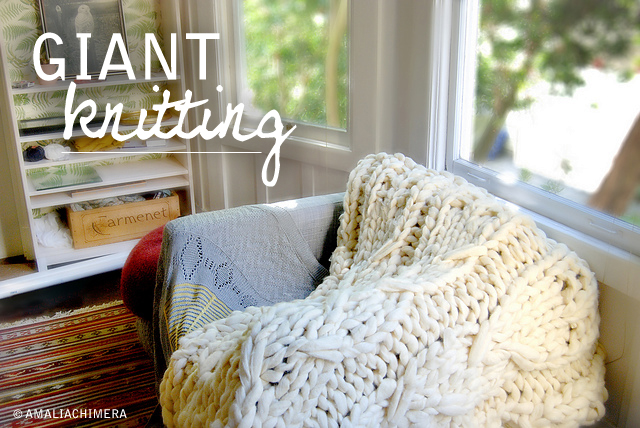 As the weather gets colder, I've been diving into my yarn stash and starting to crochet a few things. While browsing the web for some patterns I've come across some awesome projects and techniques that are totally new to me…. like giant knitting. At first look, you might think that the women in these photos look a bit crazy, but I've totally fallen in love with the end results of their blankets and rugs.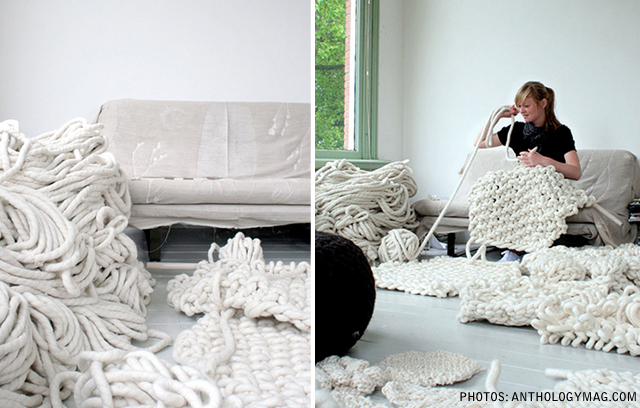 Amalia Chimera (top) completed this Giganto Supercable Blanket and tracked her progress on Raverly (a site for knitters/crocheters if you're unfamiliar!). Christien Meinderstma (bottom) is known for her giant knitting techniques as well and created her masterpiece using organic wool from a flock of sheep raised in Idaho.
The entire process looks so daunting, but sometimes you have to make sacrifices for totally unique finished products, right?! From what I've read, the knitting starts to get super heavy, and it looks like it takes forever working those awkwardly large needles.  For those reasons, I give mega props to anyone who does this regularly.
Basically you need to use a super thick unspun wool roving, or you can use a cotton rope. How much you will need I haven't the slightest idea but I assume a LOT. You also need to get your hands on some super giant knitting needles like these ones, or you can make your own with PVC pipes!
If you're interested in attempting this yourself, check out this video to see how it's done, or if you'd rather leave the labor to someone else, you can always browse Etsy for some completed giant blankets!
What do you think, is this absurd or awesome??
(adsbygoogle = window.adsbygoogle || []).push({});
Last Updated on