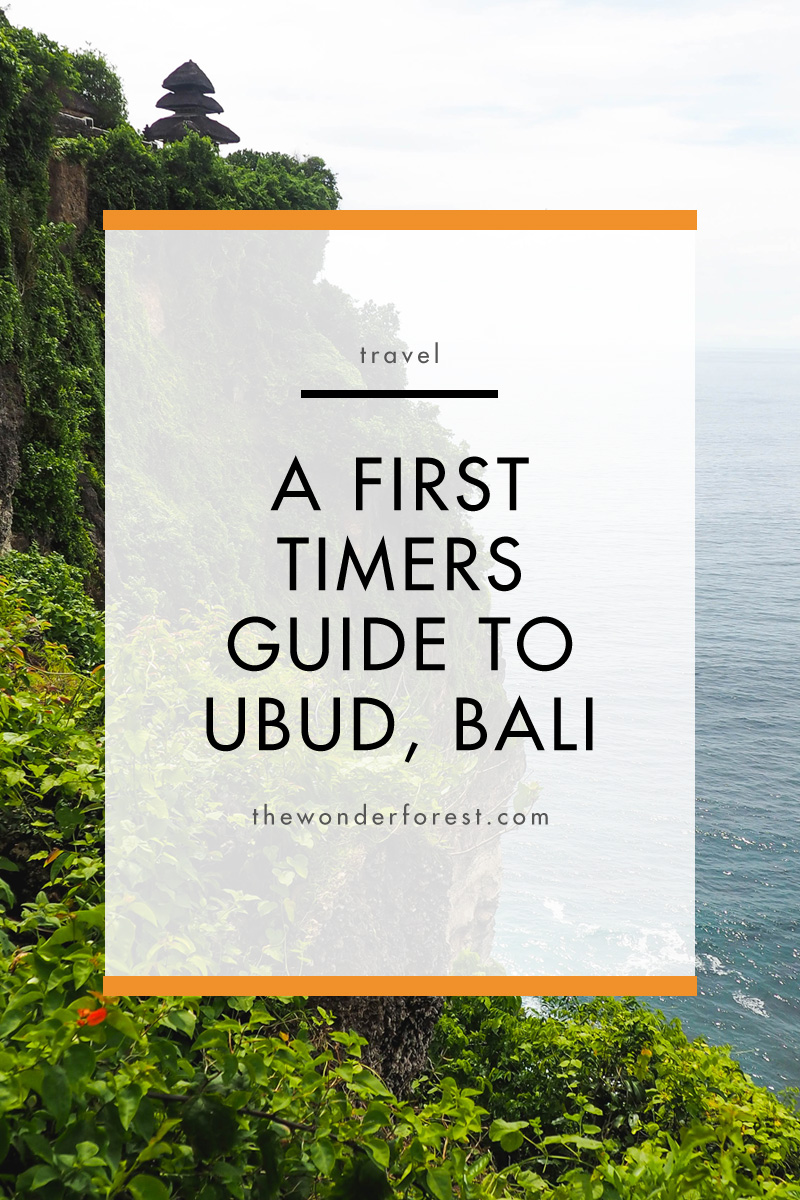 It's that time of year when we're all dreaming of hopping on a plane and taking off to a new and exciting place. Allow me to recommend one destination in particular: Ubud, Bali. It's a land of paradise, fun and TONS of good food. Here's my first-timers guide to this incredible place…
What To Do 
Take A Yoga Class 
People who live off green juice smoothies, raw organic salads and feel most confident in yoga pants will thrive in Ubud! This beautiful place is full of different classes for all levels. Yoga Barn and Yoga House are great places for those of all skill levels. 
Have A Spa Treatment
Or two or three. Spa treatments are so cheap it would be insane not to get a couple! Relax at SKIN Organics and receive lush facials, coconut body exfoliants, flower baths and relaxing hair treatments. You can even spend the day at the spa and they will feed you lunch and pamper you with the most yummy cinnamon tea.
Explore Monkey Forest 
No trip to Ubud would be complete without seeing the Monkey Forest! Just be careful because monkeys are extremely smart so they will know if you have food and will know how to get it. Avoid bringing any snacks or water bottles because they will open your bag and steal them! If one does jump on you though don't freak out, just crouch on the ground and politely wait for them to hop off. Easy peasy! 
Visit Tegalalang Rice Terrace
Only a few minutes drive outside of Ubud, you can't miss this famous terrace. There are patty fields all around Ubud but this one is one of the most well known. Walk around the fields rain or shine to get a beautiful photo of this jungle surrounded field. 
Schedule A Day Trip To The Beach
A great thing about staying in Ubud is that you have an abundance of day trips available to you! Seminyak, Kuta, Jimbaram (famous for sea food) and Canggu are all about an hour and a half drive away. If you are wanting to spend the day at the beach I don't recommend Seminyak. While it is pretty and large there are much smaller and better beaches where you won't be harassed to buy something every five minutes. Padang Padang is a nice small beach that offers surf lessons and has some lovely rock formations on the beach. 
See Kintamani
Located about an hour outside of Ubud, this beautiful sight is home to Mount Batur and Caldera Lake. If you fancy a hike then waking up early to hike Batur to see the sunrise would be a great idea! 
Where To Eat 
The Seeds Of Life
Probably one of the most yummy raw cafes in town! You'll find all the yogis come here to replenish with herbal tonics and good whole food. Favourites include their choc berry bowl with crumbled power bar, organic pizzas and banana maple pancakes! 
Casa Luna
Probably the best Gado Gado in town is housed here! Gado Gado is usually cooked and served with boiled vegetables but at Casa Luna, you get that crunchy lettuce you've been missing! They also have Bali's famous Naga Bowls and other delicious items like soups, curries, and Indonesian specialties. 
Watercress
Watercress is a bruncher's dream restaurant. You'll find an array of colourful breakfasts like their acai super food bowl, coconut porridge with caramelized apple, sweet corn fritters, sprouted goddess sandwiches and organic strawberry jams and honey. Add a yummy almond milk latte or organic smoothie to make your meal complete! 
The Rock Bar
In Jimbaram you'll find the Rock Bar at Ayana Resort which is a must do if you are in Bali. This swanky bar is worth the drive! It's about $18 for a cocktail and $10 for your average appetizer. There are no meals served here but the portions of the "snacks" are a pleasant surprise! The view from the ocean is breathtaking and a perfect spot to watch the sunset on a clear Bali day. 
The Elephant Restaurant And Bar
Sit on some comfy couches overlooking the rice paddy fields. Away from the main tourist area of Ubud this 20 minute walk from Ubud Palace is a great place to relax and enjoy good quality food. 
Alchemy
A safe heaven for health nuts. At Alchemy, you'll find all sorts of freshly pressed juices, organic smoothies, fresh and clean meals and a DIY salad bar! You can also build your own smoothie bowls with the fruits of the day and your choice of toppings. It's a perfect spot for a healthy treat. 
Kopi Kats 
Kopi Kats is a well known restaurant in Ubud. They serve both Indonesian and pud style foods which are incredible and reasonably priced! Their sweet potato hash browns are to die for as well as their humongous gado gado. For the quality of food you get and for the prices, Kopi Kats is a definite go to in Ubud. 
Where To Stay 
Bali is a place where you can find luxurious for less but if you want to sludge then this is the place! Most, if not all, hotels and resorts will offer shuttle service into Ubud city centre so you don't have to worry too much about where you are staying as long as you have your ride sorted. Four Seasons, Kamandalu Resort, Hanging Gardens and Komaneka are all dream destinations to stay at! 
Some things to note: Bali's currency is the Rupiah. 100,000 Rupiah equates to about $10 Canadian. English is spoken almost everywhere so getting around and eating won't be a problem. Taxi drivers will ask you quite frequently if you want a ride – just politely decline if you don't need their services. There are dogs everywhere. The Balinese don't lock their doors so they use dogs to let them know when someone is approaching. And finally, if you are unsure if Bali is safe then let those fears die! Bali is completely safe, friendly and welcoming. 
Last Updated on