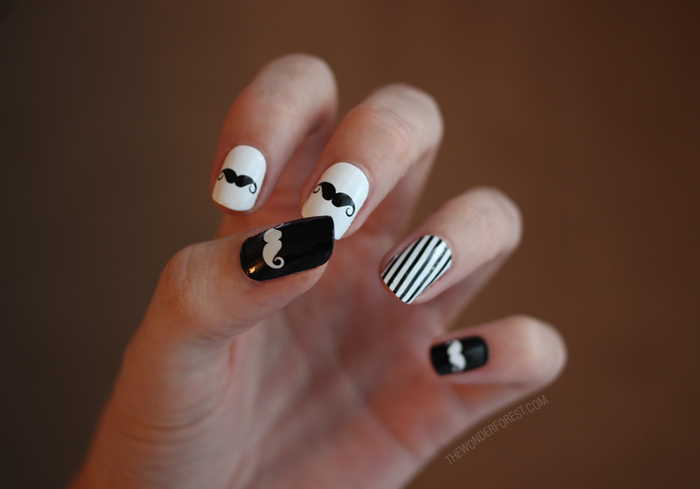 How adorable are these little mustache nail wraps? I've been trying out these stickers from OMG Nail Wraps and wanted to do a little review and let you know what I think of them. If you haven't tried nail wraps (or "stickers" or "strips" or whatever other name the cool kids are calling them these days) I highly suggest you give them a try. I have shared a few different ones on here before and have tried everything from Sally Hansen to the cheapo Forever 21 ones.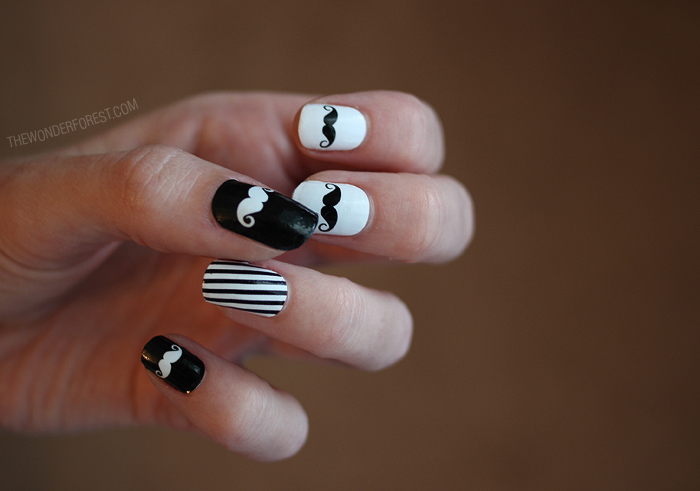 My first impression of the OMG site was that they had some unique designs. I got these ones and these ones. They came in a little package of 14 strips (you get some extra sizes which I liked).  They apply just like any other nail wrap and smooth out really well without creases or bubbles.
After I applied them, I brushed on a topcoat. Sometimes I worry about this step because with some brands, a topcoat can make the edges bubble and wrinkle so I was pleasantly surprised when these ones stayed put without messing up.
They look great on, they feel secure and just like nail polish. The only thing I've had a little trouble with is a bit of wear at the tips after wearing them for just a day. This could be completely my fault for banging them on my PC keyboard all day long, but I do wish they would stay "new" for just a bit longer. The package says these will last up to 10 days. Mine lasted about 4-5 days before I peeled them off due to chipping but I'd still say that isn't too bad for nail strips. I'm sure if you're more careful than I am with my hands you can make them last longer.
If you want to check these out, OMG Nail Strips are offering a 4 for $20 promotion with coupon code "4pack" and a 10 for $45 with coupon code "10pack".
If you have no patience with nail art and want to snazz up your fingertips a bit, you should definitely give some strips/wraps/stickers a try!
What nail strips have you tried? Are you a fan of the nail art trend?
Last Updated on