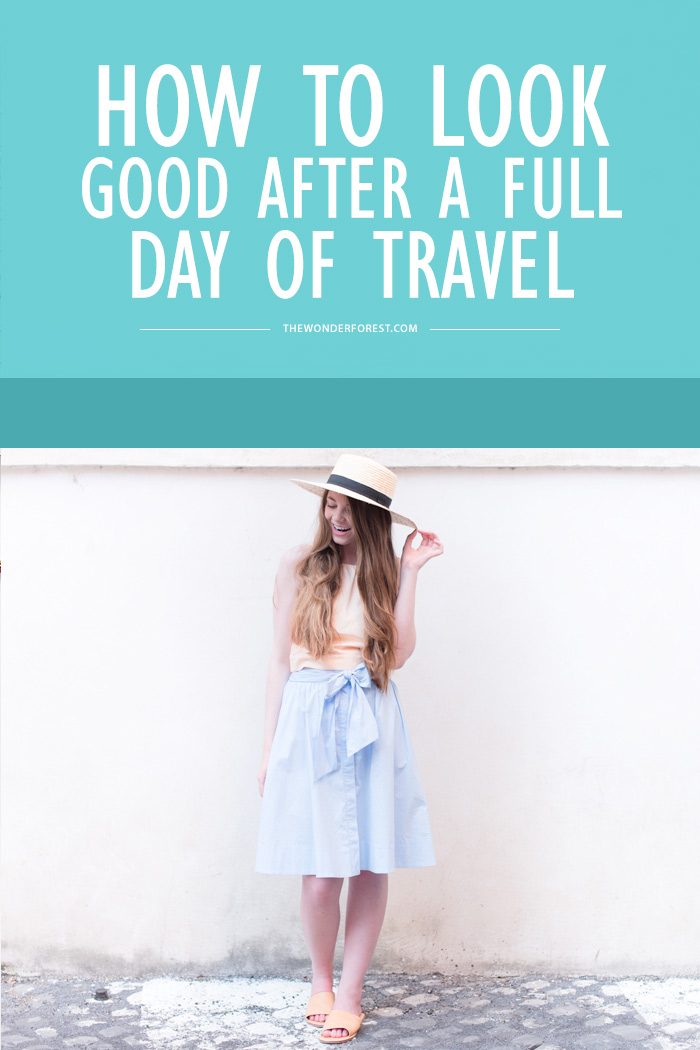 You've done it—I've done it—looked back at our travel pictures and…totally cringed.
It is hard to look good after 20,000 steps—most of them outdoors in the hot sun—and that sticky skin, frizzy hair, and walked-in clothes can really kill your dinner vibe.
But not to worry, m'love, Rebecca Jacobs, your personal stylist here, and I've got you covered with some tips and tricks you can use to look good (and feel good) even after a full day of traveling.
And the secret—it may surprise you…
Part 1: Before you leave
Here's the big secret about looking good while traveling: what you do before you leave matters more than what you do once you get to your destination.
So if you're a savvy chic traveler, you want to put in the time and effort beforehand, so that looking good comes effortlessly once you get there.
Clothing
The clothing you pack makes a big impact on how you feel while you're traveling (and how you feel when you look at the photographs afterwards!)
When planning your clothing, you want to be strategic. (As a personal stylist, packing is one of my superpowers. And if you want to get my detailed guide to smart + stylish packing in a carry-on you can grab it here.)
You need to pack the pieces that are versatile—all your tops should go with all your bottoms, all your bottoms should go with all your tops, and your shoes, jackets, and accessories should work with all of it.
You also need to be realistic. You might see beautiful Instagram photos of high heels and fitted dresses outside of the Eiffel Tower at night, but are you really going to feel like changing into that when your feet are sore and your skin is sticky from a jam packed day of sightseeing?
Focus on the pieces that will feel elegant for dinner and nights out, but still feel easy and comfortable to throw on. (So, maybe not the high heels and gown, but your favourite cotton maxi dress and strappy sandals.)
Skin
For your skin and makeup routine, you need to pack what gives you the most results with the smallest effort.
How can you take care of your skin at night and in the morning in under 5 minutes? Because when you come home from a full day of traveling, your usual 5-step routine will probably feel like way too much work. So instead you pack makeup removing cleansing wipes and moisturizer to keep next to your Airbnb bed.
And instead of bringing your entire makeup collection, and spending time sifting through it each morning, bring only your favourite product from each category. Your best waterproof mascara, your favourite cheek, eye, and lip colour, your concealer/foundation. This way you take the decision-making and rummaging-around time out of the equation (so you can use that time + effort for your day of travel instead.
Hair
The easiest way to keep your hair looking good while traveling is to have maintained locks and a signature hairstyle to wear them in.
First things first—get a trim before you leave. A little cleanup will go a long way in keeping your hair effortlessly beautiful while traveling.
Second, what is something you can do without any hot tools or products, that never fails in taking your hair from all over the place to chic? For my long locks, it's a loose side braid. For you, maybe it's a slicked back ponytail, a messy topknot, or tying a silk scarf as a headband. If you don't already have a never-fails hair go-to, try some out before you leave to find yours.
And lastly, there are 3 major problems that plague our travel hair: knots, frizz, and grease. So bring something to combat each one: a good hairbrush (I love the Conair detangling brush),  your favourite frizz-removing product (this might be a product you bought to treat frizzy hair, or even a dryer sheet if you're in a pinch), and dry shampoo to get rid of any grease.
You can do this little bit of strategizing and prep in the hair, skin, and clothing departments before you board, to reap the benefits of spending less time and effort worrying about looking good once you get there!
Part 2: Tricks for once you're there
Congrats to you for doing the work before you left, so that looking good is coming fairly effortlessly now that you're there.
But, you've been walking around outside all day, your skin feels a little sticky, your hair a little frizzy, and your feet a little (lot) sore—and you have like 10 minutes to get ready for a nice dinner.
So how do you go from disheveled sightseer to chic traveler?
Hair
You probably don't have time to wash, dry, and style your hair. And if you do have the time, you want to spend it exploring or relaxing—not getting ready. Good thing we have the tricks we planned out before hand:
Dry shampoo (also described as my best friend.) This will absorb any greasiness, leaving your hair looking and smelling fresh, and ready for a night out!
Frizz-removing product—whether that's a serum you bought, or a dryer sheet, or even softly running your hands with moisturizer over your hair.
Your go-to never-fail hairstyle you worked out before you left!
Throw some dry shampoo on your roots and scalp, remove friz if you need to, and fix your hair into your go-to style, and you are ready to go!
Makeup
If you want to wash your face and redo your makeup, go for it. If you're pressed for time, or you're not going back to your hotel room at all, here's how to refresh your face on the fly:
Blotting papers. You can fit these in your purse, and use them to blot up any oil or sunscreen residue to give your skin it's natural good-kind-of-glow back.
A bold lip. By the end of the day, makeup fades—and we aren't about to lug around our entire cosmetic bag all day! But we can carry a tube of lipstick! A bright pink or red can be swiped on to take our look from day to night. It will balance out any redness our face has picked up from our day of traveling, focus attention on our lips, and make us feel more done up for our night out!
Clothing
If you aren't heading back to change, or didn't pack separate "evening" outfits (which I don't advise anyway!), you can make a few little tweaks to take your travel look from day to night.
Add some accessories. Dangly earrings (especially if your go-to hairstyle is hair-up), a necklace, or a waist-cinching belt—these can be carried around in your handbag during the day and added on in the evening to make your outfit feel like it's transitioned into night time elegance.
Brighten up your face with a sparkly necklace or a brightly coloured scarf. Puting a bit of sparkle or a bit of colour next to your face can help reflect some light and colour back onto it after a draining day of travel.
Remember: do the work before you leave, to pack the right things and make looking good effortlessly easy once you get there. (You can get your detailed packing guide here!)
And when in doubt, wear bright lipstick 😉
How do you look good after a full day of travel? And where are you headed next?
Last Updated on