This homemade lip scrub is perfect for those dry, winter days. It's an easy to make all natural product that you can create using items in your pantry.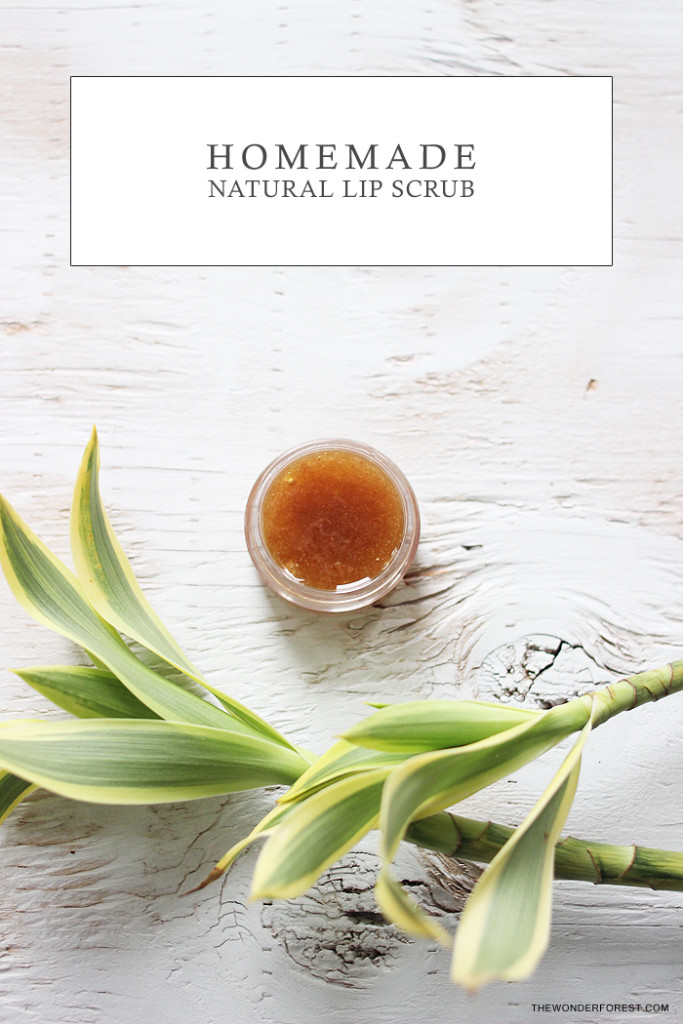 In the cooler months, your lips can take a beating. My lips always seem to be cracked or chapped or some combination of the two.
Sometimes you might not always have a great lip balm or scrub on hand, so I'm going to share a really simple way to create your own natural lip exfoliate.
The best part about this lip product is that you know exactly what is in it. A lot of lip balms on the market contain a ton of ingredients that might not always be beneficial.
In fact, many contain ingredients that promote drying of your lips, so it can be a vicious cycle of applying and re-applying the product.
An All Natural DIY Lip Scrub Recipe
I was standing around my kitchen trying to come up with some cold weather DIYs, and thought I might give making a natural lip scrub a try. I was pretty happy with the results so I decided to share!
Not only does this not contain any harsh chemicals, but it tastes so good! I don't recommend you eat it (I mean, you could if you really wanted to, haha…), but let's focus on getting rid of dryness and dead skin cells first.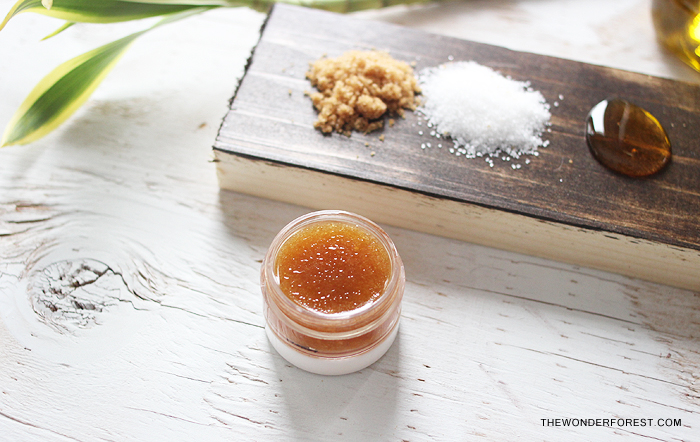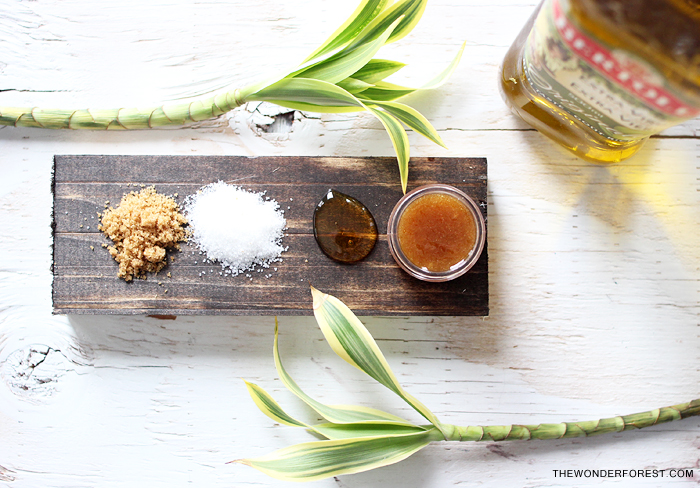 HOMEMADE EASY LIP SCRUB INGREDIENTS:
1 TSP of Brown Sugar
1 TSP of White Sugar
1 TSP of Honey
1/2 TSP of Olive Oil
How to make your easy lip scrub
It's simple! Mix all of the ingredients together in a small bowl. You can add more or less of some ingredients to get the consistency you like.
The texture of the sugars work to exfoliate dead or dry skin. The white sugar is slightly more rough than the brown sugar due to the larger granules, so I thought a combination of the two worked well.
The honey allows the product to stay on your lips a little better while offering anti-inflammatory properties and skin soothing abilities.
Olive oil helps to soften the skin and has antioxidant properties and vitamin content that also does wonders for your skin.
If you have a little container handy, fill it up and store it for later! You should be able to store it in a cool place or your refrigerator for about a month.
TO USE:
Apply the scrub to your lips and massage it around for about 20 seconds or so. Wipe off for instantly smoother lips!
Ingredient Recap:
Brown Sugar: Has anti-bacterial properties and vitamin B.
White Sugar: Naturally draws moisture into the skin, is a natural AHA that encourages cell turnover (for younger looking skin!), natural source of glycolic acid which can help sun-damaged skin.
Honey: A natural source rich in essential vitamins, minerals, and antioxidants. Absorbs and retains moisture.
Olive Oil: Full of vitamins, minerals, and proteins. Acts as a natural moisturizer. Has regenerative powers to help simulate the healing of skin.
So there you have it! An incredibly fast and easy beauty remedy with ingredients you probably already have in your kitchen cupboard. Try pairing this with our super yummy strawberry DIY face mask to pamper your skin even more.
Last Updated on