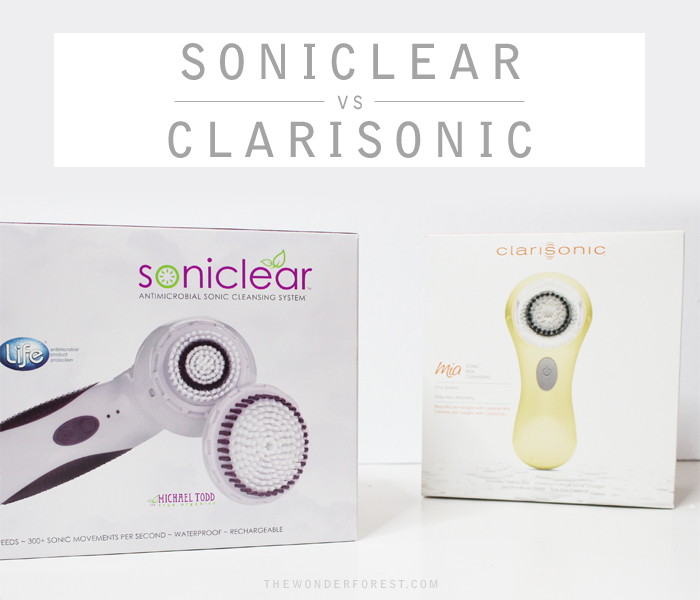 Sonic cleansers are all the rage, and if you haven't used one, it's probably about time you gave one a try.
I simply cannot go back to using a wash cloth to cleanse my face after seeing all of the extra bits of makeup flow down the drain during use. (If you're a sonic cleanser user too, you totally know what I mean!)
This post contains affiliate links for product recommendations. Any purchases made through these links help support the blog with a small commission. As an Amazon Associate I earn from qualifying purchases.
I've been a Clarisonic Mia user for a few years now, and although I haven't had any real problems with the device, I was willing to try another to see how it measured up. I got my hands on the Michael Todd Soniclear system and decided to give it a go.
What I liked about the Clarisonic was simply that it did what it said it would do (cleanse better than hands alone) and that I could get it in a cute colour. Really, nothing more than that attracted me to it, and I was happy with how it performed.
What I disliked about it was having to replace the brush heads after they became discoloured with makeup even if they weren't totally due for a replacement, and how the handle somehow got stained with makeup as well. Bye bye pretty colour.
I just felt as though it got gunked up pretty easily, and I always remove my eye makeup before use. Oh yes, let's not forget all of the times I accidentally dropped the thing on my foot in the shower. Ouch!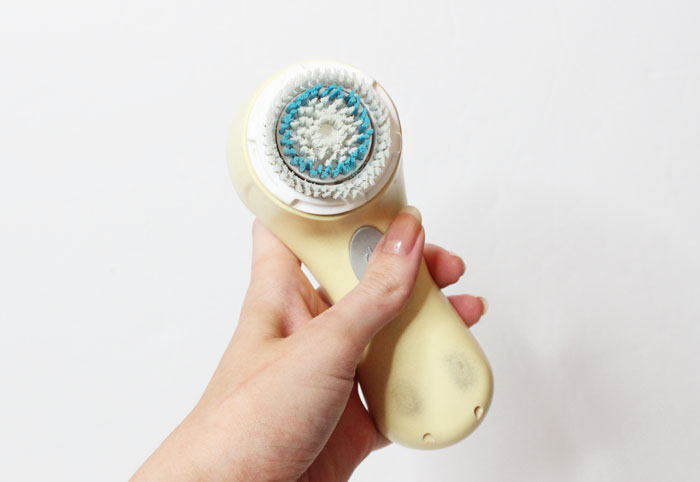 My permanently discoloured handle 🙁. I'm too embarrassed to even show you the back!
When I read about the Soniclear, I was impressed that it had the things that the Clarisonic lacked. Firstly, the brushes are made with organic Antimicrobial protection.
That means that the brushes are built to stay clean and reject any bacteria or germs. This device is actually the first of its kind to offer this kind of patent-pending protection, and knowing how rough my Clarisonic bristles look after a month, this was important to me!
Secondly, the handle has non-slip grips so it's easy to hold in the shower… and not drop on your foot! Next, it comes with two brushes: one for your face and one for your body.
The body brush is larger to cover more surface area and the device changes its settings automatically depending on which brush you have attached.
The Clarisonic Mia only has one brush setting and speed, whereas the Soniclear has three speed settings that you can easily adjust by the click of a button. For two sonic cleansing devices that are about the same price, it's kind of a no-brainer that you want one with more features.
For the record, you can purchase other Clarisonic models with similar features to the Soniclear, but they cost upwards of $230 and don't have that germ protection!
Bonus: the Soniclear now comes in so many different colours and patterns, and there is a mini version!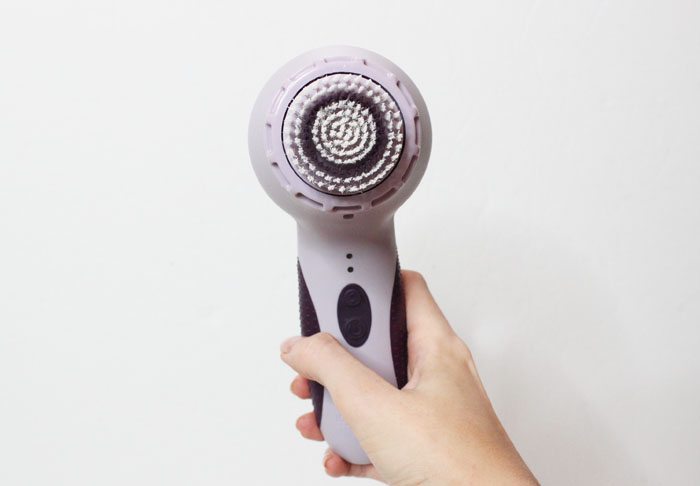 Settings aside, how do they compare when cleansing?
Now, I've tried different brush heads for the Clarisonic, from Sensitive to Normal, and hands down my skin felt cleaner after the Soniclear. It's just better.
Perhaps it's the way the entire brush incorporates the sonic power instead of just the center portion as the Clarisonic does. Or the fact that it's made with those special Antimicrobial things that just makes me feel like the device is overall cleaner to begin with.
I really felt like the Soniclear removed all dirt and extra makeup from my face because I could physically see it flowing off of the brush without a trace of it left on the bristles afterwards.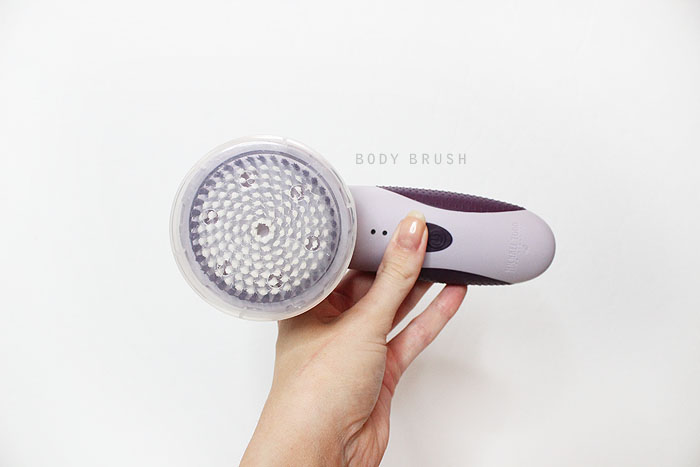 Bonus: the body brush is awesome at removing the last of a fake tan!
For the features and price I'd definitely choose the Soniclear over any of the Clarisonic models.
I always thought it was a bit weird that there were so many different types of Clarisonic systems, from Mia to Aria to Plus and whatever else. If a product does what it says it will do, I don't understand why there has to be additional models that say they will do more of the same thing.
Why not just make your sonic cleansing device with all of the features that work, and call it a day? The people at Michael Todd have done that and have made a great product that competes with every Clarisonic model on the market.
I'd happily and honestly recommend the Soniclear to any of you lovely faces.
Do you use a sonic cleansing device? What are your experiences with it?

I was provided the Soniclear system to try for consideration. All opinions are my own and not required.
Last Updated on