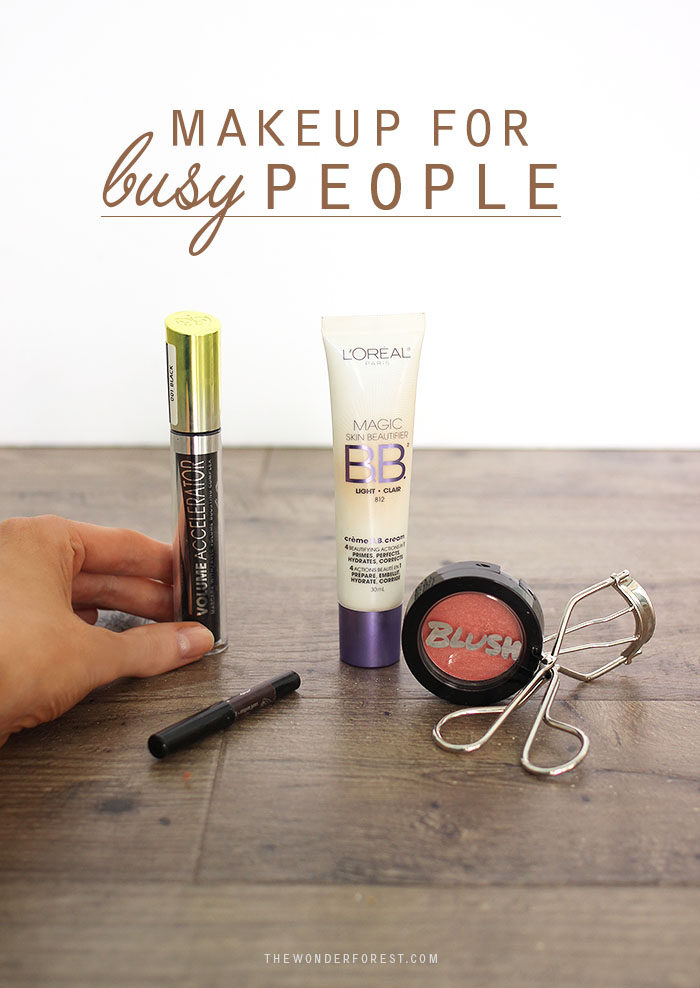 When I need to beautify my face in a rush, there are always a few staple products that I rely on to get the job done quickly. My normal makeup routine can take just 5 minutes with these simple products and I still manage to look put together (or, like I at least tried!). It really doesn't take long to freshen up your face, so these things are perfect for before class or between nap time.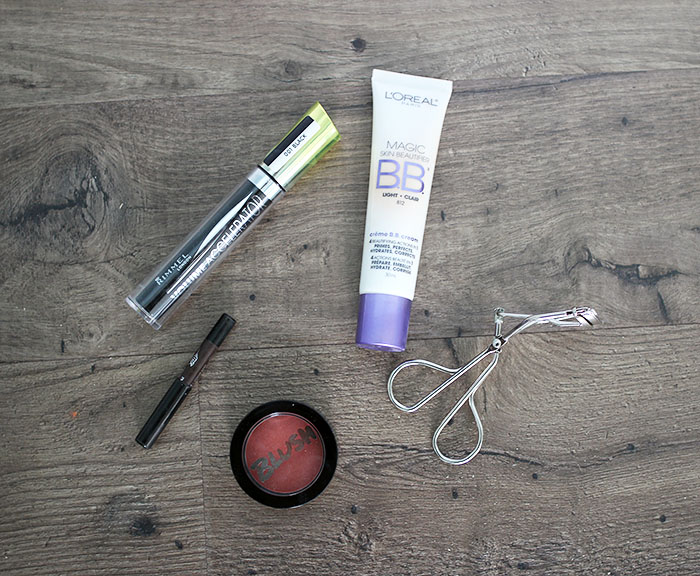 1. Mascara – If you do anything… anything at all… let it be with mascara! Even if you have no time for the rest, mascara should be on the top of your priority list when it comes to putting on a fresh face. My favourite lately has been this Rimmel Volume Accelerator mascara which is amazing and has ingredients in it to nourish your lashes.
2. BB Cream – Skip the foundation, skip the concealer, and just reach for a tube of BB Cream. My favourite by far is this L'Oreal Magic Skin Beautifier BB Cream that I talk about way too much. It smooths out your skintone and covers any trouble areas quickly while staying all day and not looking as though you have a full face of foundation on.
3. Eyeliner – Go for a brown for more versatility. I like cream eyeliners best for quick makeup applications because you can smudge them with a q-tip if you wanted to add a little more dimension to your eyes. If you have no eyeshadow, try simply applying an eyeliner and smudging it out in a snap!
4. Blush – Although I'm not really a blush kind of girl, it can be really helpful in a pinch. You can double it as an eyeshadow if you have the right shade, and adding a pop of colour to your cheeks after the BB cream will help to wake you up a little bit.

5. Eyelash Curler – This is one thing I just can't pass up. No matter how busy I am, I always take 20 seconds to curl my lashes before applying mascara. It helps to open your eyes up so much more and will make your lashes appear longer.
That really is all you need for a quick and easy makeup application! You'll get so good at applying it that you'll soon want to challenge your friends to a timed race! Anyone want to play? My current record is 3 minutes 😉
Last Updated on