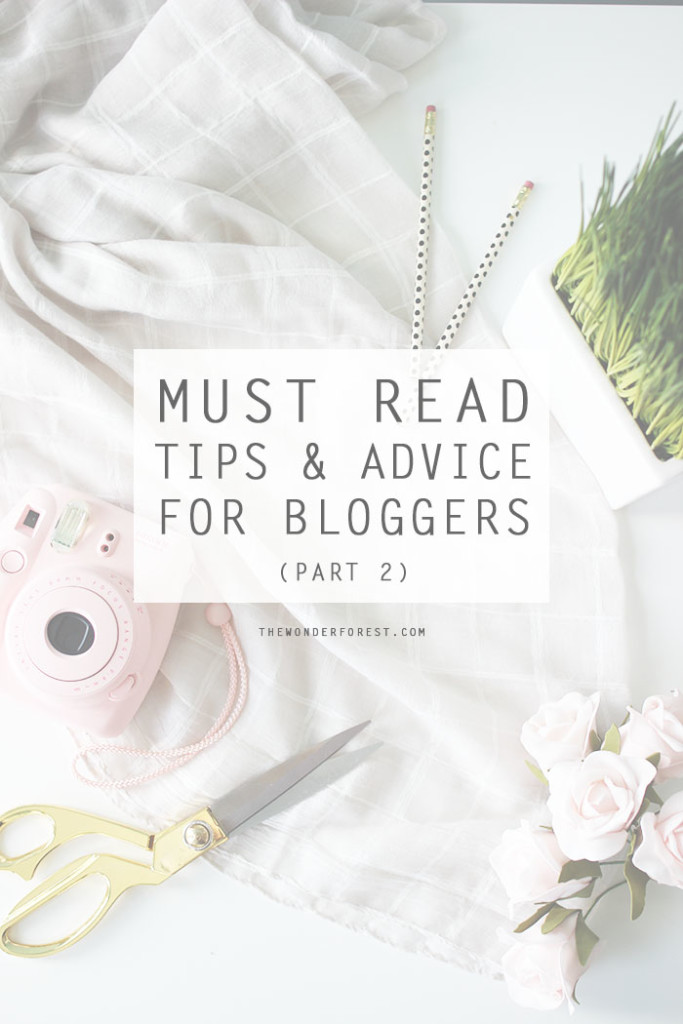 A while ago, I shared a roundup of helpful posts for Bloggers that I had written in my Must Read Tips & Advice For Blogger (part 1). This time around, a bunch of new posts have made their way to the top of my popular posts lists and I thought I would put them all in one place for your bookmarking pleasure. Enjoy!

How To Start A Lifestyle Blog: Complete Beginner's Guide  – For the total blogging newbie, here is a complete guide to getting started in the blogging world!
Fake Followers Will Never Be Your Friends – Reasons why you shouldn't buy your followers and why growing your following organically makes much more sense.
Ways To Make Money With Your Blog – Different ways of monetizing your blog so you can start to generate income from your posts.
Why You Don't Have To Create Content Every Day – Why you should think about quality over quantity when it comes to your blog posting.
How To Upgrade From Free WordPress to Self-Hosted WordPress – The free version of WordPress is limited. If you've wanted to upgrade to your own hosted version, this step by step tutorial will show you how.
How To Make A Product College in Photoshop – Perfect for curated shopping posts, Instagram features, or product roundups.
Essentials Every Blogger Should Have – Some of the things I use almost daily for my blogging rituals.
Staying Productive With Backup Blog Posts – This post will save you so much time and headaches in the future! A must read!
How To Drive Traffic Back To Old Posts – Don't just concentrate on your new posts. Remember to continue to drive traffic back to your old ones as well with these tips.
How To Create A Custom Header For Blogger – Creating a header image is pretty easy if you know what you're doing. Here's something you can follow along with.
Tips For A Successful Blog – What do successful bloggers do that others don't?
Choosing A Colour Palette For Your Blog – Colour theory comes into play here and will help you choose a colour palette for your website or blog.
How To Add a Contact Form to a Blogger Blog – Add a totally free contact form to your Blogger blog by following this easy tutorial.
How To Change The Blogger "Read More" Link – A tutorial for changing the look of the "read more" link on split blog posts.
Add a Popup Newsletter Subscription Box to Blogger – A step by step tutorial showing you how to add a popup subscribe box using Mailchimp and Blogger.
How To Choose A Blog or Business Name – My personalized method for coming up with unique blog and business names. Works every time!
How To Make Affiliate Programs Work For You – Affiliate programs take work, but that doesn't mean they can't also work for you!
Last Updated on