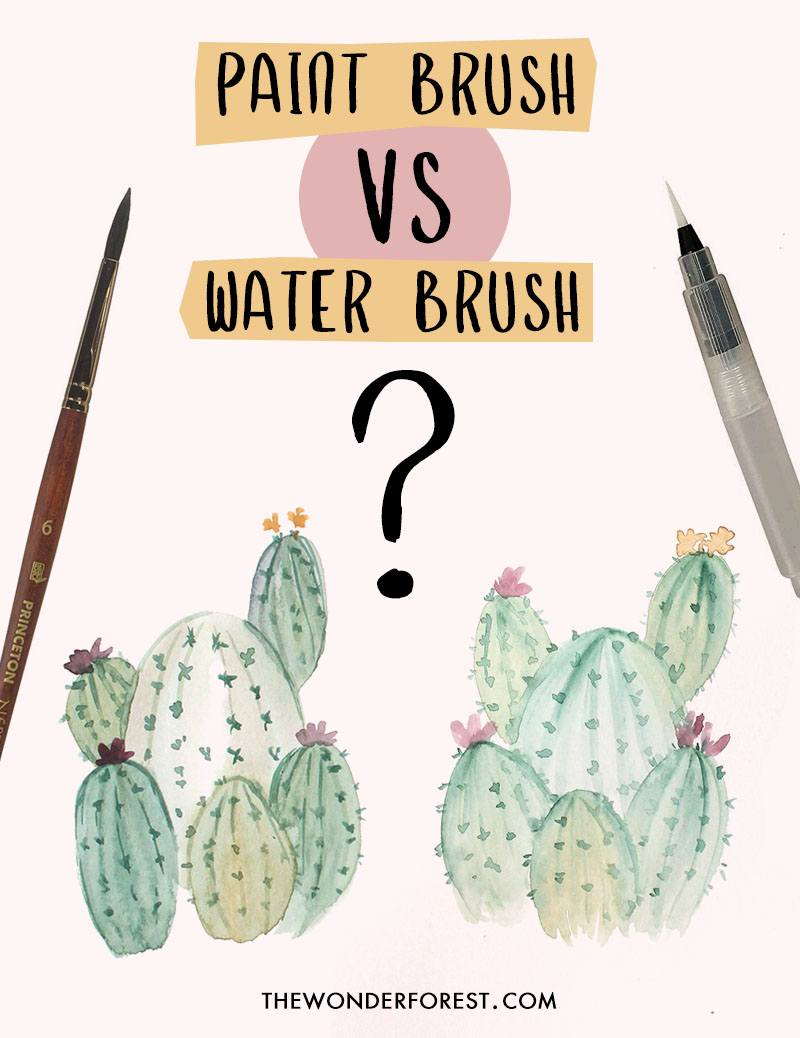 With so many art supplies to choose from, how do you know if you're choosing the right tool for the right project?
In the watercolour painting world, there are so many different types of brushes and each have their pros and cons. The type of brush you use can really determine the overall outcome of your painting. Let's examine the two most common brush types: the round paint brush and the water brush pen. 
In this experiment and tutorial video below, I wanted to demonstrate the differences between the two brushes. You'll be able to see how each brush performs while creating the same piece of art — a super cute cactus illustration! Below, I'll list some benefits and downfalls of each so you can decide which is best for your piece.
Click here to watch the video on YouTube or press play below.
Paint Brush
A paint brush is a classic tool that is used for so many different mediums. If you've experimented with any type of painting, you will be comfortable with the brush and aware of how it works. 
Pros:
Soft and absorbent bristles hold water
Slimmer design allows for better control
Ability to customize the amount of water in your brush
Easy to dry off for lifting techniques
Cons:
Additional tools required for travel
Larger carrying space needed
---
Water Brush
Many calligraphers or letterers use water brushes due to the ease and convenience of the tool. It holds the water or liquid in a detachable reservoir which makes it super handy for travel and eliminates a few steps from the painting process.
Pros:
Super convenient and compact for travel
No additional water container needed
Cap allows for damage-free bristles
Can offer a more streamlined process with no back-and-forth to a water jar
Cons:
Plastic bristles are not absorbent and snap back quickly
Shorter designs might be tougher to hold comfortably
Control of paint is very different than a standard paint brush
---
The Takeaway
All in all, whichever brush you choose to use is totally up to you. The paint brush and the water brush are two totally different painting tools and should be treated as such. If you are a fan of the traditional paint brush, getting used to a water brush pen might take a little getting used to.
On the other hand, if you have started your painting or lettering journey using a water brush, you may find using a paint brush quite different.
Which do you prefer?