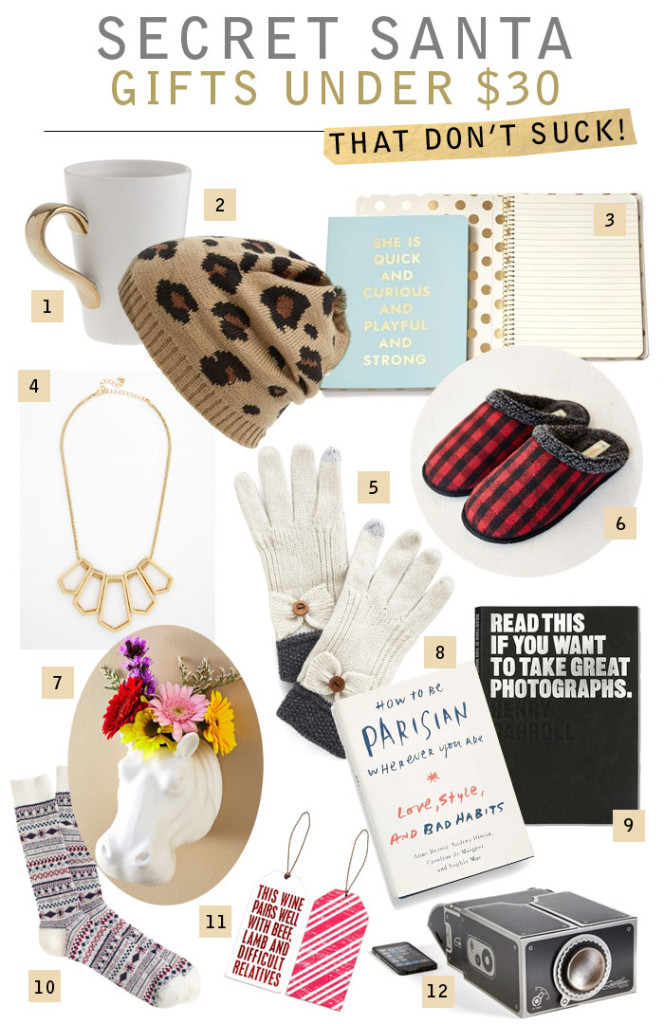 Are you snowed in today like I am? I took this time to come up with some more gift ideas for you! The holidays mean Christmas parties with co-workers, friends, and family, and if you're like a good majority of the population — Secret Santa gift exchanges! These exchanges usually come with a budget attached to them, which can make it a little tough to give something nice.
I've put together this fun little idea board, and the best part is… everything is currently $30 and under! I'd be more than happy to receive any of these things in a gift exchange, wouldn't you?
What's the best or worst thing you've ever received in a Secret Santa exchange?
Click each item in the collage above to view in detail, or see the links below:
1. Metallic Latte Mug
2. Slouchy Leopard Beanie
3. Kate Spade She Is Quick and Curious Spiral Notebook
4. Symmetric Of The Trades Necklace
5. Wistful Thinking Gloves
6. O'Hanlon Mills Mule Slipper
7. Hippo Hop And You Don't Stop Vase
8. How To Be Parisian Wherever You Are Book
9.  Read This If You Want To Take Great Photographs book
10. Mini Fair Isle Socks
11. Difficult Relatives Bottle Tags
12. Smartphone Projector Kit
Last Updated on