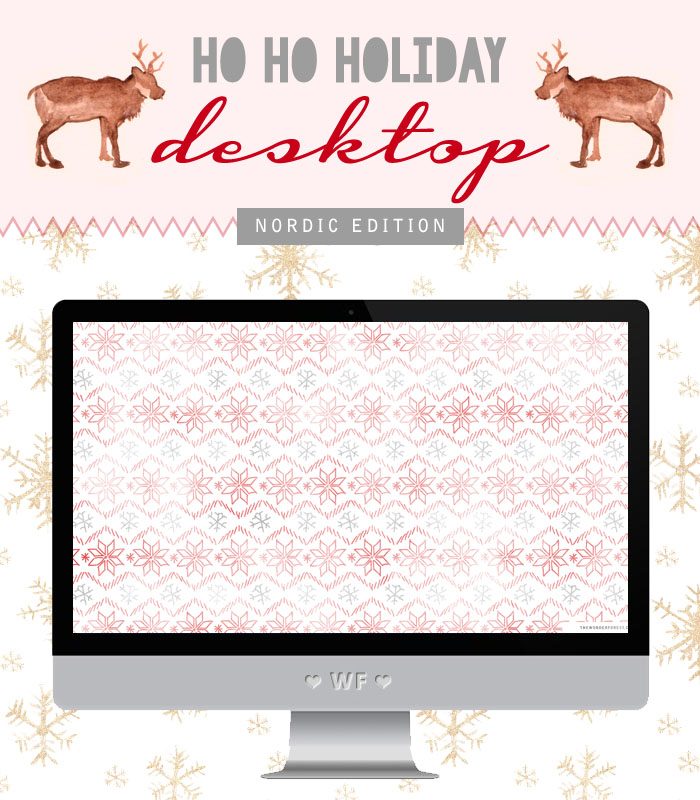 If you follow my Instagram feed, you probably know I am obsessed with Nordic printed things, which is why I felt like sharing the cozy winter vibe with you all in the form of a desktop wallpaper!
I'm not sure what it is about this type of pattern that just does it for me. It reminds me of ski lodges and huge fireplaces that you sit around with your friends while sipping hot chocolate. Thermals and furry boots. Earmuffs and laughter. Maybe I've just seen too many Gap ads or something.
Anyways, if you want to feel the warm fuzzy Christmas feelings that I do when I look at this, download this desktop for yourself!
Just right-click the image and Set as Desktop. Choose the "Fill" option if your computer has one to fit it to your screen.
Enjoy!!
P.s. I released a new Blogger template yesterday!
Usage Policies: Please do not share the full size downloadable images on your blog/website, use for profit in any way, or claim as your own. All artwork is my own. Not to be used in any other form than the original. I offer these freebies to my readers as a small token of my appreciation so please play nice 😉 All artwork is © copyright dana fox and wonder forest, 2014. If you'd like to share, please be sure to link back to this post so your visitors can grab them directly.
Last Updated on