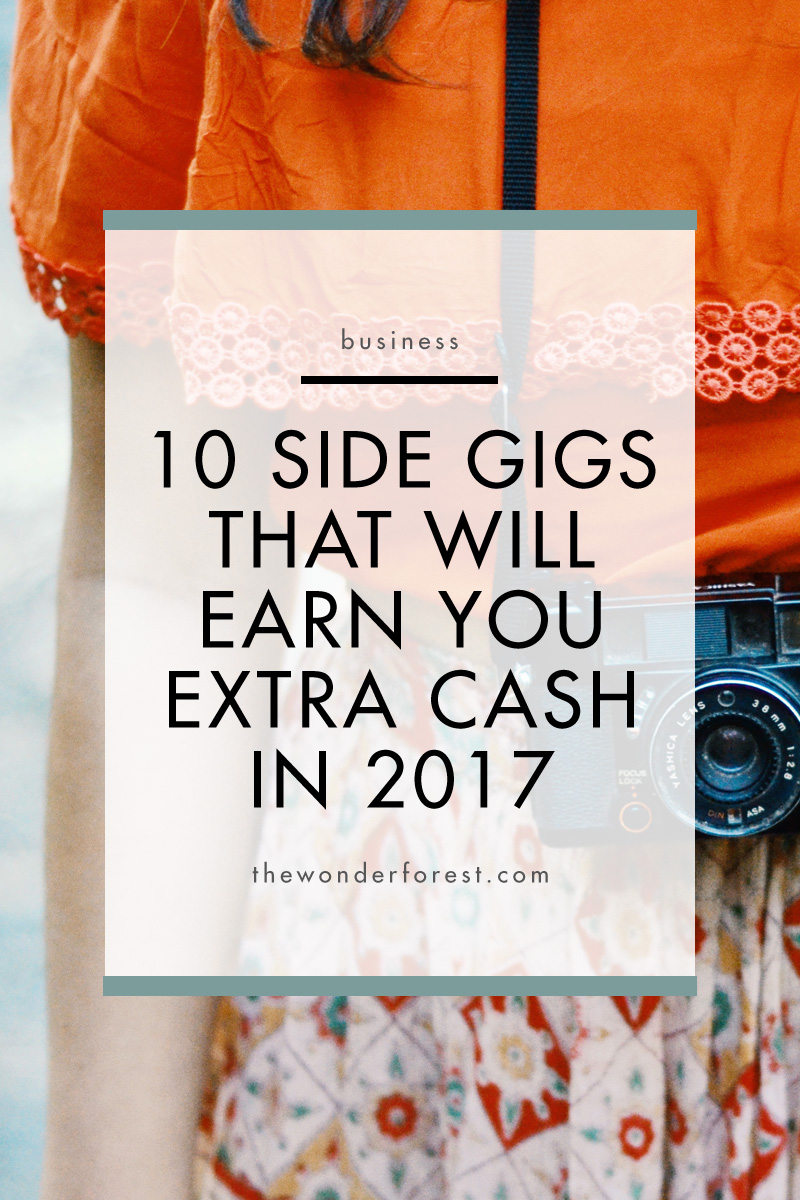 With the new year comes with it New Year's resolutions. If you're like many people, you're probably resolving to eat healthier, exercise more, and perhaps maybe earn a little extra money. Though we can't guarantee you'll earn that much sought-after promotion, we can tell you that earning extra money in 2017 is within your reach. Here are 10 great ways to make money on the side in 2017.
1. WRITE!
If you have any background in writing, literature, English, or even history, there is a good chance that you could be putting your skills to use to earn regular income on the side. There is a strong market for freelance writers, as many companies have an ongoing need for both internal and external communications; everything from newsletters to blog articles and marketing materials must be written from scratch. If you don't know where to start, FreelanceWriting is as good a place as any.
2. Web and Graphic Design
If there is one field in demand as much as writing, it is web and graphic design. The Internet is the new domain for businesses, and most businesses quickly find that there is a large gulf between professional design and amateur design. Even the proudest and stubborn business owner will admit that his hand-drawn doodles simply won't cut it. This is where you come in. Small and large businesses alike need your expertise. Shop out your expertise on sites like Freelancer and Fiverr – you could find that there's regular money in it.
3. Babysit or Nanny
For some of you reading this, babysitting may be the least attractive option on this list. However, some will surely find it to be the easiest and most accessible. For those of you out there who love children and enjoy spending time with them, there is money to be made as a part-time nanny or babysitter. Start with friends and family. However, if your network is small, consider finding opportunities on sites like Care.com and SitterCity.
4. Teach and Tutor
Do you know mathematics like the back of your hand, or have a photographic memory of American history? If so, why not consider tutoring students in the fields you're most familiar with? Online tutoring is becoming increasingly more popular, with platforms like Tutor.com and Skooli making it easy for students and teachers to connect. Sign up today and see what's available in your field.
5. Sell!
The Internet makes it easier than ever to sell directly to the public. Whether you sell hand-made crafts on sites like Etsy, resell old clothing on Ebay, or take up direct sales with a proven company like Amway, you will likely find the process enjoyable and rewarding (both emotionally and financially). The great benefit of online sales is that you are in control of the process – you can dedicate as much or as little time as you wish. Ultimately, your earning potential is unlimited and up to you.
6. Join Focus Groups
Before the Internet connected the entire planet and put everything within easy reach, joining a focus group seemed as mysterious as joining a cult. How do you get invited? How much money do you make? Do you have to take an oath of secrecy? That is no longer the case. Joining focus groups in 2017 is as easy as creating an account on FocusGroup.com and participating in the site's online surveys. And there's plenty more where that came from. Join today, earn money tomorrow!
7. Become a Personal Trainer
The start of a new year means millions of people across the country will once more dust off their running shoes and hit the trails. Assuming your exercise gear is well worn and you've made no such resolution yourself, consider becoming a personal trainer or fitness instructor. With social media, it's easy to build up an initial network of clients. From here, you can slowly grow your client base through referrals, social networking, and even online advertising.
8. Write and Sell E-Books
With E-readers like the Kindle becoming commonplace, there is a greater opportunity than ever for independent authors and publishers to find an audience. If you are an author yourself, consider self-publishing using services like Amazon Kindle Direct Publishing. Once you have published your work, you can sell it by tapping into your network of friends, family, and associates. Much like becoming a personal trainer or selling goods with Amway, start small and build your business over time.
9. Photography
When it comes to selling photography, there are several ways to go about it. You can sell your photography as art, you can become a portrait or wedding photographer, you can become an editorial or model photographer, or you can sell your photos as commercial assets. The choice is up to you (in fact, you may consider more than one of these). Thankfully, there are ample opportunities to sell your work. The hard part may be knowing where to start. Sites like Shutterstock and Big Stock Photo encourage new users to contribute their work for resale, so you may want to start there. Create an account and see what type of response you can get.
10. Develop Apps
If you are well-versed in mobile application development, you probably don't need us to tell you that there is ample money to be made in this field. It seems that there are always fewer app developers than there are people looking to develop apps, so you could find yourself a hot commodity once you start looking for work. If you don't know where to look or how to get started, look into a developer network like Toptal and see if it's right for you.