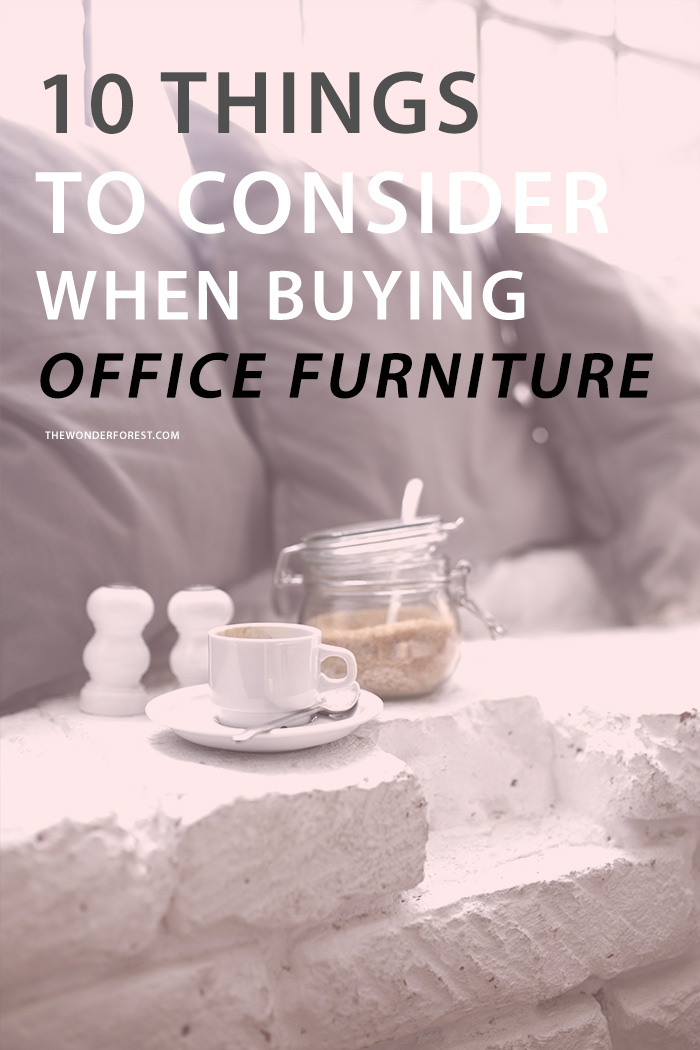 You've taken the plunge and decided to embark on a career revolving around work you love. Conveniently enough, you can do it all from home! It's an exciting time when you're no longer just dreaming of your home office but are actually designing it. Every time you venture out, it becomes harder and harder to only window-shop and not come home with that huge executive desk.
Those temptations are part of this journey, but you should take in some advice before you blow your entire budget on a $350 floor lamp for the corner of your office.
If you're going to make the most of your home office without breaking your bank, here are the ten things you should keep in mind before you loosen those purse strings.
Expensive Isn't Always Best
You found your dream desk, but it comes with a nightmare price. You don't have to splurge to make sure you get a workspace both fashionable and functional. With a few layers of paint and some new hardware, you can take that thrift store desk and bring it to life!
Try exploring estate sales or second hand shops for a desk. You will feel great saving something from going to the landfill, and you won't have to shell out tons of money. There's only so much money you can spend on upgrades for a desk before you're just paying for the brand or over-the-top quality materials. No, you don't need a desk with gold-plated knobs.

Make Comfort Reign Supreme
The way an office is set up can greatly affect how much work you'll actually get done. Office productivity is proven to go up in larger companies when the atmosphere is inviting and the temperature is set a little higher so people aren't freezing – the same principles will apply in your home office!
To keep those creative juices flowing, find furniture that makes you feel comfortable and cozy. You shouldn't be falling asleep on a couch, but a nice office chair or even a beanbag poof for when you're brainstorming will help you relax. Think outside of the traditional cubicle design!
Function is in the Form
Ever see some of those amazing home photos out of a magazine and wonder how someone lives there because it looks like a museum? Yeah, don't do that with your office.
While you can have decorations and create an amazing space, function should come before the form. You might fall in love with a purple lima bean table, complete with bright green chairs, but if it's going to squish you in a corner, then don't buy it. Measure your room and the items you want. Before you purchase your furniture, mark out on the floor where you'd like to put the items. That way, you'll be able to see what space you have left and if it will be enough so you don't feel claustrophobic.
Keep Clutter at Bay
Clutter is an absolute productivity killer. It will wriggle its way into your brain and pester you, making those brain cells work overtime to stay focused. When you are buying your office furniture, make sure you're including clutter-reducing features.
Bins, baskets and file holders will work perfectly. The more you can get off of your desk, the more your mind will focus when you're working, which means more money for you!
Invest in Great Lighting
Lighting is something many people neglect when designing their home office, but it's one of the most important aspects. In bad lighting, you'll strain your eyes, and if you perform design-work, it will mess with your colors on your monitor.
If you have a window, let in natural lighting with sheer curtains or blinds you can adjust. No window? No problem! Floor lamps with three-way bulbs are ideal since they'll give you an adjustable light depending on the project, and they add an artistic feature to the room. If you can't eat up floor space with one, consider purchasing track lighting or a cool overhead light.
Color Matters
The brain takes cues from colors. Even if you love red, it may not be best to paint every single wall in your office a bright crimson. While we all have physiological reactions to certain colors (red makes your heart and pulse increase), humans also react to colors because of personal experiences and memories.
When picking the color for you office, don't feel limited to just one. Pick a calming color, such as blue or gray for the main color, and an accent color like yellow to bring life into the room. Only you can select colors you find inspiring for your office.
Think Glass and Mirrors
Most home offices are not the biggest room in the home. But thanks to a few simple additions, you can trick yourself into thinking your 10×10 office is the CEO's elite office space, surrounded by windows. If you have enough wall space, hang a mirror, preferably over a table or plant stand and located in a position that will reflect something appealing, such as nature just outside your window.
When selecting a desk or storage for your office, glass-fronted doors will reflect light and open the space. Keep in mind with glass you won't be able to hide any of your office messes!
Reflect Your Style in the Big Things
It's probably safe to say you're going to need a chair for your home office. While it might be tempting to spend oodles of money on accent pieces solely for decoration, if you don't have a large budget, stick to reflecting your style with the larger pieces.
Find a chair in that favorite mustard yellow you love, or add a simple plant stand with some orchids to make the space feel more like 'you.' You're going to spend money on the bigger items anyways, so you might as well make it what you want.
Minimal Décor is Better
Going off of the above idea of not purchasing a ton of superfluous décor, less decorations is probably better. When you have too many sentimental items like pictures or knick-knacks on your desk and your shelves, it will be much more difficult to focus on the task at hand.
Keep your décor to a minimum, and preferably find décor that is both functional and aesthetically pleasing. A cool stapler or some beautiful journals on the shelf will add interest and serve a purpose.
Don't Neglect the Floor
Once you have your furniture picked out for your office, it's almost time for celebrating… Almost! No matter whether you have carpet or hardwood, you can really change the look and feel of your office just by picking out an area rug. Small throw rugs are the ideal item to make a space more inviting and warm. Pick out one with a few interesting colors or one that has a texture you love!
There is a lot of information to keep in mind when selecting the items to create your home office, but you know your style best. Go with your gut and have fun creating a space where your work will come to life!
Last Updated on