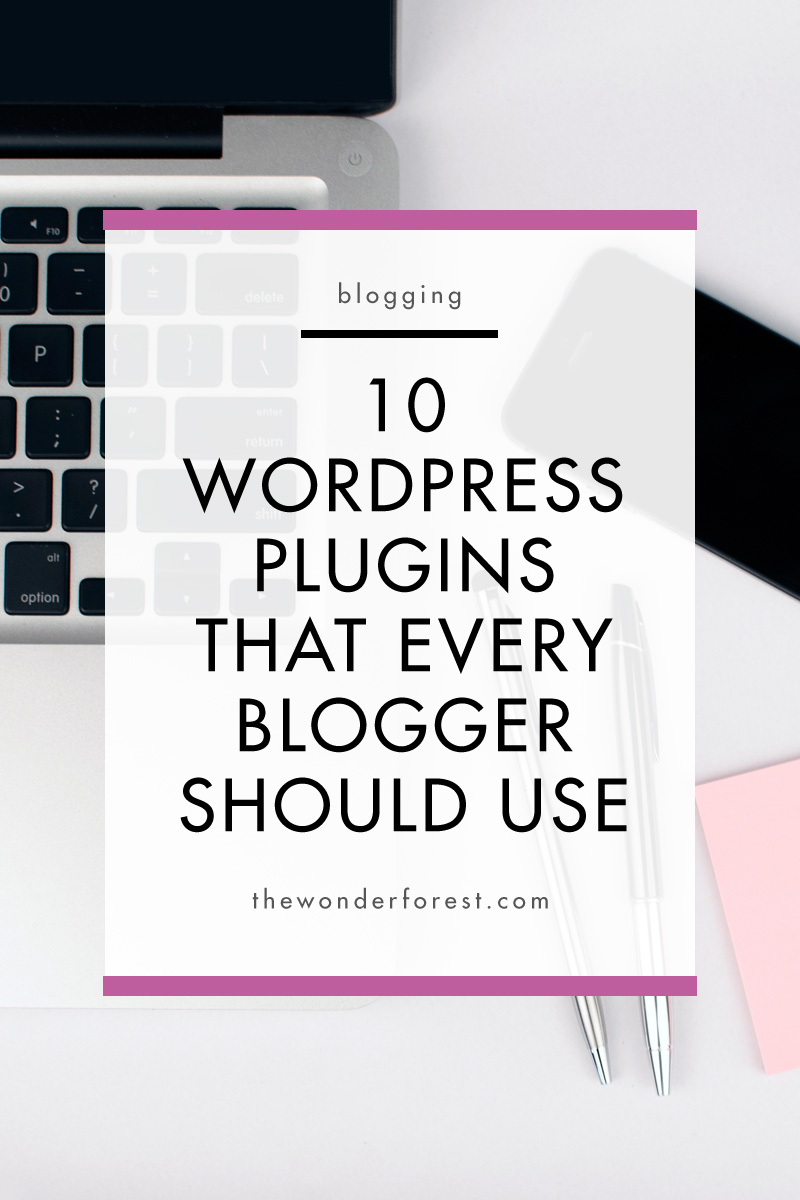 As a blogger, there are a ton of WordPress plugins that are available (for free!) to make your life a little easier. From increasing your web traffic to helping your site get found in Google to creating easy and printable recipes to monetizing your blog – there's a plugin for that!
I've been blogging for quite a few years now, and I have found some pretty incredible plugins that really helped me take my little blog to the next level along the way. I thought I would take some time to share them with you today! Hopefully these plugins will help you as much as they have helped me.
Yoast is the most popular plugin when it comes to increasing your SEO (search engine optimization, aka how your blog gets found by Google). You can use the tool to assign keywords to your posts, pages and more to maximize your blog's ranking. There is both a free and paid version of the plugin, depending on how advanced you want to get.
Food and lifestyle bloggers: if you ever share recipes on your blog, you need to get the Recipe Card plugin stat! It allows to create custom styled recipe cards that can easily be printed, saved or shared. It also helps to optimize your recipes for search engines and generates nutritional facts.
This plugin pulls your website's Google Analytics straight into your WordPress dashboard, making it easy for you to see your real-time visitors, acquisition channels, traffic sources/referrals, search keywords, demographics and more.
The Skimlinks plugin is going to become your best friend if you are looking to monetize your blog. It takes away all the work on your end when it comes to creating links for affiliate marketing by automatically converting your links to affiliate links. All you need to do is download and install the plug-in then create a Skimlinks account. Don't forget to include a disclosure statement in your posts!
This plug-in automatically creates a pin it button on hover for all of the images on your blog. It also allows you to upload your very own stylish button to match your blog's design, so that you don't have to use the default one by Pinterest.
If you are someone who schedules a lot of blog posts in advanced, you are going to find this plugin particularly useful! Editorial Calendar automatically populates a calendar in your WordPress dashboard (under posts) with all of your scheduled content so that you can see what's coming up at a glance.
Have you ever wanted a widget to appear within the body of your content on a certain page? Well, this plugin allows you to do that! It generates a shortcode for every widget that you can copy and paste into the body of any page or post. (For example, I use the popular post widget in the body of my "about" page.)
Disqus is a tool that transforms your blog commenting system. It makes commenting much easier and interactive by allowing users to comment by email or with disqus or social media account. The unique thing about this plugin is that it actually make comments indexable by search engines, which means it helps your blog to be discovered. It allows for threaded comments/replies, subscription options, spam filtering and helps to create a larger discussion community through increased exposure and readership. You can also close comments or threads.
If you are not very tech-savvy and are looking to optimize your images, speed, traffic (aka keeping people on your blog) and links, you will love this plugin – it does all of this automatically!
This plugin helps you to create beautiful and powerful contact forms for your blog. You can include on any page or post by simply copy and pasting a short code! It is similar to Gravity Forms, but 100% free.
Honourable mentions: Opt-in Forms, Regenerate Thumbs, and WP Hide a Post
What are some of your favourite plugins?