Embroidery is back! (Or did it ever really go away?!). This age-old fiber art craft can be used for many things, including decorating a space with some unique, handcrafted artwork or embellishing clothing with a custom design.
We are loving everything organic, celestial, and floral for that dreamy aesthetic that everyone loves right now. Here are some favourite embroidered creations that you can try yourself!
This post contains affiliate links for product recommendations. Any purchases made through these links help support the blog with a small commission. As an Amazon Associate I earn from qualifying purchases.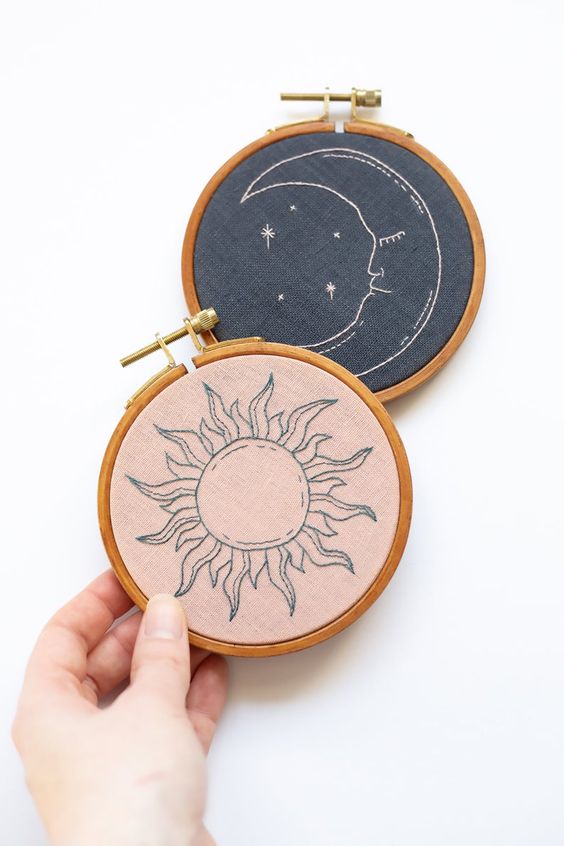 Sun and Moon Embroidery Patterns
With tons of DIY kits and patterns to download on Etsy these celestial designs are totally trendy and compliment a variety of decor styles.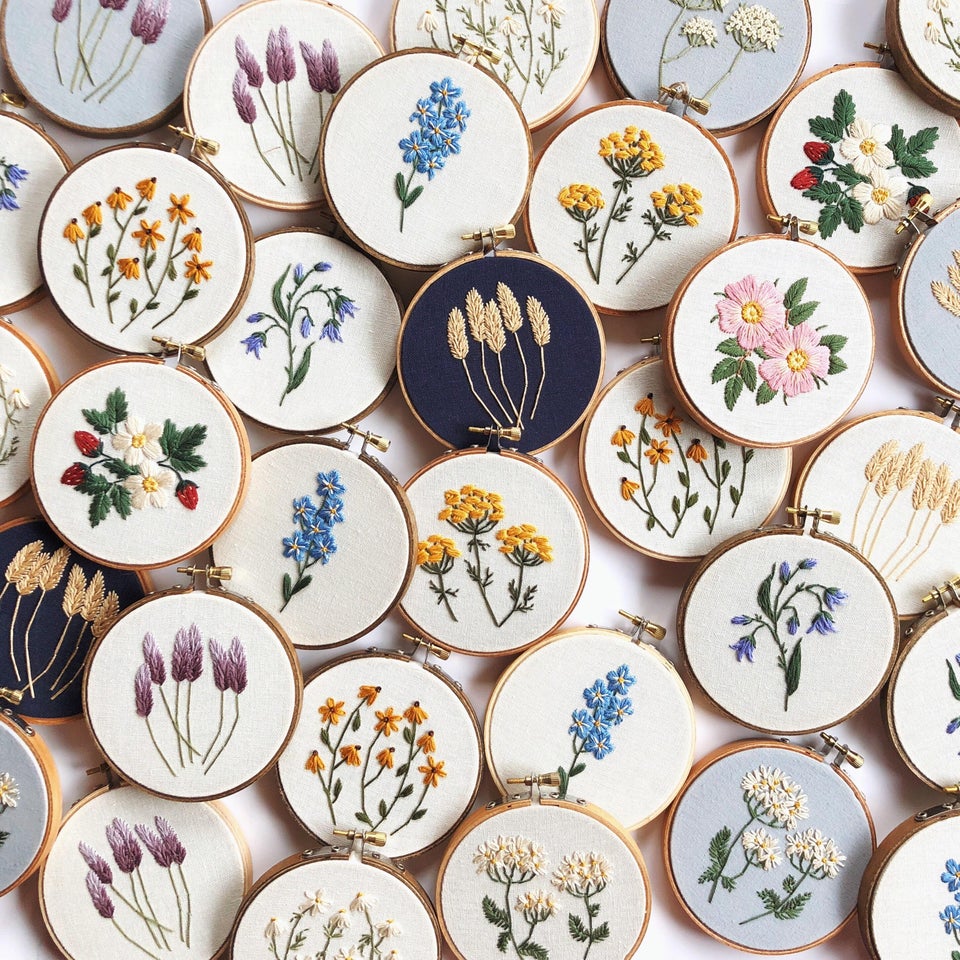 Go wild with wildflowers
These 4″ wildflower hoop embroidered designs were all created by floralsandfloss and are so beautiful! If you're looking for an aesthetic embroidery idea, wildflowers are always a go-to!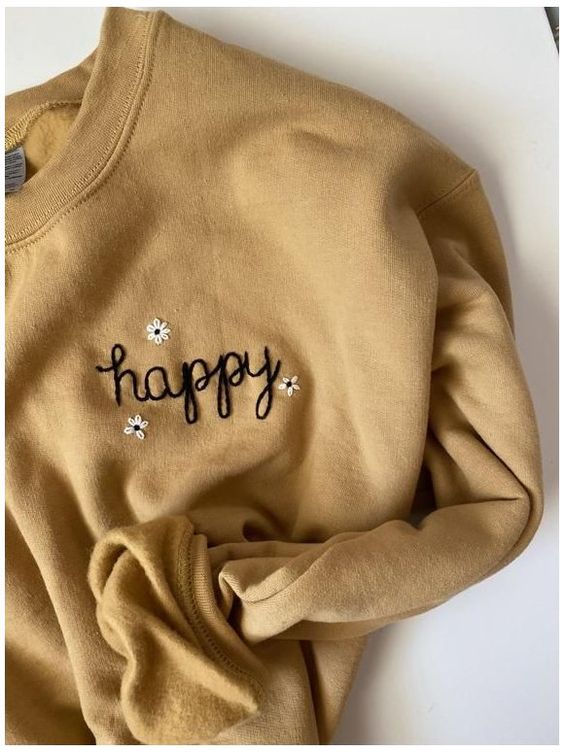 Handwritten feelings
If you're happy and you know it… tell the world! Embroidered text designs are so popular on apparel and can be tailored to suit your own personality. With some simple stitches, you can spice up any bland t-shirt or sweatshirt.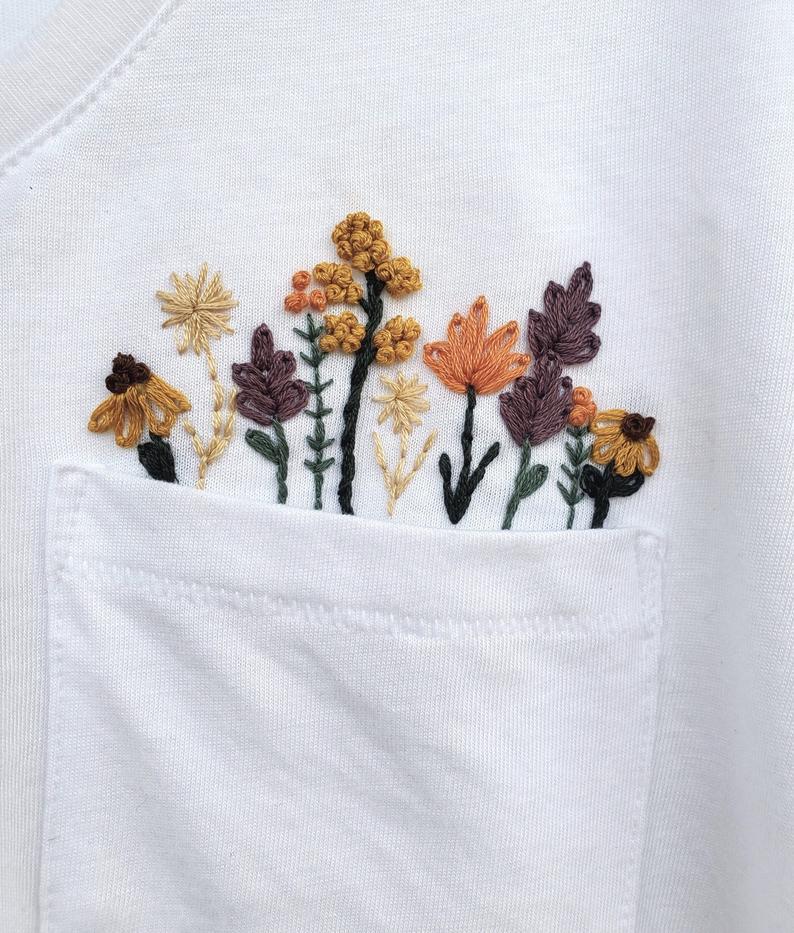 A pocketful of flowers
How cute is this idea?! We've seen tons of similar floral embroidery ideas that showcase bunches of flowers peeking out of t-shirt pockets, jean pockets, and more. Get creative with the colours and placement and you can transform a boring item instantly.
Stitch your shoes
Another trendy idea that we've seen floating around is to stitch flowers around the logo on your Converse or embroider designs on your canvas sneakers. The fabric makes the perfect base for a needle and thread and the pop of colour adds huge personality!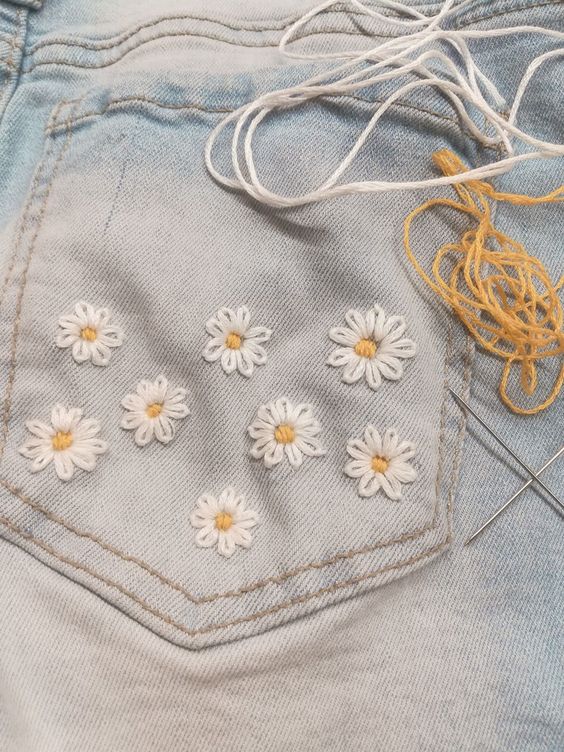 Daisy Pockets
Placing little embroidered flowers on a single back pocket of your jeans gives us serious 60's vibes but we are living for it! You can also easily cover up any small holes or imperfections in your denim my creating little designs on top of them!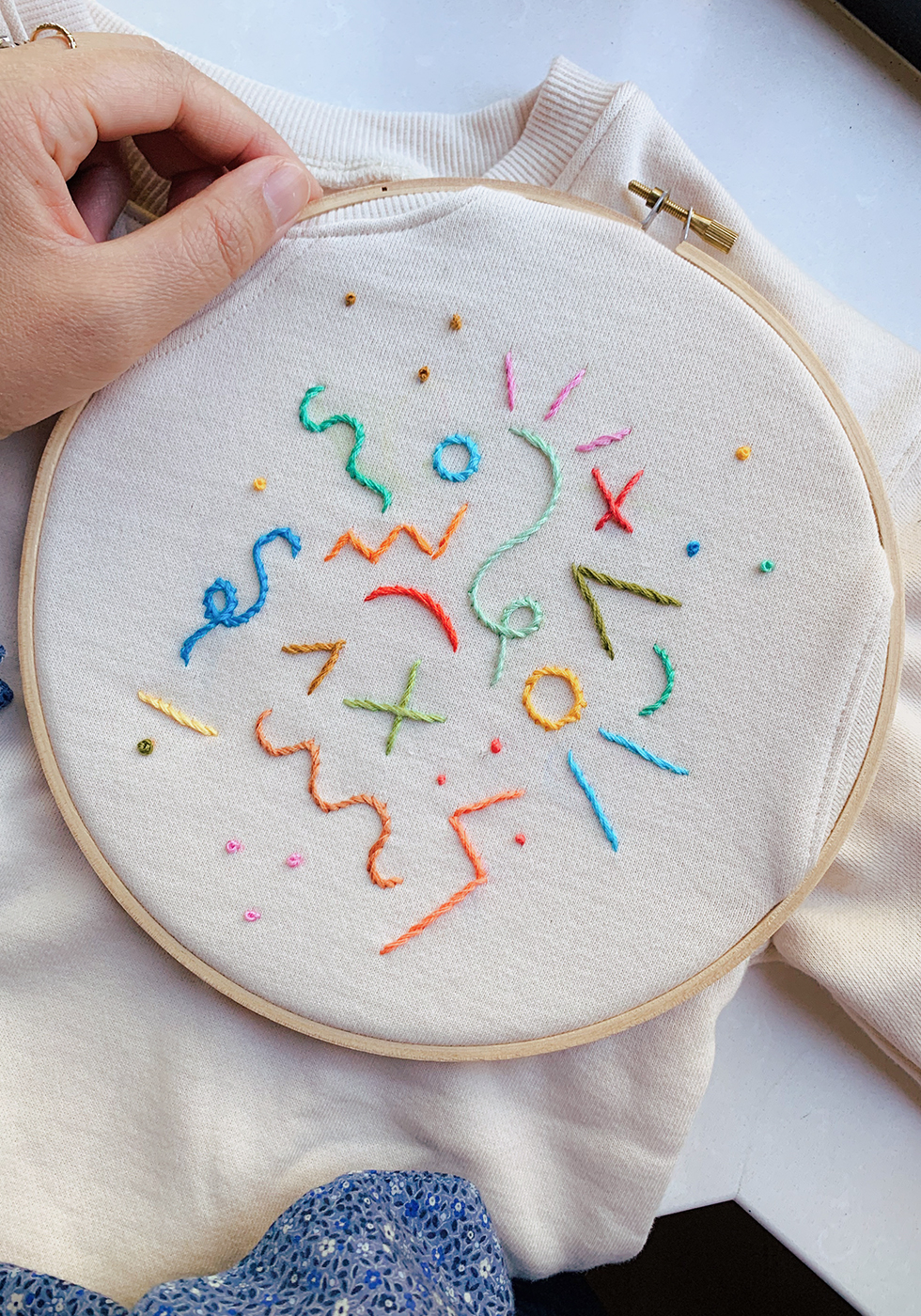 Doodle DIY sweatshirt embroidery
This doodle design is the perfect addition to a blank sweatshirt and is so easy to do. It uses basic embroidery stitches and fun colours. View the full tutorial over at HonestlyWTF.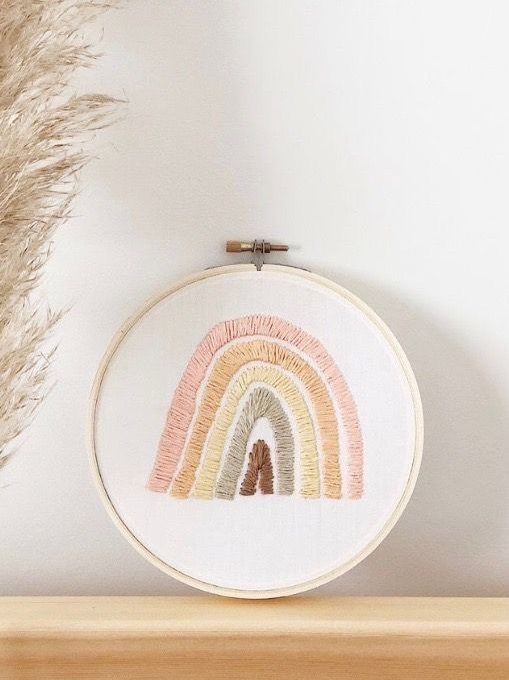 Stitch a boho rainbow
This project would be great for a nursery as wall decor or stitched onto a pillow. Complementing muted colours look great together and really give off a boho vibe.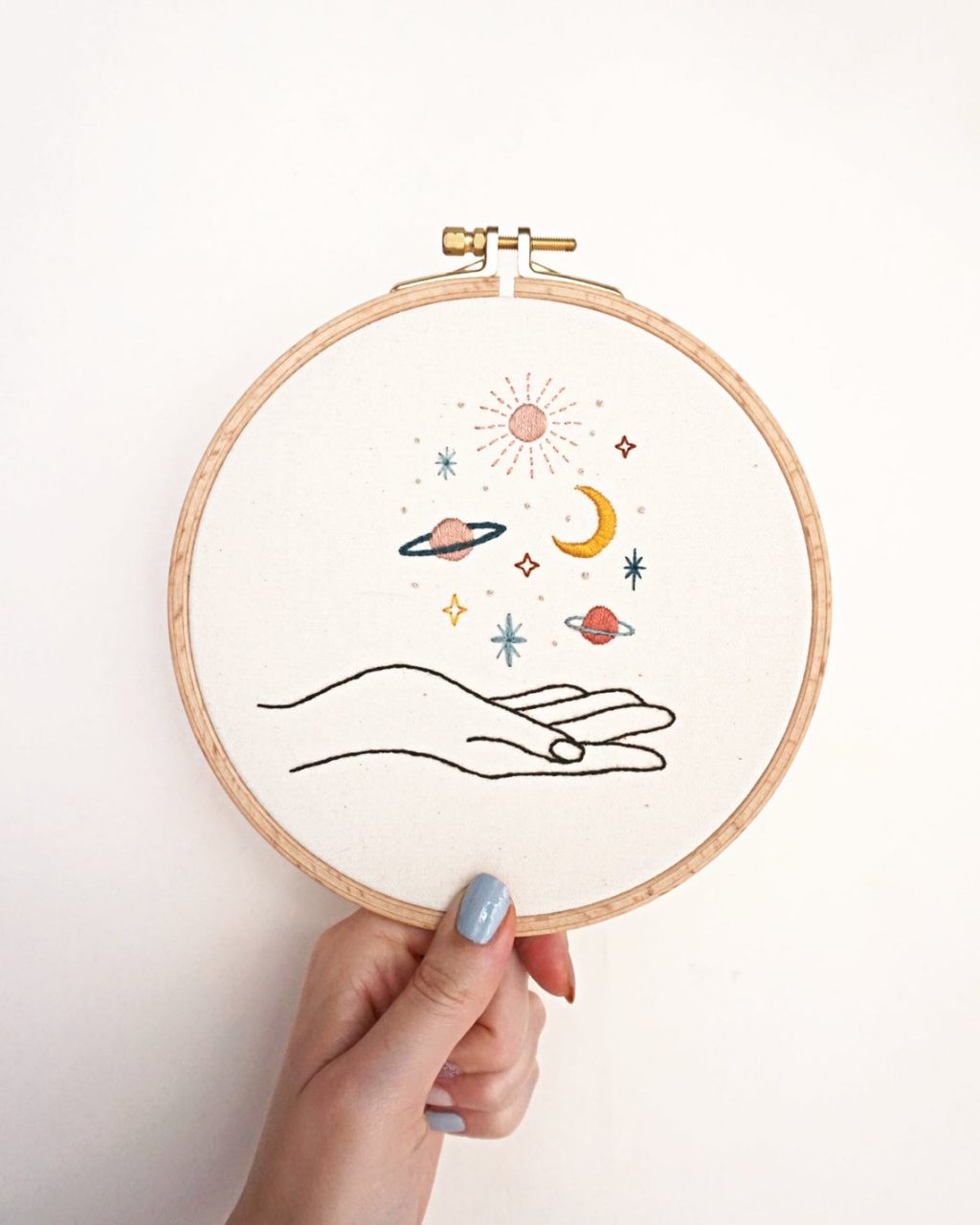 Simple celestial embroidery design
Stitch the whole universe in your hands! These simple line art stitches as seen on the hand are super on trend right now and allow for a minimal look that looks great on decor and fashion items.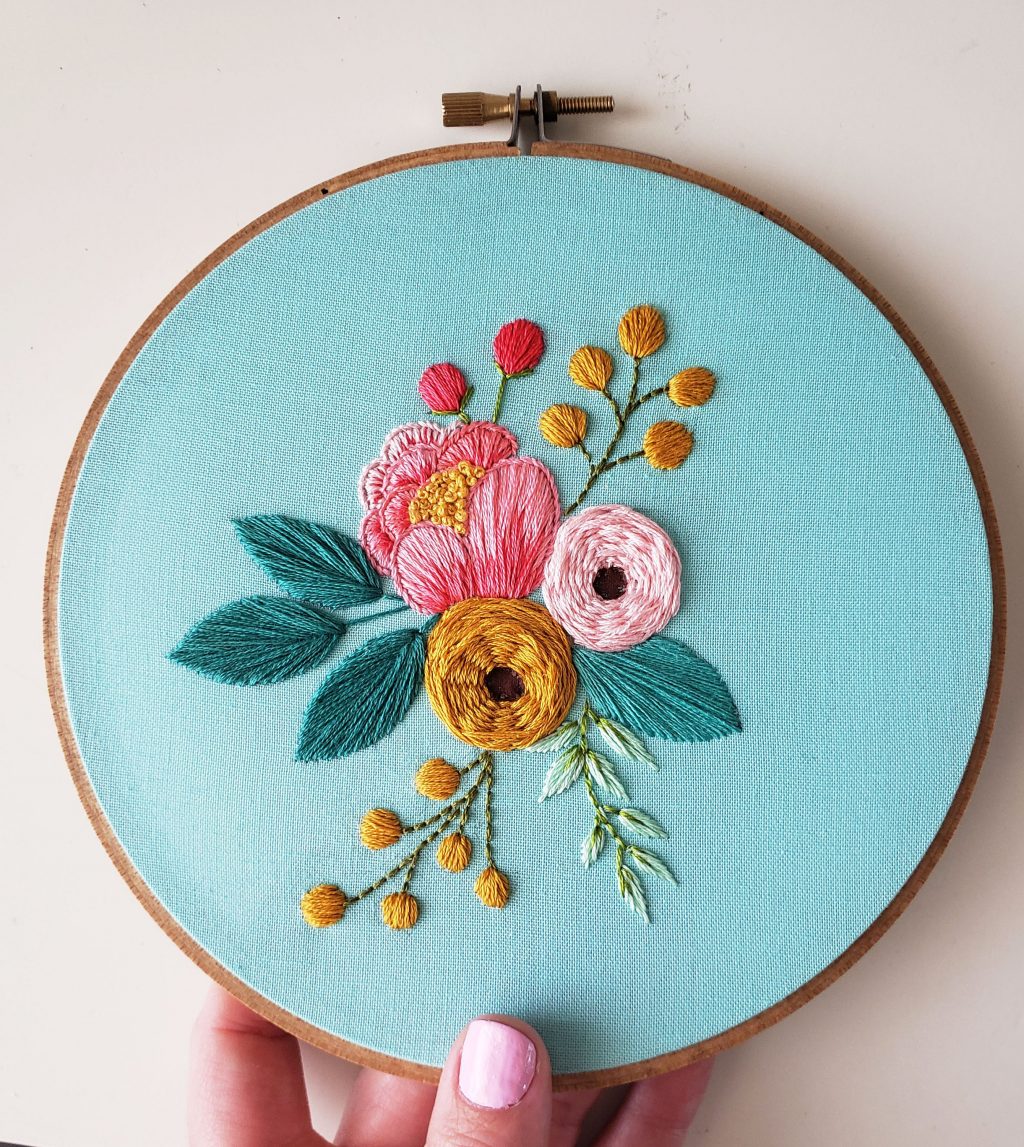 Bright and beautiful
Decorate your walls with some colour by changing up the background canvas to a bright or bold tone. This peony embroidery kit and tutorial is available over on the Kitschy Stitcher site.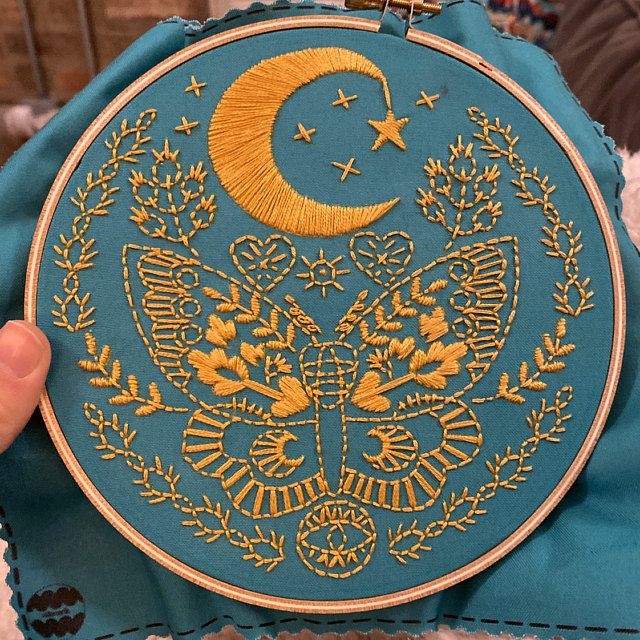 Mystical nature design
One solid thread colour looks incredible on a darker toned background. Filling up the entire space with little details and mystical designs gives us serious free spirited feelings.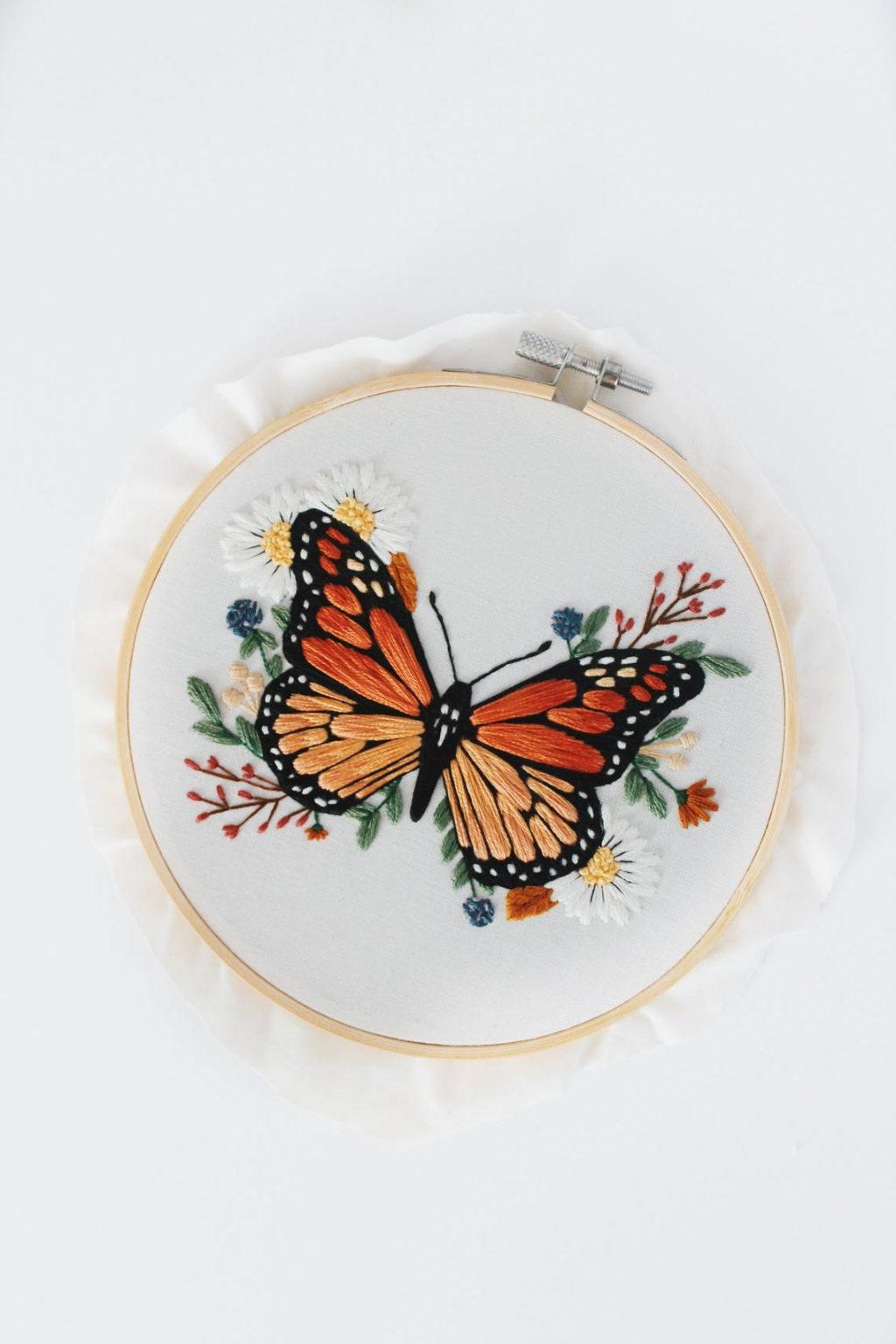 Monarch Butterfly Embroidery
Nature themed designs are all the rage right now. This monarch is gorgeous and the little floral details really add to the overall feeling. This pattern can be purchased on Etsy.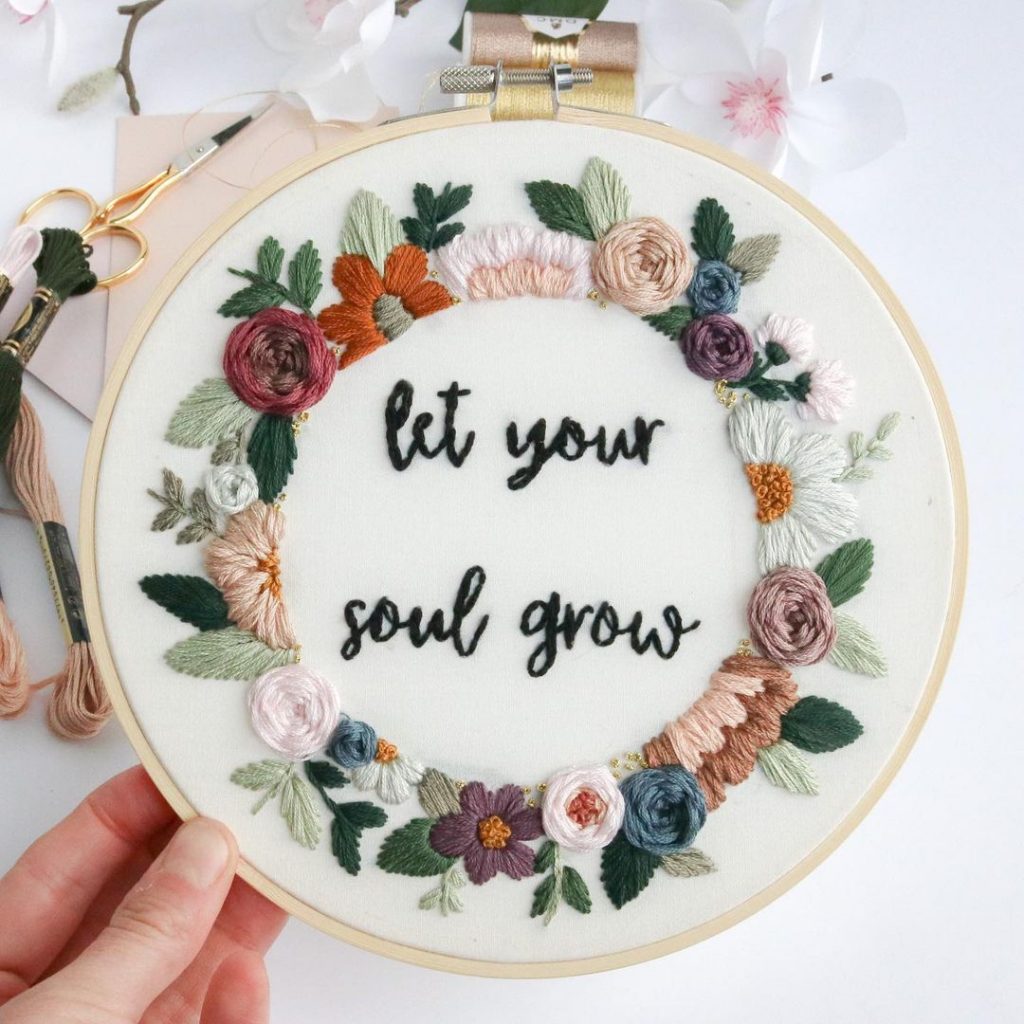 Motivate Yourself
Stitching your motivational messages by hand can not only look amazing but be therapeutic in the process. Handwritten lettering looks so nice mixed with muted florals.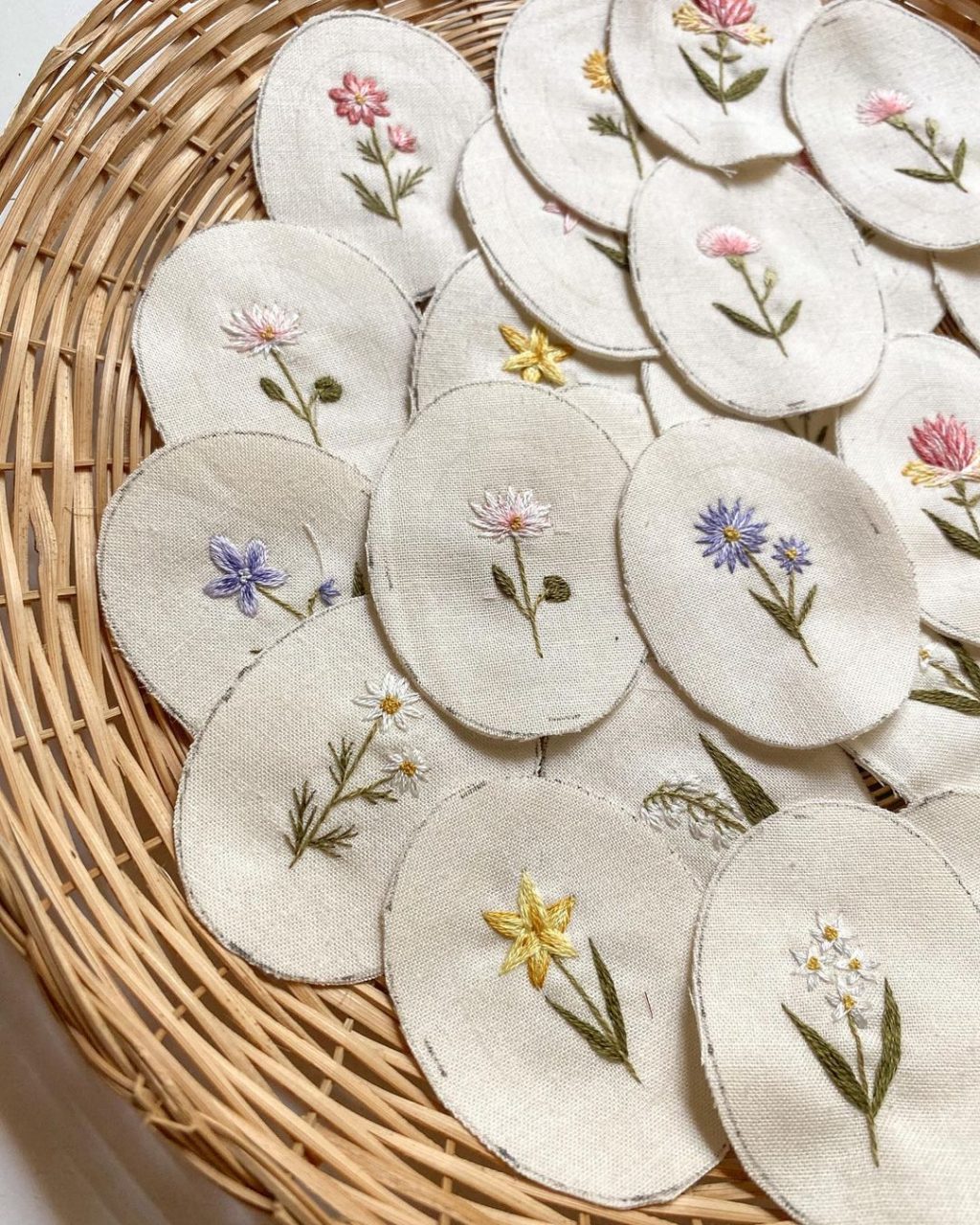 Fun-sized flowers
These little mini flowers by @threadedbytatum would make awesome tiny artworks or patches for your clothes. Simple, quick, and so cute!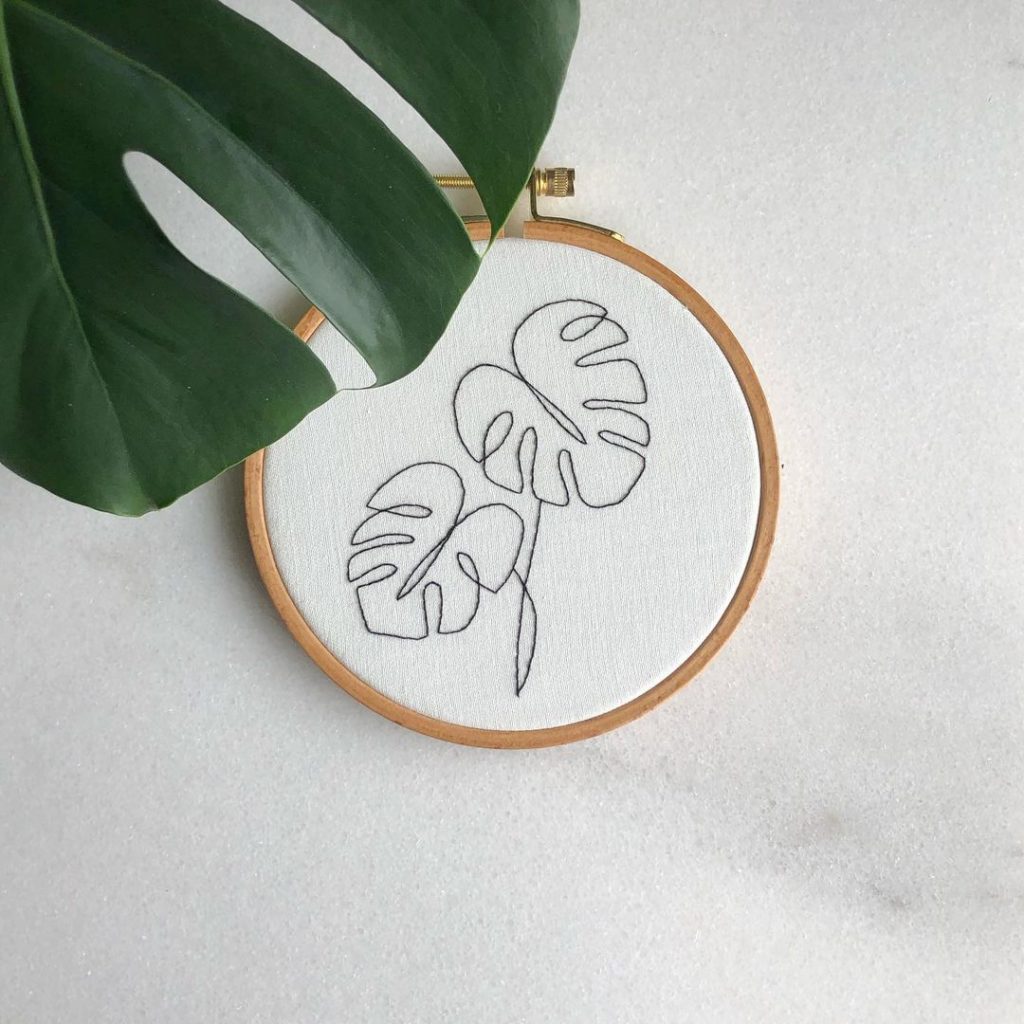 Minimal Monstera
Minimal line work looks so chic as embroidered art. These monstera leaves have a unique doodled single-line effect, and with one colour of thread can match any decor.
Last Updated on