A DIY pom pom garland is a simple way to add a pop of colour to a blank space! From a whimsical children's bedroom to an empty shelf in a grown-up office, there are lots of spaces that could benefit from a little bit of pom pom love! They are also a great budget-friendly (and reusable) party decoration, not to mention a great yarn stash buster!
A pom pom garland is an easy, mindful craft you can even do while watching TV – so grab your yarn stash and get ready for some great ideas!
Tassel Pom Pom Garland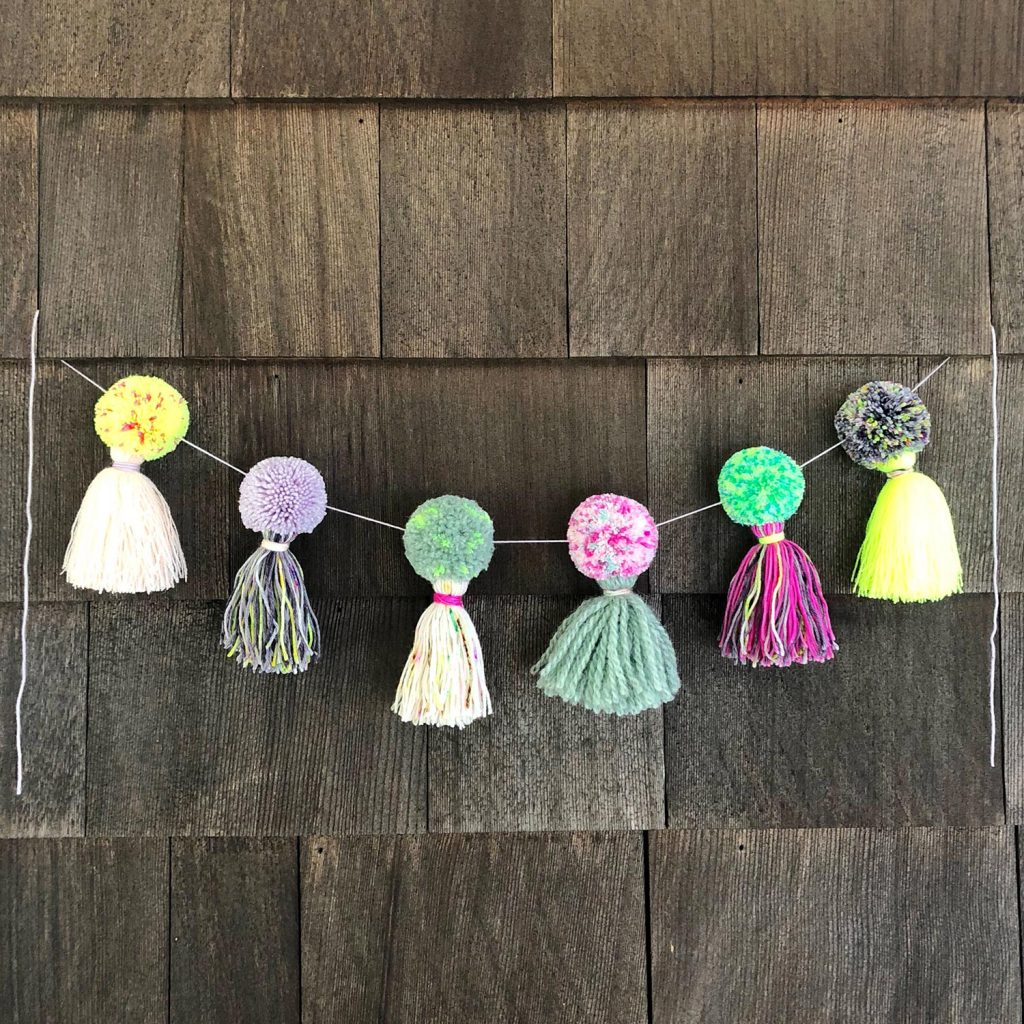 If you have a fancy hand-painted yarn you'd like to show off, this is the DIY for you! It's a fun play on a tried-and-true pom pom garland, fusing together both pom poms and tassels. Try some of your own favourite colour combos for a truly personal project!
Fruit-Inspired Pom Pom Garlands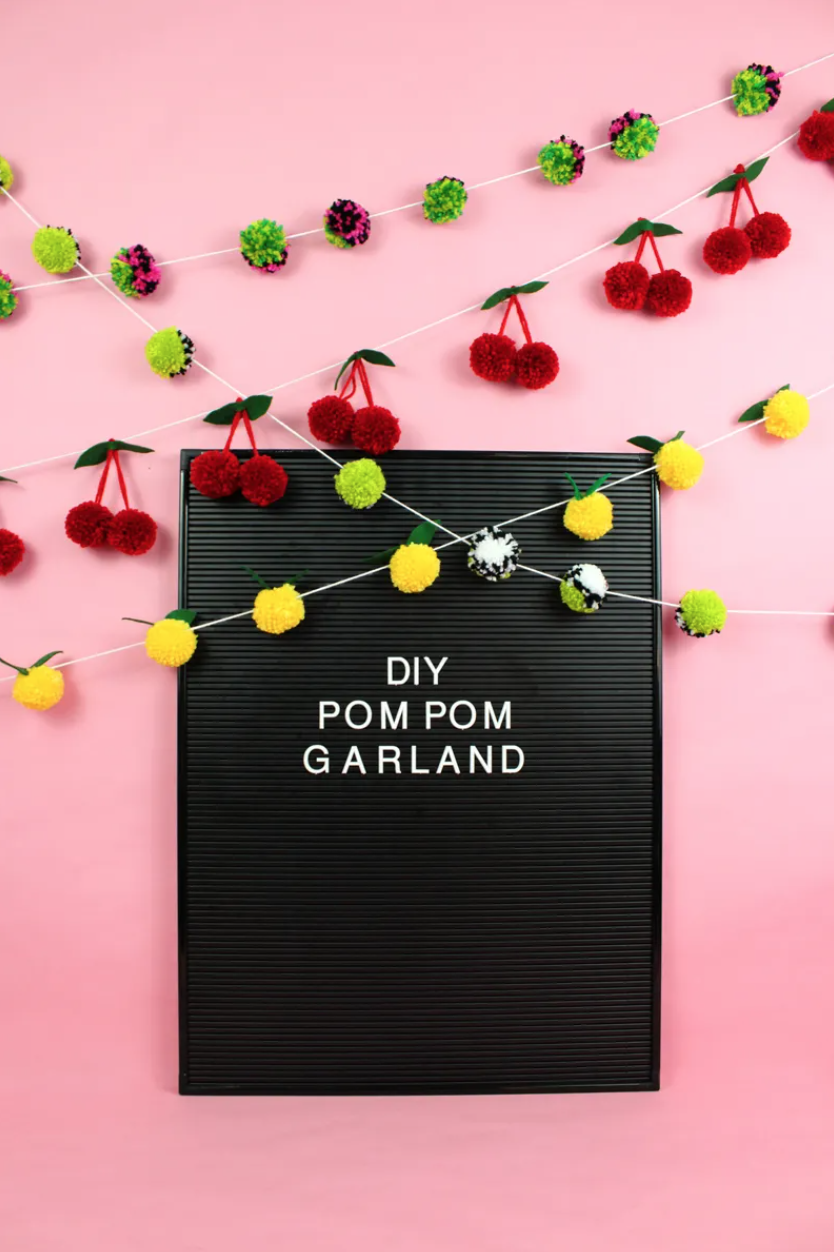 Learn to make four different fruit-inspired pom pom garlands! The adorable mini kiwi, cherry, lemon, and watermelon pom poms are too cute for words. If you like your kitchen to be a little quirky, put a cherry on top with one of these fruity garlands.
Leopard Pom Poms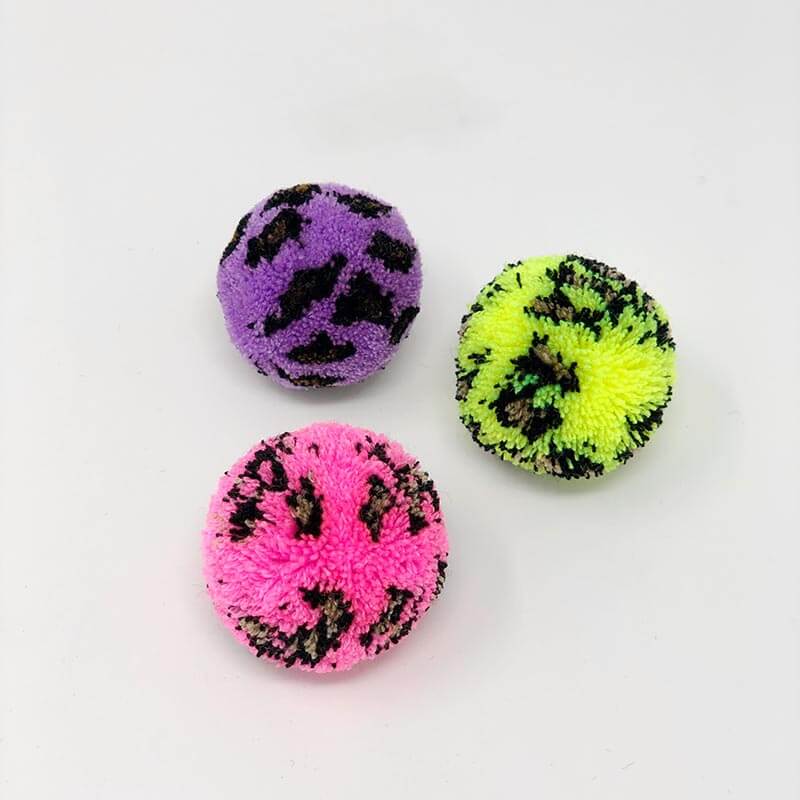 I can't get over these neon Lisa Frank-inspired leopard pom poms. These would be great for decorating a teen girl's room! String them together to create a neon 90s-inspired garland that dreams are made of.
Cempasúchil Pom Pom Garland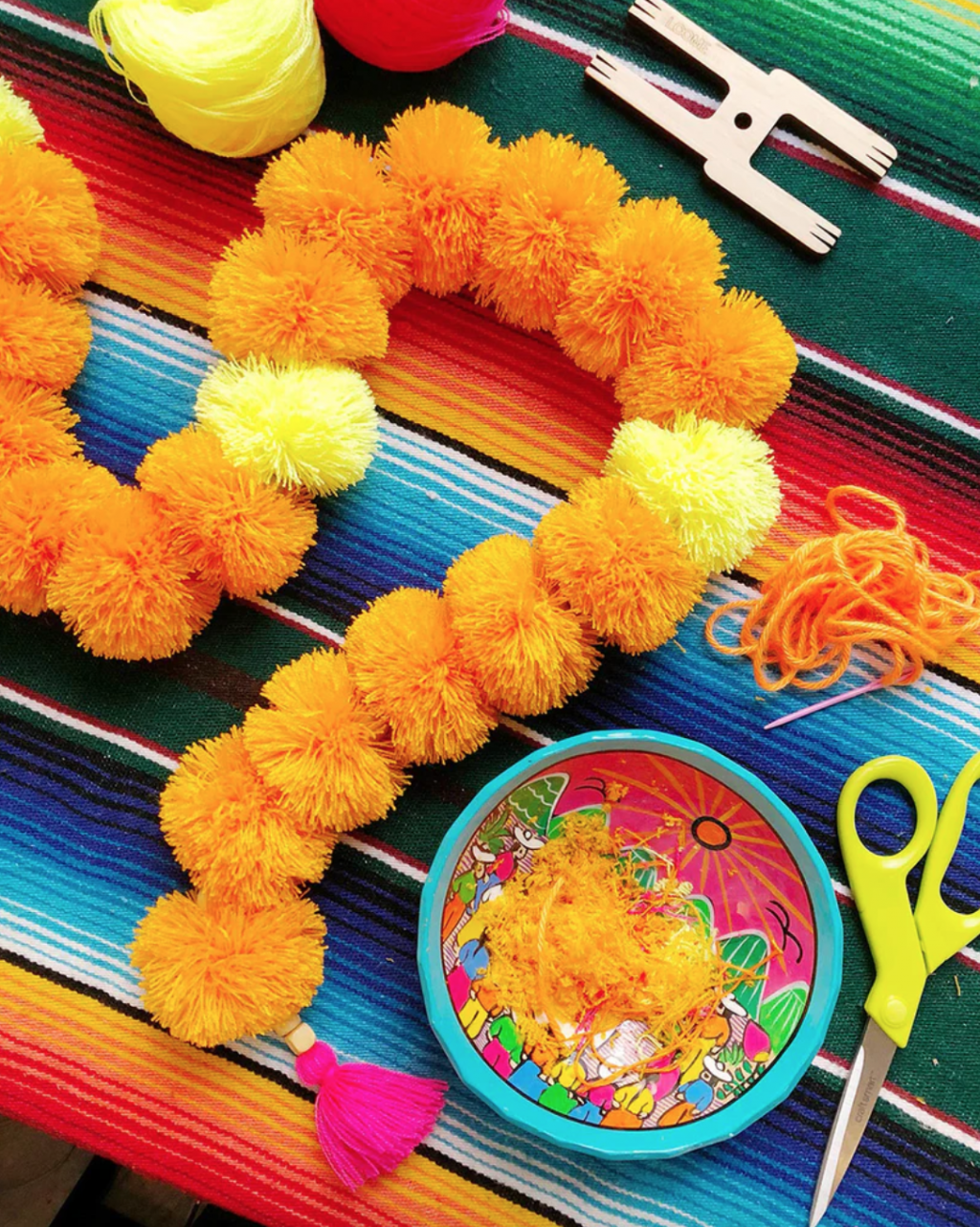 Inspired by the marigold flowers often used to decorate for Día de Muertos, an eye-catching garland like this would be the perfect decor for a craft room or colorful living room. The wood beads and bright pink tassel at the end give it a finished look.
Tassel Flower Garland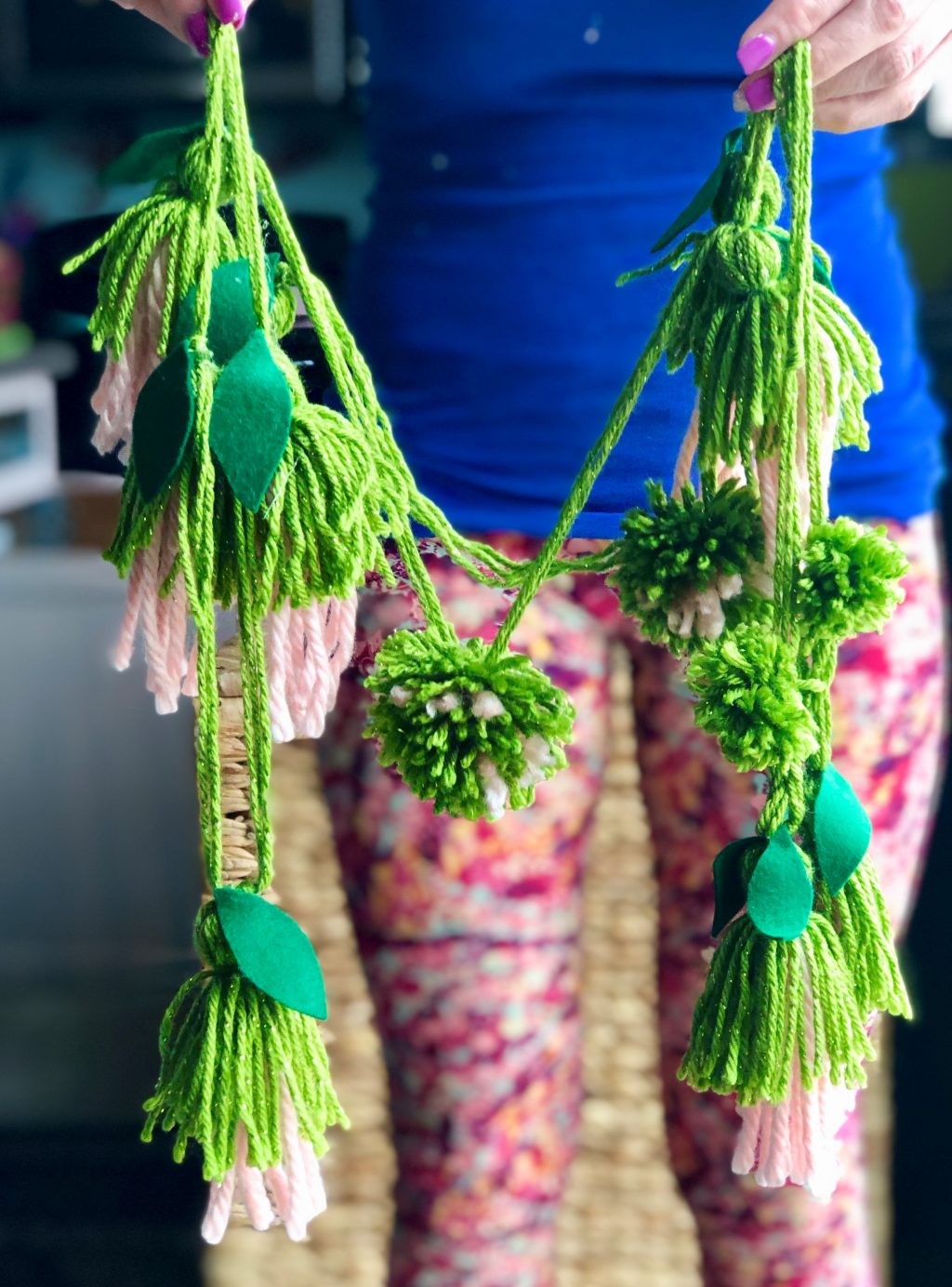 Spend a few minutes on Holly of Lost Mom's blog, and you'll find she loves garlands! She explains, "You know how a necklace, bracelet or hair accessory can take your outfit to the next level? The same goes for garlands!" A mix of floral-inspired tassels, felt leaves, and pom poms in this unique garland is so pleasing to the eye.
Whimsical Fairy Garland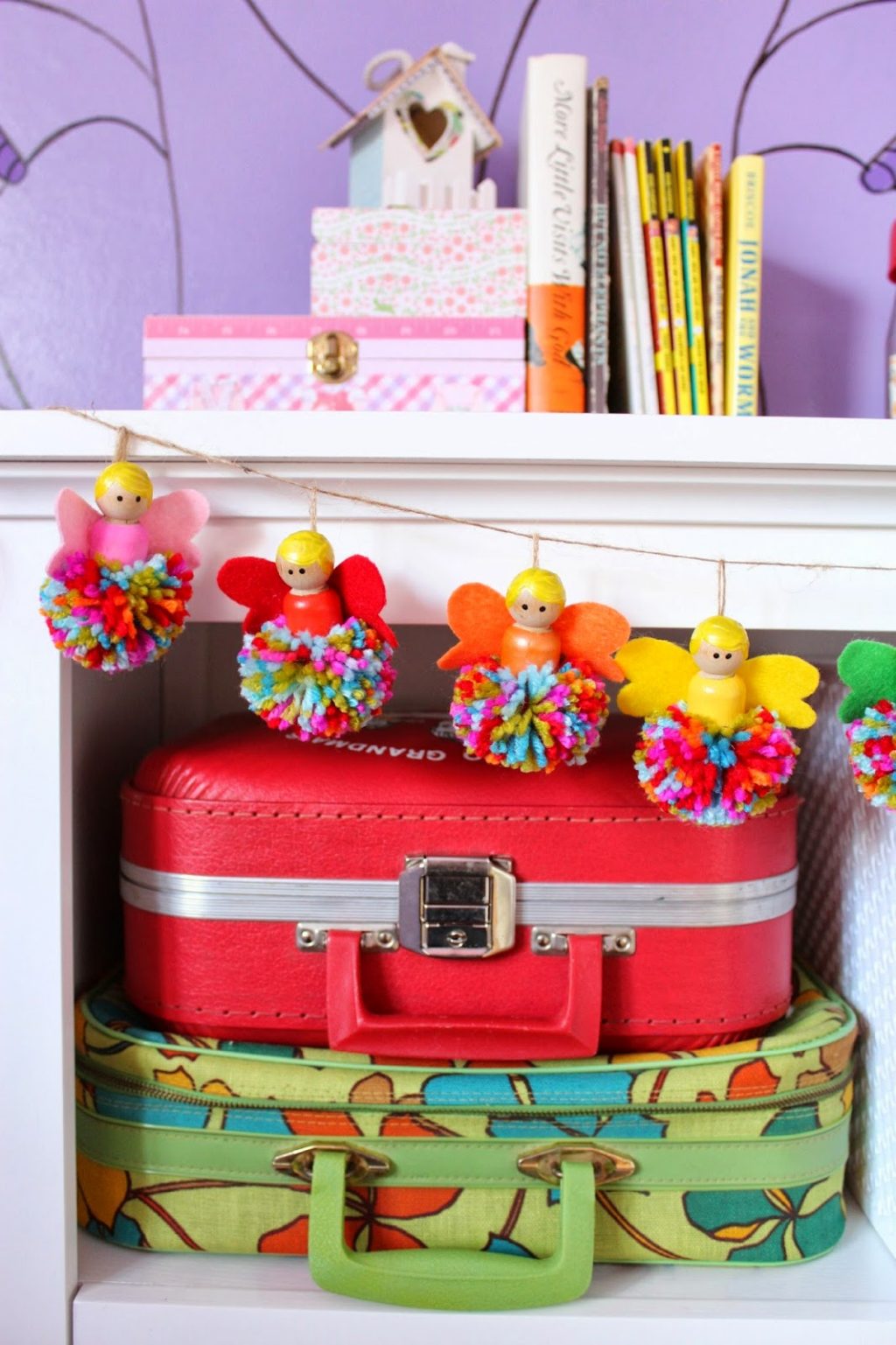 A creative pom pom garland perfect for a young girls' room or reading nook. Paint wooden peg dolls, cut out some felt wings, and hot glue them to colourful pom poms for a whimsical fairy garland.
Animal Pom Poms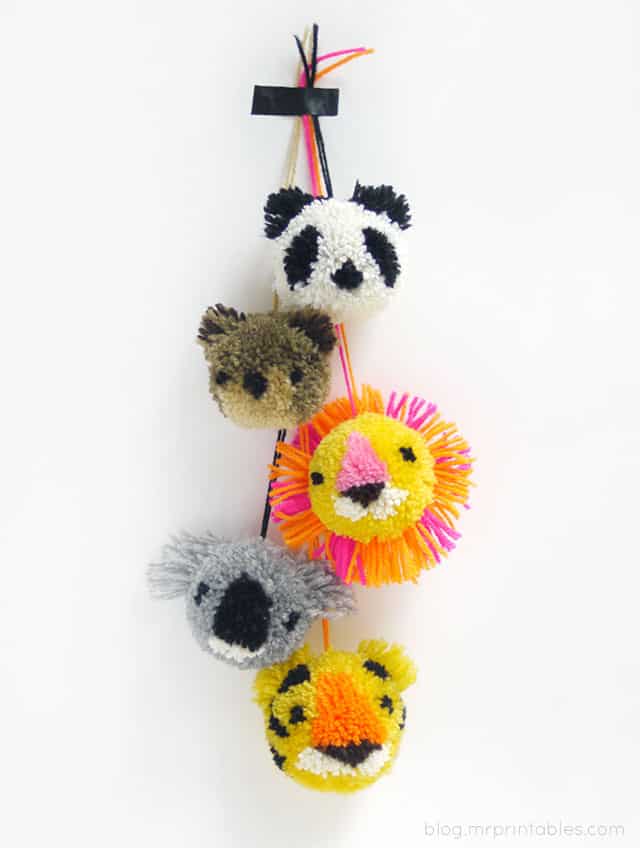 If you have animal lovers in the house, try making animal patterned pom poms! Kids can join in on this creative project. Hang the animals vertically as pictured, or tie them to a strand of yarn for the perfect adornment to a playroom full of wild adventures.
The Perfect Tassel + Pom Pom Garland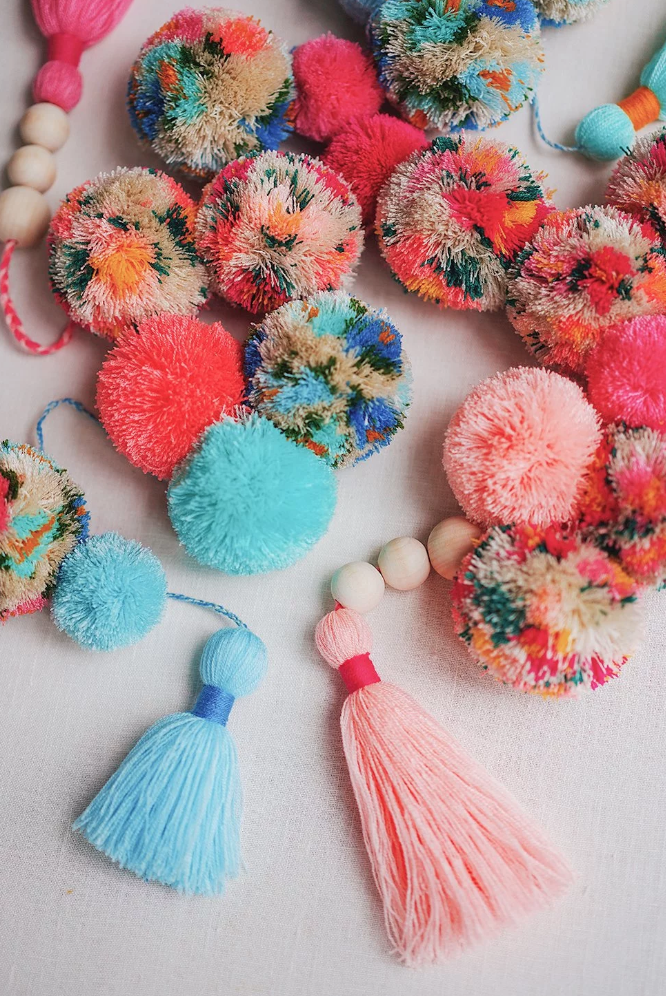 Learn to make floral patterned pom poms! When strung together with wood beads and tassels, this garland looks like it came straight from Anthropologie! The project uses an ultra fine Omegacryl yarn for pom poms that are lightweight, dense, and fluffy.
Oversized Tiered Tassel Garland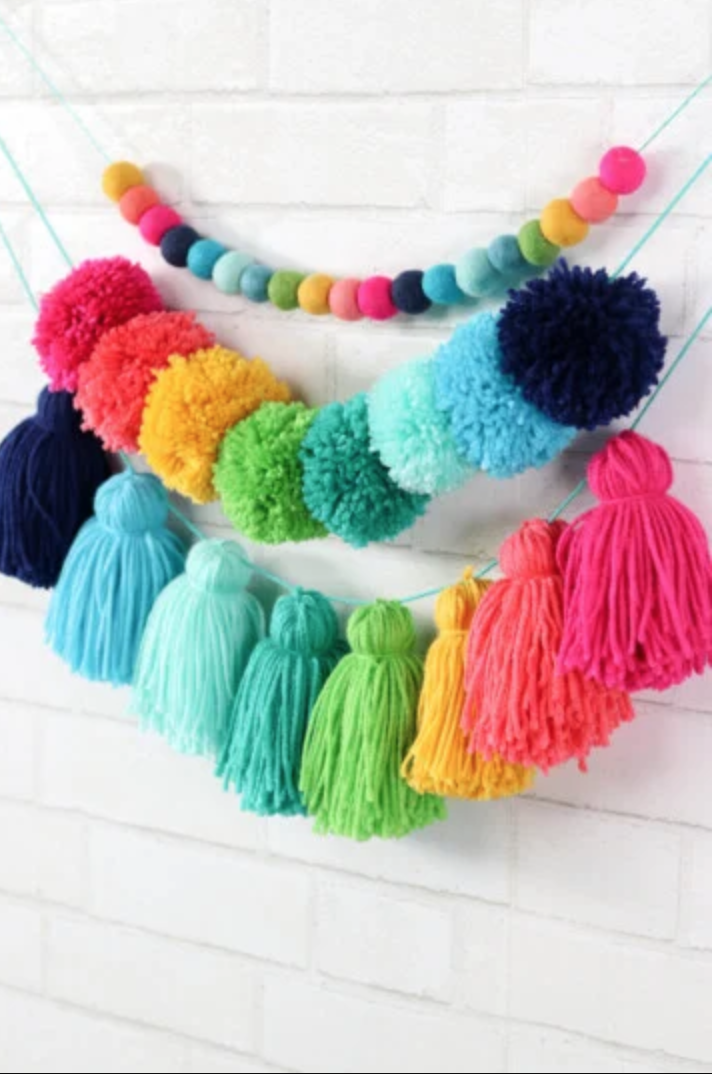 Layering tassels, felt balls, and pom poms is a brilliant way to create a garland with dimension and visual interest. Using the same colour palette for each tier draws the three together. This would be such a great project to try in several different colourways!
Pom Pom Tassel Garland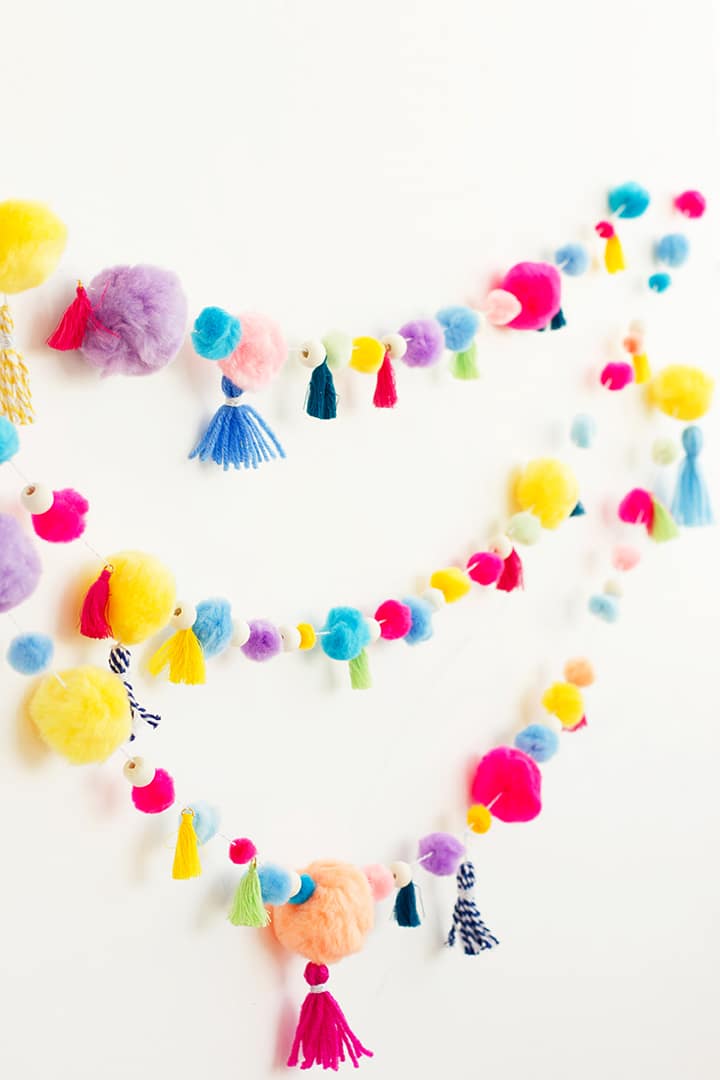 Rather than DIYing tons of pom poms, save your energy for designing the perfect garland. Buy bulk pom poms in varying sizes and string together. Add some tassels and wood beads for a garland with lots of variety!
Ice Cream Cone Garland
Who can resist ice cream cones made of pom poms? This sweet garland would be the perfect birthday party decor, and afterwards would function as an adorable decoration for a girls' playroom!
White Pom Pom Garland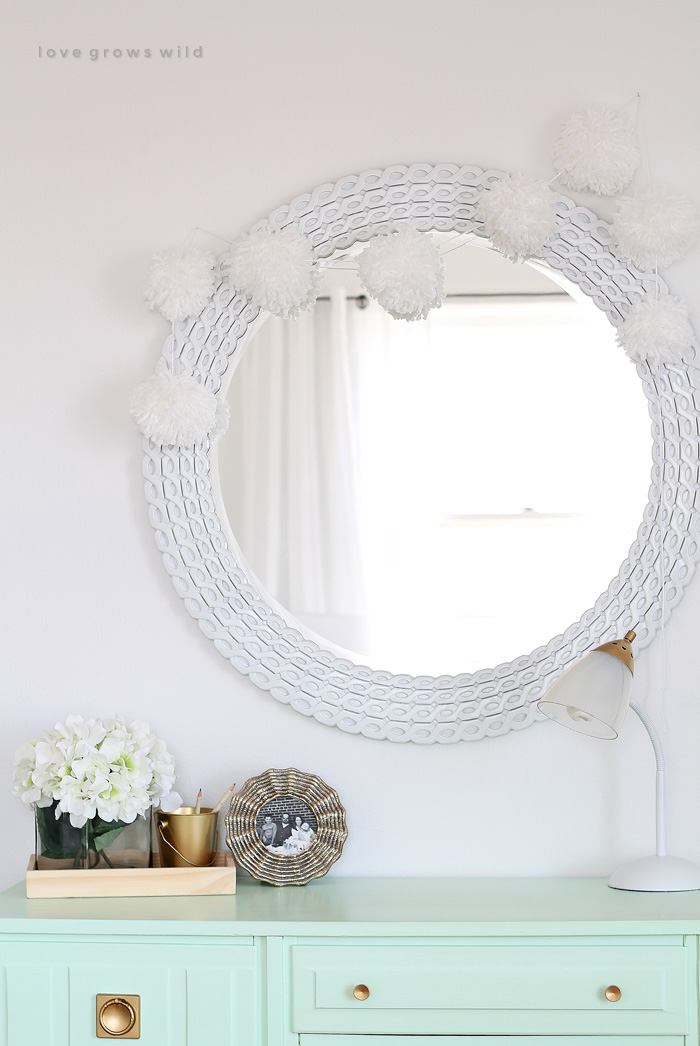 This simple white pom pom garland adds a feminine touch to this desk area. Sticking to an all white palette helps the poms feel more grown up, which is fitting for this office space.
Tissue Paper Garland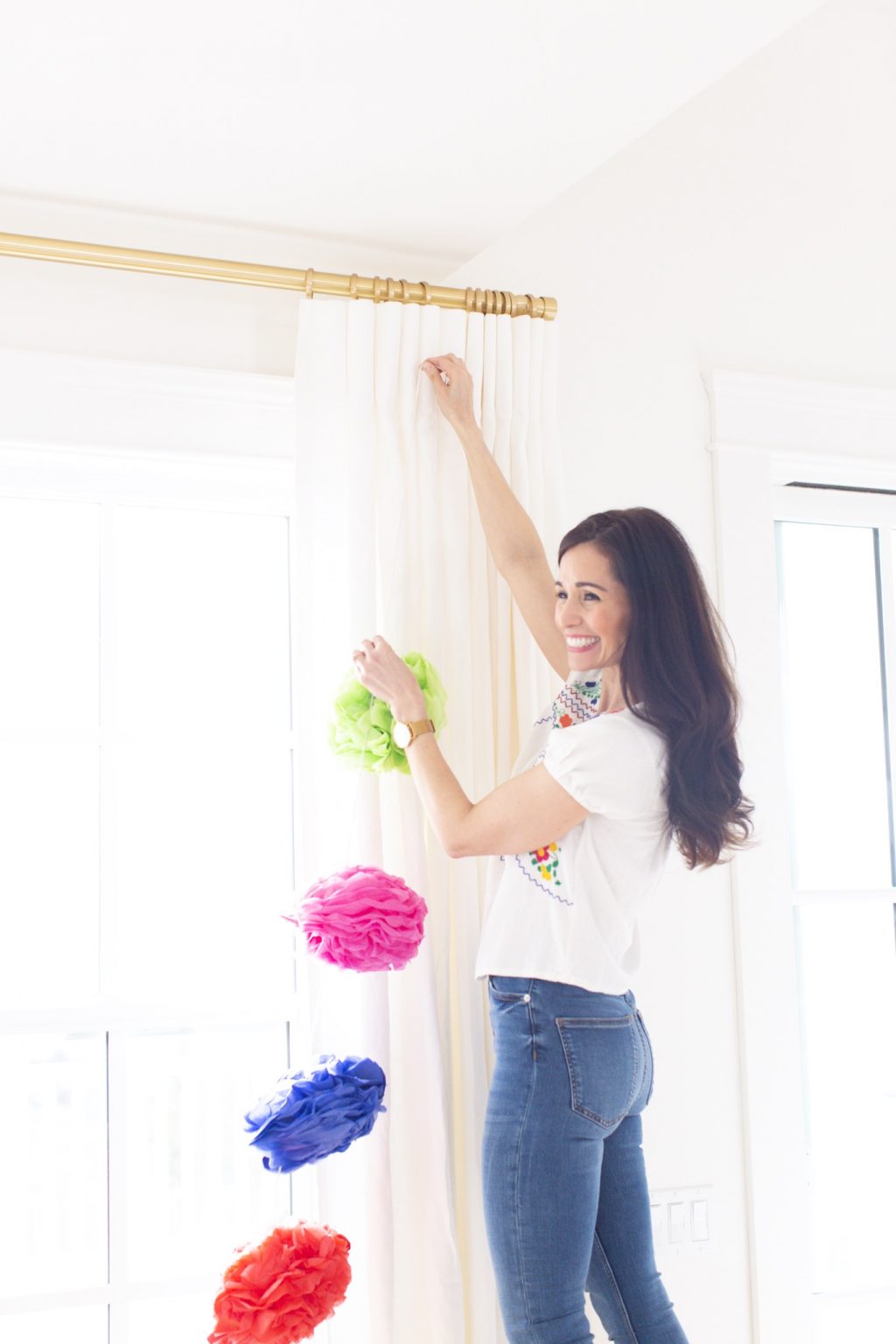 Nothing says a party like oversized tissue paper pom poms! While this was made for a Cinco De Mayo party, you could easily switch out the color scheme for whatever the season requires.
Boho Pom Pom Garland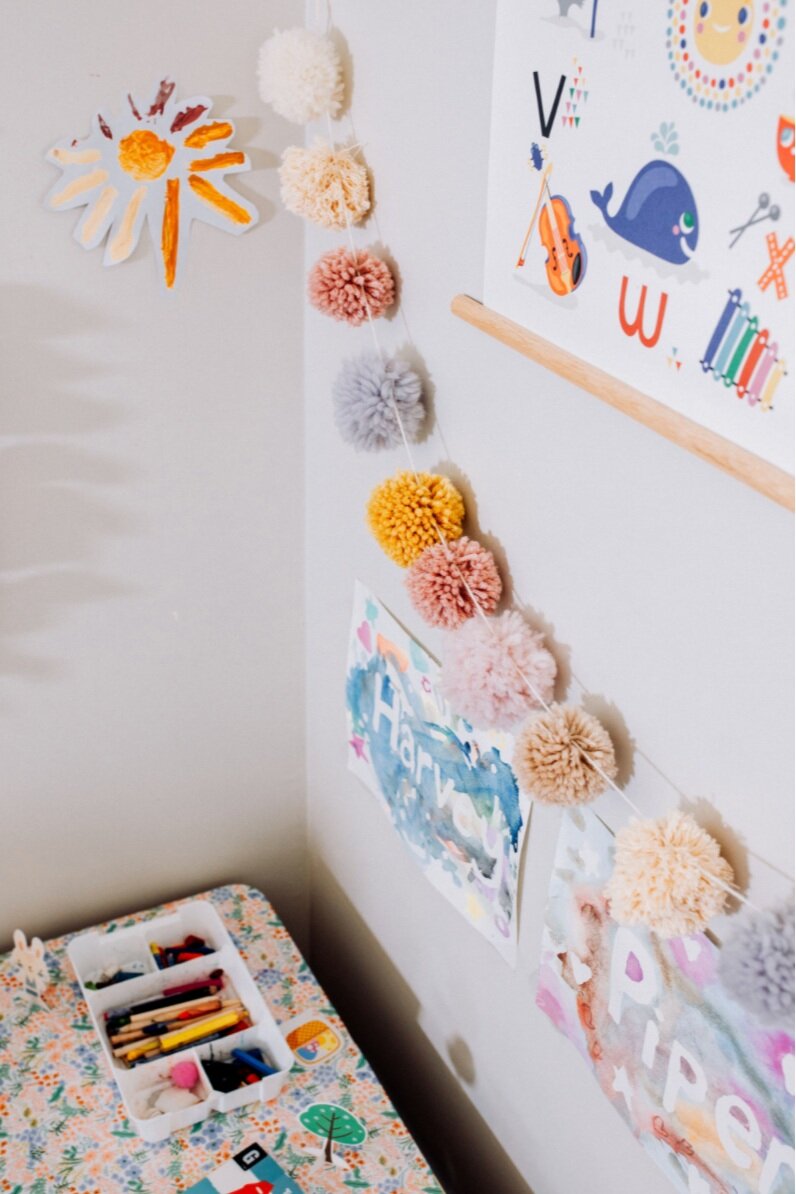 Muted pinks, rust oranges, whites, and greys of this garland bring to mind trending boho rainbows. Imagine decorating a nursery with a pom pom garland just like this one!
Bright Coloured Pom Pom Garland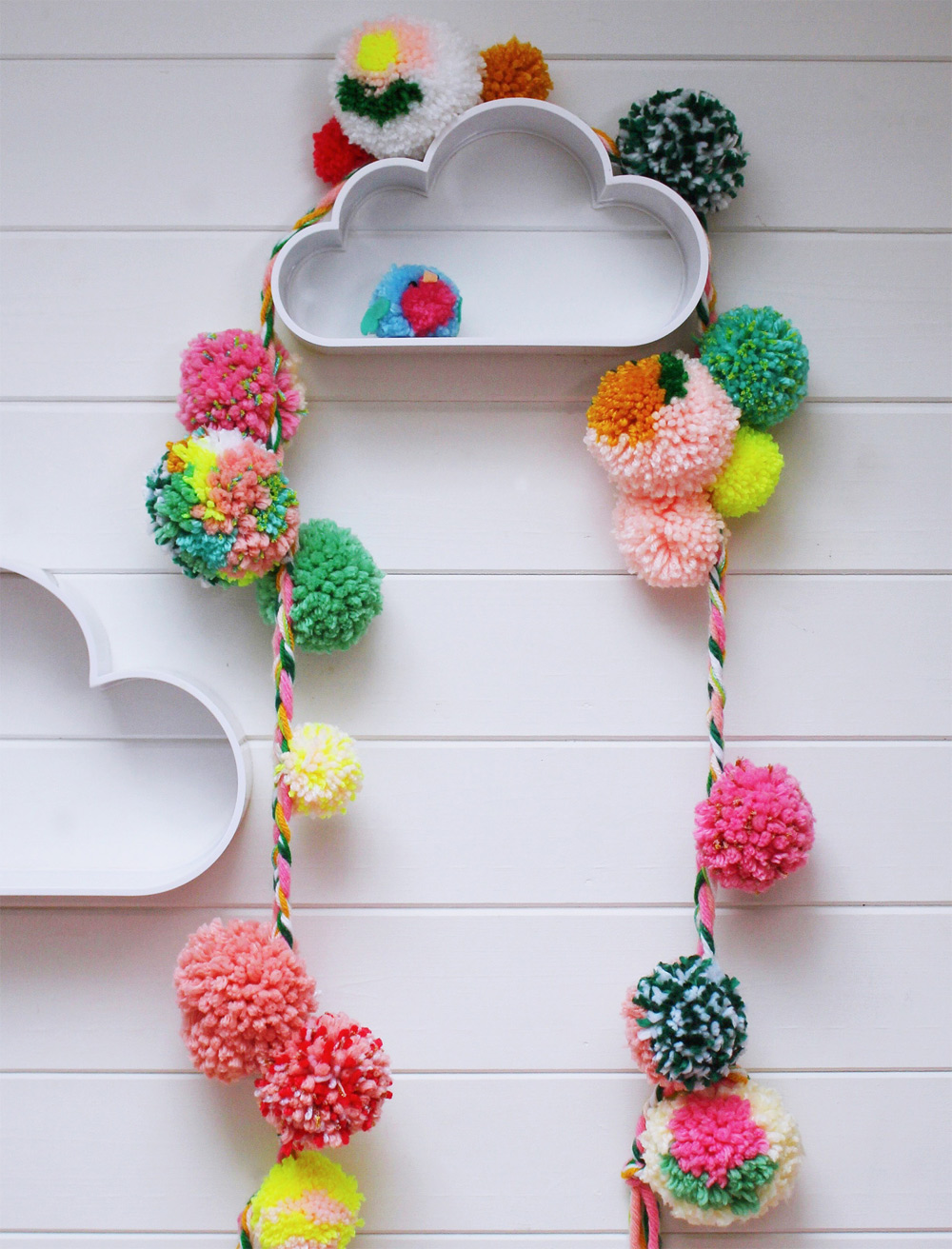 Wrapping mismatched yarns when creating pom poms creates a more interesting visual pattern. A mix of varying chunky yarns is used for this cozy garland. Also, instead of a simple strand of yarn, several yarns are braided together for a unique base.
Wood Bead Tassel Pom Pom Garland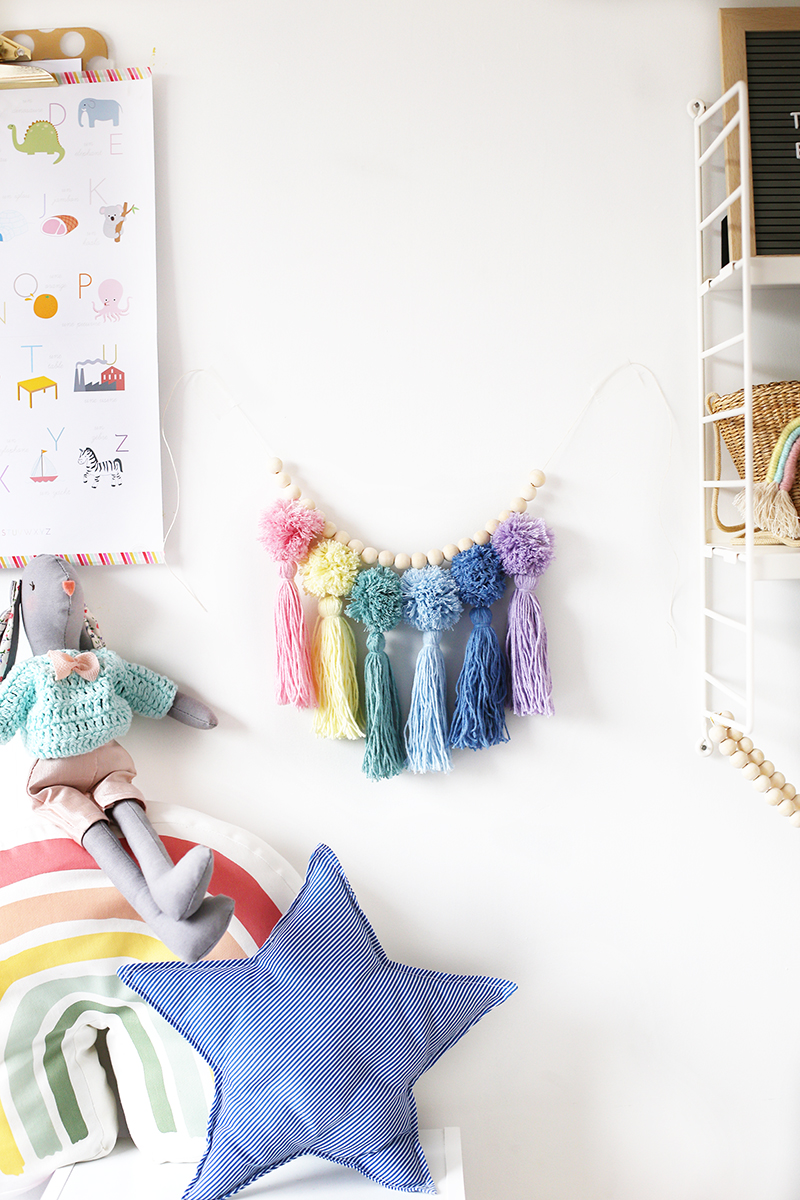 This wood bead garland is a great dupe for the expensive, high end wall hangings that are sold everywhere these days. Learn to make one yourself so you can customize it…you'll want one in all the colours!
Fabric Scrap Pom Pom Garland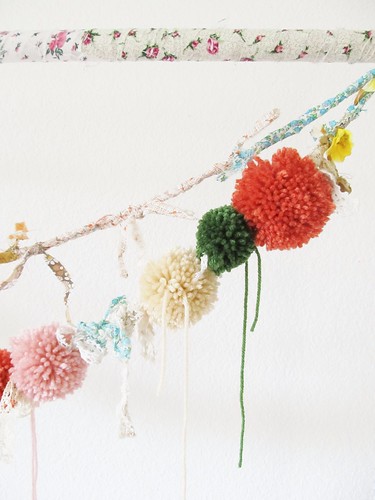 If you have a lot of fabric scraps lying around the house, create a shabby chic garland by tying mismatched fabric strips, lace, or ribbons to the base of your pom pom garland. In this inspiration garland, blogger Tif of Dottie Angel topped off her pom pom garland with a second and third tier of patterned fabric strips.
PIN THIS:
Last Updated on