Christmas is a crocheter's time to shine! After all the hats, scarves, and mittens you've been crafting to give as gifts for friends and family, take some time to crochet something to make your own Christmas a little merrier!
Making your own crochet ornaments adds a personal touch to your Christmas decorating, plus you can mix and match colors and designs to fit with the decorations you already own and love!
There are so many beautiful ornament patterns available–whether for your tree, mantel, or any space that needs a little cheer. You're also making a special memory with each decoration you crochet.
We hope these patterns and ideas inspire you to create, whether for yourself or to give away. Happy handmade holiday!
Simple Christmas Crochet Ornament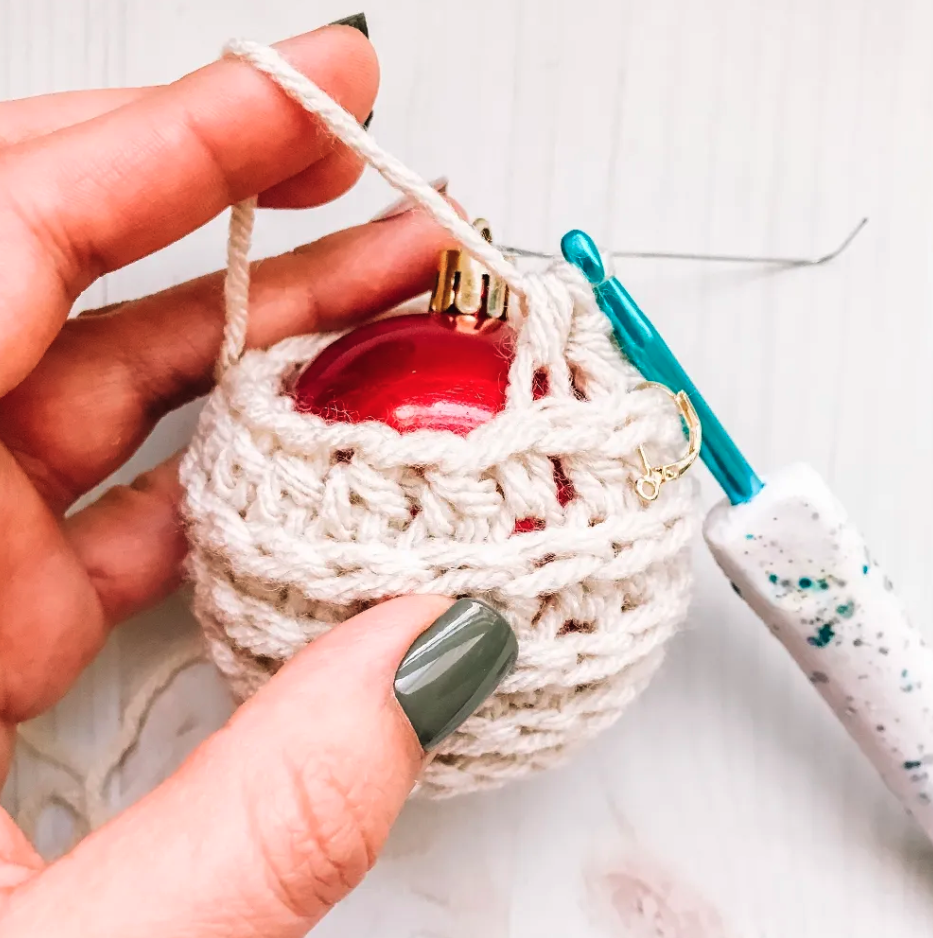 This pattern gives new life to a Christmas bulb you already have on hand! The ingenious pattern works well with old ornaments that don't fit your style anymore–you'll end up with a simple, neutral, and modern finished product.
Mini Striped Mitten Crochet Advent Calendar
These mini striped mittens are so cute. The pattern is part of a DIY advent calendar, including several patterns of mini stockings and mittens. It's so adorable, you'll want to start right away so you can make them all!
Gingerbread House Crochet Ornament
Simple monochrome gingerbread houses are trending in every format! The windows and edges of this gingerbread house are made of a chain stitch, and glued on, so it's easy to customize with your own embellishments.
Crochet Christmas Tree and Star Garland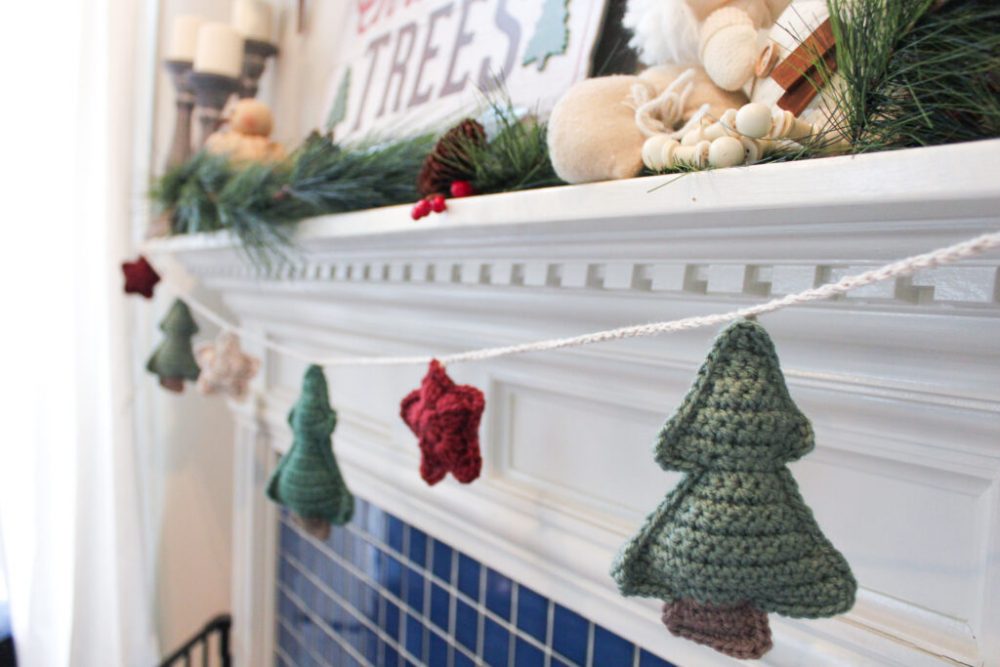 I love this star and tree garland in red, white, and varying shades of green. Taking the time to crochet the double-sided shapes leaves you with a much more finished-looking garland.
Gold & White Crochet Christmas Trees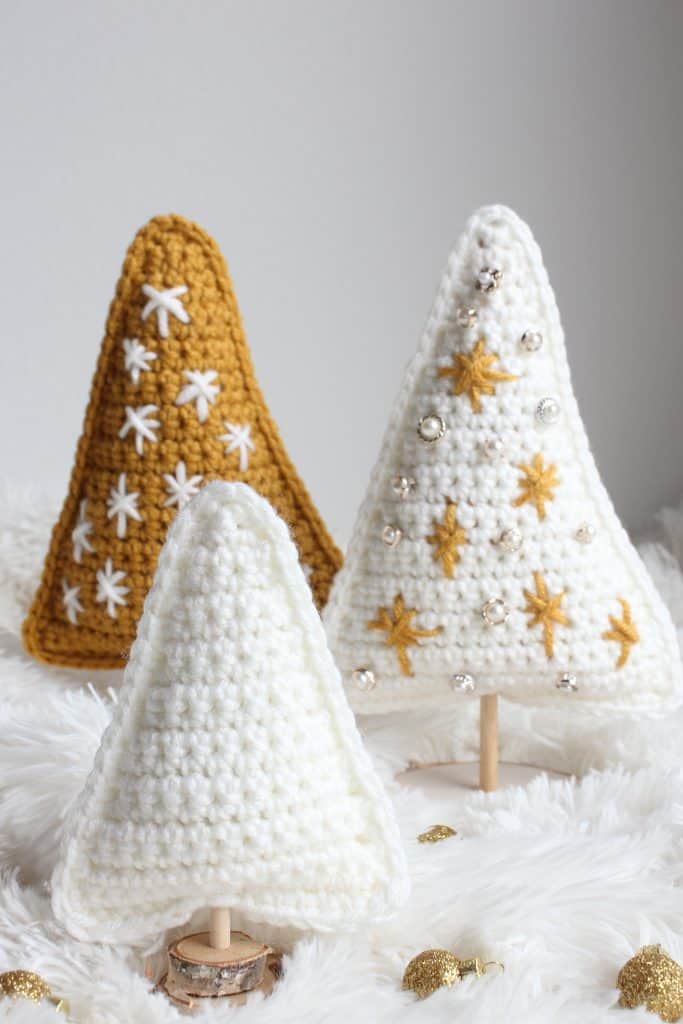 These freestanding trees rival anything you'd see in your favourite home goods store. The magical white and gold crochet trees would fit in well with a wide variety of decor styles, so whether your decor is farmhouse, boho, or modern, these are for you!
Grinch Amigurumi Crochet Ornament
You could fill a small kids' tree with Whoville-inspired ornaments matching this amigurumi Grinch. What a great gift to give to start a new tradition! A handmade ornament is far sweeter than anything that comes from a store.
Crochet Christmas Tree Garland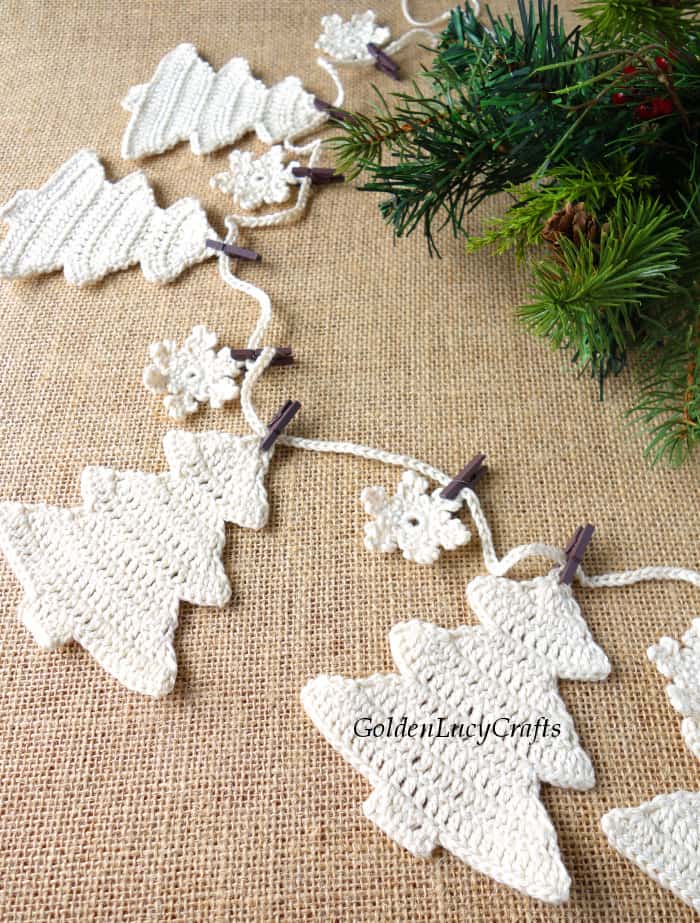 This rustic white tree-and-snowflake garland is a perfect element to add to a farmhouse Christmas decor scheme. Its simplicity adds a layer of elegance to a mantel or shelf.
Ugly Christmas Sweater Crochet Ornaments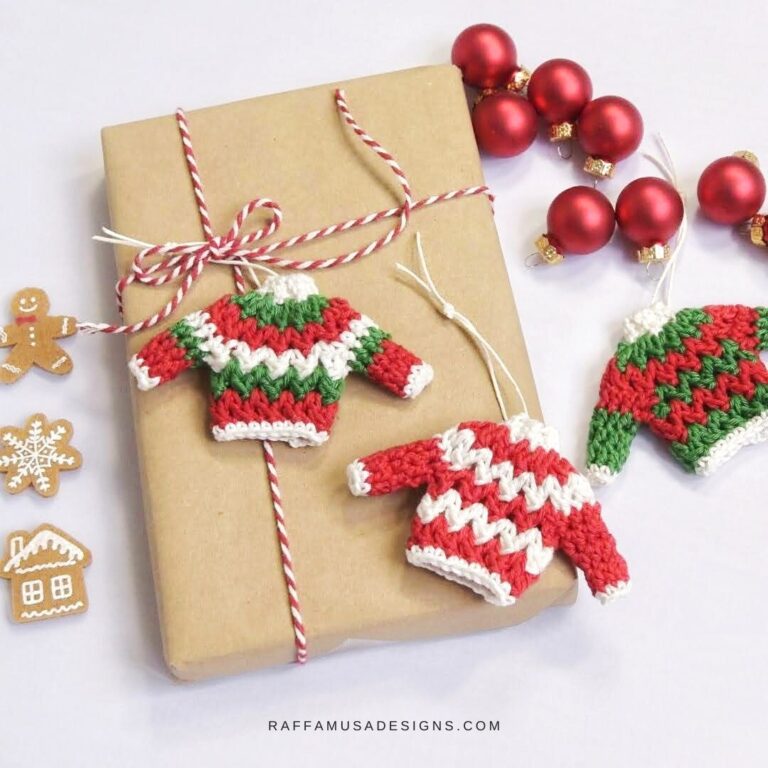 Such a cute idea to create mini ugly Christmas sweaters! Imagine using these as a gift topper for a white elephant exchange, or using them to add a little cheer to an office or work space.
Rudolph the Red Nosed Reindeer Amigurumi Ornament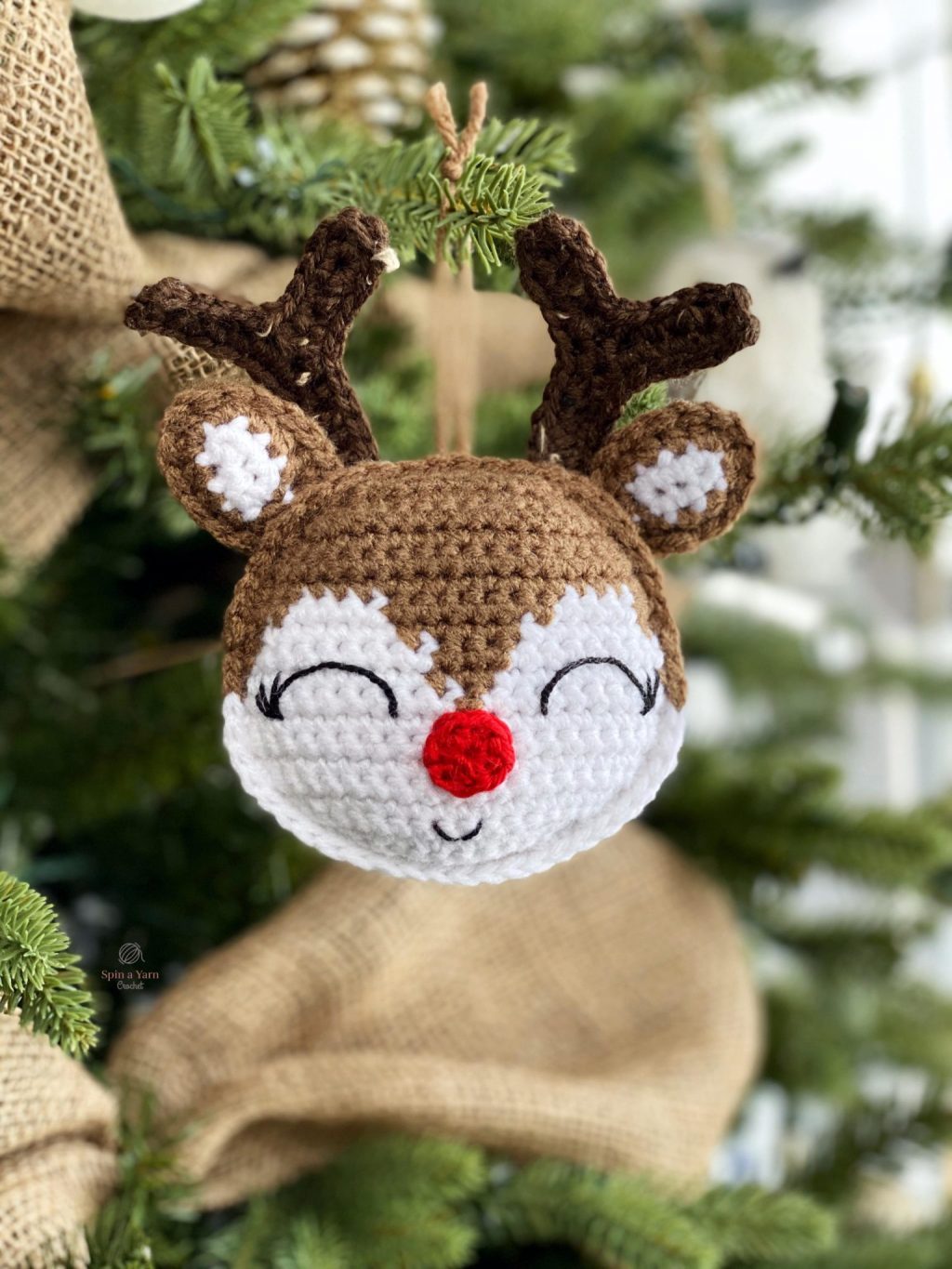 If you make one ornament this year, this should be it! This cute Rudolph face incorporates tapestry (or intarsia) crochet, making it a great starter pattern for learning a new technique.
Puff Stitch Crochet Trees
Mini trees of all shapes and sizes are a popular item this year, from bottle brush to mercury glass. Put your own spin on the trend with these cozy puff stitch crochet trees. Only two craft supplies are needed–craft foam cones and bulky yarn.
Crochet Star Ornament
A classic star ornament fits well with any decor scheme, and this one will hold its own among store-bought ornaments. Two star shapes are crocheted together and stuffed, which means no sewing or weaving in ends!
Amigurumi Gingerbread Ornament
Practice your amigurumi skills with a sweet crochet gingerbread cookie ornament–another inspiring idea for decorating a kids' tree! The colorful sprinkles and drizzle of icing are too cute.
Crochet Scandinavian Santa Gnome Pattern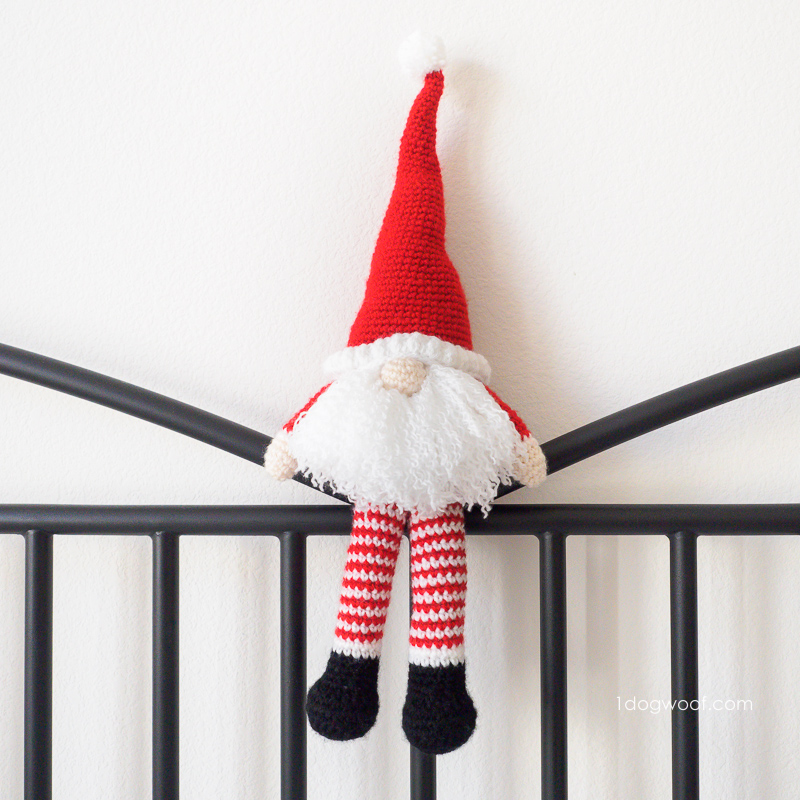 Gnomes are too cute to resist crocheting, and this crochet Santa gnome is even more so! After you finish, it'll be a fun decoration to welcome visitors to your home. The striped legs are reminiscent of the North Pole!
Frostvale Crochet Snowflake Pattern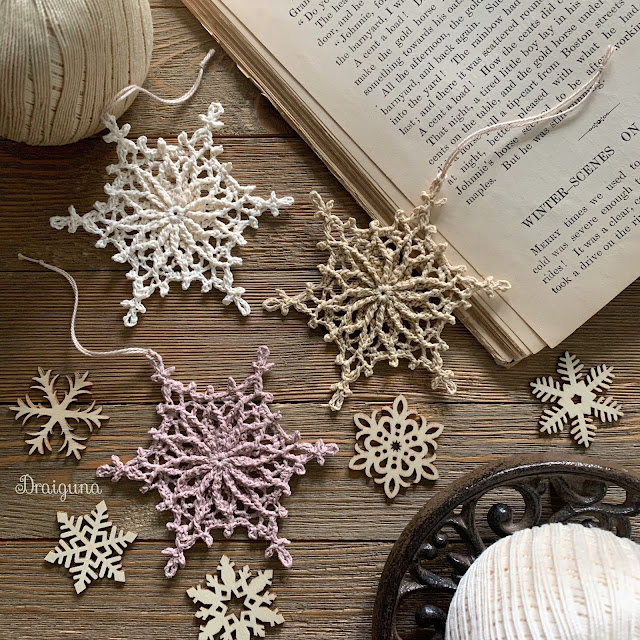 Snowflakes and crochet are a natural fit. This Frostvale snowflake is jaw-dropping beautiful! Even if the design looks intimidating, give it a try! You might find it's easier than it looks.
Mini Bauble Crochet Christmas Tree Skirt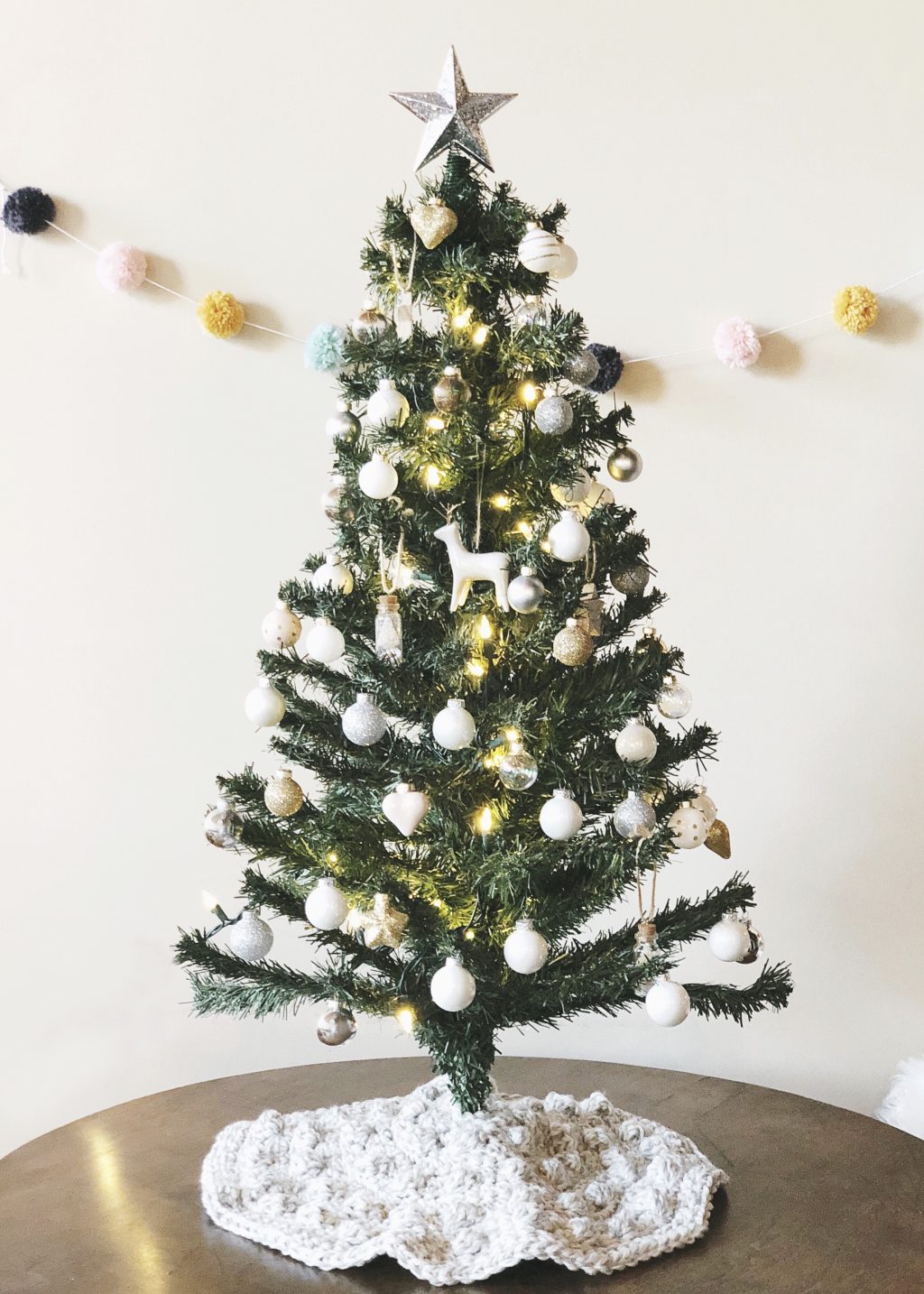 Save money this year–instead of buying a tree skirt, use your crochet skills to make one. Whether for an office decoration, kitchen, or bedroom, the baubles on this tree skirt are festive in a subtle way.
Hot Cocoa Amigurumi Mug and Cookies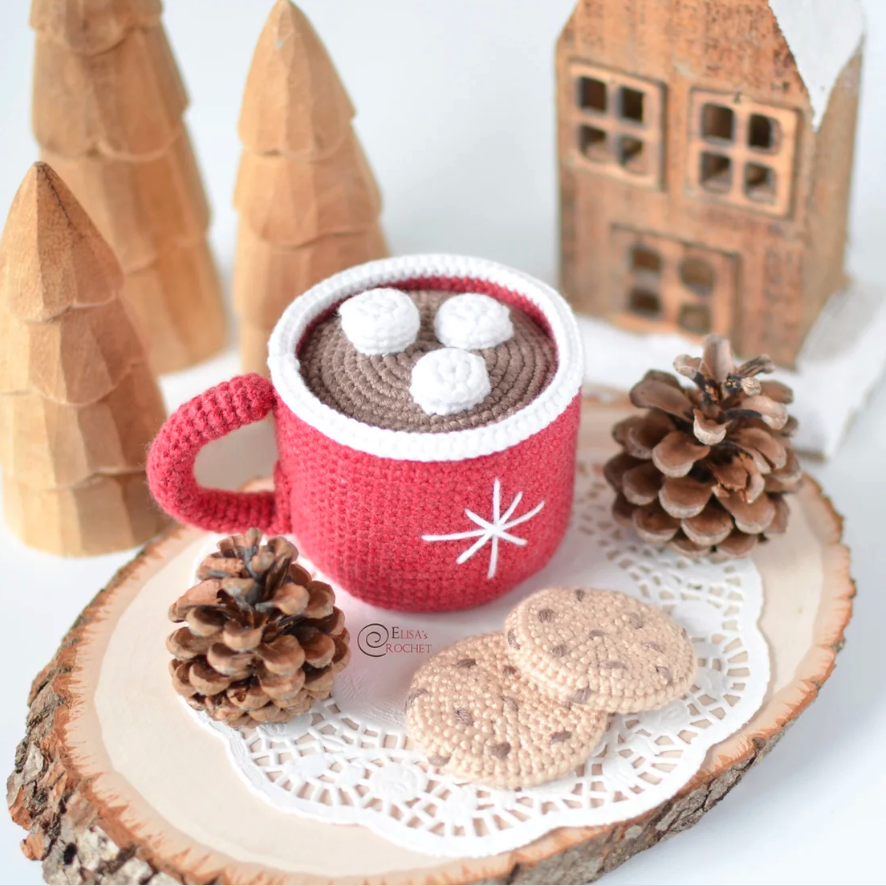 These crochet hot cocoa mug ornaments are so cute! They are even scented with essential oils and coffee beans. You can even top your hot cocoa or latte ornament with cinnamon sticks and whipped cream.
Crochet Christmas Lights Pattern
Retro Christmas lights are such a clever idea for a crochet project! Decorate a tree, fireplace, or doorway with the finished product. These would fit so well with a jewel-toned Christmas colour scheme!
Bean Stitch Crochet Christmas Trees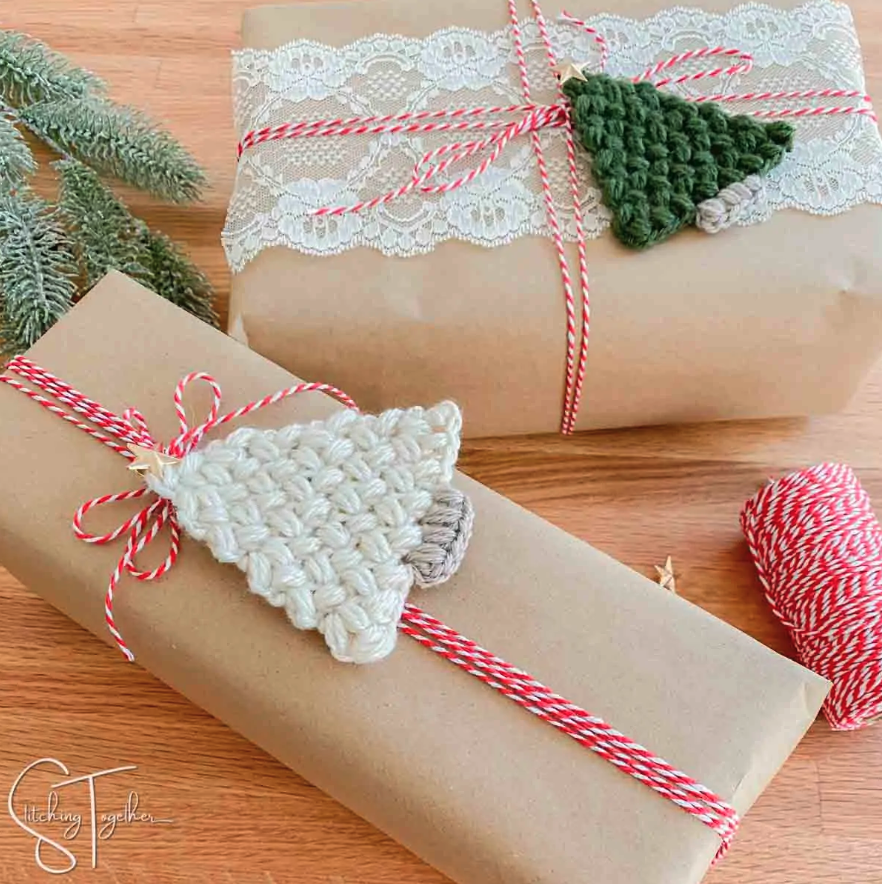 These bean stitch Christmas trees can be used as ornaments or gift toppers. Creator Jessica also shares how she made forest green and white trees into an amazing farmhouse-style garland, complete with dried orange slices!
Starflower Crochet Snowflake Pattern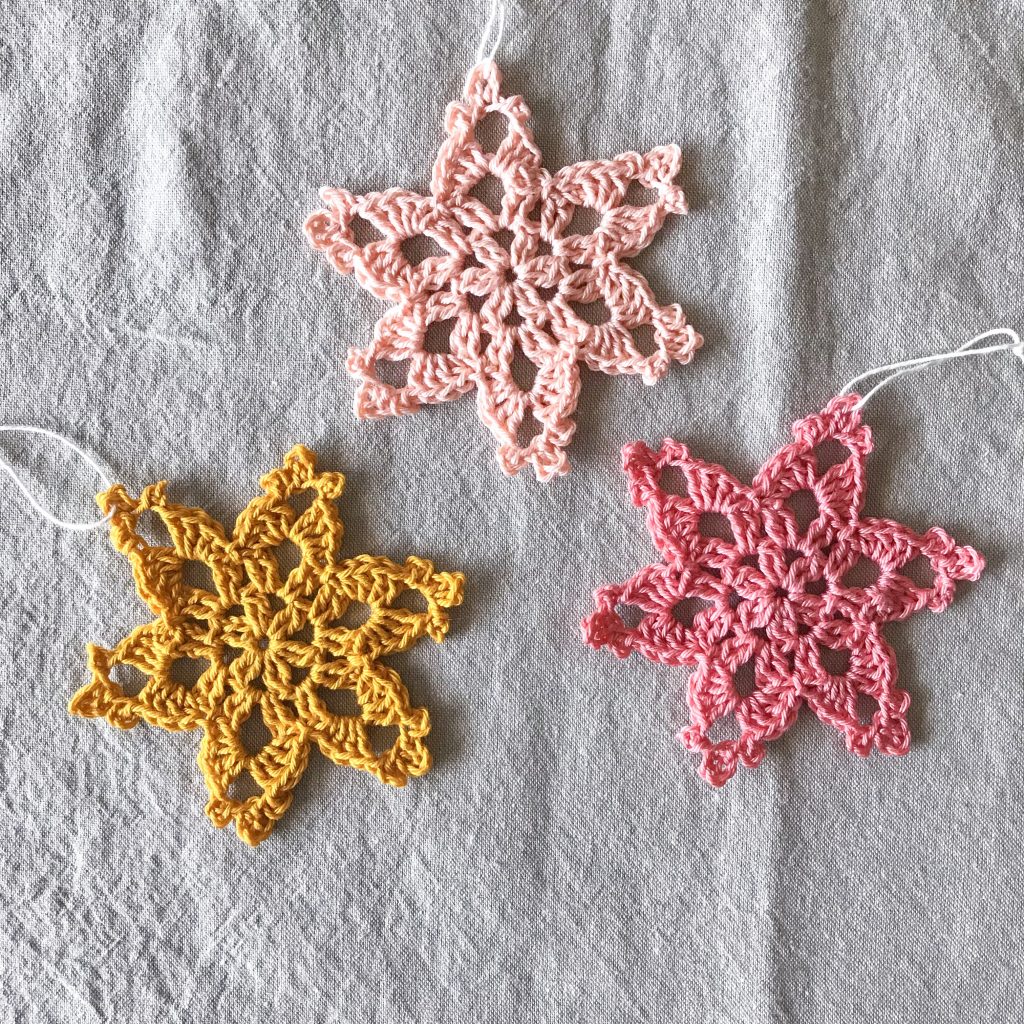 A more accessible snowflake pattern for beginner to intermediate crocheters. While you could make these in tried-and-true white, these marigold and pink snowflakes are also pretty!
Nordic Crochet Christmas Stocking Pattern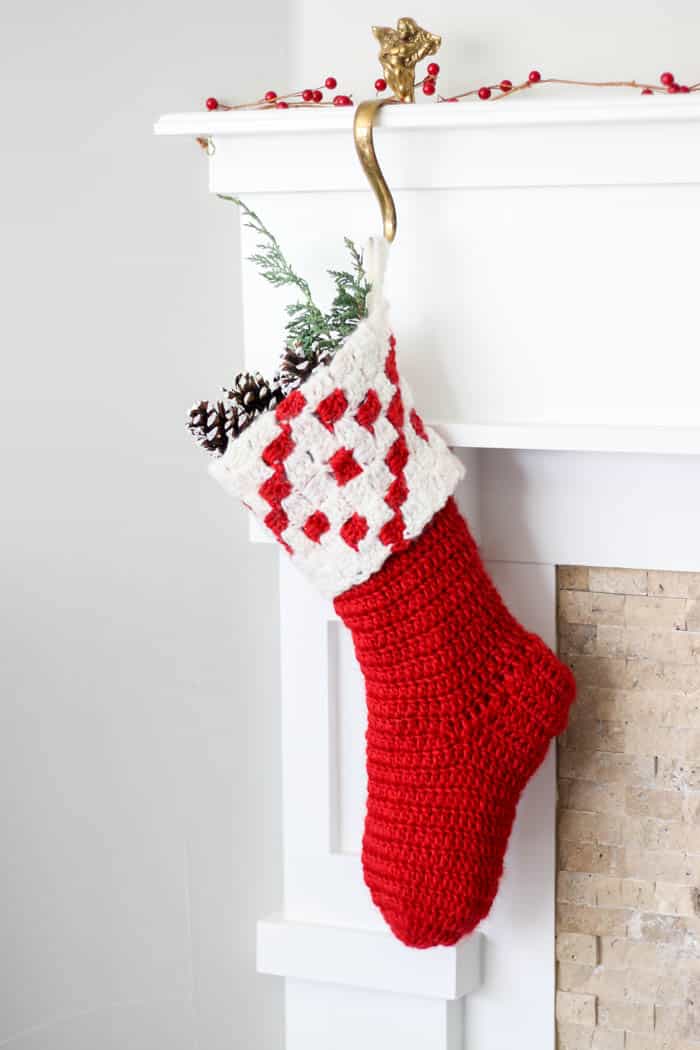 Your Christmas decor won't be complete this year without crocheting a beautiful Scandinavian-inspired stocking like this! I love how it's displayed with snowy pinecones and evergreen sprigs.
PIN THIS: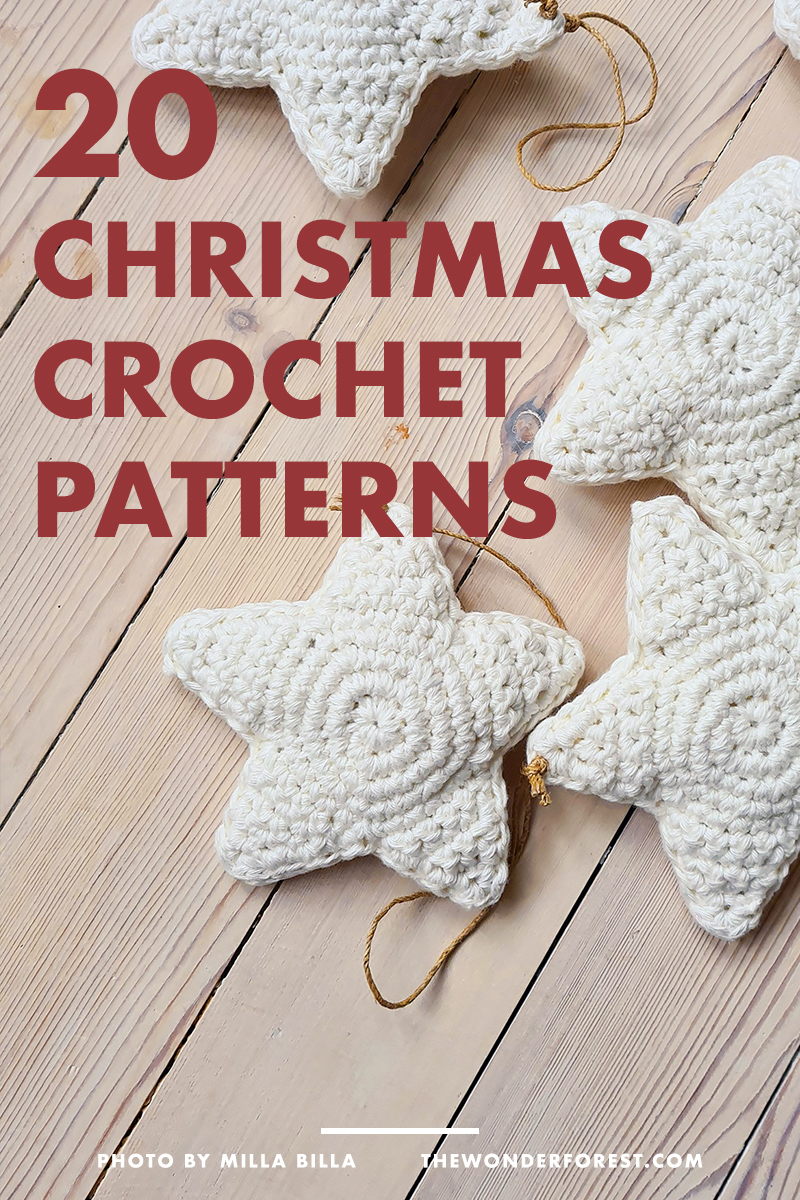 Last Updated on