I couldn't let Halloween pass without doing a spooky makeup look! If fairies and foxes aren't your thing, try this darker costume idea! All it takes is some black and white makeup. I used a combination of face paint and everyday makeup to get the look just right, and created this video showing you exactly how I did it… I hope you like it!

Here's a tip for when using black face paint or eyeliner: finish it with black eyeshadow on top so it stays put. The video cut out at the end, but once I was finished I went over the black of my eyes with black eyeshadow to eliminate creases and then applied black eyeliner on my waterline.
I hope you enjoyed this one! Make sure to subscribe to my YouTube channel if you want to see more! Do you like the cutesy looks or the spooky looks best?
» Need blog topic ideas? Check out 365 Blog Topic Ideas on Amazon!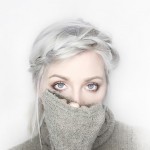 I am an online entrepreneur/artist helping other creatives kick butt in the real world. When I'm not running the Wonder Forest blog ship, you can find me teaching in my Watercolour Workshop, creating artwork for phone cases and home decor, whilst managing the daily tasks of Dana Fox Creative. Visit me at the links below if you wanna be friends and check out my Instagram stories for behind the scenes bits!