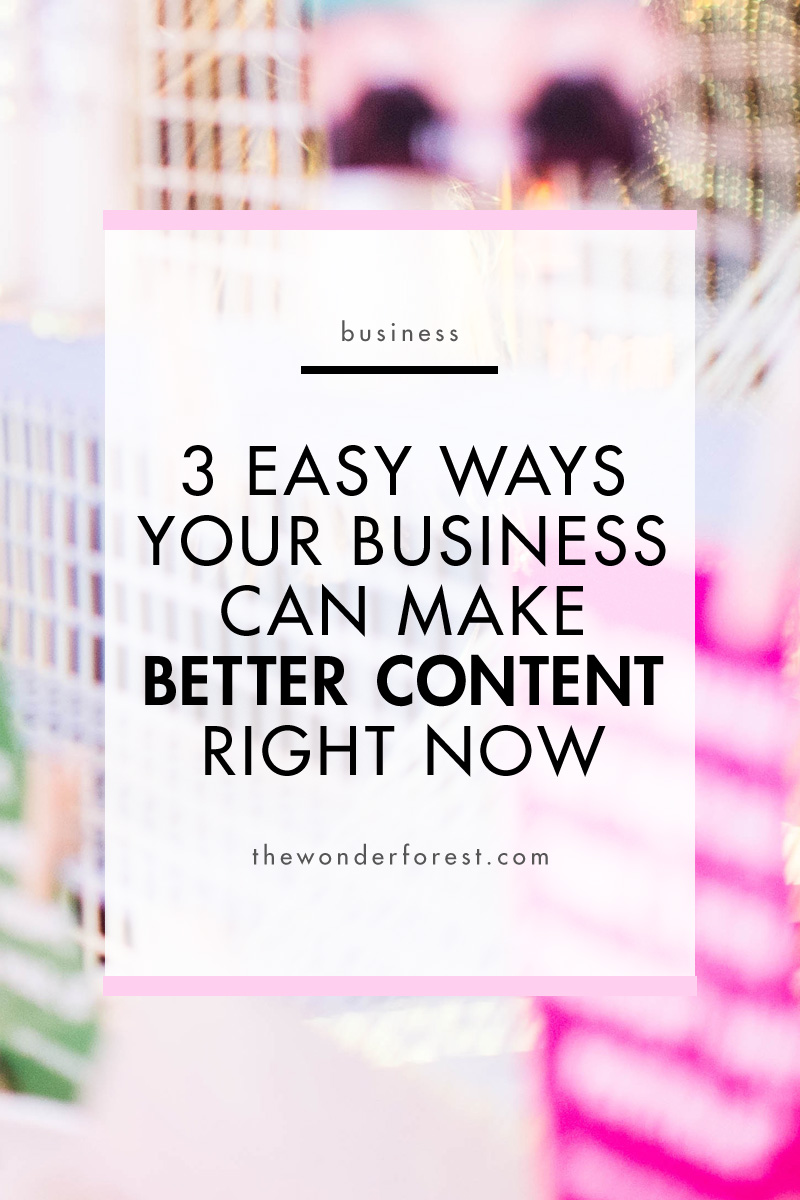 After spending some time in the game, marketing your business or blog on social media can feel a little….well, boring. But it doesn't have to be! Here are 3 simple ways you can improve your content marketing right now…
Tap Into Instagram Stories
In my opinion, Instagram stories are the most powerful way to share your content on social media today (yes, some Pinterest fanatics might disagree with me). Why? The average story will be seen by 10-15% of your audience. And while ideally you would be getting this same rate of engagement on your feed, it just isn't happening lately with Instagram's algorithm.
And although there are several gorgeous ways to do Instagram stories (check out The Blonde Abroad for some wicked examples), it doesn't require the same level as perfection as your feed might. Stories provide the opportunity to share tales from every day life (something that Dana, owner of Wonder Forest, is a pro at), go behind-the-scenes in your business or just share your top favourite photos from that day – no heavy editing required! They also provide an opportunity for sponsorship from your favourite brands, with higher engagement numbers than you might be able to pitch from your Instagram feed. 
Revamp Your Titles
In this age of clickbait and well, fake news, titles are everything. I cringe every time clickbait titles are promoted by content marketing specialists, but there IS some merit in sprucing up your titles – while still keeping things factual and honest!
Let's go through an example. You might consider naming your blog post from your solo trip across Europe as "5 Things to do on Your Trip Across Europe" – but why not make it a little more interesting?
Consider the alternatives: "5 Mind-Blowing Moments to Experience on Your Solo Trip Across Europe" or "5 Gorgeous Destinations in Europe That All Solo Travellers Must See" 
Which would you rather click on? 
You can experiment with different titles on your Pinterest graphics, leading to the same post, to see which performs the best.
Make Custom Videos for Social Media
Are you a DIY blogger? Or perhaps you write about fashion tips? While long form blogs still certainly have their audiences, I think there's a case to be made for repurposing content into short Facebook-friendly videos that tend to perform better on the platform. Websites like WAVE Animatron allows you to add your photos and video content in to make a seamless social media video with text overlays – no prior experience required. 
These type of websites will also allow you to create videos in social-media friendly formats, which means you can use the same content to make videos for Facebook (square aspect ratio) or Instagram stories (16:9 aspect ratio). 
These videos are also great if you're making listed content – for example, "5 bedrooms that will make you swoon" or "5 Canadian cities that will absolutely inspire you." And, since the videos will have very limited text, you can still link to the long-form blog article in the post for traffic to your website.
Last Updated on