Picture this:  You've created an awesome video and embedded your favourite song only to have YouTube throw a copyright notice at you.
As you've probably guessed, most major artists and record labels don't like you using their songs, even for a few seconds.  It's illegal, to say the least, especially if you are trying to monetize your videos.
Thankfully, there are a bunch of options for royalty free music for YouTube videos that won't get your video shut down!
In this post we will look at FREE places to get music that don't require subscription payments or fees.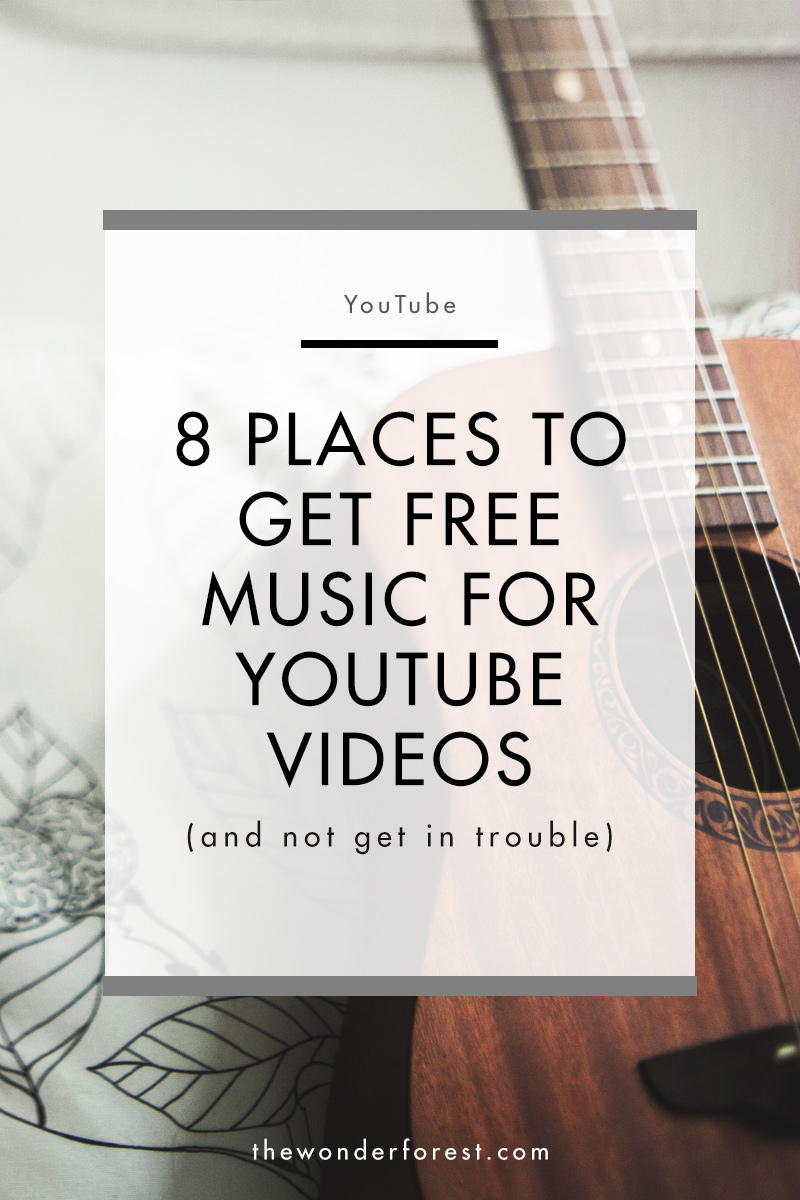 Free Music For YouTube
From full instrumental songs to single free sound effects, I've found some of the best sites on the web where you can download royalty free music for YouTube videos or other video creations.
How to use music on YouTube
When creating your video, you'll want to ensure that any music you use has a creative commons license or is specifically listed as royalty free music for YouTube — otherwise known as "copyright free songs".
Artists can choose to upload and share their music with websites such as the ones below so that other creators can share their work globally.
As long as you have permission to use the music, you can freely use it without worrying about copyright claims.
Where to get free Royalty Free music for videos
YouTube Audio Library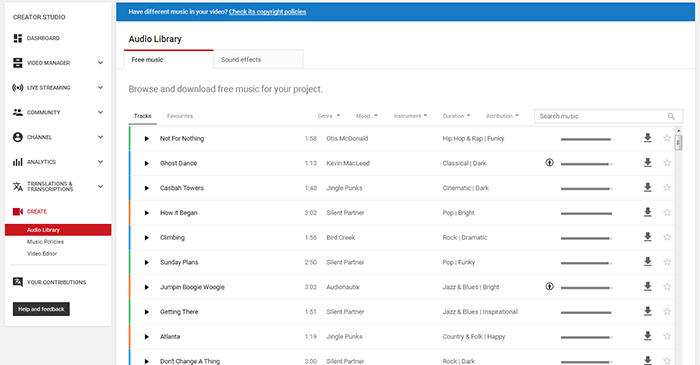 Link: http://www.youtube.com/audiolibrary/music – The most popular and obvious choice would be to use free music from the YouTube official audio library.  Here, you can choose from songs that require no attribution or ones that require an attribution such as a copyright notice and/or artist link in your video's description. The interface is easy to use and you can sort by music style, genre, length, and more.
Free Music Archive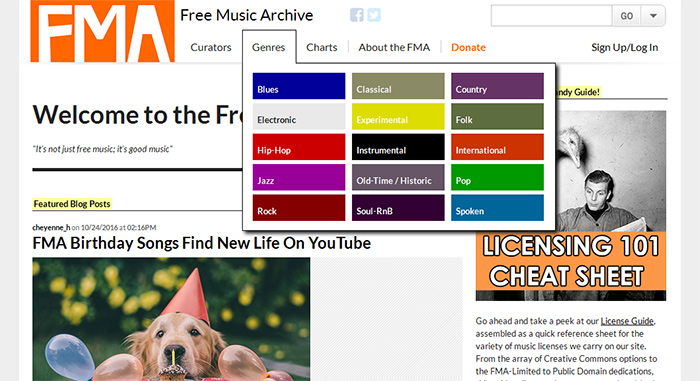 Link: http://freemusicarchive.org – The Free Music Archive is a legal music download library. The site lets you filter royalty free music for your YouTube videos by genre and top charts. You can easily preview music and download songs instantly without needing an account. FMA believes in Creative Commons and music sharing and every song use is determined by the music rights-holders themselves.
No Copyright Music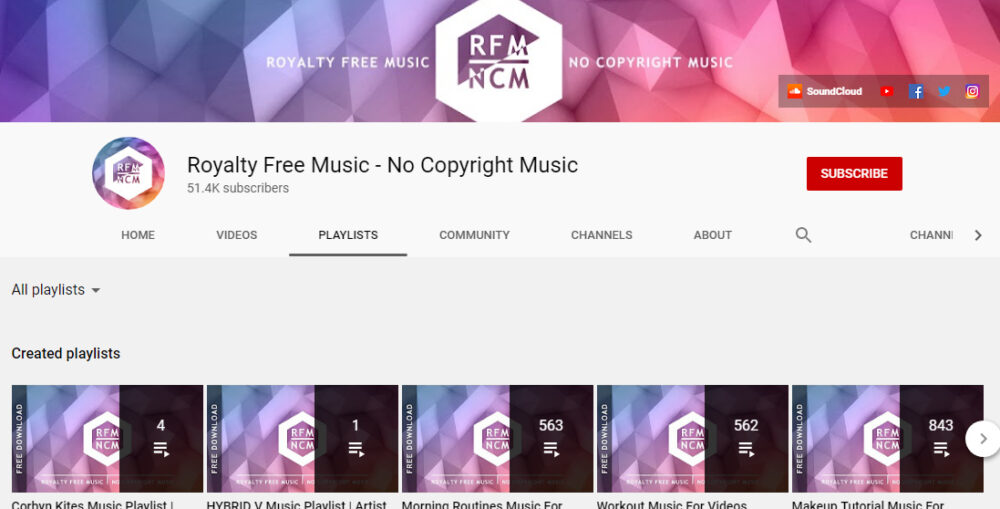 Link: https://www.youtube.com/channel/UCQsBfyc5eOobgCzeY8bBzFg – This is a YouTube channel that uploads creative commons free music for YouTube videos. They include links to download the tracks in each of the video descriptions. Sources include free music from SoundCloud creators and more.
No Copyright Sounds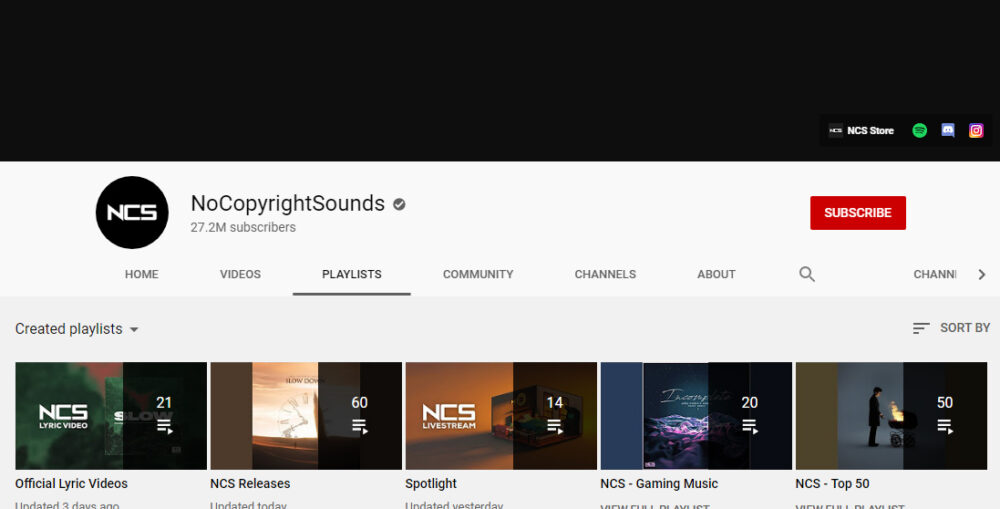 Link: https://www.youtube.com/user/NoCopyrightSounds – This YouTube channel operates like the one above and features copyright free music from various creators. The links to download each track is shared in the description of the video. With over 20 Million subscribers, this is a great source for unique tracks for your videos!
Sound Gator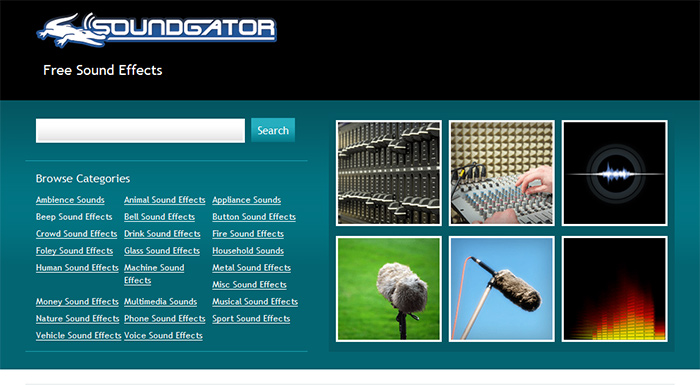 Link: http://www.soundgator.com – If you need free sound effects for YouTube videos, Sound Gator specializes in sound effects. If you need certain noises or sound effects in your videos, this is a great site!  Button sounds, nature sounds, household sounds… you can find a great collection here. You will need a free account to download the files.
Bensound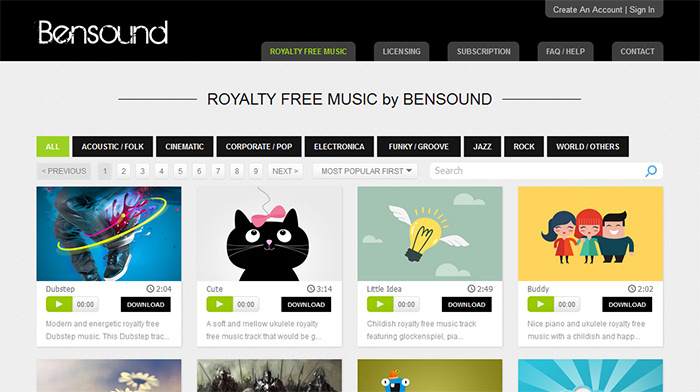 Link: http://www.bensound.com – All of the tracks on this site are released under creative commons attribution licenses, meaning you just have to insert text credit to the creator within your video or the video's description.  You can sort by genre and also have the option of getting a pro license if you need more usage options.
Looperman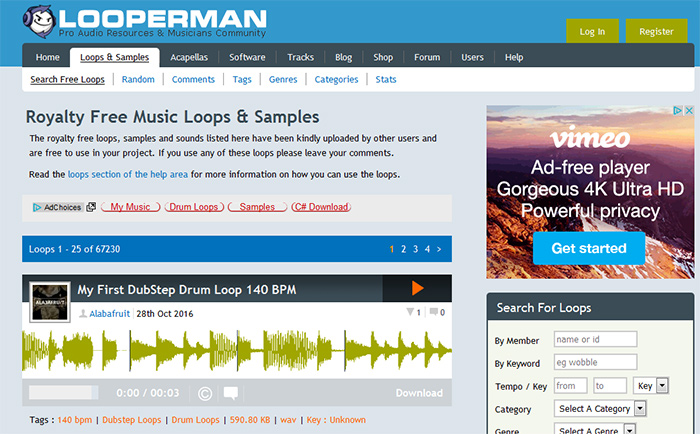 Link: http://www.looperman.com/loops – Looperman specializes in free loops, sounds, and samples for your YouTube videos, all uploaded by individual users. You can select from a wide range of different genres and use these loops in your YouTube videos. You'll need a free account to download
Pond5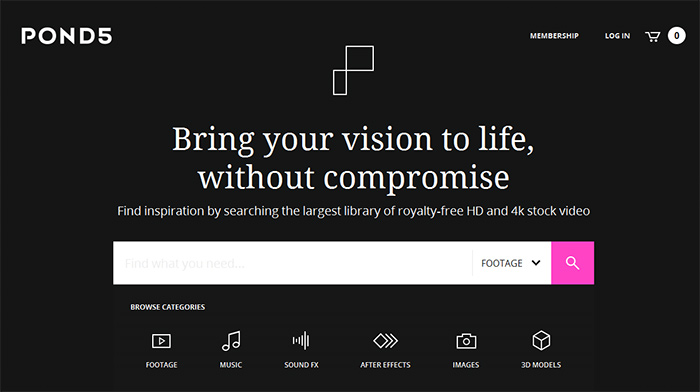 Link: http://pond5.com – Pond5 allows you to search the world's largest database of stock video, but they also have royalty free music!  Click on the Music category on the main page or search for a specific genre or title.  At the bottom filter options, choose the Public Domain checkbox. Click on the track you want and then add it to your cart (don't worry, it should be $0!).  You will need to create account to download the track.
Have any other places to get royalty free music for YouTube videos? Let us know!
Last Updated on