Festival season is all about unique looks and feeling free. We've covered some awesome festival DIY projects, from DIY festival outfits to fancy headwear like this feather crown.
Today, it's all about the hair! Emily has a great eye for trendy hairstyles and the perfect long locks to share some of her top tricks for achieving long DIY hairstyles with ease.
In this tutorial, she will be showing us how to create a bohemian style side braid that is overly chunky and perfect for summertime!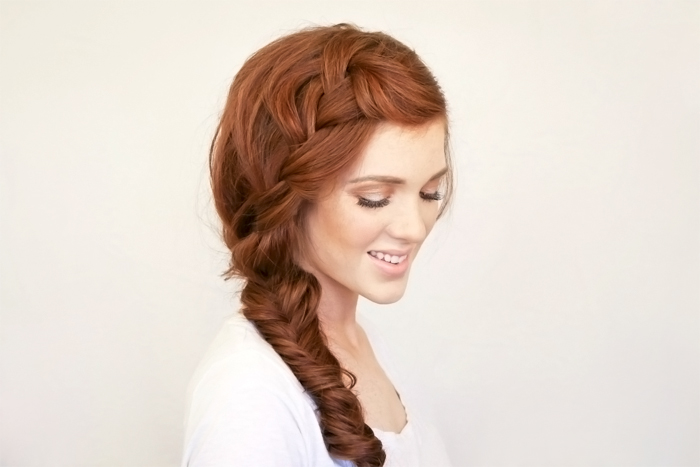 Hey Guys! I'm Emily and I blog over at The Freckled Fox.
I'm eager to share this easy braided hair tutorial to achieve this beautiful and romantic side braid, because it's absolutely perfect for this time of year and can be worn for so many different types of occasions.
It's also one of those neat styles that looks way more complicated than it actually is while still being easy and effortless looking, so you're sure to get tons of compliments:) Lets get started!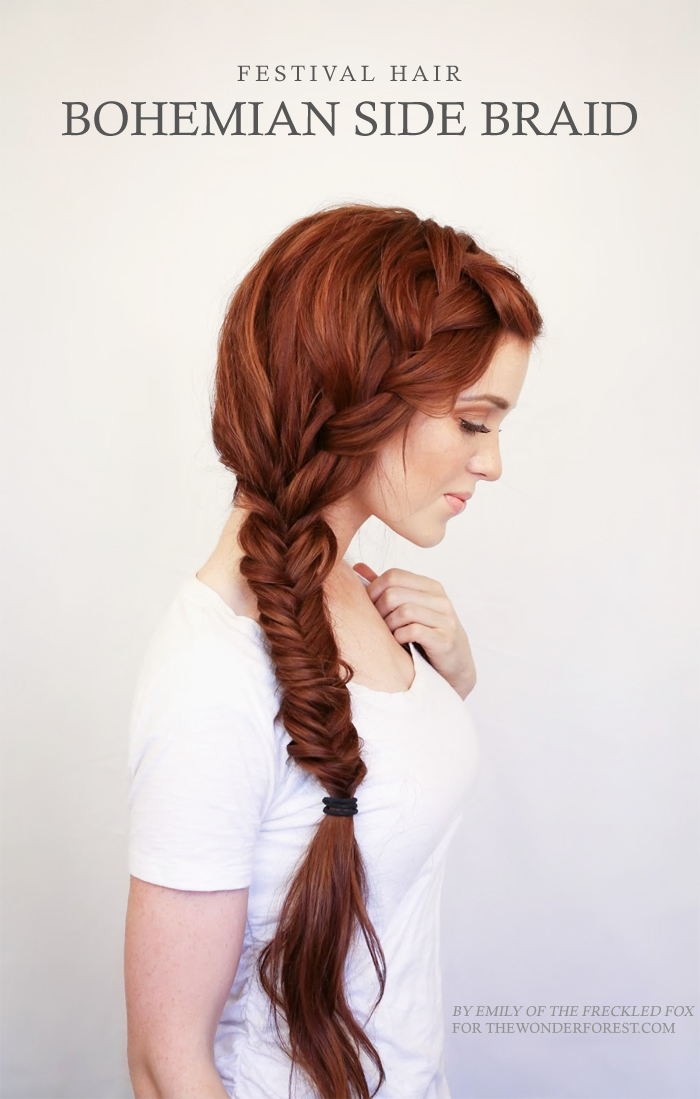 Firstly the supplies you may want to have on hand are:
a hair-tie of course, and then optional other things:
some hairspray
some dry shampoo
a teasing comb
Notes: If you already have texture in your hair then leave out the dry shampoo otherwise spray a bit on for some grip.
If you want to tease your crown a bit for volume then use a teasing comb before you get started, and if you have silky or fine hair(like me!) then you'll want to include some hairspray to help the style hold in place longer.

Steps 1-3: begin by choosing a deep side part and sweeping the it around the back of your crown so the part doesn't continue down the back of your head. (1) Separate a triangle at the top of your part, divide it into three sections, and (2) begin a french braid by alternating each of the side sections over the middle section and under the one on the opposite side. (3) When pulling from the back of your hair just keep taking hair from above your ear and back a bit, not from the vary back of your head:)

Steps 4-6:(4) Continue your french braid down as you remember to add in a little more hair from each side before you send that section over and under (it helps to say "Add, over, under. Add, over, under." to yourself as you french braid if you're a beginner:)) Tie off your braid with a hair-tie once you reach your ear so we can work on the other side. (5) Twist the hair above your opposite ear upwards and back, tugging  a bit of hair out at your temple to keep it loose and flowy looking, and (6) swoop it around the back to join it in your braid.

Steps 7-9: Now that you have all of your hair in one hand, proceed to turn your french braid into a fishtail by splitting it all roughly in half and grabbing a small chunk of the hair from the back of your right section. (7) Bring it around and over the right section, combine it with the left section, and now repeat that with the left side, back and forth alternating till your fishtail braid really starts coming together and you have the length you want. (8) Finish it all off by tying up the braid with a hair-tie, and by tugging your hair out here and there to loosen everything up. (9) Spray a bit with some hairspray if you want and you're all good to go!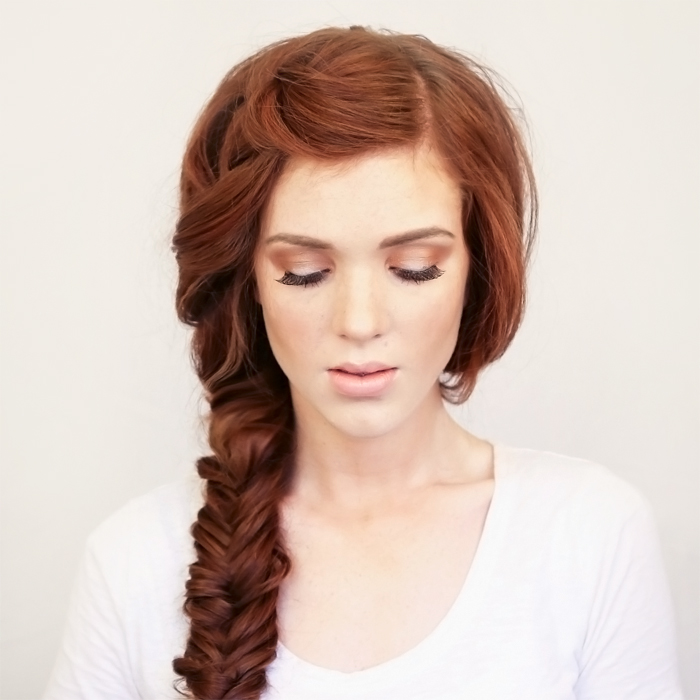 On my own blog I try to be as descriptive in my tutorials as possible so you have a better chance of achieving the look the first time, so I hope that you're not daunted by the directions:)
Remember to not worry about it being perfect while you do your braiding because we're going for a really textured and kinda messy finished look anyways! Also as a final side-note, a fun thing to do would be to tie a ribbon around your hair-tie once you're done to add some old-school femininity to the whole look:)
How about trying an Urban Outfitters inspired boho feather headwrap with this braid!?

Shorter hair? This braided crown tutorial works wonderfully with your length!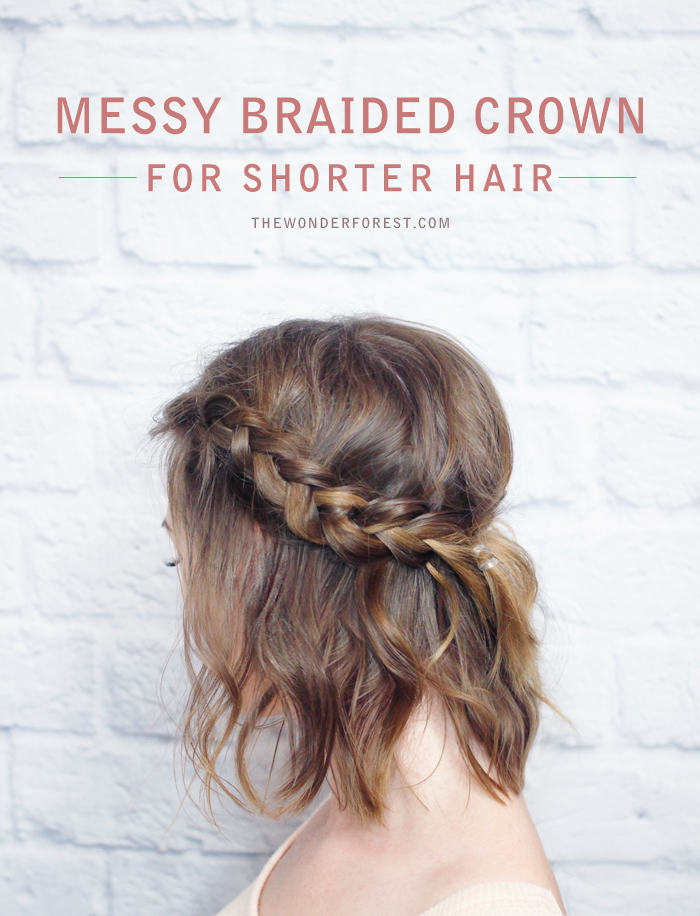 Last Updated on