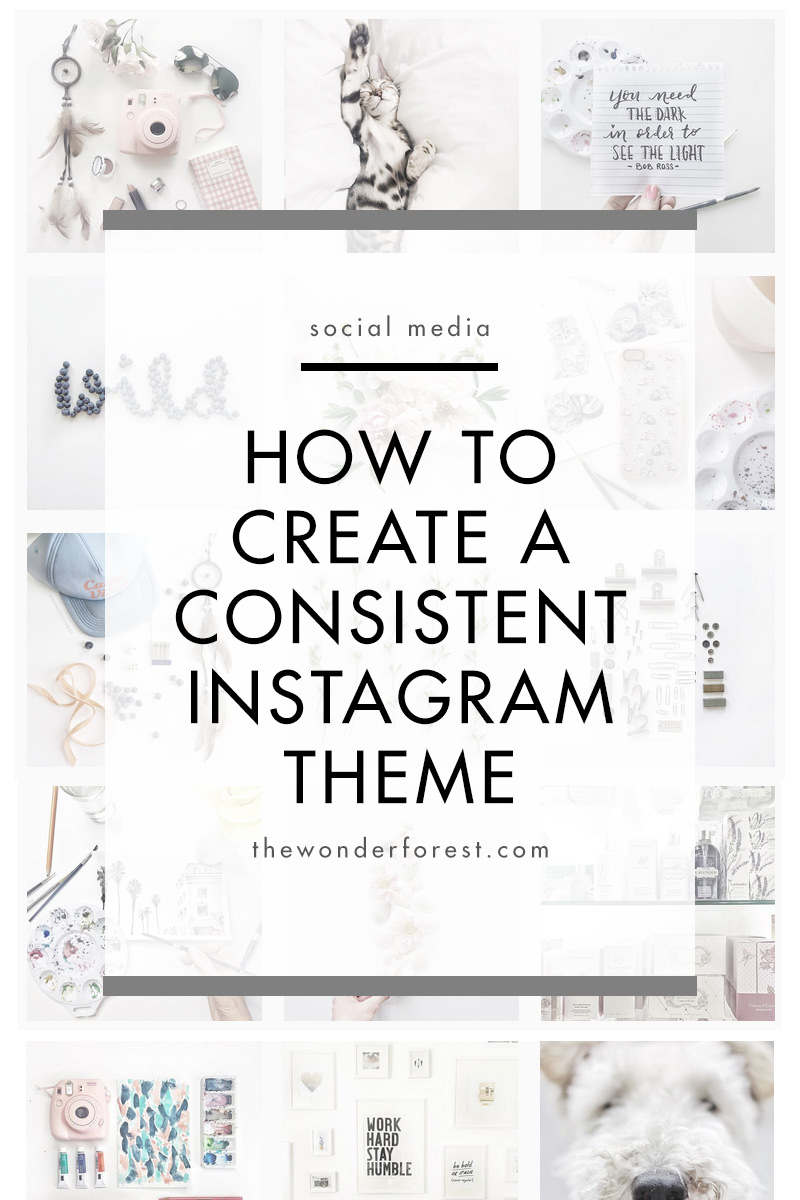 If you want to stand out on Instagram, a creative and consistent theme is the way to go! I didn't begin to see traffic pick up on my account until I started sticking with a theme, and my follower growth just kept climbing.
Many top Instagrammers have developed their own style of visually pleasing imagery that just begs you to click "follow". So, how can you do the same? Here are some tips!
Decide on a colour scheme
The first thing you should think about is the overall colour scheme you'd like to work with. This is probably one of the most important aspects of creating your own unique Instagram theme because colour sets the tone for your whole feed.
With the Wonder Forest Instagram feed, I wanted to keep things fresh, bright, and airy, so white was the way to go. There are so many awesome users who have adopted their own colour schemes ranging from whites to pastel tones to bright and bold colours.
Check out @wearecaribou's white and neutral theme, @earlymorningheart's use of gloomy tones, @xuzzi's constant use of pink which has deemed him "Mr. Pink", or @cestmaria's ongoing pastel theme.

Keep your background colours or tones consistent
If you're thinking about shooting a lot of in-studio type photos, keeping your background colours or tones consistent will be key.
For my own feed, I use white backgrounds ranging from pure white table tops, to bed sheets, to vinyl white patterned backdrops. @minimaliving does this well, as does @thepinkdiary and @runnerkimhall.
Think about what you want to convey or be known for
The type of photos you create should also be consistent and convey a particular theme. With my own photos, I like to showcase my creative lifestyle by staging photos and throwing in shots of projects I'm working on at the moment.
@emilyrosehannon does an awesome job as a fashion Instagram influencer, consistently sharing outfit photos with a white theme and rarely ever showing her face. Her "phone-in-face" photo style in that white framed mirror has become a signature.
@helloemilie uses a similar technique with her travel photos and consistently wears a hat with her back facing the camera whenever she makes an appearance in a dreamy looking landscape.
Choose what will be your "thing". The characteristic that sets you apart from other accounts and is easy to replicate often.
Take your photos under the same lighting
Lighting can have a big impact on the look of your photos and feed. If you're using studio lights, try to always use studio lights.
If you're using window light or natural light, try taking your photos at the same time each day. @kpunkka does this amazingly with his nature photography, often shooting in the early morning light.

Choose editing software that completes your look
There is a ton of editing software and apps available to complete your look. You can use Lightroom or Photoshop on your computer, or download some apps… my personal favourites being Lightroom Mobile and Snapseed.
I recommend playing around with the settings and filters to achieve a look that you like and one that would be easy to replicate on all of your future photos.
You can also download or purchase some Lightroom presets that work on the mobile app version and apply them to all of your photos for that cohesive look.
Develop your own editing sequence
With your chosen editing program, experiment with different techniques to develop your own "signature style".
This should be a sequence that you can apply to all of your photos rather easily once you map it out. With my own photos, I consistently bump up all of the whites and brightness, tone down the saturation a bit, and lighten up any shadows before sharpening things slightly. I also throw on a favourite filter/Lightroom preset so all photos have the same tones.
There may be a predefined filter that speaks to you, so try those as well!
@fenrirbrooklyn's photos have a slight faded and desaturated look to them which represents his style. @kylefinndempsey's shots are edited with a gloomy tone and almost vintage appearance.
Scout out locations or collect props
Wherever or whatever you decide to shoot, decide if it suits the overall vibe of your theme first, or see if there is some way that you can make it match.
Props come in handy when trying to tell a bit of a story, and choosing some in your selected colour palette is a good idea.
I'm always on the look out for new props I can use in new photos! If you're on location, find certain elements of that location that could make for a great theme-matching photo.

Remember, you don't have to share everything
Finally, keep in mind that you don't always have to share every single photo you take.
When creating a consistent Instagram theme, quality is better over quantity! Share only those photos that mesh with your feed well and you'll be well on your way to creating a stunning profile!
You might also like this post: How to create a visual dream strategy for Instagram or these 5 ideas for telling your brand story on Instagram.
Happy snapping!
Last Updated on