If you love Disney, Halloween and crafting…you've come to the right place. Check out these 15 spooky Disney themed DIYs to get your home ready for the spookiest season!
Nightmare Before Christmas Window Display
This super spooky window display will have you standing out from your neighbours! All you need to do is trace a design, like this one of Jack Skellington from the Nightmare before Christmas, onto paper and stick it to your window. When it gets dark and you turn your inside lights on – it looks like a silhouette!
Jack Skellington Halloween Door Decoration
Sticking to the Jack Skellington theme, check out this free printable door design, making it so easy for you to recreate this look! This design works especially well if you have a white door to mimic Jack's white skeleton head.
Mickey Mouse Pumpkin Halloween Decor
How adorable is this Mickey Mouse pumpkin?! This DIY has no carving involved so it's mess free. Simply stick on the face and little pumpkin ears and you've made an amazing decoration in just a few minutes!
Mickey Bat Mobile – Disney Halloween Decor
Follow these simple step-by-step instructions to create this Mickey Mouse hanging bat mobile. Your friends will be sure you've bought it from a store!
Lady and the Tramp Pumpkins
Instead of trying to carve a pumpkin, which can often be difficult and messy, why not try painting it instead? Like this not-so-spooky Lady and the Tramp pumpkin design. Adorable!
Halloween Mickey Tassel Garland
If you're looking for more simple Halloween decorations, try making this cute and wicked Mickey Mouse Tassel Garland! These are so simple and perfect to make your home feel a little more Halloween ready.
Mickey Mouse Halloween Ghost Idea
Try out this super easy DIY Mickey Mouse Halloween hanging ghost! This is an especially good DIY to get kids involved with as it's easy for all ages.
Disney Inspired Haunted Mansion Jar Decor
If you're having a Halloween party, these impressive lantern DIY's would be a neat addition to your decorations, especially if said party happens to be Disney themed! Check out this step-by-step method with 2 downloadable images.
Frankenstein Mickey Ears Decor
Combine the most iconic Disney character of all with a famed monster! All you need is some paper, glue, scissors and string to make these Frankenstein Mickey hangers.
Mickey Mouse Bat Garland for Halloween
Another simple craft for Halloween is this adorable Mickey Mouse bat garland. It's the ideal fireplace decoration for a Halloween-themed movie night featuring all of your favourite Disney movies!
Snow White Poison Apple Decor
These poison apple decorations are the spookiest and coolest Halloween centrepiece. With just a few supplies you can create these impressive apples based off the poison apple from Snow White!
Mickey Mouse Pumpkin Wreath
This fall-themed Mickey Mouse pumpkin wreath is so cute and can be used on Halloween night, too. Use a plastic pumpkin and leaves for this one – not only is it mess free, but it'll last for years to come!
Maleficent Cameo Disney Halloween Decoration
Here's a great addition to your Disney-themed Halloween party…an ode to Maleficent! This Maleficent cameo can be made with an ornate frame (or one made of paper, too) and a cut out of Maleficent's silhouette.
The Nightmare Before Christmas Pumpkins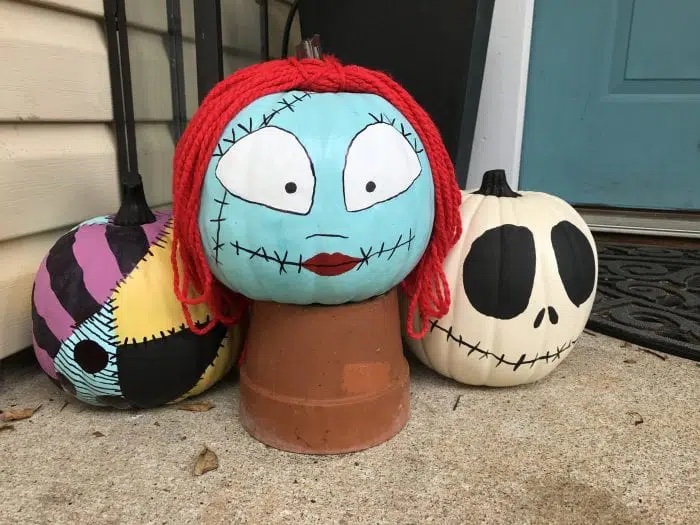 These Nightmare Before Christmas themed pumpkins are super easy to create with just a little bit of paint and string! They look great as a matching set.
Jack Skellington Door Wreath
Keep your Disney Halloween decorations simple and stylish with this Jack Skellington wreath. Using felt and skeleton hands creates a totally unique wreath for your door.
PIN THIS: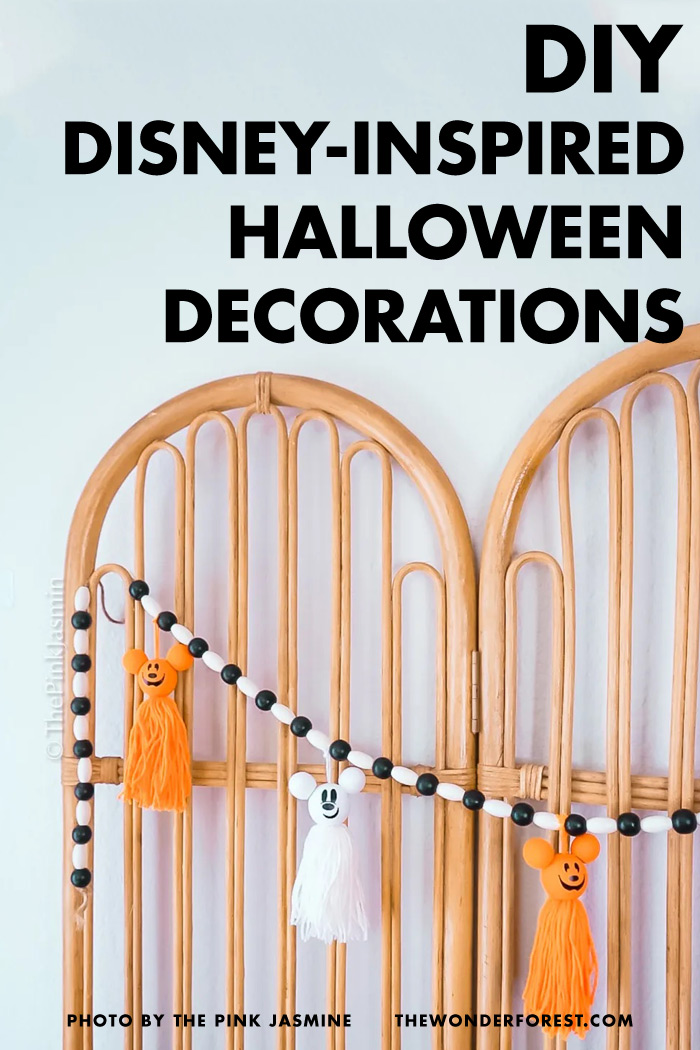 Last Updated on