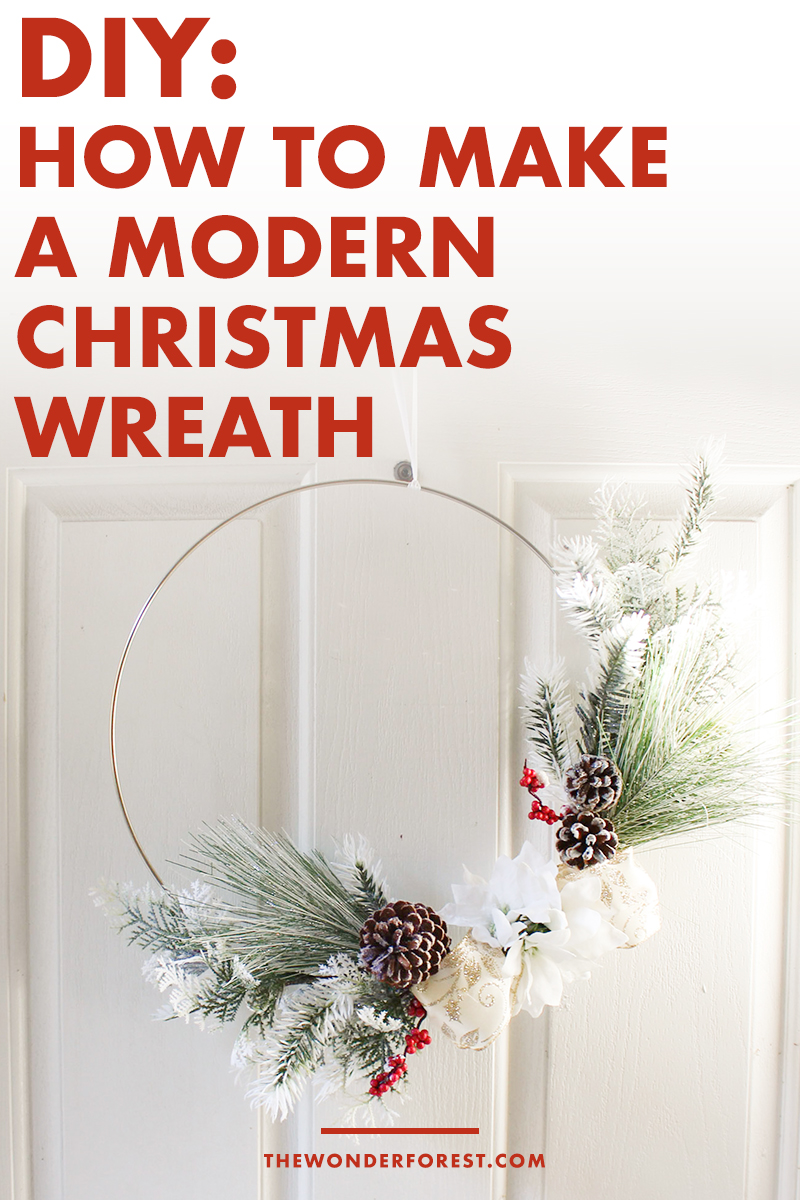 The holidays are here which means it's time to decorate (if you haven't already). One of the main Christmas decoration staples to have in your home, other than a Christmas tree of course, is a wreath.
If you're feeling crafty this holiday season, here is a budget friendly DIY tutorial that will guide you on how to create your very own modern Christmas wreath.
Buying materials for this project does not need to cost you a lot. A lot of craft stores have these materials for a fairly cheap price. During this holiday season, most of their Christmas items tend to be on sale.
When I bought these materials at the beginning of December, they were 50% off their original price. Just check your local craft stores for deals!
For this project, I find it best to invest most of your budget on larger Christmas plant stem arrangements. The larger arrangements have more pieces that you can use for decorations – making it budget-friendly!
It's also worth looking at old decorations you may have stored from last year to see if there's anything you could upcycle.
Materials & Supplies You Will Need
Steel hoop – In your size of choice
Artificial holiday decoration greenery arrangements and flowers
Small Christmas decorations
Wired ribbon
Thin satin ribbon
Wire cutters
Hot glue
Floral tape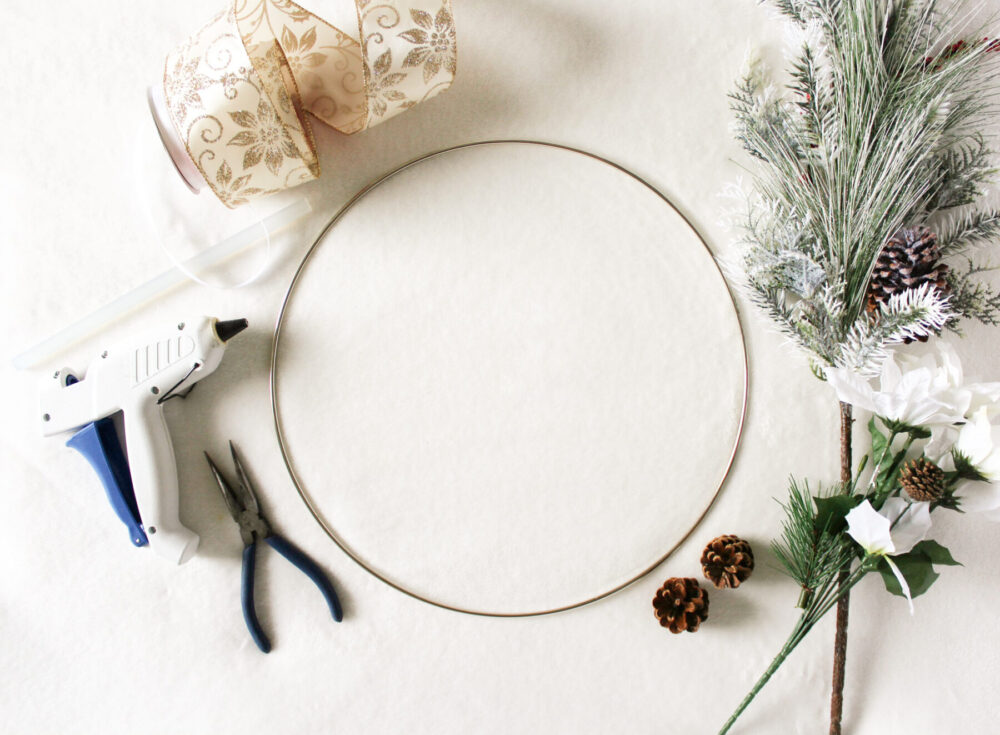 First step: cut the arrangements apart. For one of the flower stems I bought, I simply pulled off the flowers. For the larger arrangement, I used wire cutters to cut pieces off.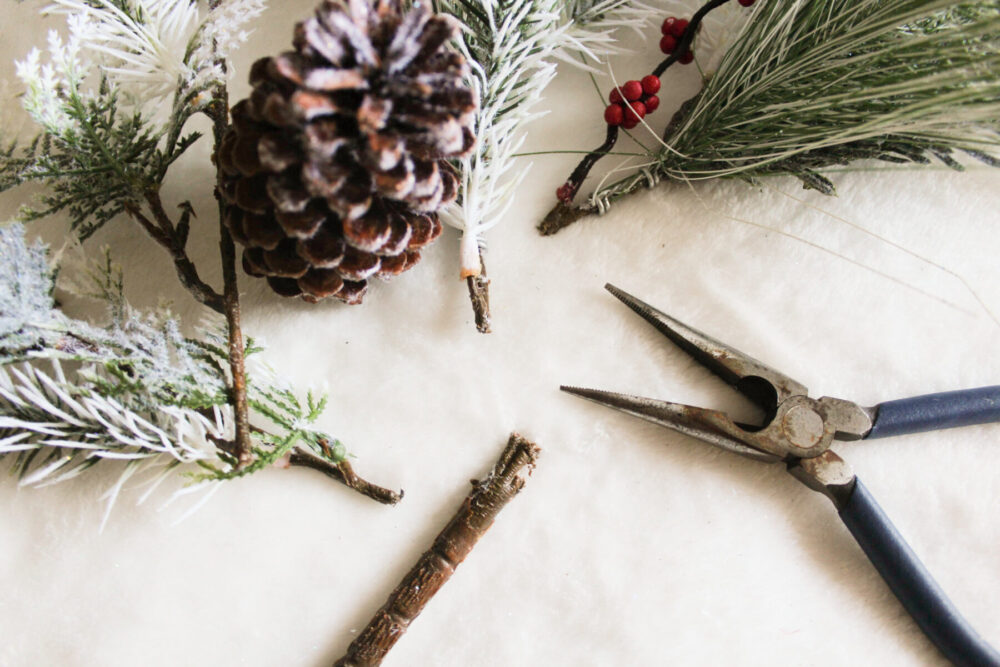 After cutting up the pieces you need, lay out the pieces over the hoop to plan out how you would like the wreath to look. Since this wreath is a more modern take on a traditional wreath, focus on arranging the pieces in one area. This gives it a more minimal look.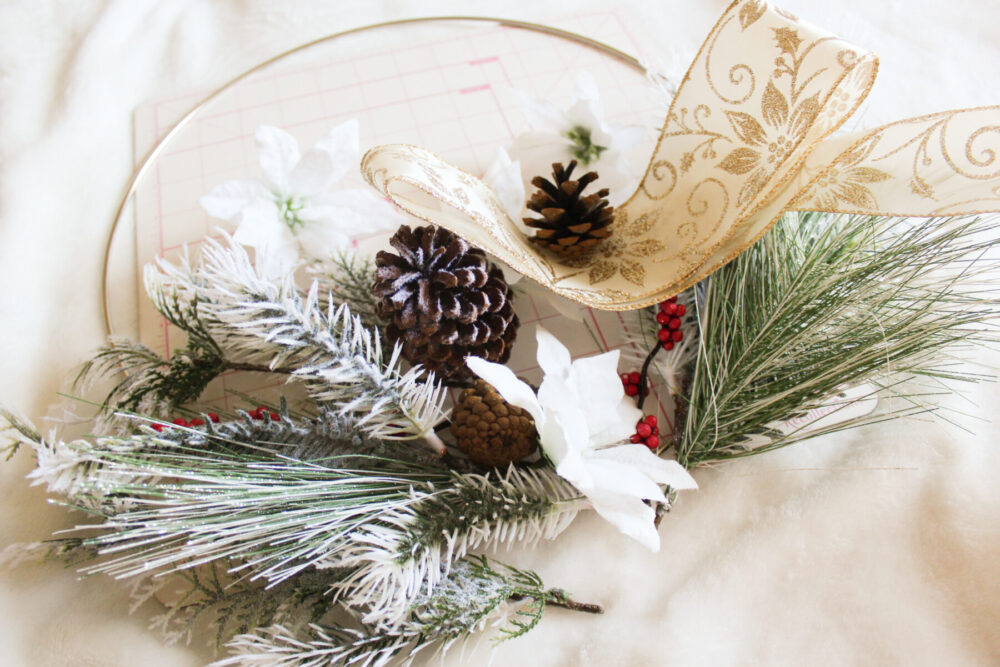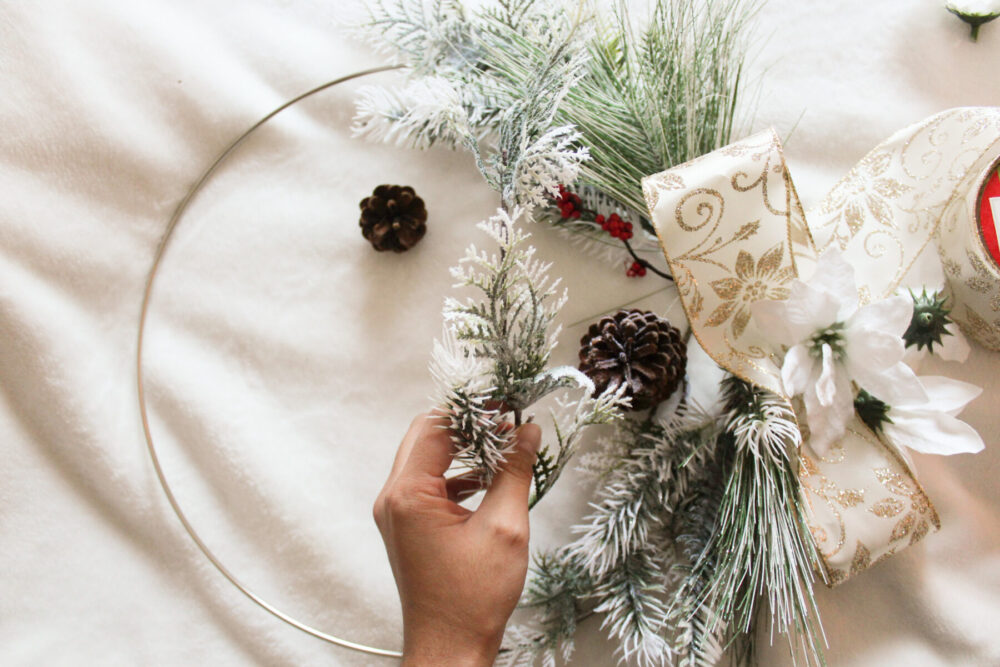 Once you are satisfied with your arrangement, it's time to glue things together. I recommend gluing each piece of the wreath together before attaching them to the hoop.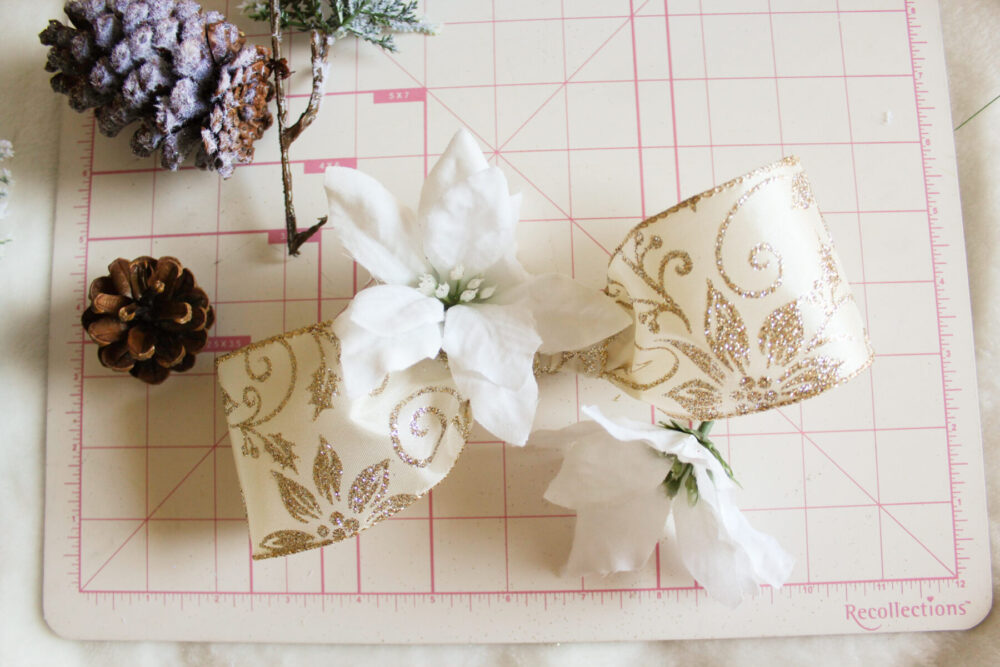 For the greenery pieces, glue the stems together. Then, wrap the end you glued together with the floral tape. This ensures it won't accidentally fall apart.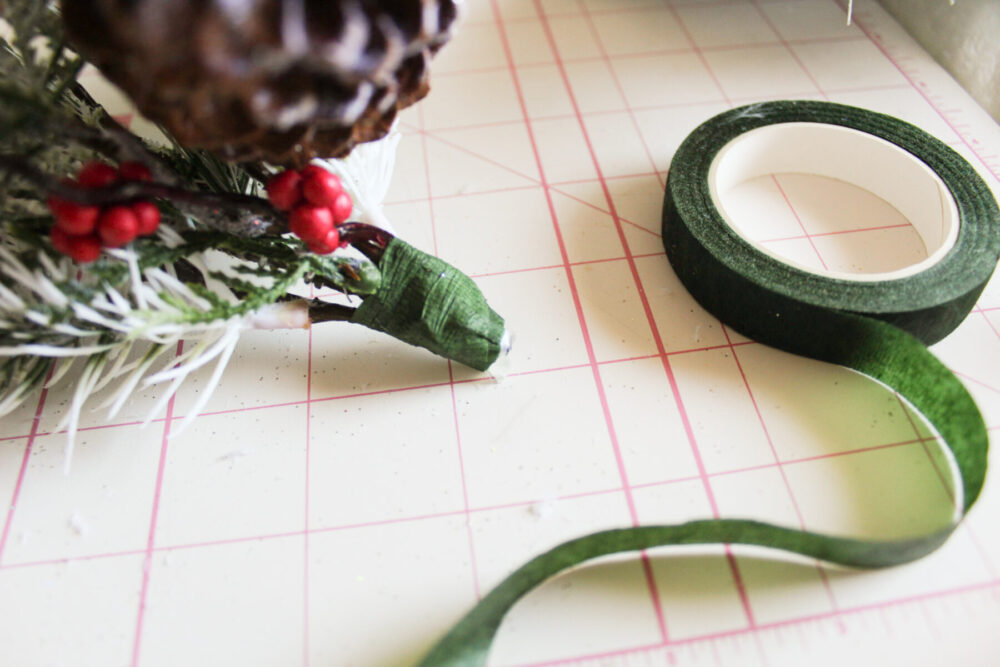 When you are done gluing each piece together, attach them to the hoop. I found it best to attach the pieces using the floral tape instead of using glue.
For the wired ribbon, I wrapped a small piece of satin ribbon around the middle. Then, I added a dot of hot glue to keep in place.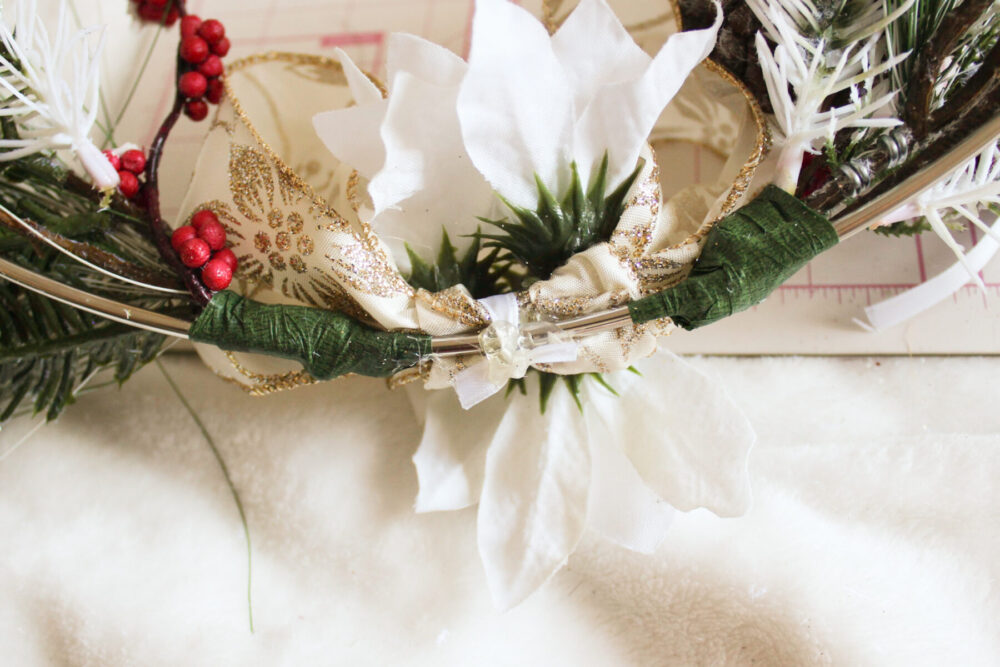 As a final touch, attach a small piece of satin ribbon to the top of the hoop. Hang it on your door. Then you're done!
I hope you enjoy getting creative with this festive project!
Pin this: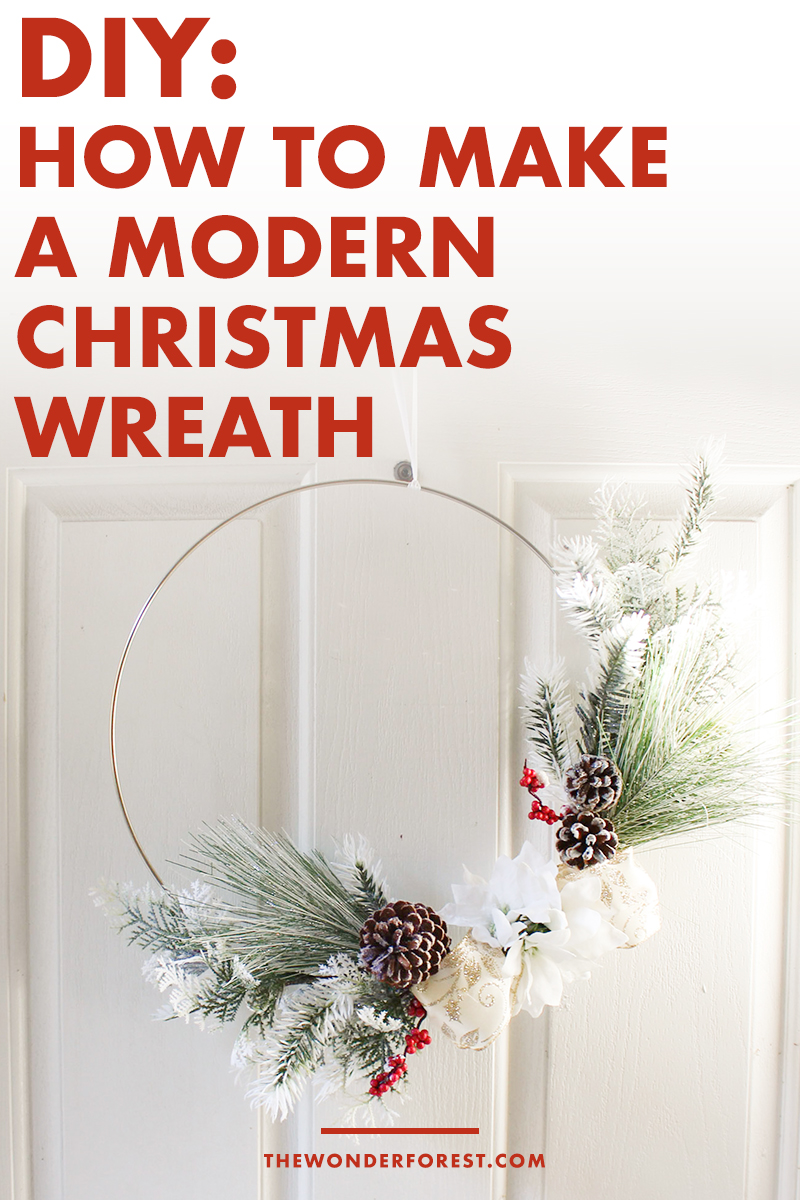 Last Updated on