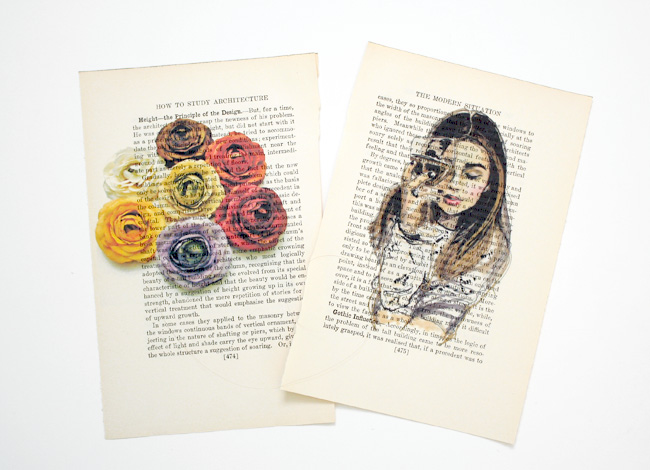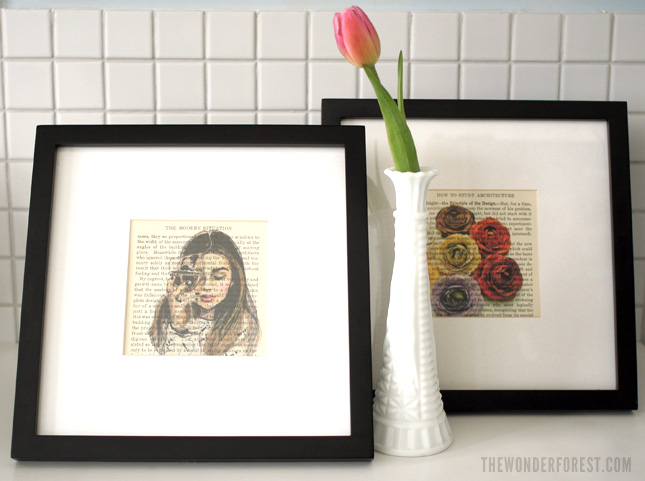 Hey friends! I hope you had a great weekend! I thought it would be fun to share with you some of my favourite DIY art techniques that won't cost you a thing and look amazing. I'll start with this project that I've quickly become obsessed with… Printing on old vintage book pages!  I've seen this done time and time again in black ink, but I'm definitely loving it better with a little colour.
All you need is an old book, a printer, and your imagination. The toughest part is trying to decide what to print on the paper. For this example, I used a simple colourful arrangement of flowers for one, and a sketch by Jessica Rae Sommer just so I could show you what a portrait would look like.  I'm loving this idea for portraits… You could print off your friends or family members and display them in such a unique way.  The only thing you have to be mindful of is making sure your photo has a white background.
The book pages I used measured 6×9″, so I matched my printer settings to the closest available option, which was 5×7″. I played with the scale and positioning a little bit in my printer dialog by simply adjusting the top and left side margins, and then I loaded the printer and let it go to work!  I was actually pretty shocked at the vibrancy of the finished photos… I wasn't sure how my printer would handle old, thin, yellowish paper but they turned out awesome!
I'd definitely give this a try if you need some quick and super easy art to fill a space. What do you think of the final look?
Last Updated on