Want an easy way to refresh your walls and space?
Be the proud owner (and creator) of a new piece of wall art made to suit your home's style. If you're aiming to stick to a budget this new year, these DIY wall art ideas are inexpensive without sacrificing style.
Wall Art Weaving Hack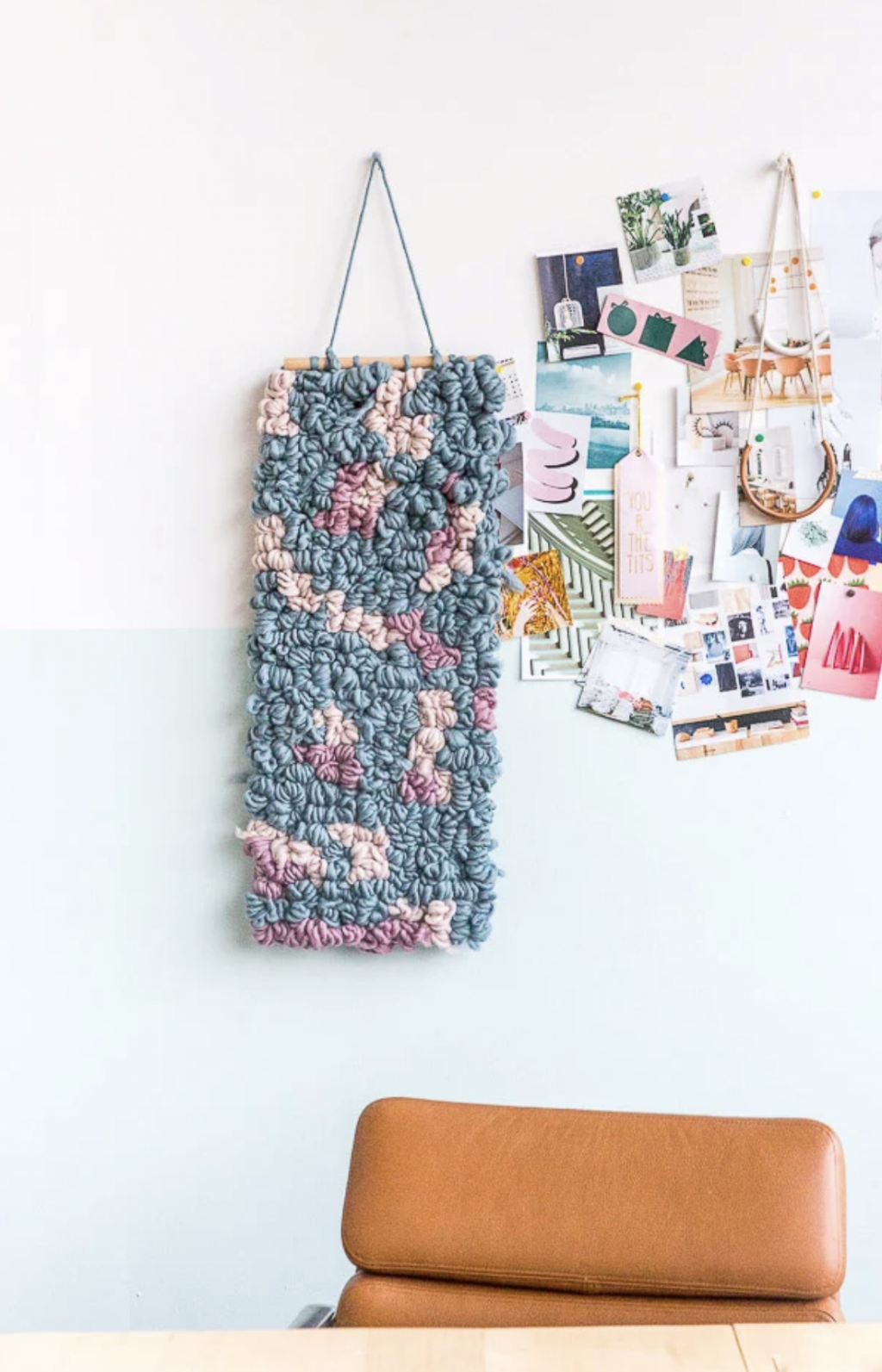 No weaving skills, no problem! Only three items are needed to make this faux weaving hack–so instead of spending hundreds on an expensive weaving, find a few yarns you love and let them shine.
Ten Dollar Canvas Floating Frame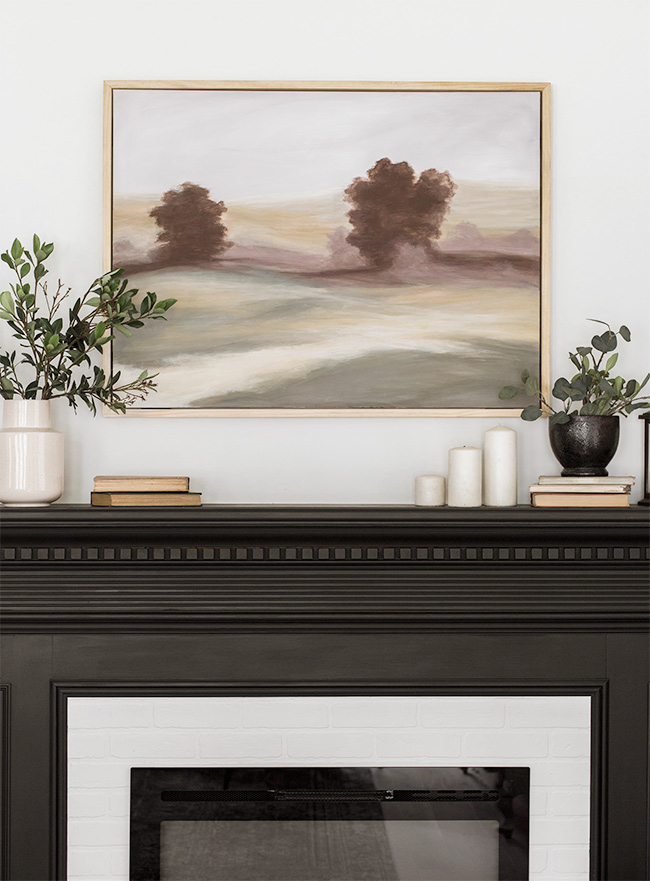 Give any canvas a custom art-gallery look with a DIY canvas floating frame. Your home's guests will never guess it was actually built on a budget; this high-end looking frame was made for only $10.
Faux Latch Hook Heart Wall Hanging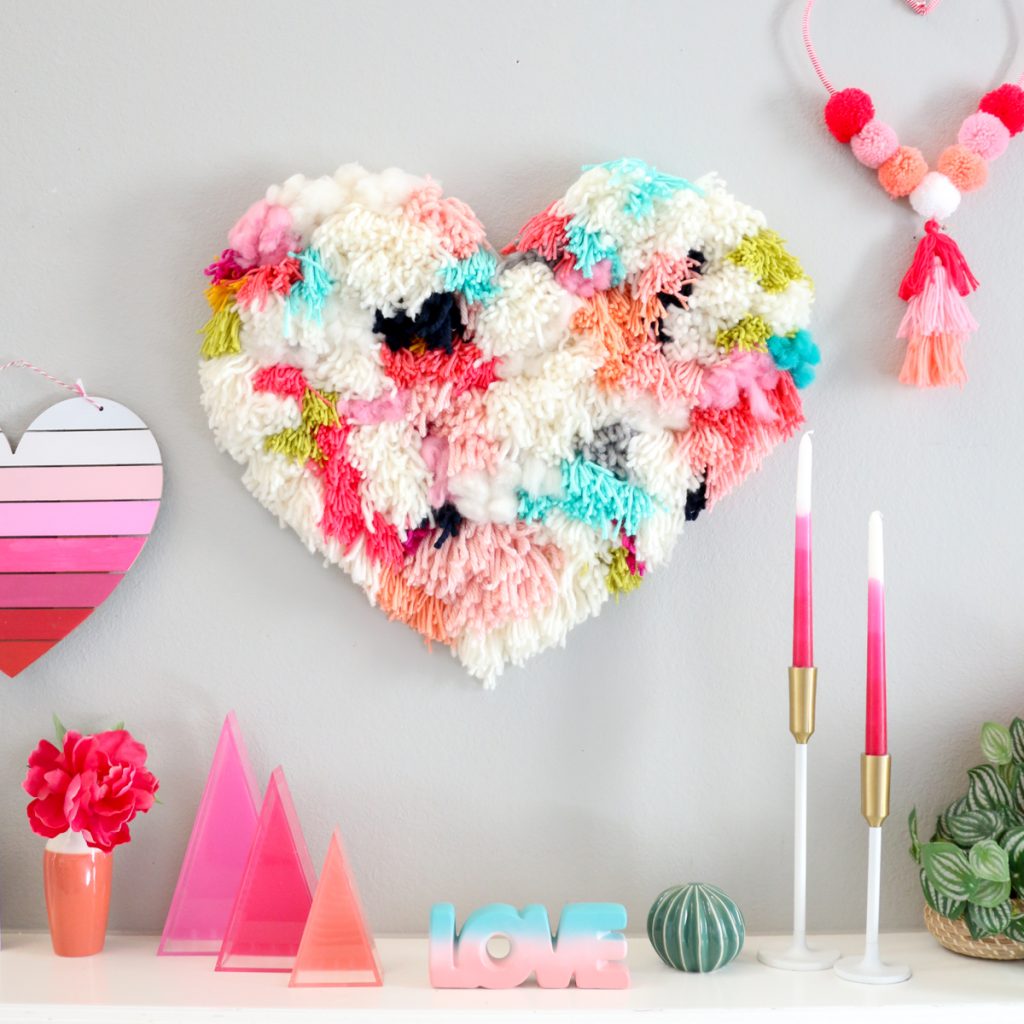 Picture this whimsical latch hook heart wall hanging in a fun home office or a kids' room, and choose colours to go with your decor. If you're a yarn hoarder, this would be a great stash-buster!
Terrazzo Tile Wall Hanging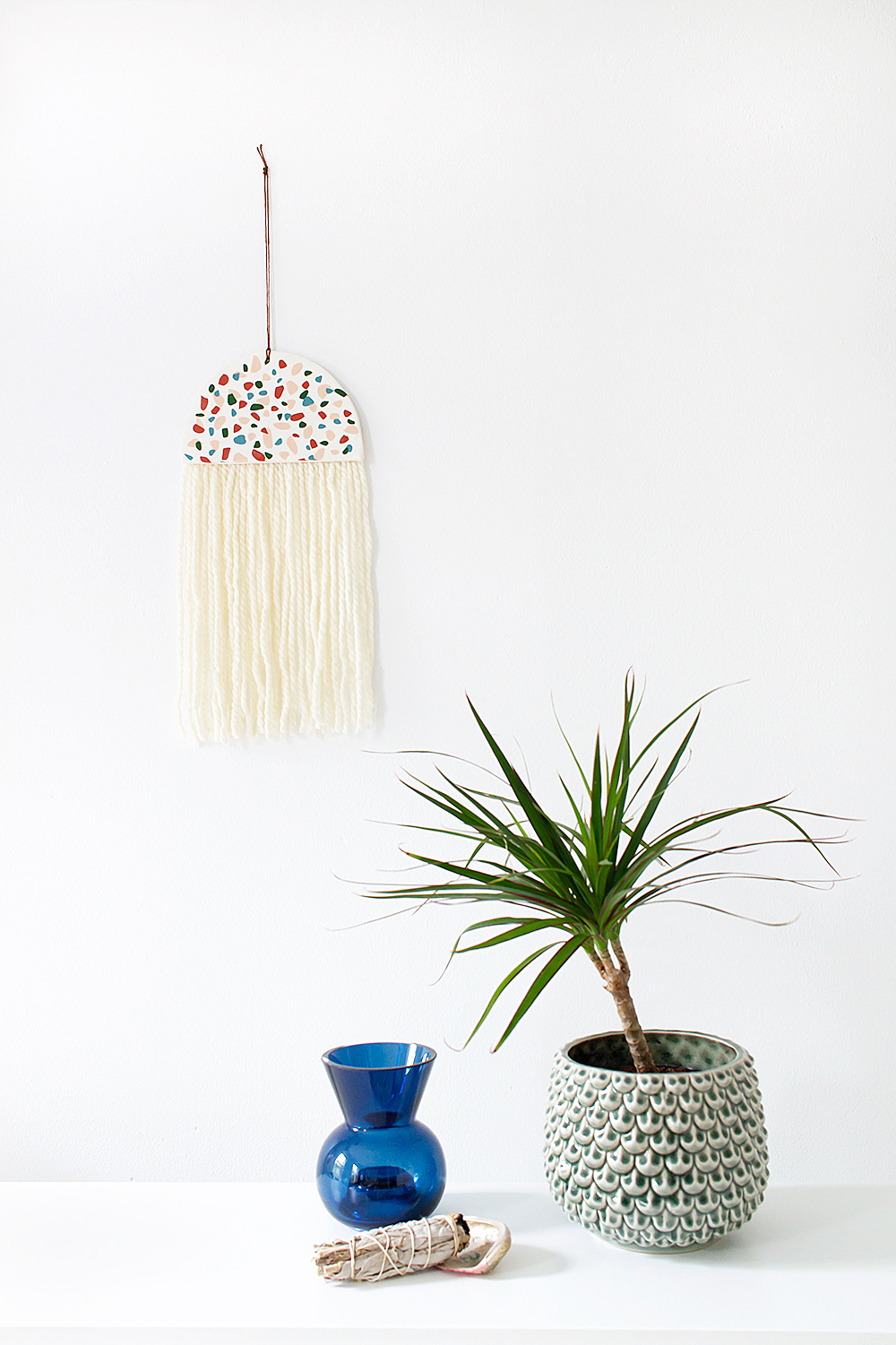 Terrazzo may be all the rage, but switching out countertops or flooring might be too big of a commitment. For right around $20, you can get a piece of the terrazzo action by making one of these eye-catching terrazzo wall hangings. Make one for you and one for a friend so you can try all the terrazzo colours!
Easy Faux Weaving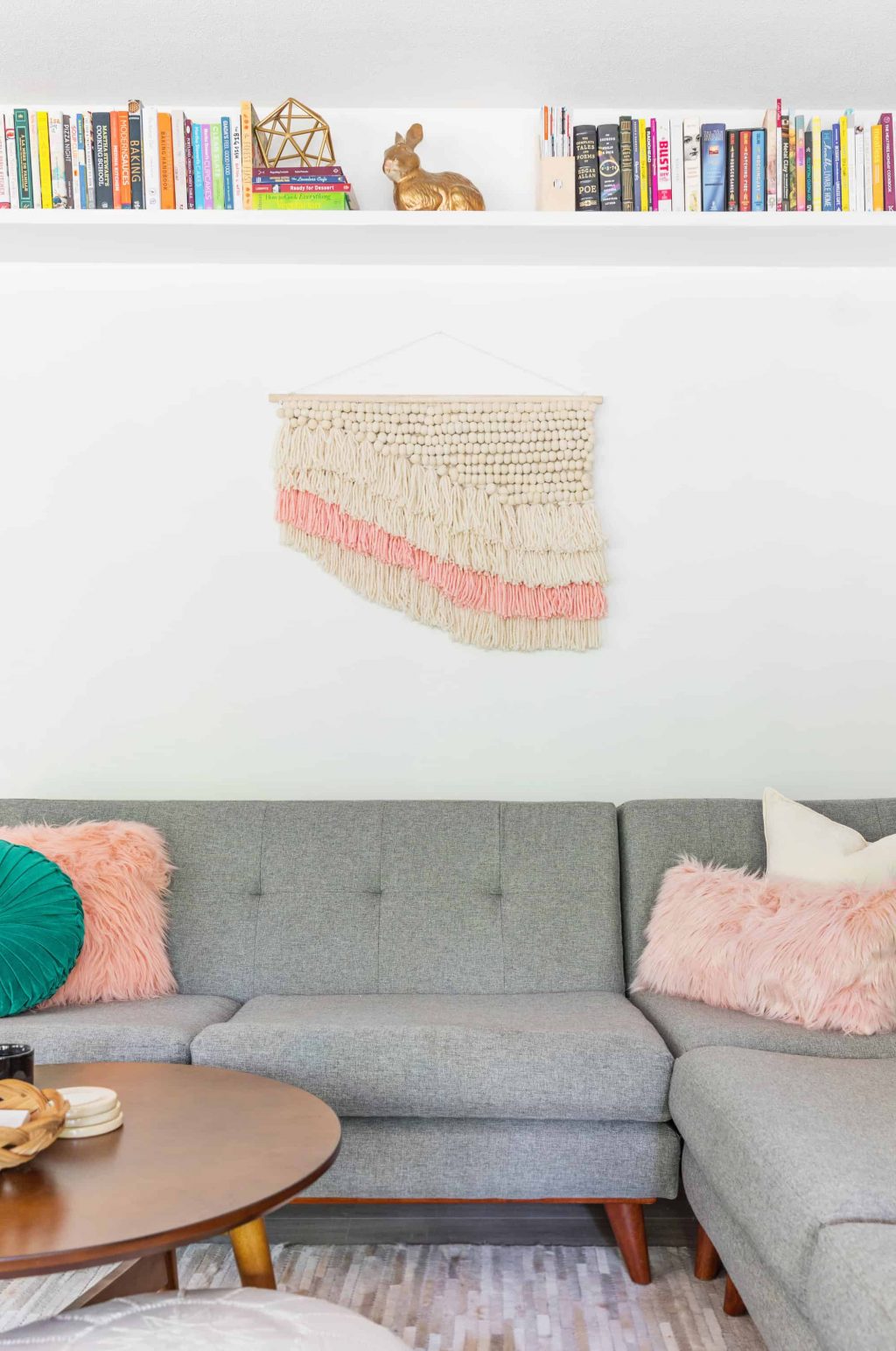 This easy-to-make faux weaving made with felt balls is so cute. The tassels can be made during a few TV nights–we love the simplicity of the white and pink! Check your craft room for felt balls, yarn, and look for a rug on clearance–this wall art will brighten up your space.
Four-Step Textured Wall Art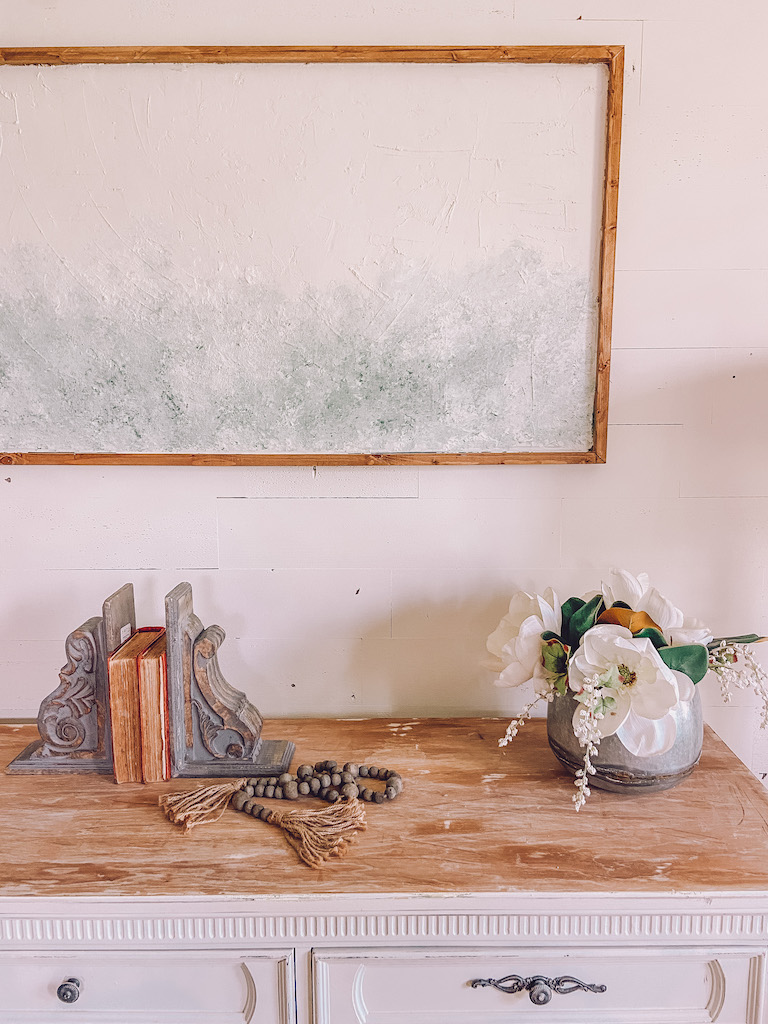 Don't fork over big bucks for large-scale textured wall art–this process shows you how to do it for free using items you probably have on hand. Even without adding paint, this textured wall art is beautiful–but the abstract brushstrokes will bring your project to the next level.
Woven Basket Wall Art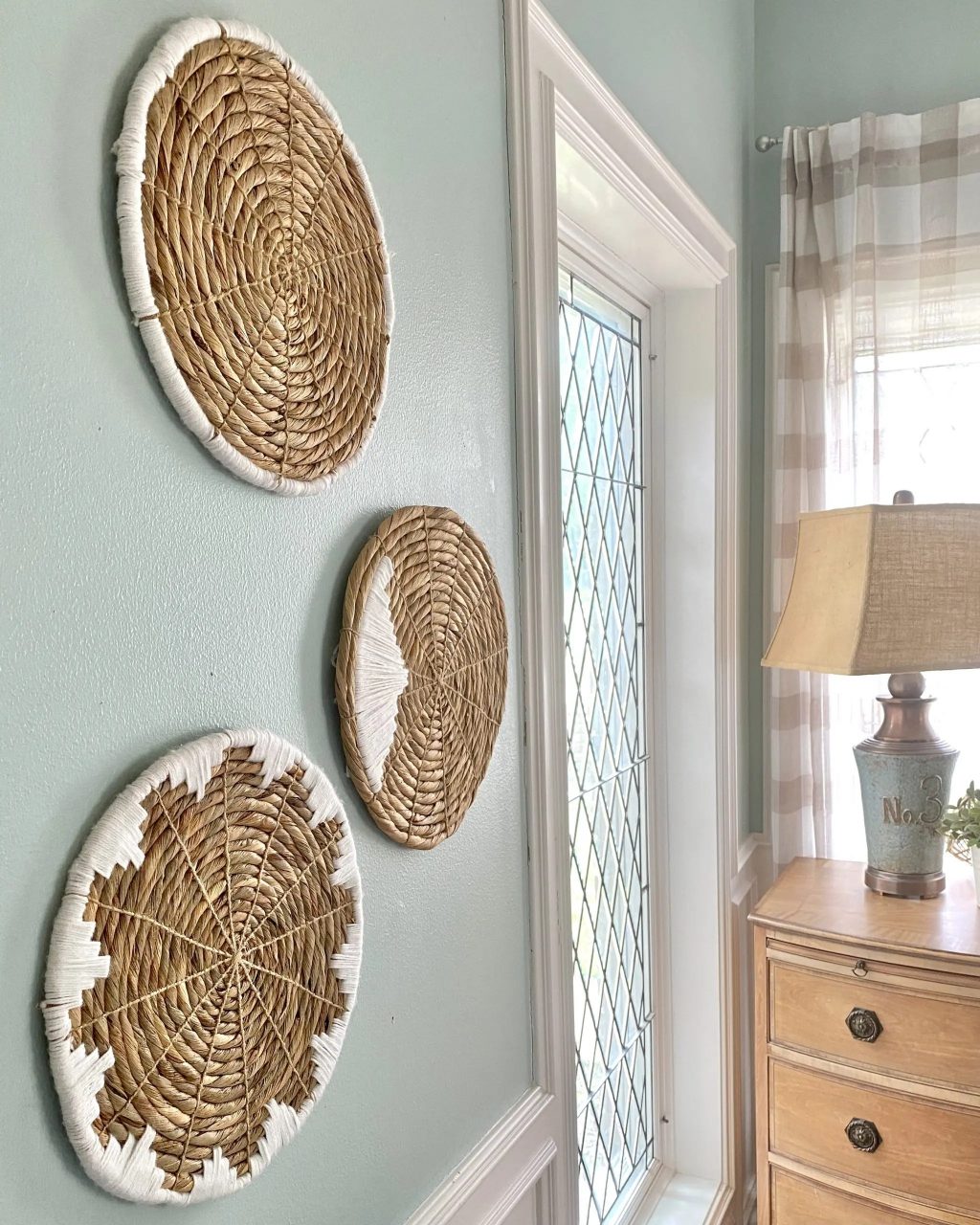 For a fun twist on the basket walls taking over Instagram, try this dupe of a nearly $400 Pottery Barn find. It's made with yarn and dining table chargers from the dollar store!
Oversized Letter Board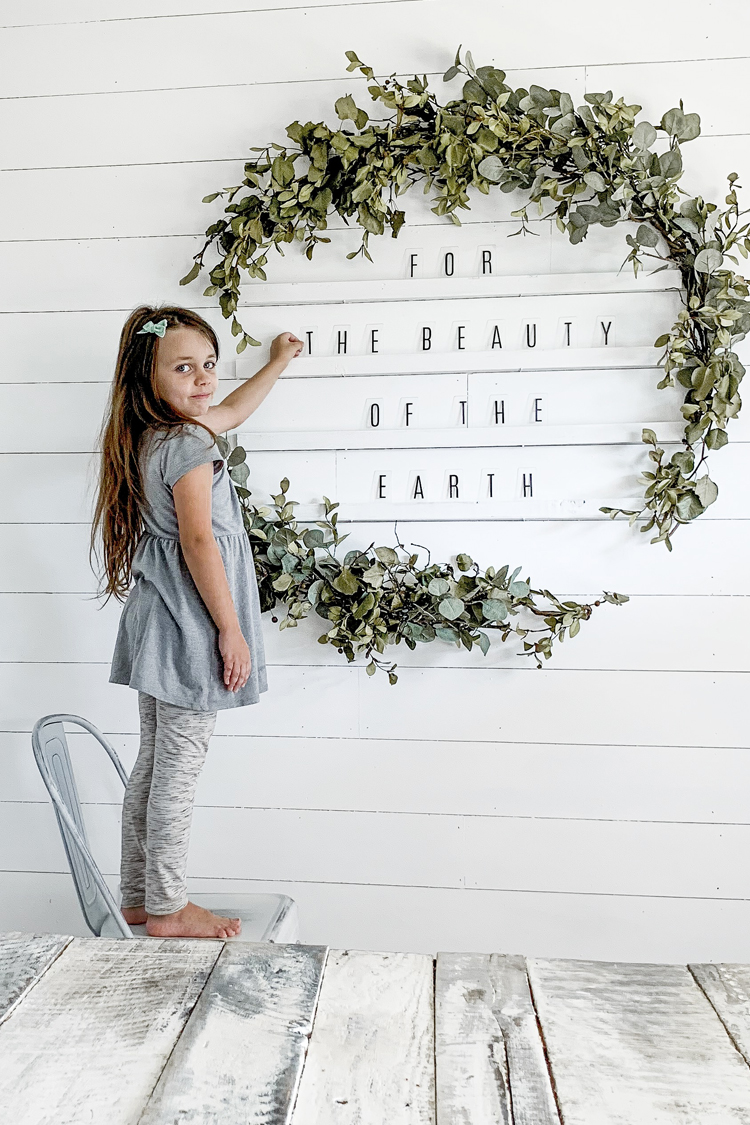 An oversized letter board makes a huge statement! How fun to change out the quote to fit your mood or the season–and the look of it with shiplap is amazing.
Boho Rainbow Book Wall Art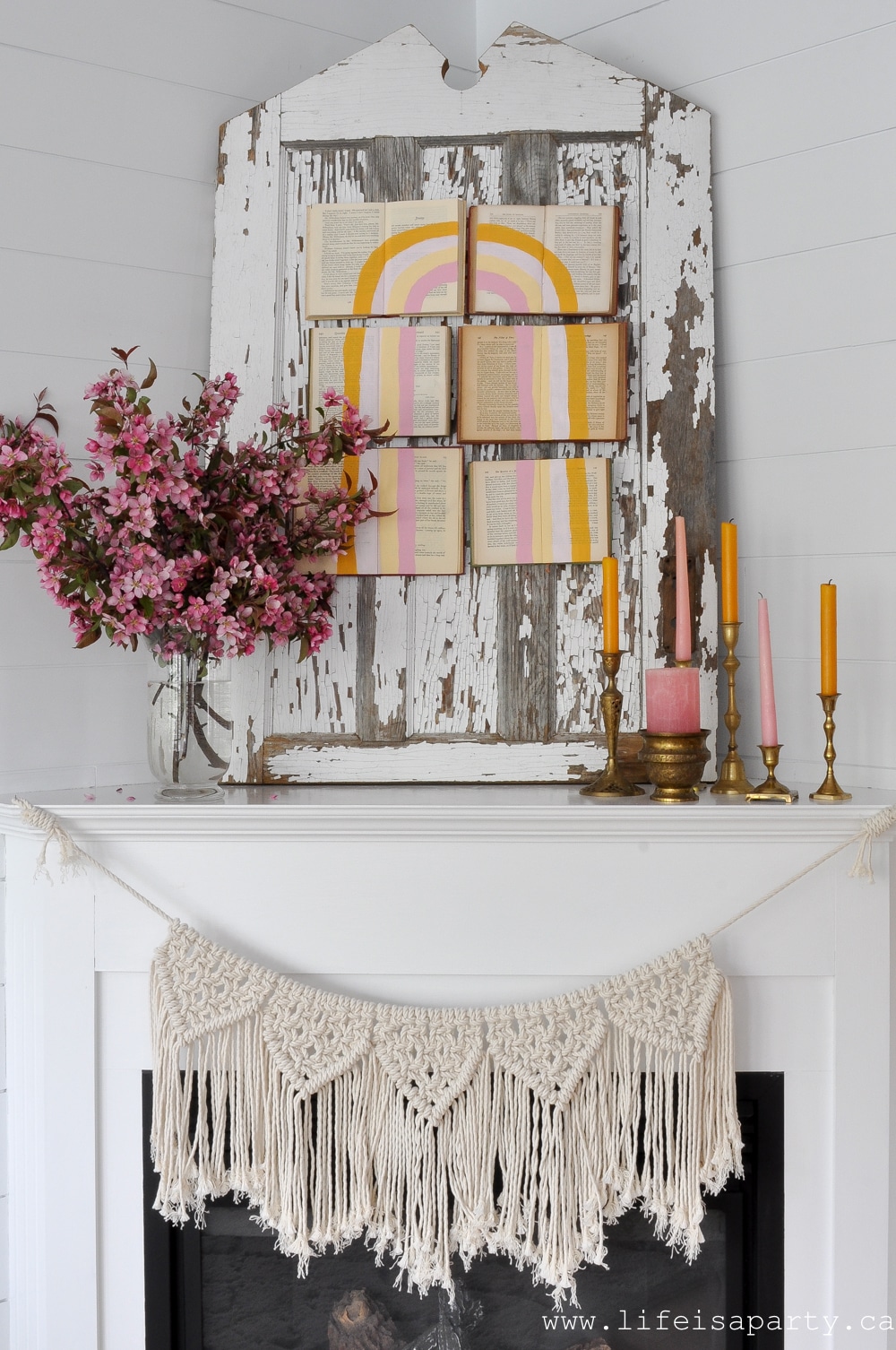 Don't give away old books you don't use anymore; repurpose them into wall art like this! You can also scour thrift stores or garage sales for books in need of some new life–we love the colours of this boho rainbow.
DIY Hat Rack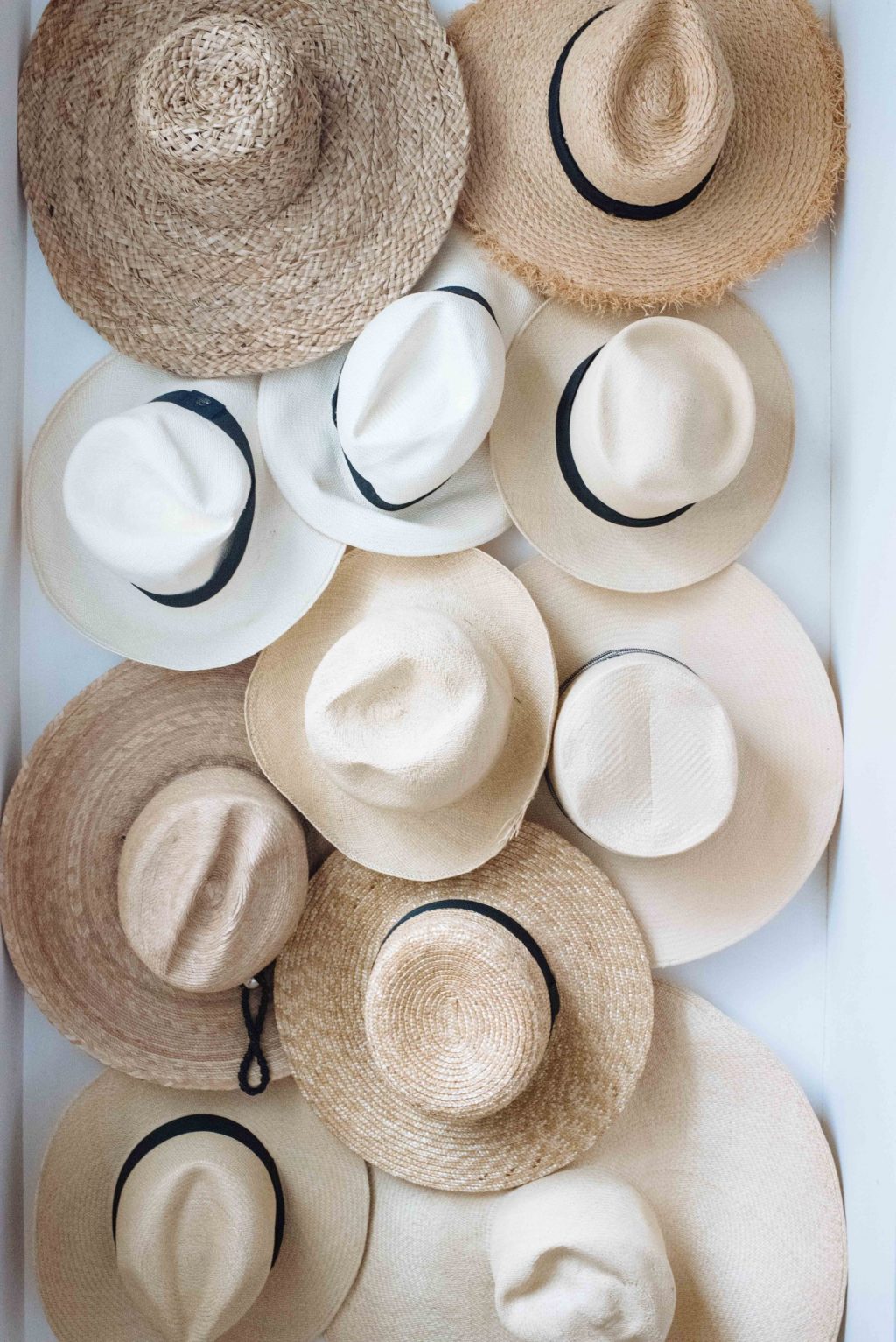 A DIY that counts as art AND storage? Count us in. This beautiful arrangement of hats nestles perfectly into a small wall space, and adds interest. If you are a hat lover, there's no need to keep them hidden in the closet; use this project to show them off.
Pastel Color Dyed No Weave Wall Hanging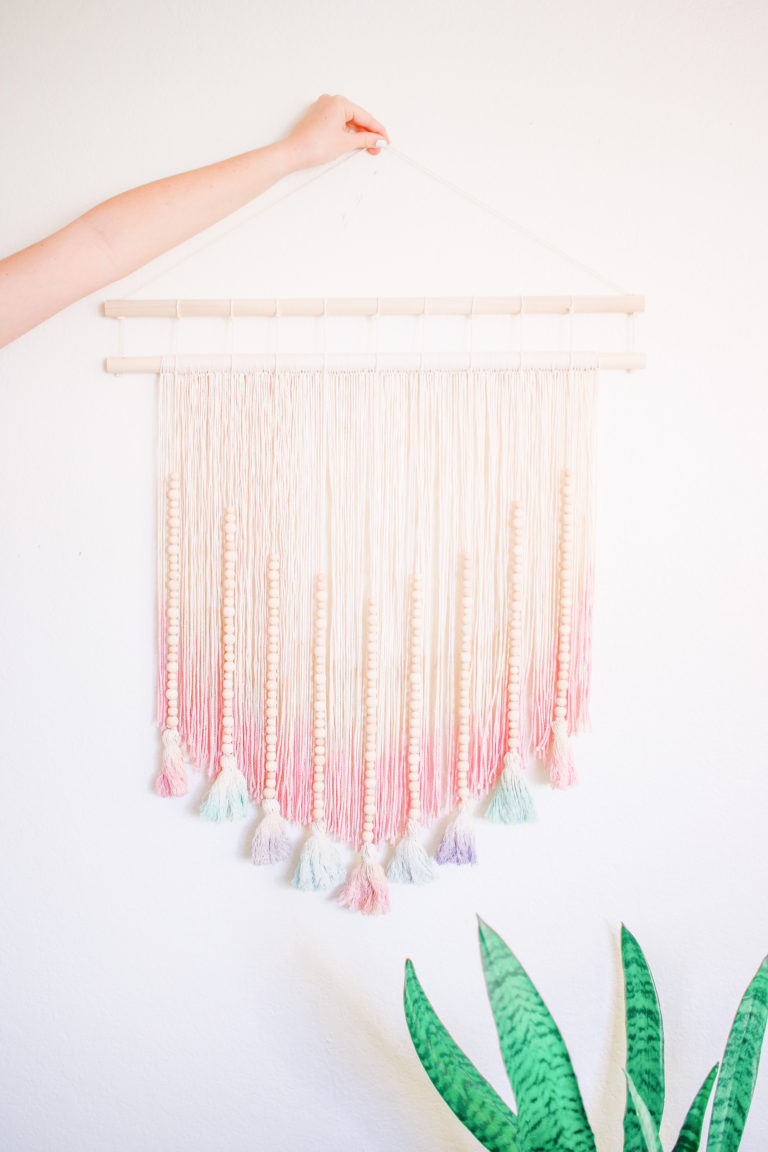 The secret ingredient to this wall hanging is a store-bought tie dye kit! Instead of tie dying, a dip-dye effect is used. We love the pastel pink and turquoise!
Hidden TV Art Frame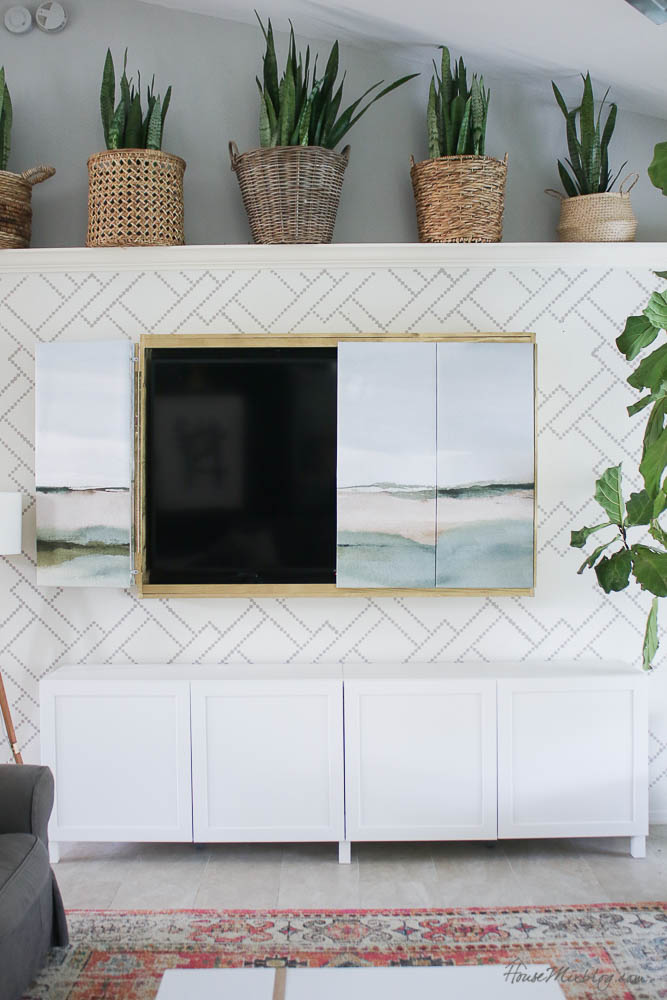 You don't need to spend $500+ on a frame TV. This DIY hidden TV art frame is so beautiful, it's not only a more budget-friendly way to hide your TV and its ugly cords, it's even prettier than the expensive version.
Easy Branch Wall Decor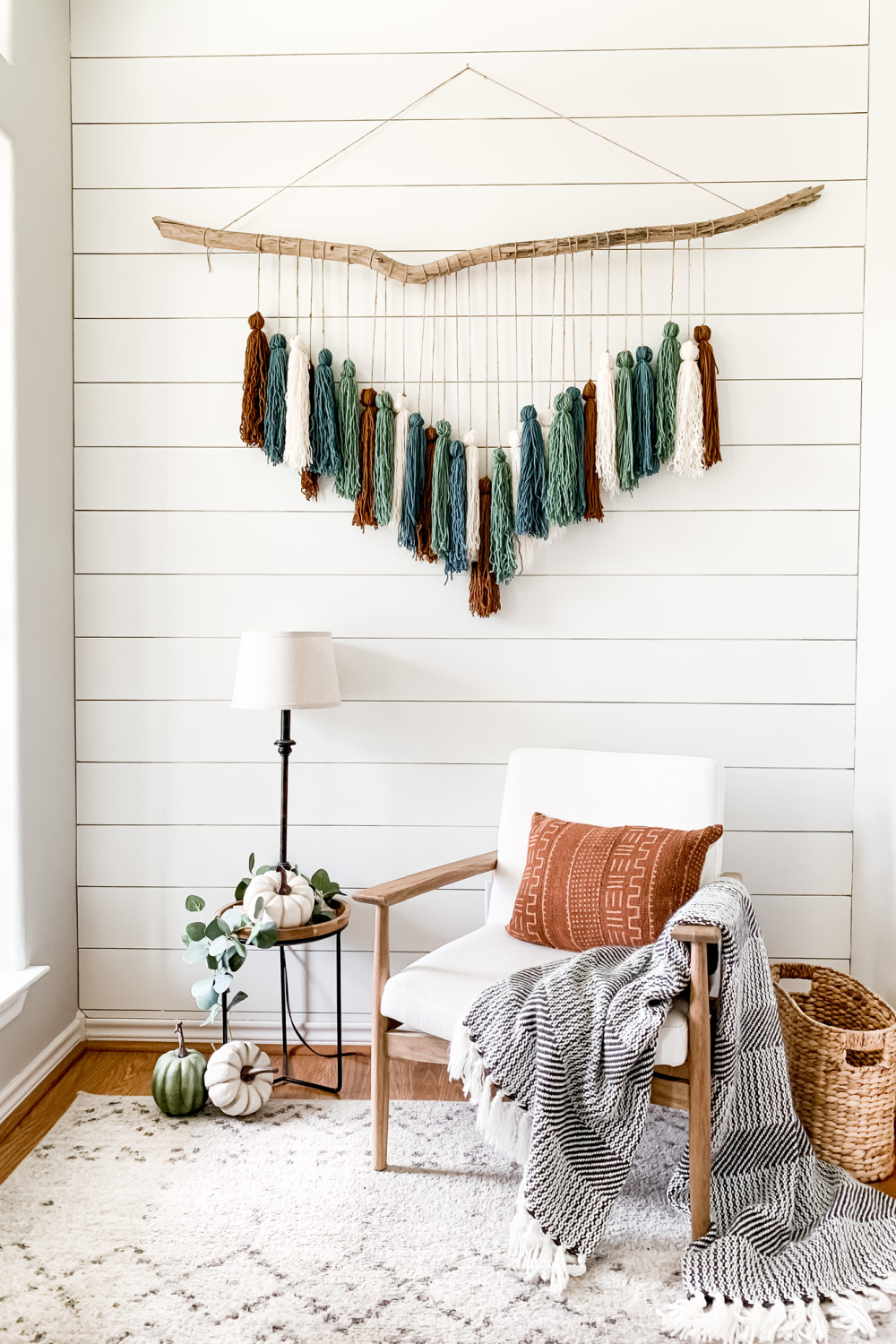 Find a branch with a story for this simple and classy tassel wall hanging, or simply find a branch in your backyard or on a nearby beach! We can't wait to try this in different colour schemes.
Bundt Cake Pan Wall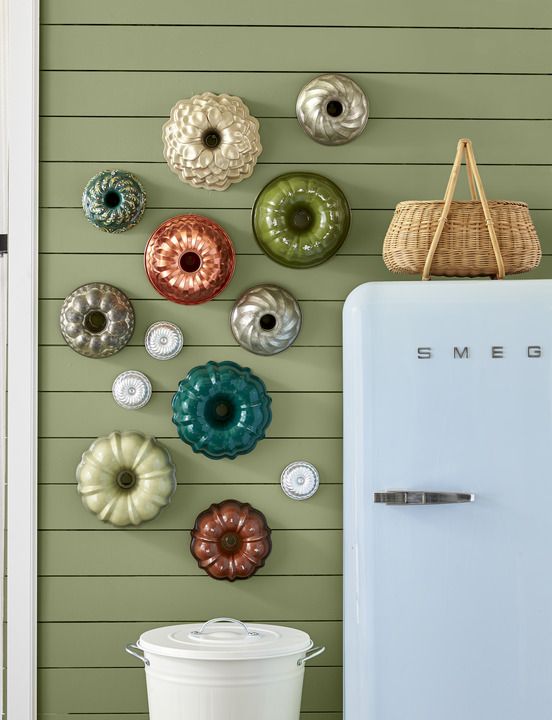 Go the vintage route and display a fun collection of bundt pans in your kitchen or dining area. This Bundt pan wall idea deserves some love. You could use thrifted pans, heirlooms, or ones you already own–as a bonus, you can take them off the wall and use them anytime.
Anthropologie Dupes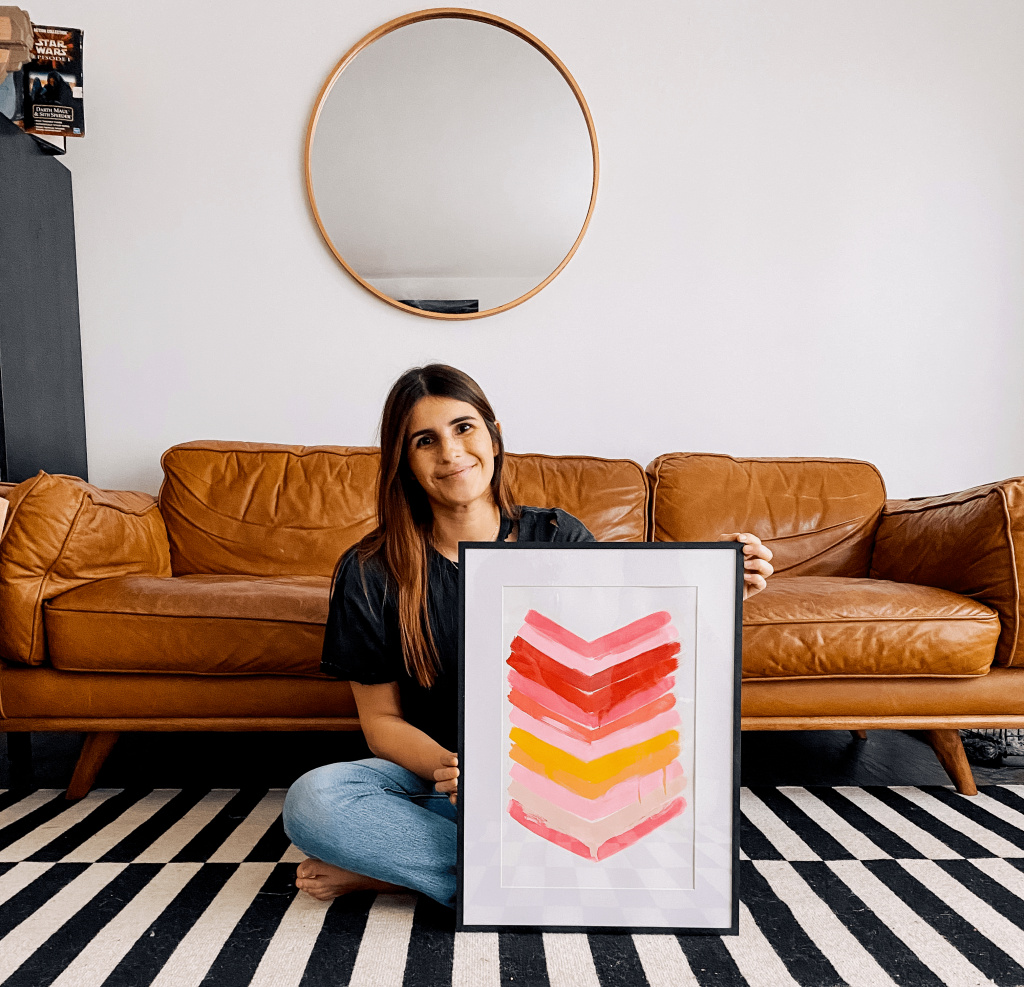 If you've ever seen a piece of abstract art and thought, "I could make that," now's the time to try. This fun tutorial shows you how to mimic not one but two abstract Anthropologie pieces using simple brushstrokes.
Rainbow Wall Art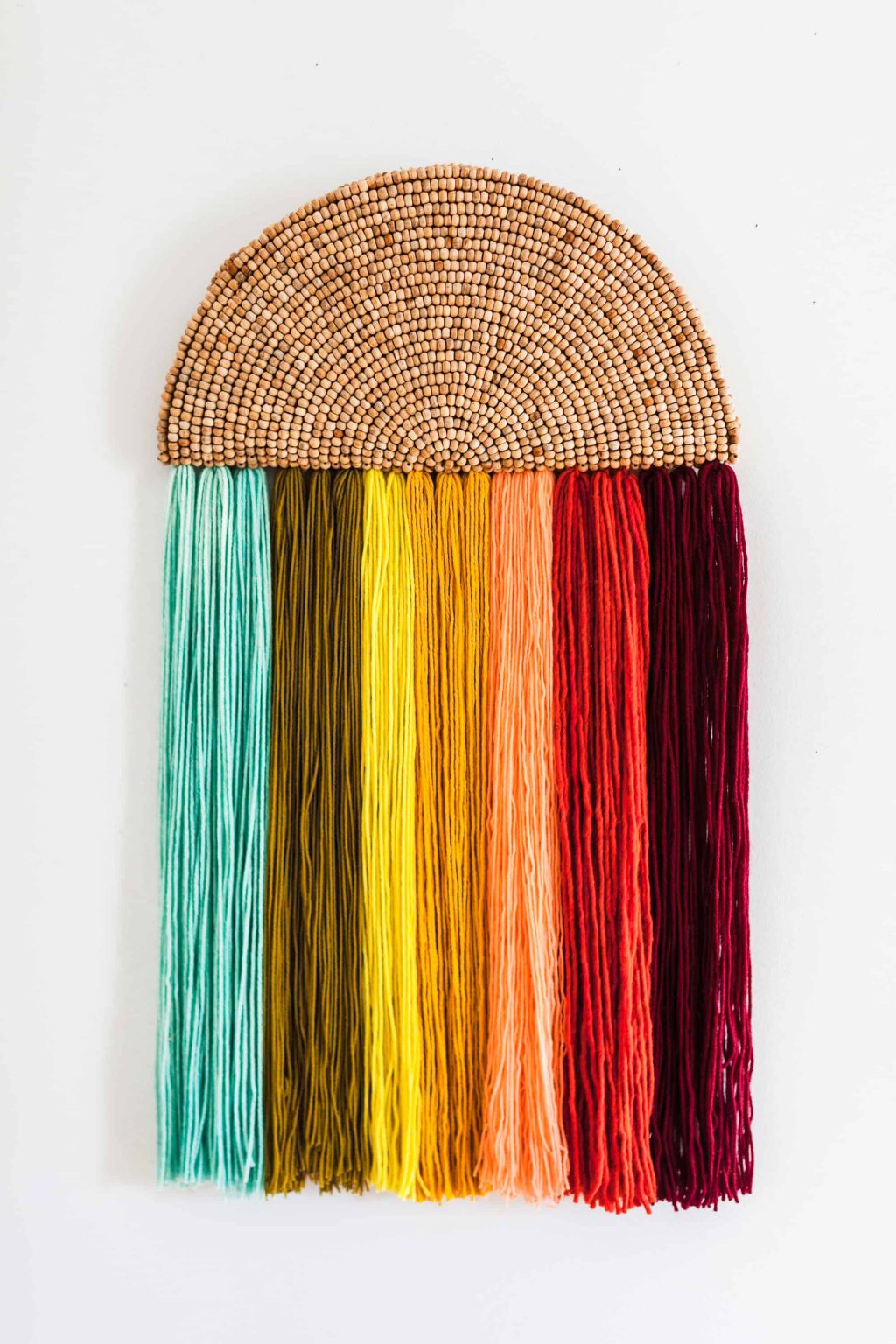 Can you believe this rainbow wall yarn hanging is made with a placemat? While the playfulness of this project makes it perfect for a kids' room, we wouldn't mind stealing it for a fun touch to a living area, master bedroom, or home office.
Wire Letter Wall Art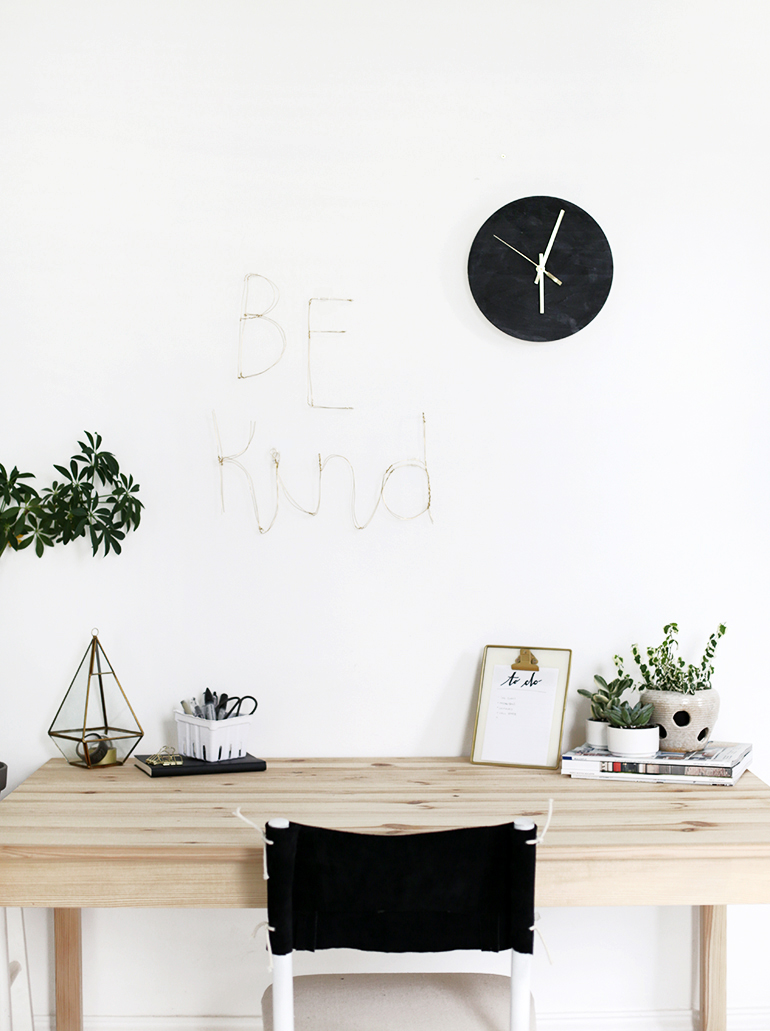 How fun would it be to choose your favourite word or saying to uplift your wall decor? The best part is, this clever project is made of inexpensive floral wire!
2-Minute Wall Art Hack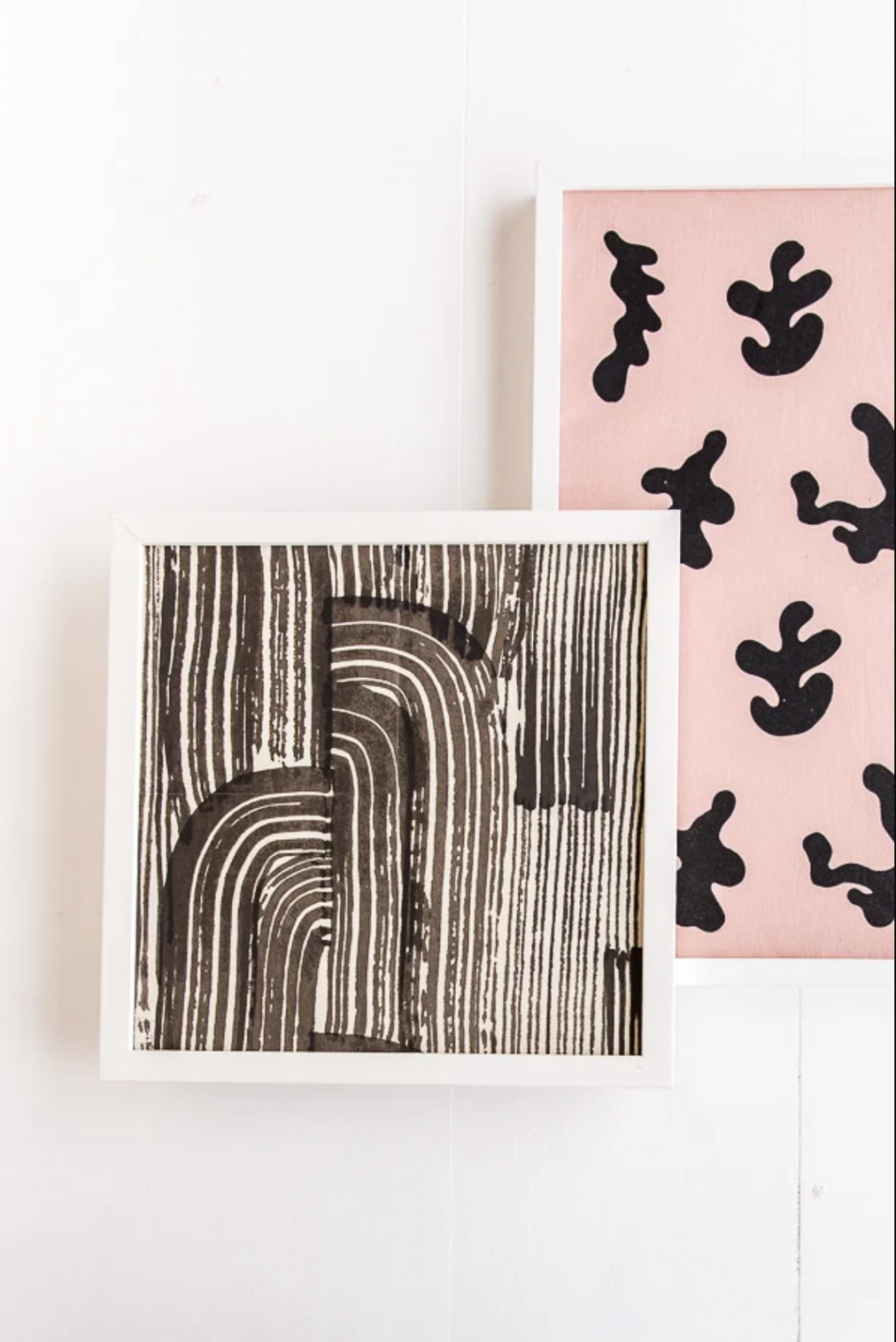 This 2-minute inexpensive wall art hack gives two clever ways to make wall art out of items you already own. Use a pretty napkin, tea towel–or any textile that deserves a moment in the spotlight–to create a one-of-a-kind art piece you love.
Large Scale Braided Wall Hanging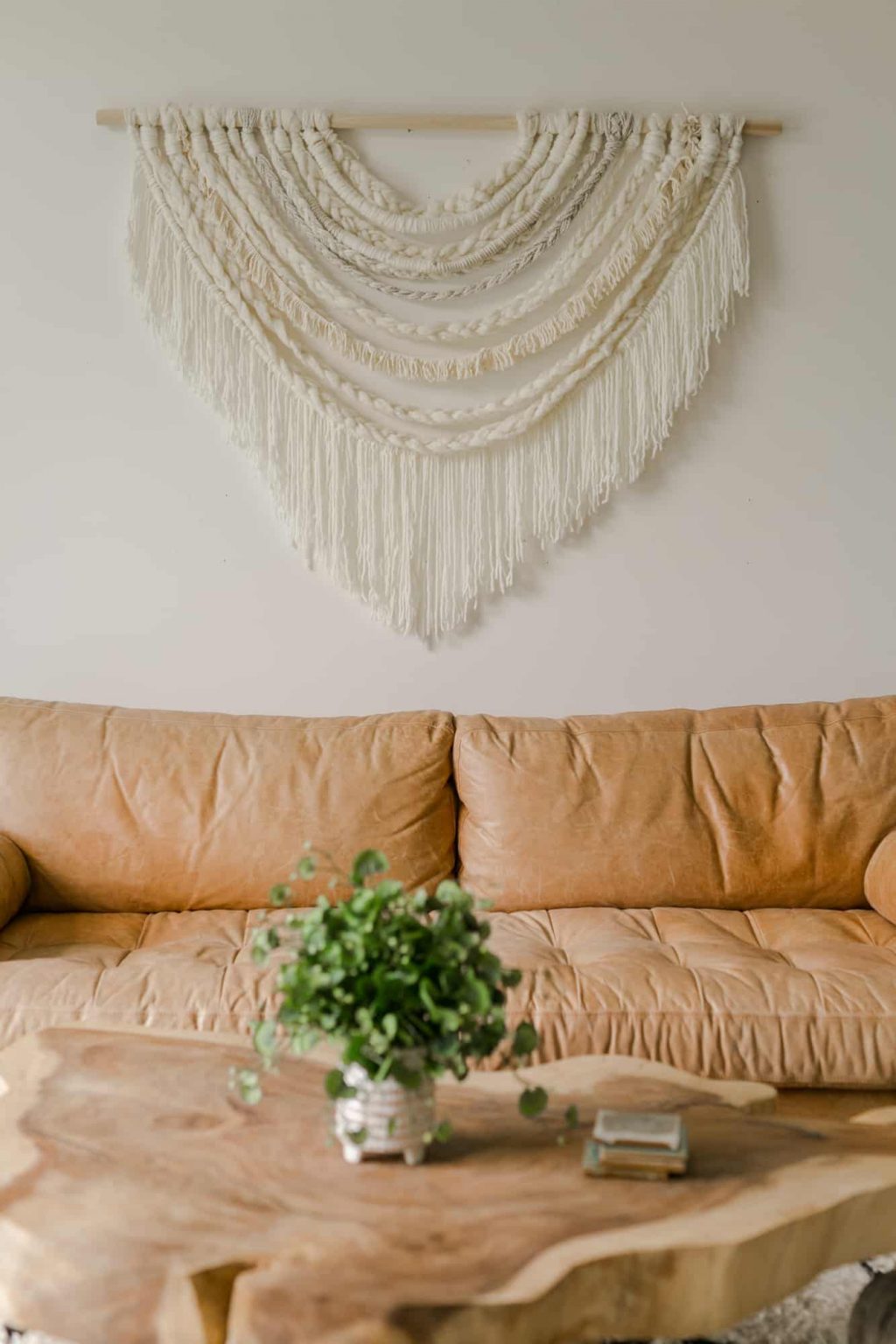 If you have a big section of blank wall crying out for a piece of art, try out this large scale braided wall hanging. Use a variety of chunky yarns to layer braids, wrapped yarn, and fringe for a textural masterpiece you'll be super proud to hang on your wall.
PIN THIS:
Last Updated on