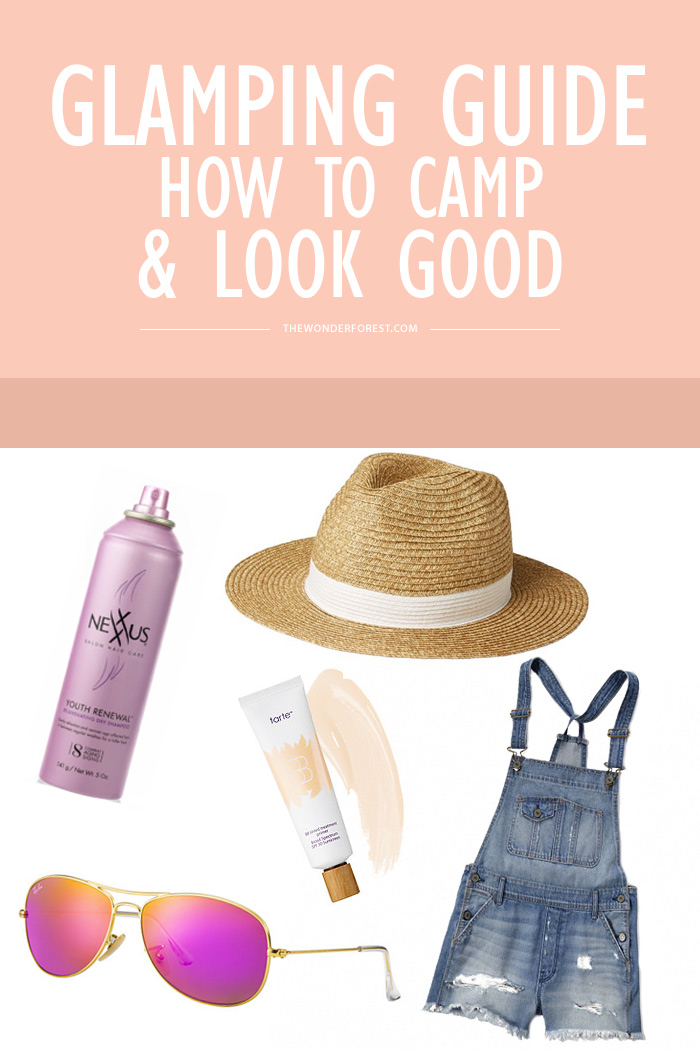 Ah, glamping—you know, like, glamorous camping, just in case you haven't heard of the term. It's going to be all the rage this summer. Instead of the usual tent pitching and fire building, this new kind of camping is your time to shine. As you glamp in the great outdoors, bring along the following items so you still look on point (for all those selfies) while you "rough it".
1. Dry Shampoo
Nothing says camping like dirty, greasy locks. With limited access to running fresh water, you may encounter a heavy buildup of nature's natural oils, all up in your hair. This can easily be avoided with the manmade miracle that is dry shampoo. So spray away, so your hair can look flawless even as you hike the hills and explore the unbeaten paths.
2. Baby Wipes
With multiple uses, baby wipes will keep you fresh and on your game. Whether it's wiping your face after a long day sweating in the sun, washing melted marshmallow off your hands from your s'more fest or taking care of business when you're in the wilderness sans toilet, baby wipes will come very very handy.
3. Stunna Shades
Look really fly while still protecting your eyes as you bask in the sun during your camping trip. Designer sunglasses can add some glam to the pics you'll inevitably share of your wanderings. Classic brands like Ray-Ban carry many different styles and colours to fit the current glamp mood, and simultaneously provide practical UV protection.
4. Waterproof Mascara
You may feel one with Mother Nature and decide to go the au natural route with no makeup. Good for you. However, if you do want to wear makeup, add a swoop of waterproof mascara  that allows you to jump into creeks as you please (without a smudge) while looking cute and candid for the precious moments that might be captured.
5. Sleep Essentials
Looking refreshed and feeling refreshed in the midst of camping all starts with a good sleep. Be that sleeping beauty by bringing the things you need to get comfortable in the tent situation. This could mean a lightweight mattress pad (the Thermarest brand I have carries lightweight pads!), a eye mask so the rising sun doesn't wake you up before needed, and perhaps your favorite pillow to pair comfort and exploration all in one.
6. Sweater Poncho
Stay warm at night in a glam fashion by wearing a sweater poncho similar to this. It's stylish and amplifies a boho-chic theme to bring to the campsite as you leave the frumpy hoodie at home.
7. Tinted Moisturizer
If you didn't get a jump start on your base tan and anticipate a spontaneous dip in the lake with the hotties staying next to your tent, come prepared with some tinted moisturizer. It'll give you a natural, sun-kissed glow and the confidence needed to make that dip in the lake a skinny one!
8. Sunhats
Keep up with the glamour in the air by wearing a floppy sunhat. Not only do sunhats scream summer time fun, but they also scream classy and chill. You'll set a special tone for the rest of the campgrounds to join the vibes and sing some kumbaya with a small, but fitting choice of hat.
9. Overall Shorts
What better place to bust out those overall shorts you try to bring back every year than in a rugged outdoor setting. They're adorable yet practical for all the camp activities, and will actually come off as stylish in this setting—it's the perfect fit for glamping.
10. Top Bun
Camping is conducive to an up-do situation—not the super fancy kind but the casual but glam kind that is found in a top bun. Wear it messy or neat, you'll come off looking super cute and keep the hair out of your eyes to see the sites.
You don't have to sacrifice glam while you camp. Follow these tips and tricks to create a styling adventure out of your next camping trip!
Last Updated on